I made little pink bunny Easter Bath Bombs for my daughter this week, using a simple Lemongrass bath bombs recipe.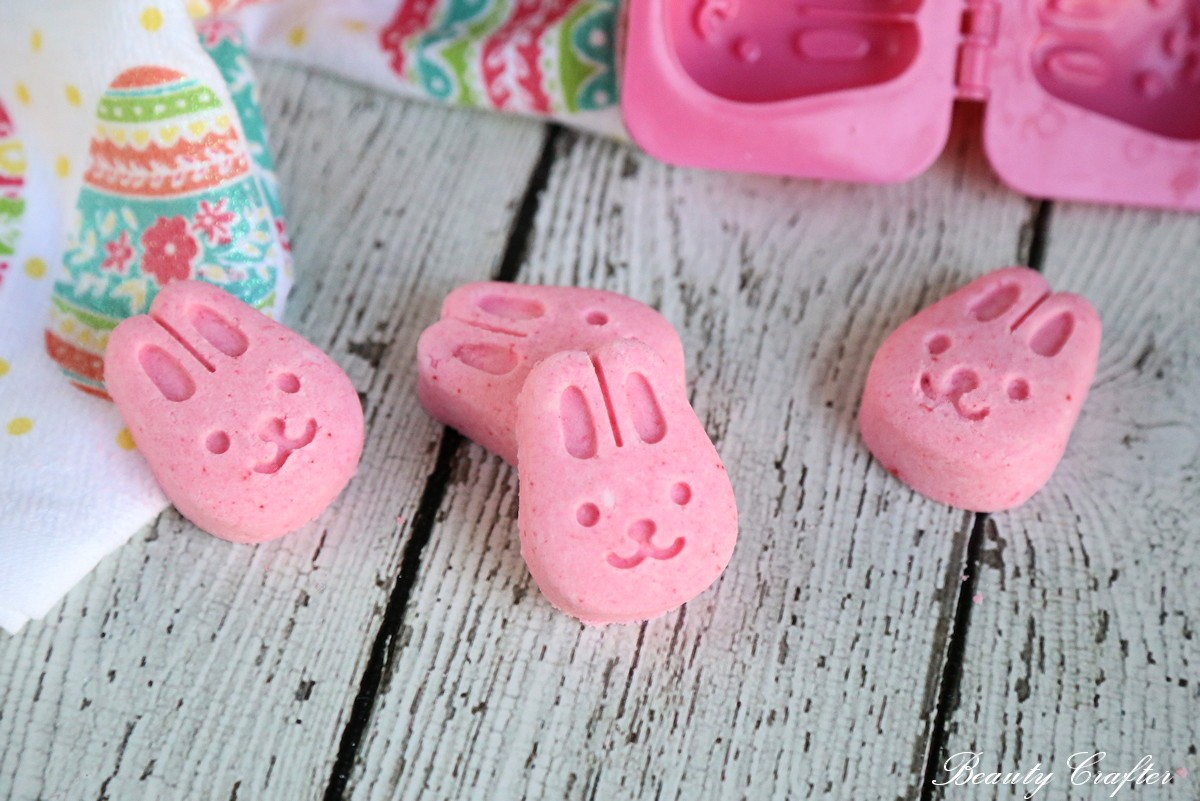 These little rabbit bath bombs would make an adorable gift set with my rubber ducky soaps and Easter egg bath bombs. Older kids might get a kick out of Poop Emoji bath bombs or Ring Bath Bombs.
Easter Bath Bombs: Bunny Mold
This is the first time I've actually made character bath bombs, but the cute little bunny egg mold
I had on hand seemed the perfect shape and size for kid's Easter Bath Bombs. I ended out loving using this as a bath bomb mold. I packed each side densely, and rather than squeezing the two sides together like with the big round ones I make for adults, I simply rapped each side of the mold on the counter to pop them out. Perfectly sized bath bomb tablets for kids. I don't believe in making children's baths too concentrated with ingredients. Their skin is well known to be more absorbent than adults. 
This is the mold I used to make the bunny Easter Bath Bombs with.  You may as while grab it now, egg molds like this a nearly impossible to find in stores (I know I tried).
Kotobuki Plastic Egg Mold, Rabbit and Bear
The bunny mold is also available as part of a 6pc set with more fun shapes if you prefer (car, fish, star & heart).
Why Lemongrass?
Lemongrass essential oil is one of the oils generally accepted as safe for kids. It is also a strong favorite of my daughter.
Benefits of Lemongrass Essential Oil
Lemongrass essential oil
creates a generally soothing and uplifting atmosphere, which is great for a positive bedtime routine. It has a pleasant mild scent that is not is not too "perfumy", and is mildly analgesic and antiseptic, so great for the little nicks and scratches of life as a kid.
... and well, bunnies like grass...lol.
Alternative bath bomb recipe: If lemongrass is not your thing, try my Lavender Oatmeal Bath Bombs Recipe with these molds. The only thing I would change is perhaps grinding the oats in a food processor to maintain the mold detail, but the recipe is great for children.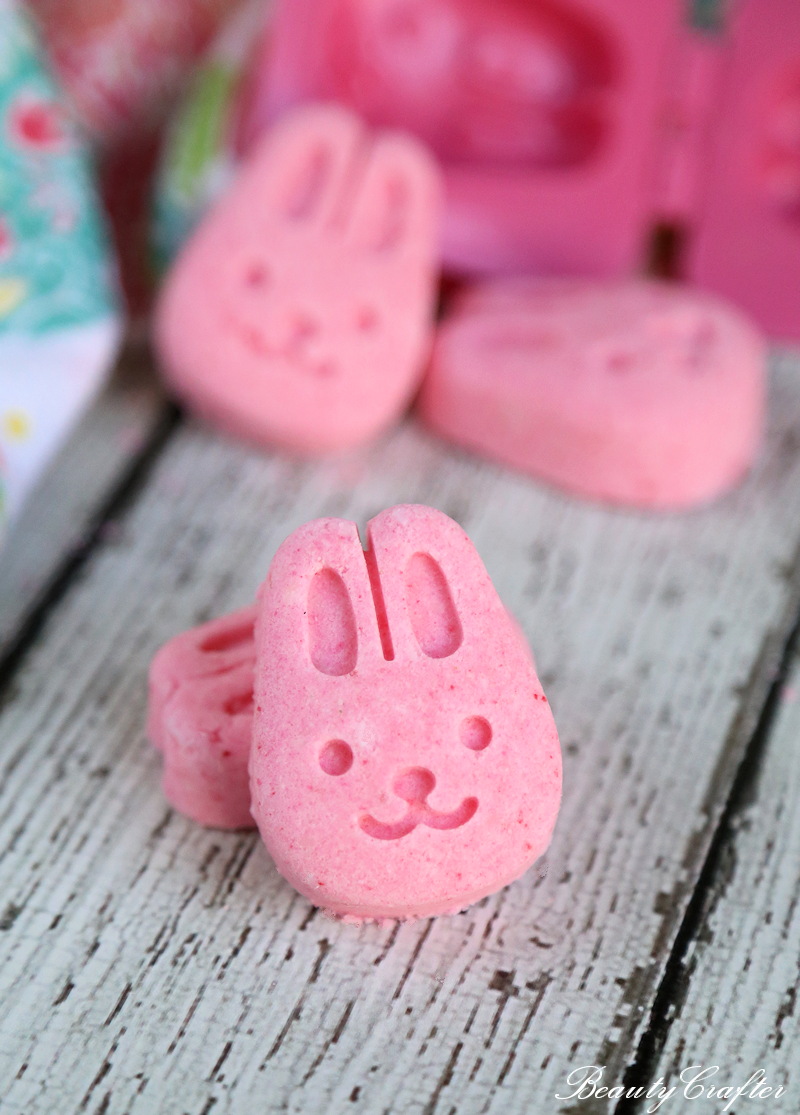 Lemongrass Bath Bombs Recipe
Makes approximately 10 bunny Easter Bath Bombs (assuming same mold is used).
Grab Your Supplies Here:
Full recipe with measures and directions below.
&
Now Foods Essential Oils, Lemongrass Oil, 1 fl oz
Ajent Citric Acid 100% Pure Food Grade Non-GMO (Approved for Organic Foods) 1 Pound
Wilton Gel Food Color Set, Primary
Viva Naturals Sweet Almond Oil, Hexane Free for Skin and Hair, 16 oz / 473 ml
Viva Naturals Fractionated Coconut Oil, 16 oz
Epsom Salt 2Lb (907g)
Bob's Red Mill Baking Soda, 16 Ounce
Thayers Alcohol-Free Witch Hazel Toner with Aloe Vera Formula, Unscented, 12 Fluid Ounce
Bob's Red Mill Corn Starch, 22 Ounce
Print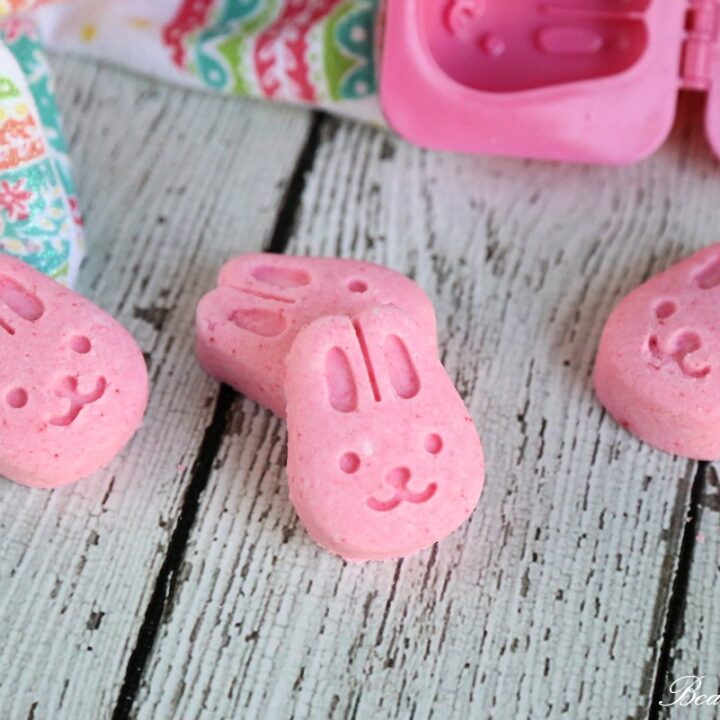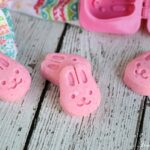 Easter Bath Bombs: Pink Bunny Lemongrass Bath Bombs
---
---
Whisk together the baking soda, cornstarch and epsom salts.
Add the oil, essential oil,witch hazel and food coloring. Mix, then add the citric acid and mix thoroughly.
Scoop into molds and press firmly to ensure a firm pack and well detailed bunny face and ears.
Tap mold on counter to drop the bath bomb out.
Allow to dry for a few hours before putting in airtight packaging.