Gingerbread Bath Bombs Recipe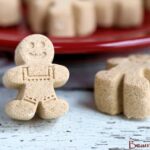 Mix together the dry ingredients: baking soda, citric acid, cornstarch and cinnamon.
Add the coloring, fragrance, and fractionated coconut oil. Mix thoroughly, taking care to fully disperse the coloring. Add 1/2 tsp of water, while whisking to avoid activating the mixture. Grab a handful of the mix and see if it readily holds a clump, of not, add a little more water (make sure to mix it in quick) and test again. The clump does not need to be firn, just prone to stay together.
When bath bomb mixture is ready, scoop some of it onto the silicone mold and press into the cavities. Pack each well.  This will use up most of the mixture.  You may have enough left to make a small round bomb.
Allow to dry for a couple hours, then remove carefully from mold and set out to air dry a few more hours before packaging.