Lemonade Stand Bath Bombs Recipe: DIY Lemon Bath Fizzies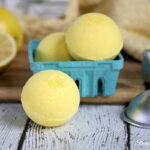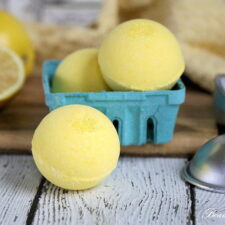 Whisk together the dry ingredients.  Add the fractionated coconut oil, gel food coloring and essential oil. Whisk well to evenly distribute the colorant. Add more coloring if needed.
Test the moisture of the mixture by grabbing a handful and squeezing.  If a clump is formed which holds together somewhat it should be moist enough to mold. If you need to add a little water, then add more if needed. You will not need much. 1 tablespoon at most and how much gel food coloring you added will effect the amount needed. 
Scoop up some bath bomb mixture with each side of mold and gently press down  then put more mixture on top overfilled and press the sides together firmly over mixing bowl. Give a slight twist and carefully remove the mold. Set each bath bomb aside to dry.
Once the bath bombs are dry, place in airtight container or shrink wrap bags.