Peppermint bath bombs (aka bath fizzies) make a wonderful holiday gift. The bath bomb recipe is also a particularly easy one to make. The homemade bath fizzies look and smell so festive and this is a gift that the recipient will actually use.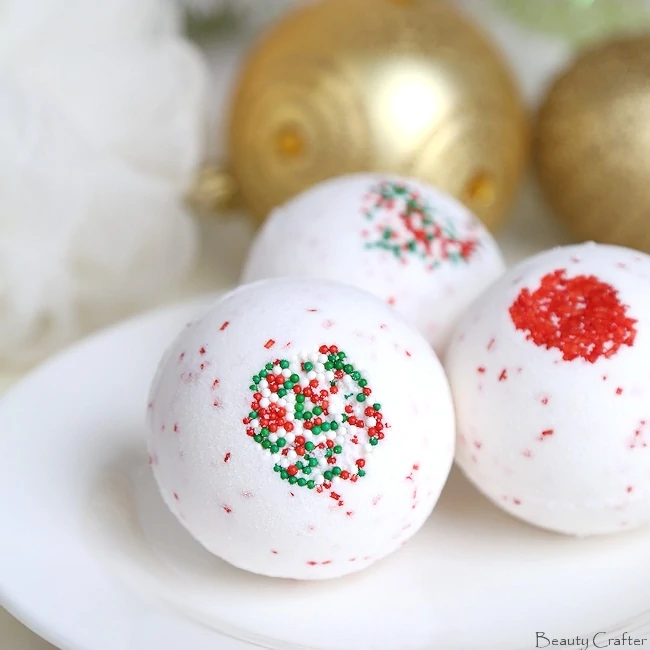 Peppermint Bath Bombs
I kept practicality in mine when making these peppermint bath bombs. Rather than messing around with food coloring, red sugar sprinkles add a nice red fleck to the otherwise white bath fizzie. This minimizes the potential mess when making them and reduces the potential for staining a more porous bath tub.
Of course, the use of sprinkles rather than colorant makes mixing much easier. You can make large batches of these considerably faster and more efficiently than many bath bomb recipes.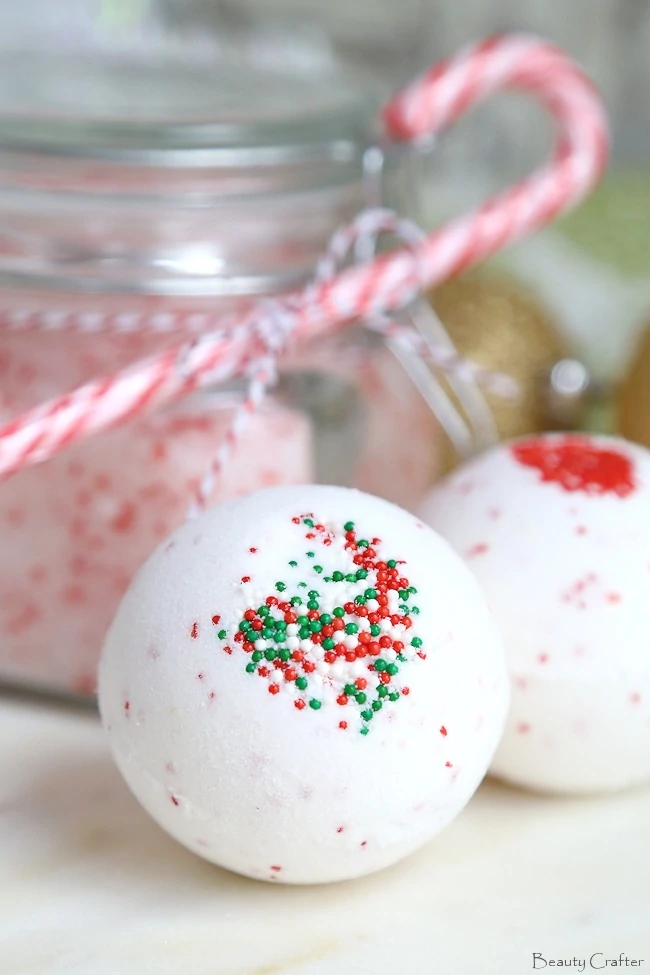 My Peppermint Bath Salts are pictured in the background. The combo makes a great gift basket and saves money, as several of the same ingredients are used.
Great Kids Bath Bomb Craft
These are great bath bombs for kids to make. There is no dye used to color the bombs, so kids will stay pretty tidy. The peppermint essential oil used is inexpensive as far as essential oils go. I find it dissipates a little faster than some essential oils too.
I personally think this makes a great classroom or children's group craft activity.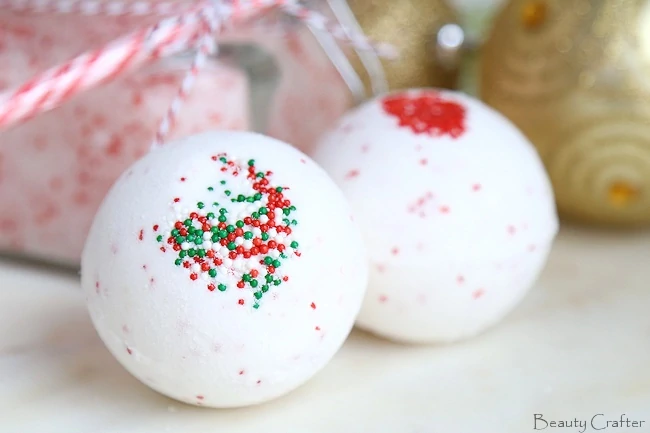 Doing the craft with different ages
Older kids can press sphere shaped bath bombs just as well as adults can. Pretty much just show them the recipe and be around in case they need a little help.
If working with younger children, pressing the bath bomb mixture into cupcake pans with paper liners will make it much easier for them. Because their eyes may be more sensitive than older kids or adults, you may wish to reduce the amount of peppermint oil used.
Silicone molds can also be used, but I find them a bit fussy. If you do decide to go with a silicone mold make sure the shape is simple. Thin sections will often break. A mitten or snowman may be good, but a reindeer with antlers may break easily and not be a good choice.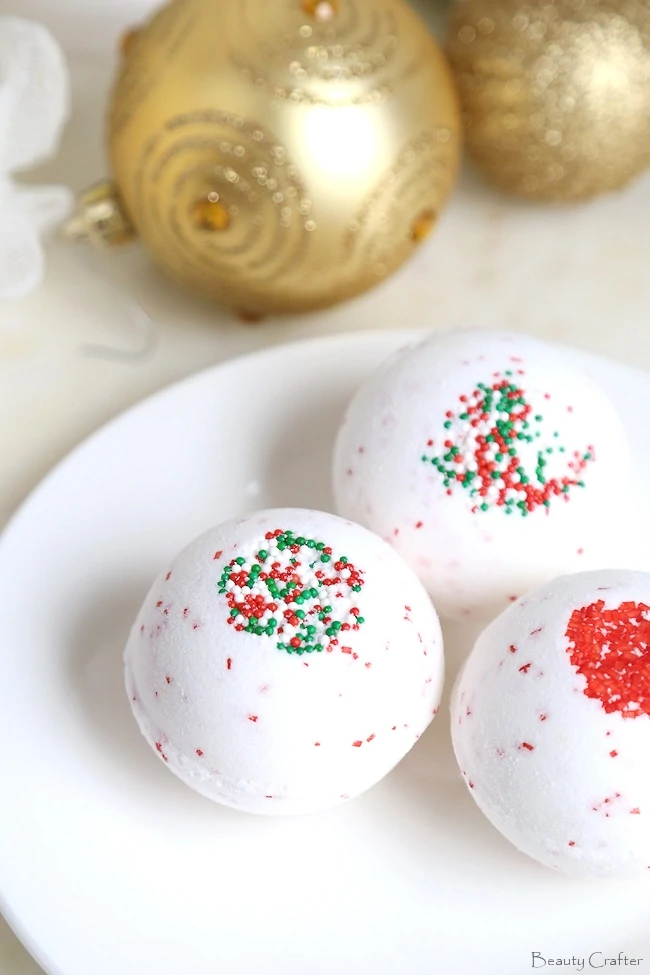 How to Make Peppermint Bath Bombs
Here is a short visual guide to making the DIY peppermint bath bombs. Full printable recipe below.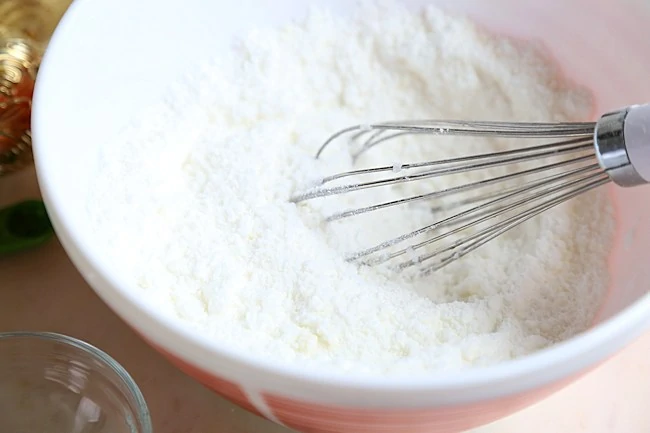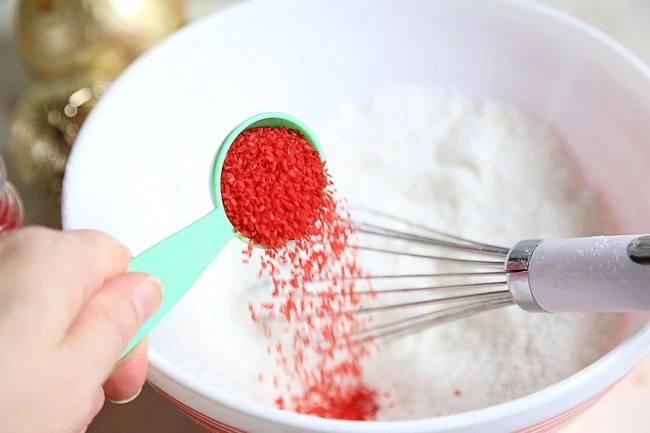 Mix the cornstarch with the baking soda and citric acid in a medium sized bowl. Add the oils and mix, then add the water while briskly mixing.

Mix in the red sprinkles last*. I actually used some naturally colored India Tree sprinkles
I had on hand from baking.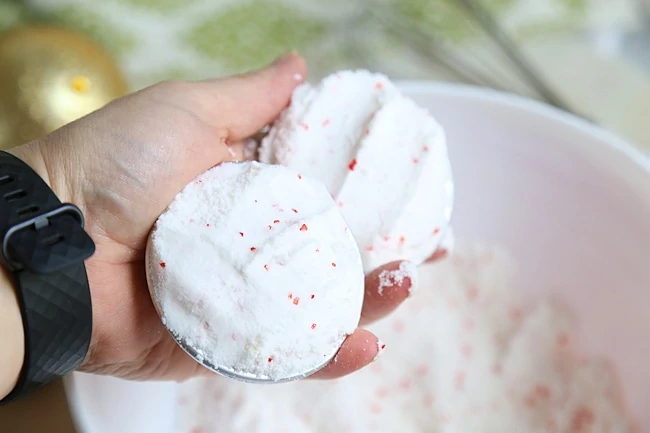 *If you mix the sprinkles in before adding the oils and water, your bath bombs may end out light pink with red flecks.

Fill each side of a bath bomb mold with the mixture, gently press it in and overfill, then press together firmly and squeeze closed. Gently remove from the mold and brush off the excess at seam (called a Saturn ring). Set aside to dry.
Team these bath bombs with some Peppermint Sugar Scrub for a little gift basket!
TIP: Do not make bath bombs on very humid or rainy days. The humidity in the air not only slows drying it can even make your bath bombs bubble up.
Peppermint in Bath
Peppermint is an invigorating essential oil. It is also helpful in opening nasal passages. You don't want to add too much of it to your bath though, as the tingly feeling it invokes can become unpleasant when overdone.
You should be just fine with the bath bombs as made here, but don't start adding extra of the peppermint oil.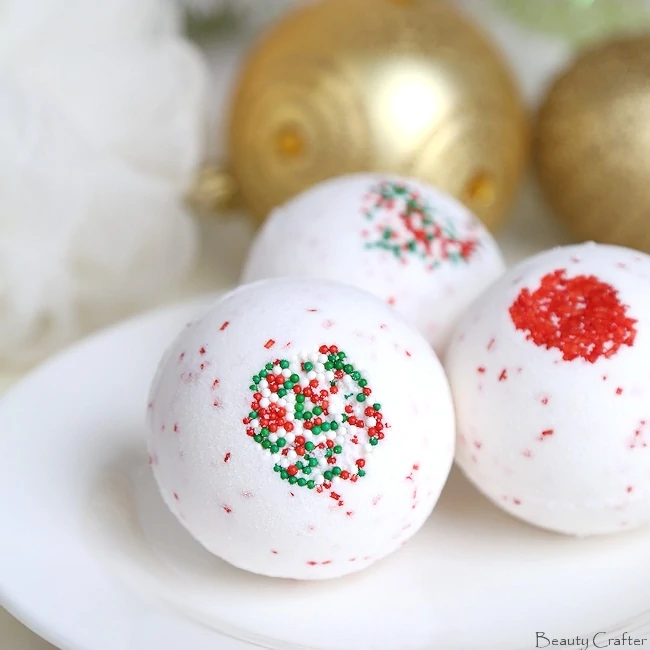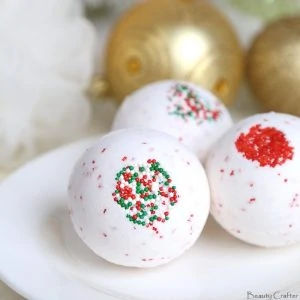 Peppermint Bath Bombs Recipe
Easy peppermint bath bomb recipe makes perfect DIY holiday gifts. Great for kids to make or busy adults who still want to give a nice homemade gift.
Instructions
Combine the baking soda, citric acid and cornstarch in a mixing bowl. Mix well.

Add the oils and mix again.

While mixing, add the water a small amount at a time. The mixing and gradual addition helps avoid creating a reaction of the ingredients.

Now, mix in the red sugar sprinkles.

Scoop the mixture into the halves of a bath bomb mold. Press gently and overfill each side, then press the two sides together firmly. Press tightly.

Remove from the mold, and set aside to dry. Once fully dry store in a plastic bag or airtight jar.