Rosehip oil is one of my favorite oils for maintaining luxurious hair. This beneficial essential fatty acids and vitamin rich oil from rose hips is a fantastic addition to any natural hair care routine.
While it may not be fragrant like oils derived from rose petals, this amazing oil nourishes dry damaged hair, contributes to hair growth and may even combat hair loss! You can always add some beneficial essential oils for fragrance after all.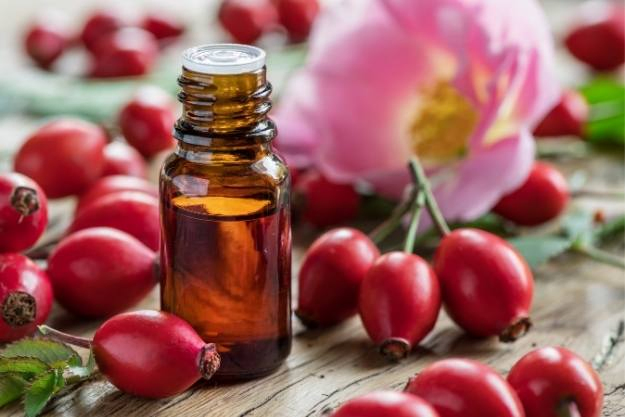 Let's get into the rosehip oil benefits for hair, the what, why and how of using it to gain shiny healthy hair.
What Is Rosehip Oil?
Rosehip oil (aka rosehip seed oil) is cold pressed from the bulbous fruit seed pods of Rosa rubiginosa, Rosa moschata or Rosa canina, rather than the actual flower. It is widely used in health, hair and skin care products. Rosehip oil's high concentration of antioxidants, fatty acids and vitamins make it perfect for hair and skin application.
Why is Rosehip Oil good for your hair?
So, why should you use rosehip oil on your hair and scalp? It is high in antioxidants such as vitamin C, which combat free radicals. Getting rid of oxidants that hinder hair follicles from generating hair growth is a good thing for your locks.
Rosehip oil is chock full of nourishing omega-3 essential fatty acids, primarily as linoleic acid. The high percentage of this lightweight fatty acid over the heavier oleic acid makes it able to moisturize without leaving greasy residue. all in all a great hair oil choice.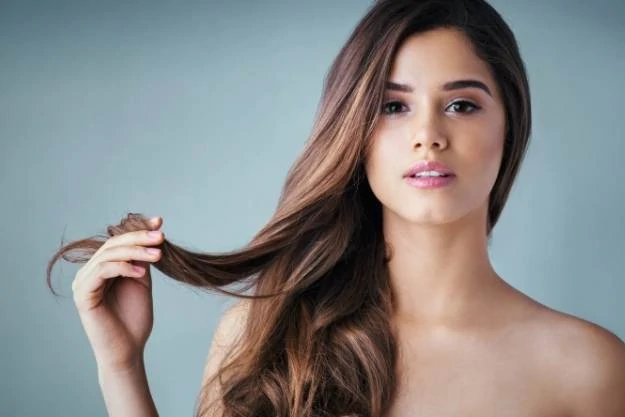 This oil has anti-inflammatory properties. Rosehip oil is also mild and good for all skin types.
Benefits of Rosehip Oil for Hair
Now let's get into what the rosehip oil benefits for hair and scalp are. They fall into three categories; hair growth, repair and keeping the hair shaft healthy and improving scalp condition.
Rosehip Oil for Hair Growth
Whether you are trying to stave off thinning hair or have goals of growing out a long luxurious mane, using rosehip oil is a great addition to your hair treatment plan. The linoleic acid in rosehip oil helps stimulate hair growth at the follicles and reduce hair loss. The antioxidants in it help increase collagen production too.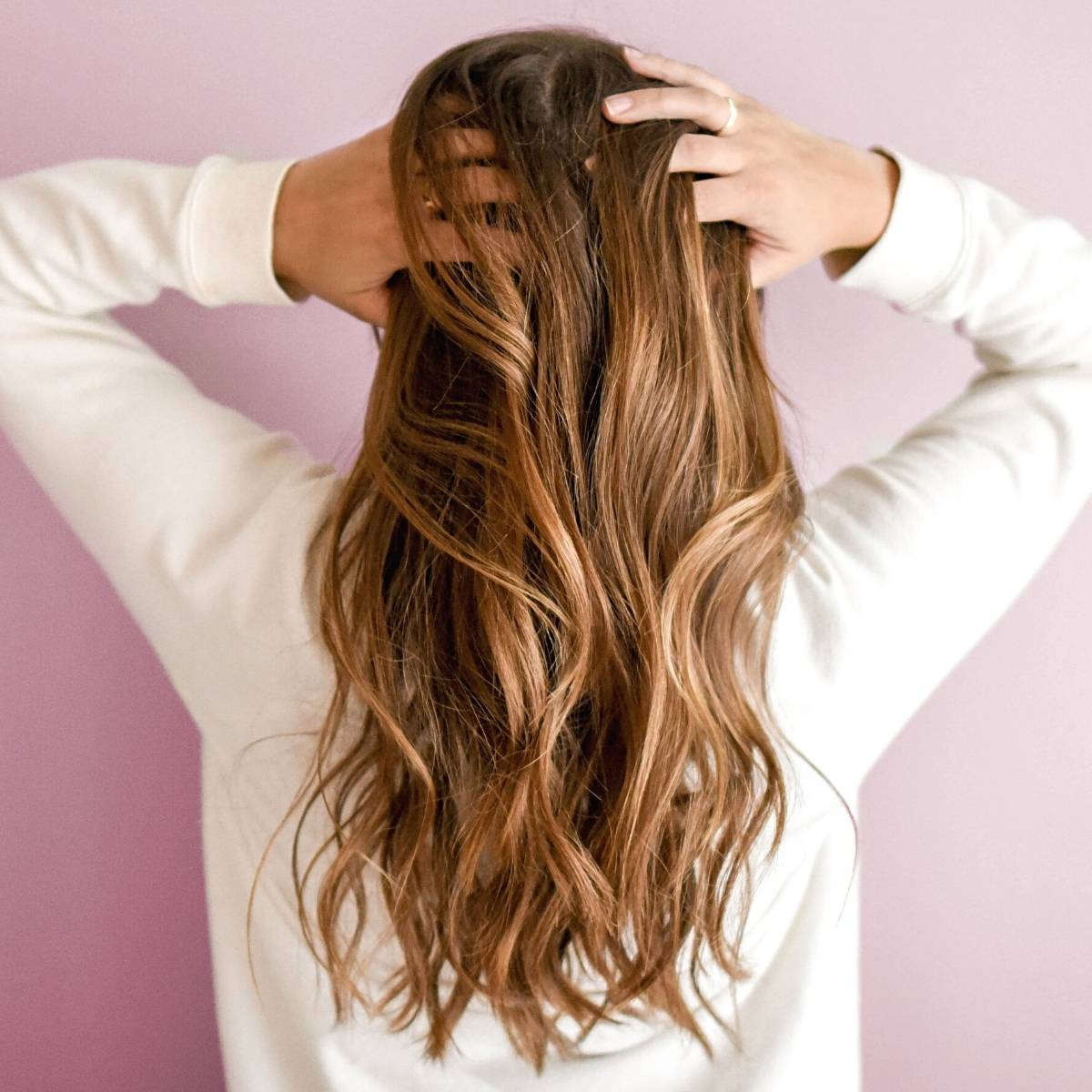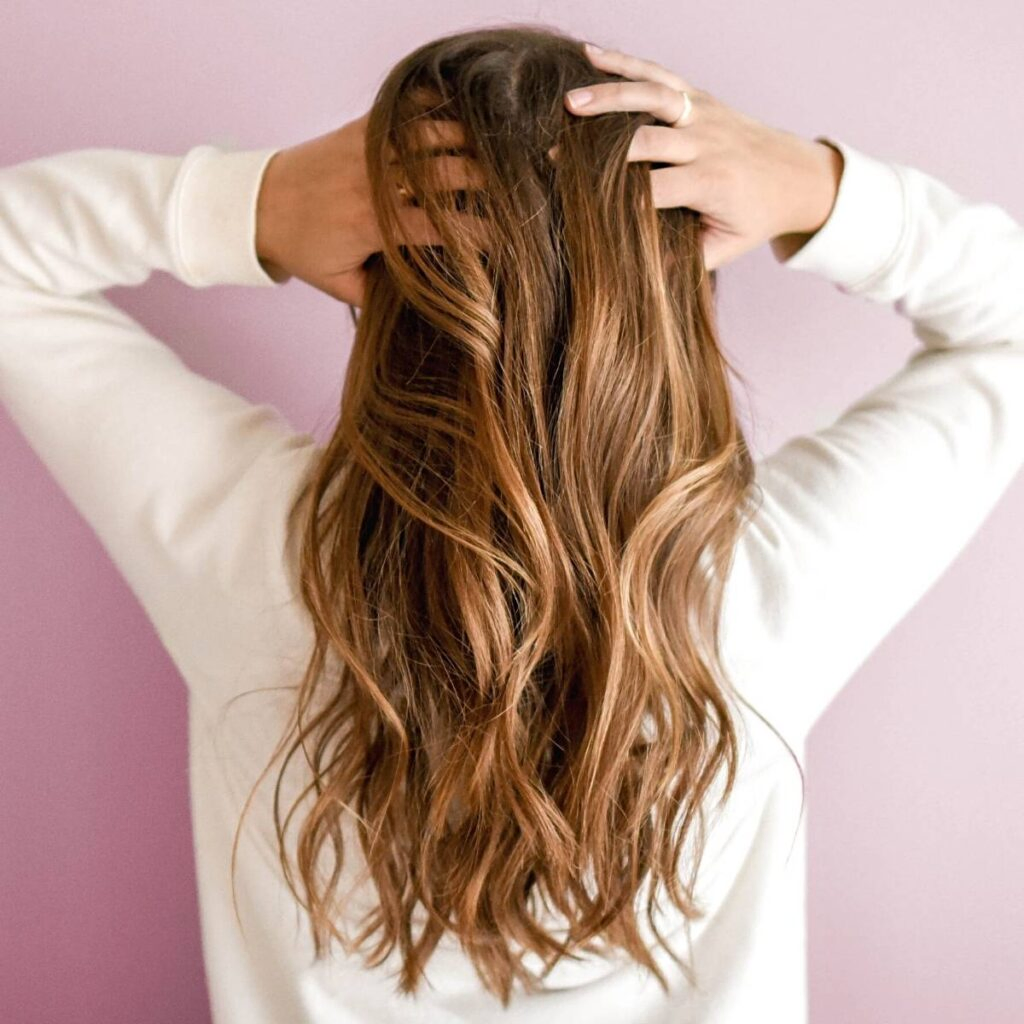 Inflammation is soothed by the abundance of beneficial polyphenols and vitamin E in the rose hip seed oil. This also charges up hair growth.
Rosehip Oil for Hair Repair
The non-greasy oil soothes frizzy dry hair and aids in smoothing split ends on hair strands. This makes it an ideal choice to regular use on bleached hair or locks that have suffered sun damage. There is no need to deal with frizz, this oil can help.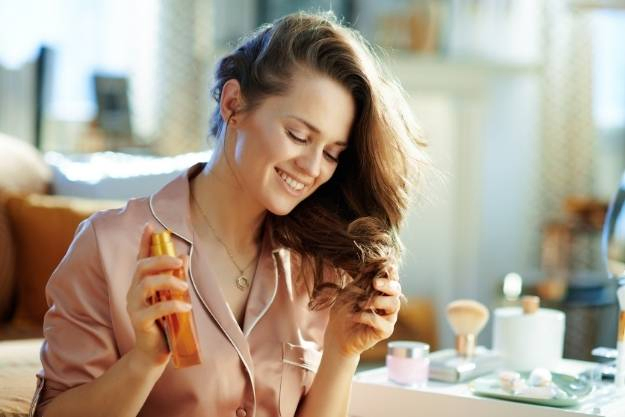 It is a rejuvenating natural oil that has been used for centuries as a hair conditioner.
Scalp Conditions
Just as avoiding oily skin on the face is important, so it is on the scalp as well. This oil penetrates deep into the scalp calming irritations. Maintaining healthy scalp condition is important to having healthy hair follicles, which lead to a nourished head of silky hair.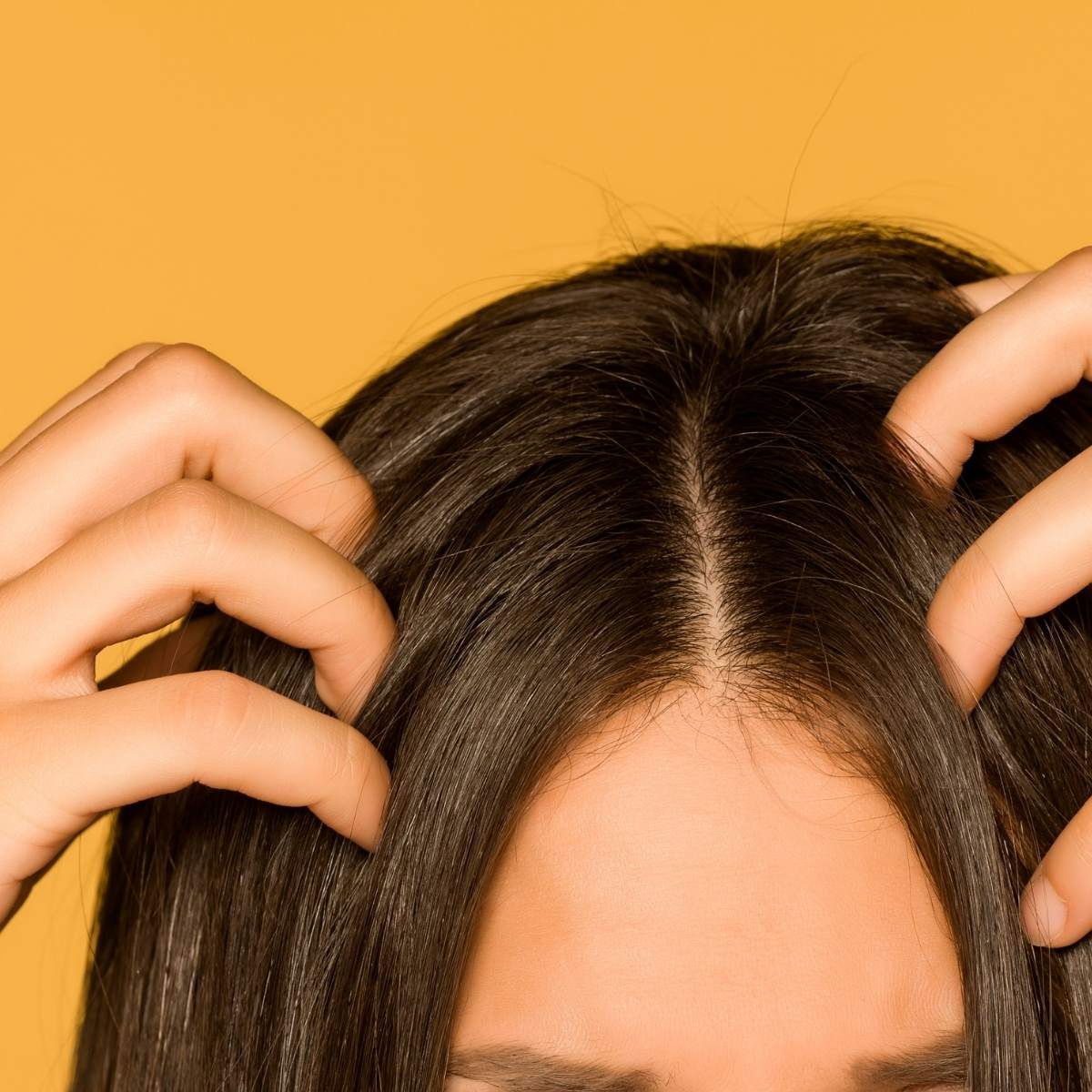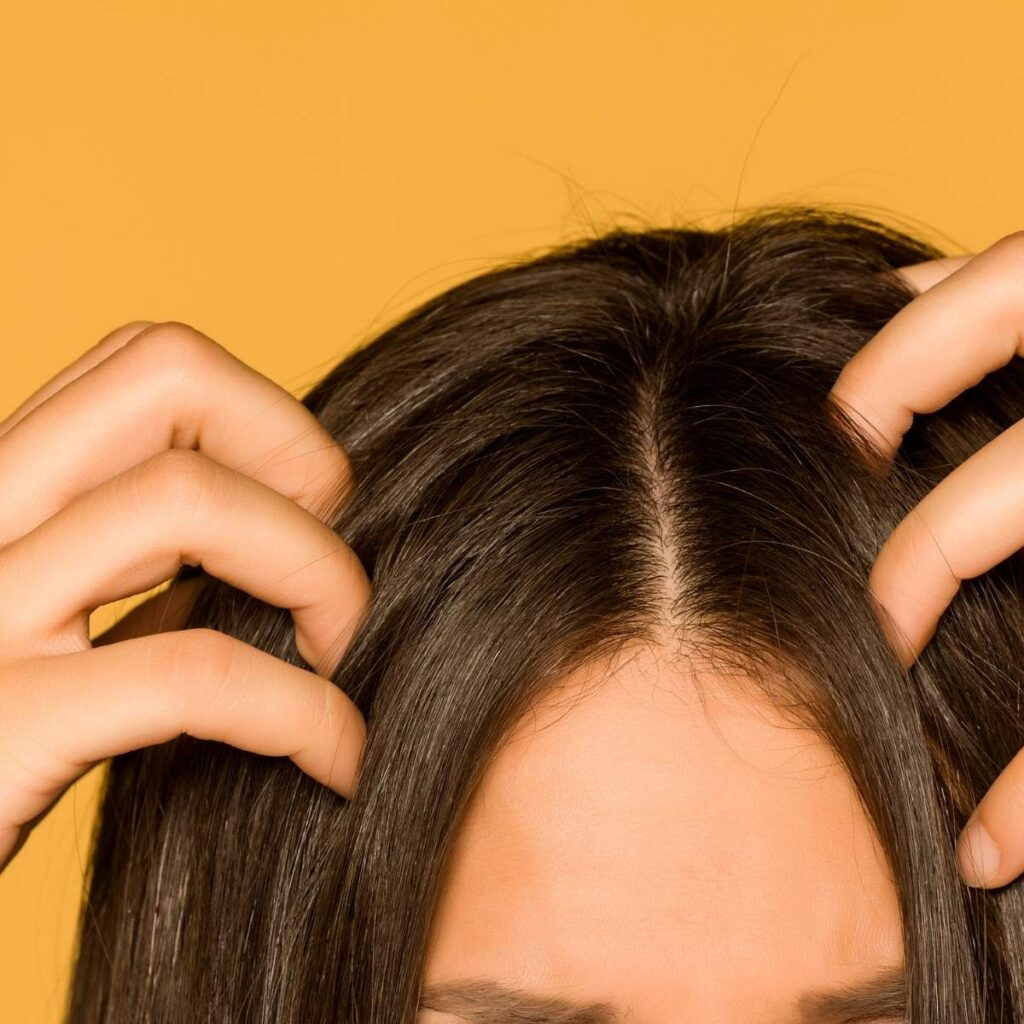 Rosehip oil's anti-inflammatory and healing properties [study] make it ideal for treating an injury or skin condition of the scalp. The oil is also non-comedogenic meaning it won't clog pores and cause oily skin on scalp. While dry scalp is bad, balance is essential. Maintaining a good sebum balance on the scalp is important to avoiding dandruff and itchy scalp.
The lightness of rosehip seed oil will also aid in avoiding acne and other blemish breakouts along the hairline. For those prone to acne that wish to condition their scalp, rosehip oil is a great natural conditioner choice.
How to Use Rosehip Oil for Hair
The oil can be simply added into your existing shampoo or conditioner. It is also fine to massage it onto the scalp and hair. It pairs well with other oils, such as Argan, jojoba oil and many essential oils for hair. If dandruff is an issue pair it with essential oils for dandruff. Rosehip oil is a favorite ingredient in homemade hair care products. See my hair serum recipe below.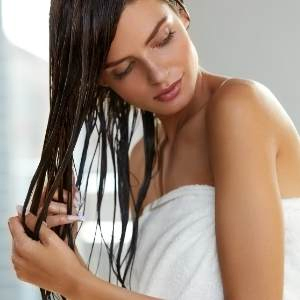 Create a simple rosehip oil hair mask. Just mix a ½ teaspoon of rosehip oil into a tablespoon of hyaluronic acid serum for a super hydrating hair treatment.
While developed for facial application, my Rose Face Spray contains rosehip oil and can also be applied to hair as a leave-in conditioner.
When rinsing off any of these homemade products (or even store-bought ones) rinse with warm not hot water so you don't remove them completely along with your natural oils.
Precautions
While most people have absolutely no issue with this oil and having an allergic reaction is rare, like anything, some will be more sensitive to it. Before applying generously, do a patch test of the oil on an inconspicuous area of your skin. If you get no reaction by the next day, feel free to proceed.
SHOULD I REFRIGERATE ROSEHIP OIL?
While refrigeration is not necessary in most cases, it will extend the shelf life of the oil. It is wise to store rosehip oil in the fridge if you don't have a cool dark place to place it otherwise.
WHAT IS THE DIFFERENCE BETWEEN ROSEHIP OIL AND ROSEHIP SEED OIL?
There is no difference. They are the same thing.
IS COLD PRESSED ROSEHIP OIL BEST?
It is high quality, but CO2 extraction is actually the best process for making rosehip oil. In the process oxygen never comes in contact with the oil during production. This avoids oxidation and extends shelf life. The problem is it is nearly impossible to find.
HOW OFTEN SHOULD I APPLY OIL TO MY HAIR?
Once a week is sufficient. Over oiling often leads to more shampooing which in turn strips hair of moisture. If you use rosehip oil too often can lead to build-up even with a dry oil like rosehip.
Can I leave rosehip seed oil in my hair overnight?
Yes, just make sure to wash it out the next morning.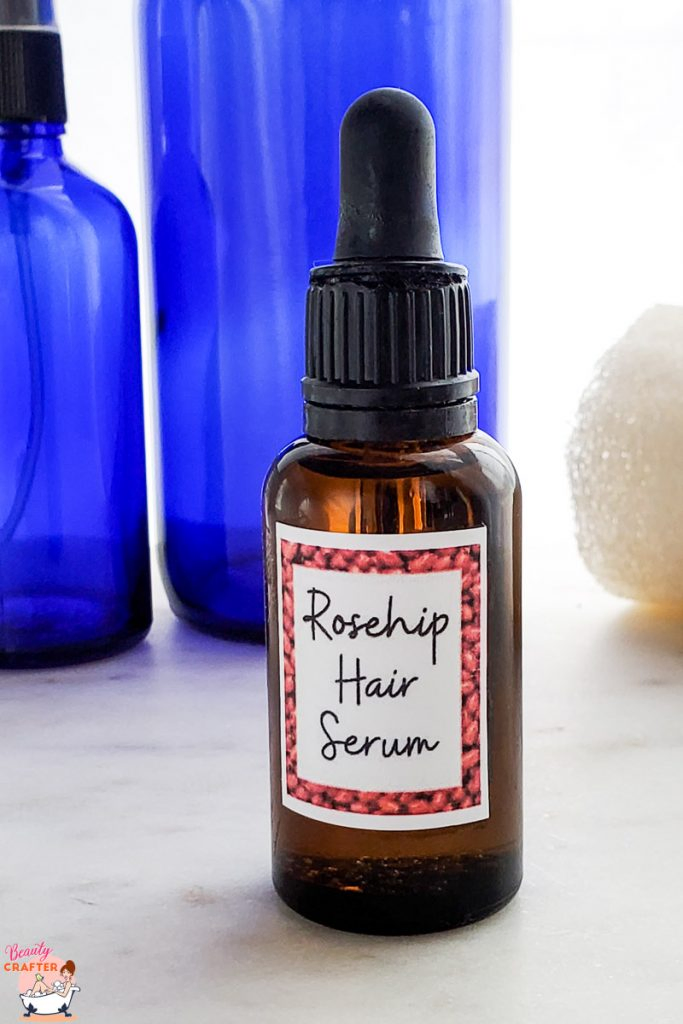 Here are the free printable labels to put on the bottle for the recipe below, if you want to use them. >> Rosehip Oil Hair Serum Labels
Print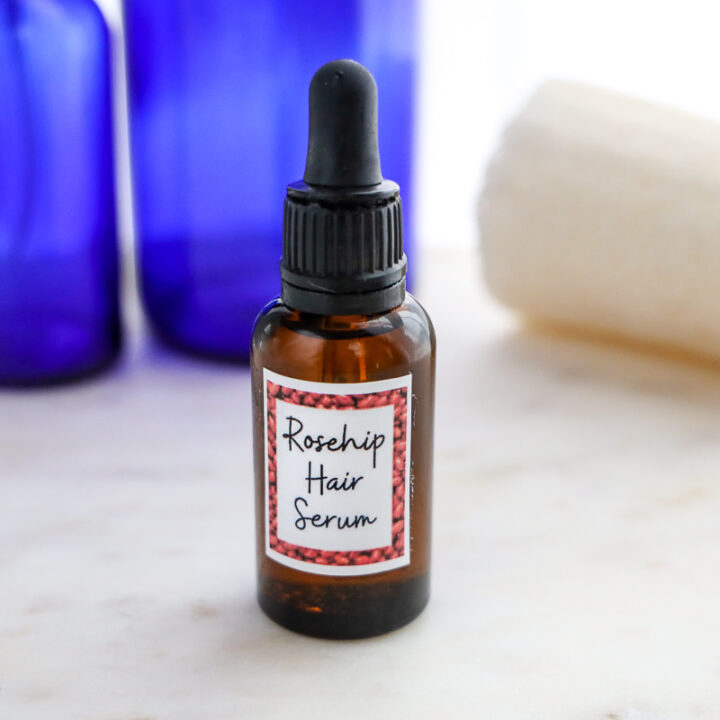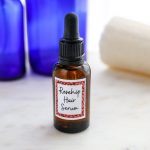 Rosehip Oil Hair Serum Recipe
---
Description
This easy to make DIY Rosehip Oil Hair Serum will nourish your hair and scalp. Grab the free printable labels too!
---
1 tablespoon Argan oil
2 teaspoon rosehip oil
1 teaspoon jojoba oil
8-10 drops rosemary essential oil
5 drops bergamot essential oil, optional
Supplies
2 ounce glass bottle with dropper
small funnel
---
Pour all the oils in the bottle using funnel.
Shake well and store unused serum in the refrigerator.
Applying
When your hair is damp from shower, apply rosehip oil hair serum by putting 1-3 drops of the oil on your palms and massaging onto your scalp and down hair shafts.
You can also apply to dry hair ends by rubbing onto hands first and lightly dispersing on ends.