If you are looking at this, you have probably been intrigued by the benefits of essential oils for a little while now. It took me a full year to take the plunge, and I am someone who has used herbal treatments in the past successfully.  I'm glad I finally did take the plunge.  Essential oils are more concentrated and far easier to use than the plants they come from.  I've been quite impressed with their effectiveness.
Why Choose Young Living Essential Oils
Young Living's Seed to Seal guarantee –  The plants used in their essential oils are grown by them, or on farms carefully certified by them.  Great attention is taken not just in the production of your oils, but right from the time of planting.
Support and Resources –  Resource materials will come with your starter kit, so you will know what to do with the essential oils.  When you join the Young Living "Oily Family", though me, you will also be invited to a Facebook group, where myself and experienced essential oil users will be there to share our combined knowledge as a community.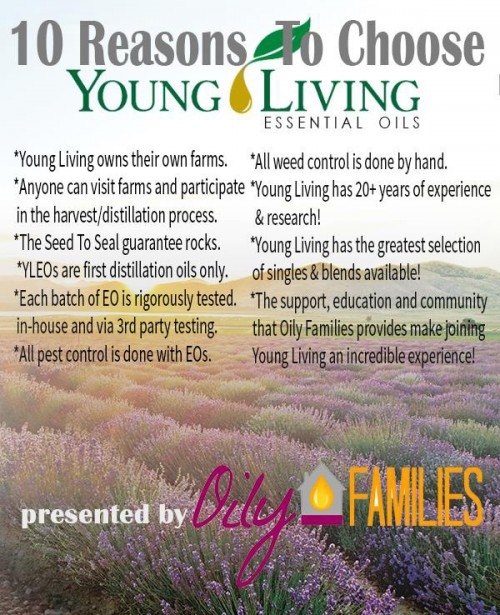 Best Way to Start Young Living
The Young Living Premium Starter Kit is a great deal ($150 for over $300 worth of product + see my current bonus offer below) and the best way to get started in essential oils.  It comes with 11 popular essential oils and blends, a top quality diffuser, roller ball top,  sampler packets of essential oils to share with friends, samples of Ningxia to try and booklets about the products and Young Living.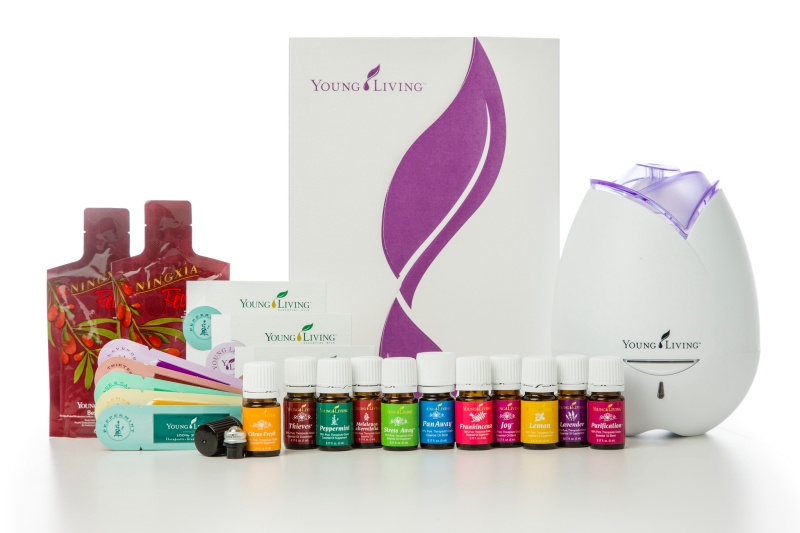 Here are the 11 oils included in the Young Living Premium Starter Kit.
Limited Time Premium Starter Kit Bonus Deal!
Our current exclusive Young Living Premium Starter Kit Deal adds these great items from me.  They will really help you kick off your journey into the natural benefits of essential oils.
An additional $55+ value
Essential Oils Pocket Reference 6th Edition – An invaluable resource of nearly 500 pages at your fingertips. With the EOPR in hand you'll always know how to use your oils.
The Essential Oils Starter Guide – A beautiful 20+ page booklet that demonstrates uses for every item that comes in your starter kit. Think of it as the "quick start guide" to oiling.
15 ml bottle of Young Living Orange Essential Oil –  A big bottle of extra oil.  You will start with 12 instead of 11 oils, and the larger bottle will make you more confident to experiment.  Make some bath bombs, use it in cooking or give your home a happy refreshing natural scent.
Thieves Spray – Thieves® Spray is ideal for use on door handles, toilet seats, and any surface that needs cleansing to protect from dust, mold, and undesirable microorganisms. This small bottle is perfect for traveling or keeping in your purse or backpack. 

Access to Oily Family Room and Oily Connections on Facebook – Oily Family Room is over 22,000 members strong! If you've got a question, chances are you can find an answer there. Join our Oily Connections Facebook group for a smaller, more personal experience. Ask questions, share your excitement about essential oils, and get to know others along the way.
Email Support – An introductory email class, plus ongoing support from myself and other members of the team.
Sorry, this bonus is only available for U.S. residents. 
Are you ready to get started with Young Living? Let me walk you through the process, of taking advantage of the Premium Starter Kit Deal.
How to join Young Living Essential Oils &  Get the Best Deal
1. Click here to begin the quick and easy enrollment process.
2. Be sure to select "Member" not retail customer. This is the wholesale membership. You are NOT AGREEING TO SELL or distribute anything.  I repeat, you are not making an ongoing commitment, by becoming a member.  If you select "Retail Customer" you will not receive wholesale pricing and will pay retail which is 24% more than wholesale.
3. Make sure my member number (2635535) is in the Sponsor ID and Enroller ID spots.
4. Be sure to include your email address so I can invite you to the Oily Family Facebook support group. This support is essential for empowering you to use the oils to the fullest.  You are not dependent on the knowledge of one person, but many experienced Young Living essential oil users.
5. Choose the Premium Starter Kit you want (there are five to choose from) then proceed to check out. You do not have to order an Essential Rewards kit to join. Essential oils reward will place you on an autoship program to get free oils. If you'd like to be part of this program you can sign up at a later date and you still won't have to purchase a kit to be part of it.
6. Your oils are on their way. You have wholesale membership privileges & can start as a distributor, if you choose to!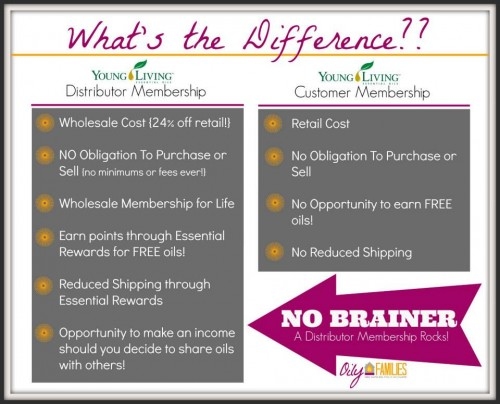 Make sure to use my member number (2635535) is filled in when ordering, so you will get the bonus deal.  The bonuses are supplied by me, not Young Living.