Essential oils and wool dryer balls have both become popular in recent years. Together they make a fabulous eco-friendly and sustainable alternative to fabric softener dryer sheets. Use essential oils to make your clothing smell fresh and natural.
Your family's regular clothing items, linens and towels will be fresh and fragrant without chemicals or synthetic perfumes!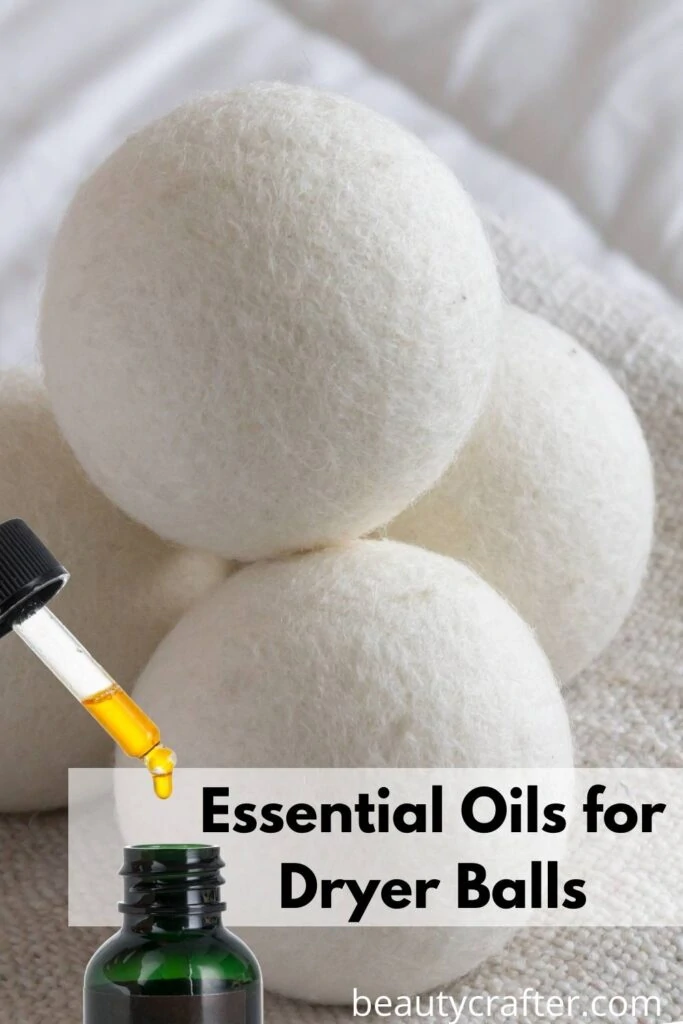 Why Use Wool Dryer Balls?
Choosing a wool ball with your choice of essential oils over a dryer sheet just plain makes sense. Here are some of the benefits:
The wool in dryer balls soften fabric and reduce static cling as well as wrinkles.
Rather than smelly chemicals from toxic dryer sheets. You can enjoy the smell of natural fragrances on your clothing and linens. You will also pleasantly scent your home while you dry your laundry.
You will also get the aromatherapy benefits of using essential oils.
Wool balls last a long time, like a few years. You can do up to a thousand loads of laundry with the same set of dryer balls, saving money.
Dryer balls also speed up drying time, which is both convenient and saves electricity.
Wool dryer balls allow towels to maintain their full absorbency. Dryer sheets and liquid fabric softeners actually reduce how much a towel can absorb.
Plastic Dryer Balls
While not as popular, plastic dryer balls are also effective at knocking out wrinkles, fluffing clothes and also reduce drying times for your laundry loads. You will also need to use an EO linen spray though if you want to get the benefits of essential oils.
Most people switching to dryer balls are trying to be more eco-friendly or cut down on toxins in their home though, so how much sense this type of dryer ball really makes is debatable.
Which Essential Oils Should I Use on Dryer Balls?
Various essential oils have differing aromatic benefits. You want to chose an essential oil (or blend) that complements your lifestyle. When using wool dryer balls try these natural scent suggestions.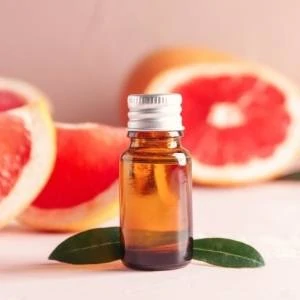 Uplifting Essential Oils
When you need an uplifting scent, rose is perfect. It is a nice choice for that work in a caretaking role. While not technically an essential oil, natural rose absolute is perfect for laundry use, since the true oil is crazy expensive. Misting your wool dryer balls with rosewater is also a great budget-friendly alternative.
Bergamot is another great uplifting choice and one of my favorite scents. While I am personally not a fan of Ylang Ylang, it is both cheering and considered an aphrodisiac scent... just saying.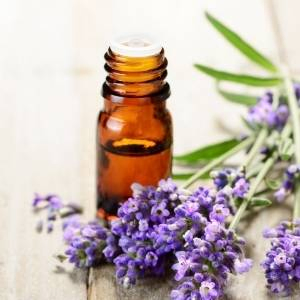 Calming Oil Choices
The soothing scent of lavender oil is the obvious choice for drying bedding, since it will enhance sleep. It is also a good choice for clothes when anxiety is an issue, due to it's naturally calming smell.
Lavender is a gentle skin safe oil and has antimicrobial properties too. This of course makes it a favorite of moms, when laundering cloth diapers and children's clothing and bedding.
Roman chamomile, clary sage and eucalyptus are other calming oil choices to add to your dryer balls.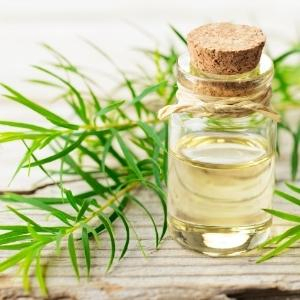 Disinfecting Essential Oils
If your laundry is extra funky grab some tea tree oil. It is the smart option when doing laundry for a sick family member.
Lavender and rosemary are also mildly disinfecting essential oils to add to your wool dryer balls. They smell less medicinal too.
Essential oil blends are a favorite of mine. Complementary scents are teamed up to become more than the sum of their parts. Try one of my blends below or make your own signature blend and your entire home and family will boast a signature scent.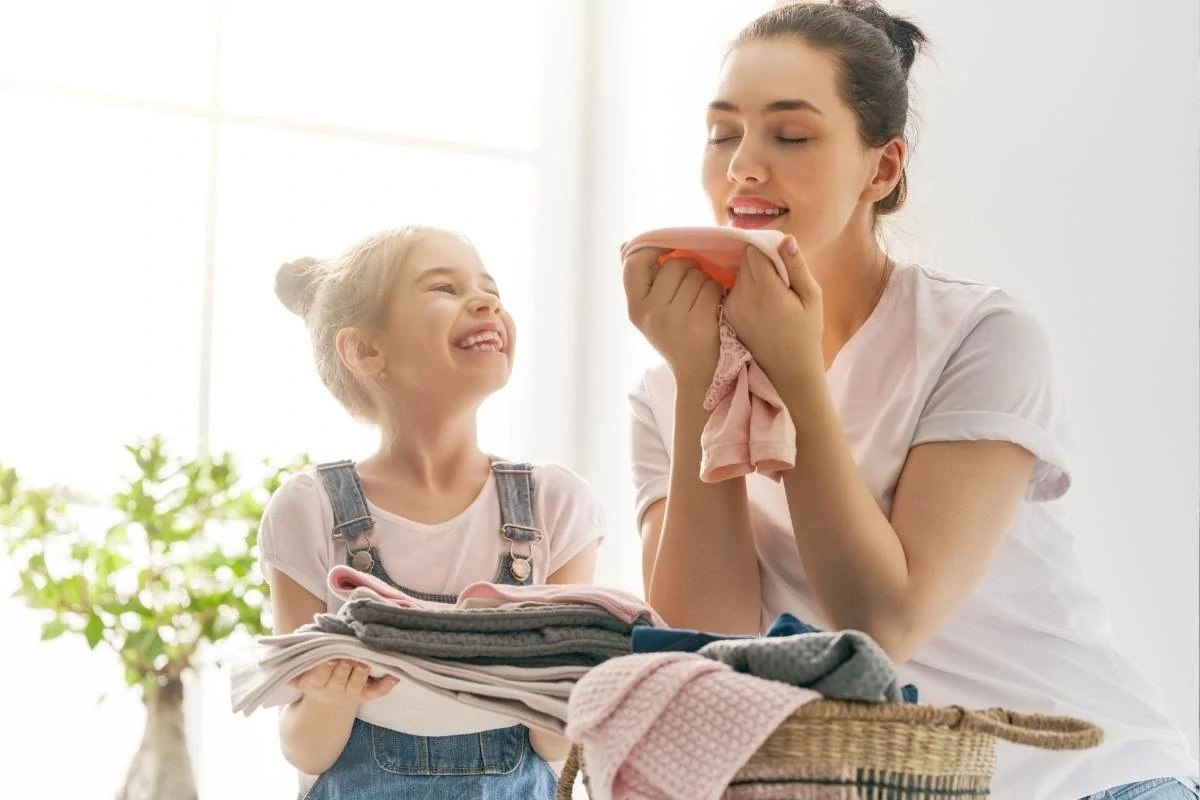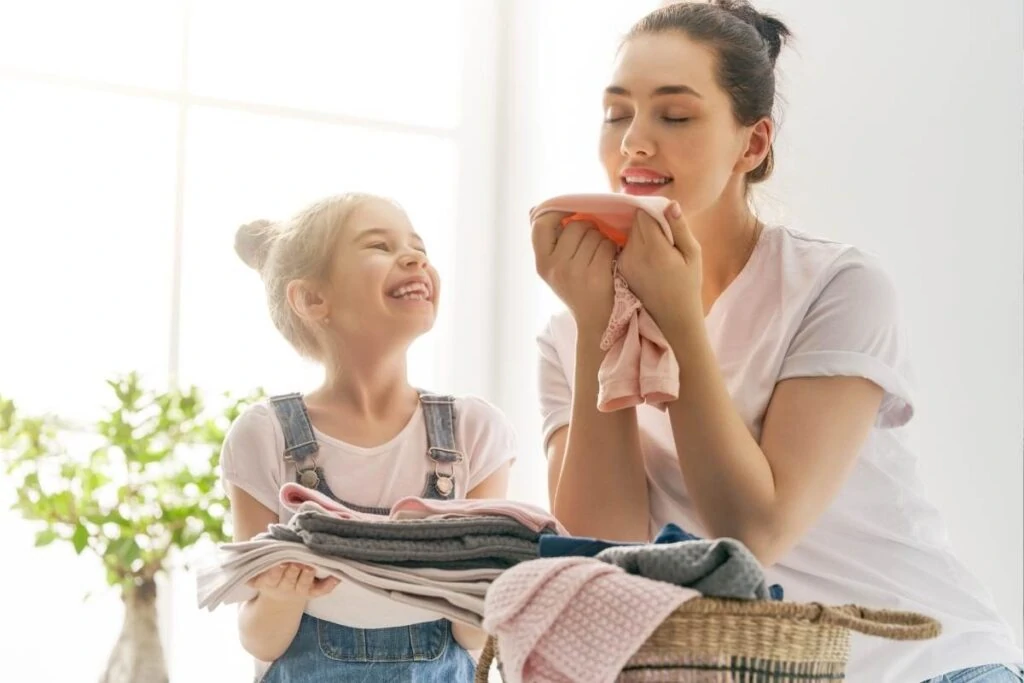 How to Use Essential Oil Dryer Balls
Let's get those smelly clothes, towels and bedding fresh and sniff worthy!
Using these wool balls is easy, and they can be used in both gas and electric dryers.
When you are ready to put a load of wet laundry in the dryer. Add 2-3 drops of essential oils to each wool dryer ball and toss in with your load of laundry. If you use a lot of dryer balls in a dryer load, feel free to skip scenting most of the balls.
For stronger scents such as funky gym clothes, you can use an extra drop or two on each. Drying will dissipate a good deal of the scent into the air anyway.
Team these wool dryer balls with a good quality eco friendly laundry detergent and you will not have to be concerned about your family absorbing harmful chemicals from clothing or sheets. It's an easy change to make in daily life, with a big impact.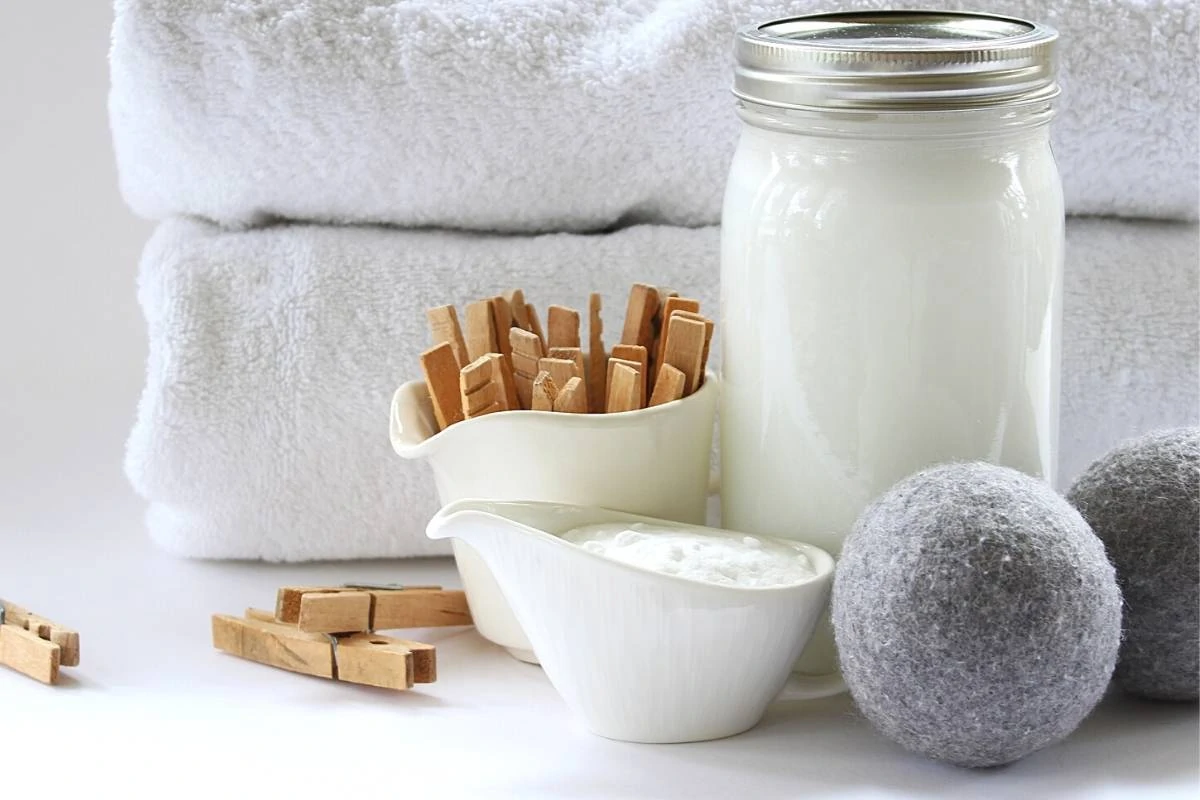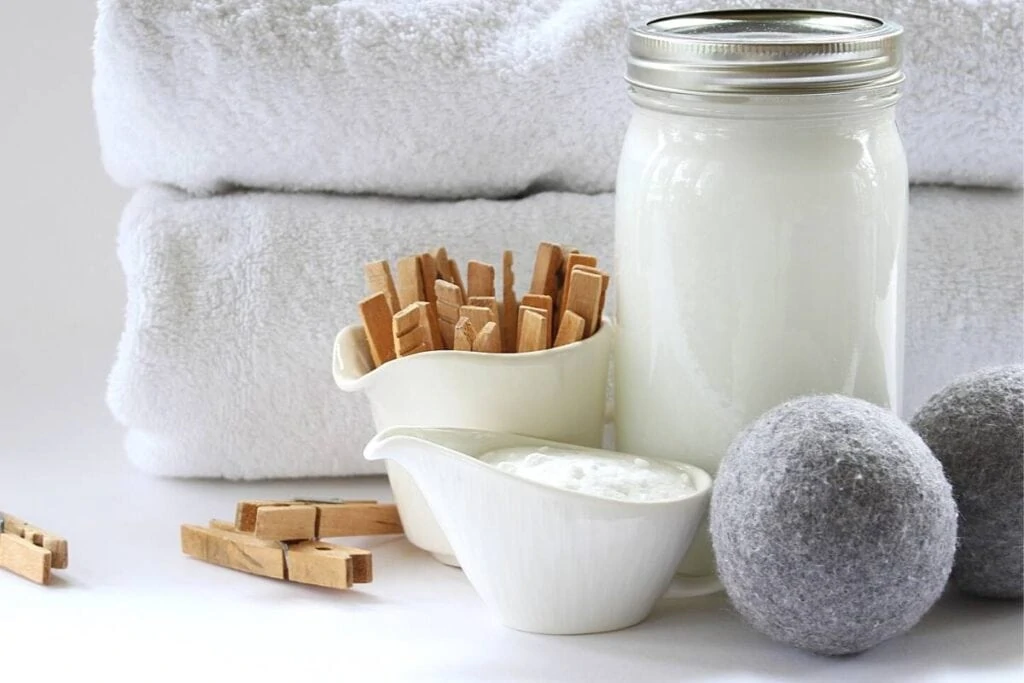 Cautions
DO NOT STORE your essential oils on top of the dryer. They are flammable. We don't want a fire.
No worries about using them in your laundry though. The few drops of essential oils used on the dryer balls are not nearly enough to cause a hazard. Wool is also naturally flame retardant.
For those with sensitive skin I suggest a diluted spot check of the essential oil you plan to use on skin before you add essential oils to the entire laundry load.
Print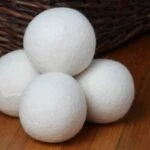 Essential Oil Laundry Blends
---
Description
Skip the synthetic fragrance, and add these favorite essential oil blends to your wool dryer ball for wonderful fresh scent on your clothes!
---
Triple Citrus Essential Oil Blend
Equal parts.
lemon essential oil
grapefruit essential oil
Orange Essential Oil
Soothing Blend
Equal parts.
lavender essential oil
bergamot essential oil
---
Simply mix equal parts of each oil and store in a tinted bottle. Add a few drops of the fragrance to one or more of the wool dryer balls.
Notes
If you plan to mix up your own blends of essential oils for your wool dryer balls, just make sure to chose skin safe oils. Some can be irritating.