Himalayan salt lamp benefits are a hot health topic these days and the lights seem to be popping up in stores everywhere. This leaves us with a few questions. Do salt lamps really work? How to tell if it is a real Himalayan salt lamp and what are the natural health benefits of using a salt rock lamp?
We already know I appreciate the beneficial effects of a Himalayan Salt Bath.  Now, let's delve into the health advantages of Himalayan salt lamps and improvements to your home indoor atmosphere.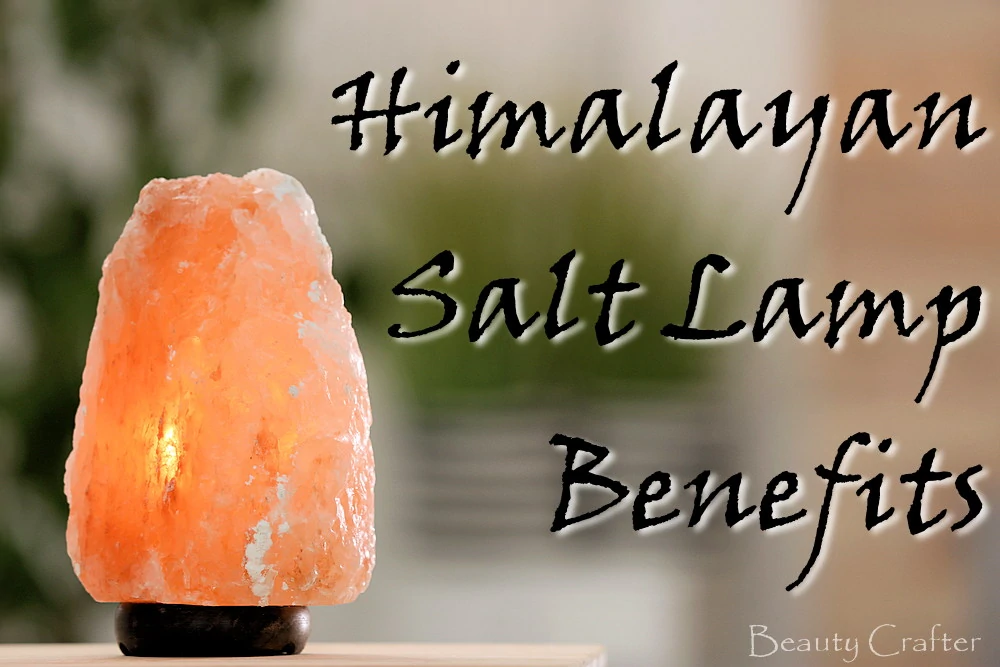 How Do Himalayan Salt Lamps Work?
Before we get into the health benefits of salt therapy with Himalayan salt lamps, let's discuss how they work. The warm glow of a pink salt rock crystal lamp is not just a pretty addition to your home decor, it can actually help purify inside air!
The lights are made with true Himalayan pink salt which can clean the air, much like the unique feel of the air at a salt water beach. The majority of the mineral is sourced from the Khewra Salt Mine in the Punjab region of Pakistan.
Air quality is improved by air ionization. Himalayan pink salt lamps release negative ions rather than positive ions. Negative air ions have been associated with beneficial health effects on humans [study shows].
Himalayan salt lamps draw water molecules to them in a process called hygroscopy [reference]. This in theory also pulls pollutants to the light, and out of the air.
Using salt lamps is based on the success of halotherapy, where people with breathing issues are treated in salt caves. Salt rooms have also been created that have been successful in use as breathing treatments [ref]. While a single lamp will not have the effectiveness of these, placing bowls of pink salt crystals along with a few lamps in a bedroom or spa area is bound to create a similar atmosphere albeit less concentrated.
Salt Lamp Benefits
Now to get into a more in depth answer to the question... What are salt lamp benefits?
There are numerous health and mood advantages to adding salt lights to your home or spa. Pink Himalayan salt lamps reduce stress and are known for improving air quality indoors.
Let's look at Himalayan salt lamps and their effect on anxiety first.  
The world today is quite literally, overrun with technology and anxiety and stress seem to have become an inseparable part of our lives today. If you too, are one of those many who have fallen into the trap of the glorified image of being 'busy' and a 'workaholic,' here is a simple addition to your home spa area, bath or bedroom that can help.
Keep reading to discover more about salt rock lamps and how they are a little way to help relax, improve mood and promote overall health.
How Salt Lamps Reduce Anxiety
Salt lamps, specifically Himalayan salt crystal lamps, have recently gained a lot of popularity. Most choose one of these lights for relieving stress and tackling anxiety rather than as a light source. The stress reduction is created by releasing negative ions in the air around them. These negative ions, when inhaled, create a relaxing and pure environment.
According to several studies, the negative ions from rock salt also soothe the atmosphere around them on the molecular level. The air ions work wonderfully when it comes to reducing stress and anxiety.
I suggest placing a salt light in your bed room.  The calming effect will help you fall asleep.  Placing in the room will also expose you to the air ions for an extended period of time. While a bathroom may also be a good spot be mindful that water vapor can erode salt over time.
People suffering from chronic stress and anxiety and other anxiety related disorders profit significantly from having several salt lamps spread in the rooms of their home. With regular use, they are likely to notice a consistent improvement in their stress levels.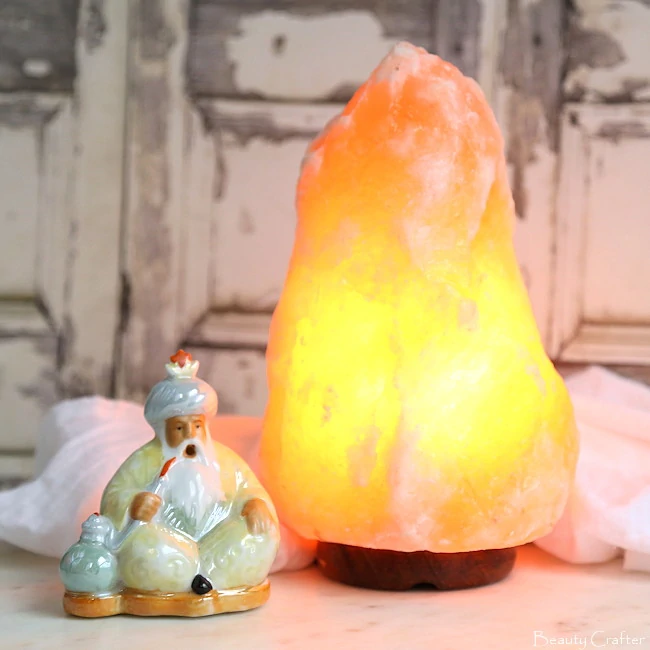 Other Benefits of Himalayan Salt Lamps
Apart from being the obvious superstar at enhancing mood, salt lights also have a ton of other health benefits associated with their use at home.
Air purifying and Disinfection
Himalayan salt lamps help reduce mold, dust, pollen, pet dander and mildew particles in the air. This may of course aid in reducing symptoms from allergies and help keep contaminants out of our lungs.
The light acts as a natural air cleanser. This can make the home air more breathable and be extremely helpful for those suffering from asthma symptoms, bronchitis and other conditions associated with the respiratory tract.
The negative ions released by the salt lamps into indoor air may also fight airborne germs and decontaminate the air effectively. Evidence shows high ionization levels reduce contamination [study].
Circulatory System
Some studies have revealed that those negative ions can actually help improve blood flow in the body as well.  Research shows negatively charged air ions may provide relief from disorders associated with the vascular and circulatory system.
Enhanced Performance
The negative ions released by the lamp may boost energy levels, improve performance and boost concentration levels as well. People using them have reported more energy and  increased clarity. The better sleep and breathing atmosphere will of course help reduce fatigue as well.
Improved Mood
One study shows that negative ions can increase the levels of the neurotransmitter serotonin.  Serotonin  boosts the feeling of happiness. This leads to the belief that Himalayan salt lamps may benefit those suffering from SAD (seasonal affective disorder) or even depression. 
Better Sleep
For people affected by insomnia, sleep apnea and other related sleep disorders, sleeping in a room that has a Himalayan salt lamp may really help improve their sleep. It certainly won't hurt and absolutely adds to a relaxing atmosphere.
Who would have imagined a block of salt and a light bulb could create such an amazing positive effect in our lives! Investing in an authentic Himalayan salt lamp can help neutralize the positive ions present in the air that you breathe, thereby improving the quality of air and helping you gain the many benefits of breathing in negative ions.
Relief from allergy symptoms, a therapeutic atmosphere, enhanced mood, performance and sleep are all potential health benefits of adding one of these lamps to your home. Even a slight improvement in these areas is worth the low cost of a salt lamp in my opinion. I also simply like the look of them too!