Have you been hearing a lot about the benefits of aloe vera for hair? Me too, and it turns out is is a smart choice to use Aloe vera on your scalp and hair!
Today we will focus on the topical application of aloe vera juice and gel on the hair and scalp. The soothing inner pulp of the aloe plant is highly beneficial. Below, I'll discuss three real aloe vera benefits for hair. You'll learn about the using aloe vera gel as a natural hair ingredient in your own hair care routine!
The gooey insides of Aloe vera (A. barbadensis) leaves have been used for centuries both orally and topically. The aloe vera plant is revered for its healing properties. Let's learn how to improve our hair health with aloe vera.
Aloe Vera Hair Health Benefits
Having Aloe gel or at least a large aloe vera plant in your home is just plain smart. It is so very useful in so many different ways particularly for your skin and hair. Aloe vera is also an excellent source of nutrients such as fatty acids, essential amino acids, vitamins A, C, E, B-12, and trace minerals such as copper and zinc.
Most are familiar with applying aloe vera topically bug on bites and burns, and have seen it as a skincare additive.  It is also known for its ability to promote hair growth though.  Aloe vera really is a multipurpose ingredient!
Not all aloe vera gels are created equal. Don't  just grab any bottle. Look for an organic aloe vera gel.
Like many all-natural ingredients, pure aloe vera gel has a limited shelf life and because of that many store-bought gels will contain preservatives. This can't be avoided, but choosing an organic aloe gel will keep out harmful chemicals.
You want to find an organic brand. The bottle should list very few ingredients and clearly state what they all are.
The best way to get aloe vera would be to make your own from an aloe vera plant and keeping it in the fridge or simply squeeze out the gel from the aloe vera leaves and use immediately. By doing this you will be sure to stay stocked up on natural and preservative free raw aloe vera gel!
And really, there's no better option than to be able to harvest the ingredient yourself. By doing that you are guaranteed to get the best quality product!
Promotes Hair Growth
One of the greatest aloe vera benefits for hair is its ability to encourage hair growth.
Aloe vera contributes to increased blood flow circulation to the scalp. This results in more hair growth. The more blood flow that you have coming to your scalp regularly the more nourished your hair will be. This boosts hair growth! [ref]
Using aloe vera helps the scalp to be healthier in general as well, which creates the best environment for new hair growth.
For a nourishing deep hair cleanse try using a shampoo with aloe vera in it.
Aloe isn't a miracle cure for hair loss, nor is it a quick solution for growing more or longer hair. Aloe vera is a very promising home remedy though, for maintaining a healthy scalp and luxurious mane of hair.
It's a great way to promote more hair growth! I also use aloe in my Sea Salt Hair Spray due to it's benefits.
Calms any Itchiness
Aloe vera gel is  well-known for its calming soothing qualities. That is why it is used to treat sunburns, bug bites and general  skin irritation! See my DIY Sunburn Relief Spray.
The benefits of aloe vera for hair are just as amazing as the remedies that we use on our skin! After all, the scalp is skin and it's health is essential for vigorous growth of strong hair strands.
This beneficial sap can also act as a scalp conditioner, and helps relieve itchy scalp from dandruff and dryness.
Aloe vera even has some anti-inflammatory properties which can help to reduce minor inflammation and itching of the scalp. There is some evidence to even show that aloe vera might help with minor sun damage to hair!
See my:  Apple Cider Dandruff Rinse
Moisturizes and Nourishes 
Much like what honey does for the skin, one of the benefits of aloe vera is that it attracts oxygen and nutrition to the hair follicles. Which will result in much healthier hair.
Aloe vera gel helps to cleanse the scalp of excess sebum as well as residual hair care products that might be covering the scalp and hair follicles. By doing this aloe helps you get cleaner shiny hair. The proteolytic enzymes found in aloe help remove dead skin cells on the scalp too.
Aloe vera contains the important vitamins C, A and E, which are all important for healthy locks! It also contains folic acid and plenty of B complex vitamins, particularly B12 which are helpful in avoiding hair loss.
Aloe vera is also similar to keratin in that it nourishes the hair shaft and improves elasticity. Increasing the elasticity of  hair strands will help to prevent breakage and split ends.
Aloe vera gel is also a wonderful alternative to conditioner as it deeply hydrates the scalp and helps to reduce dandruff.
Aloe Vera Juice vs Gel
What  and how you are using aloe vera for determines whether using juice or gel is best. Aloe vera gel is made up of the whole pulp of the plant whereas the juice is filtered and is the only form you should consider ingesting. While fresh aloe vera gel straight from the plant is of course best, bottled aloe generally good too.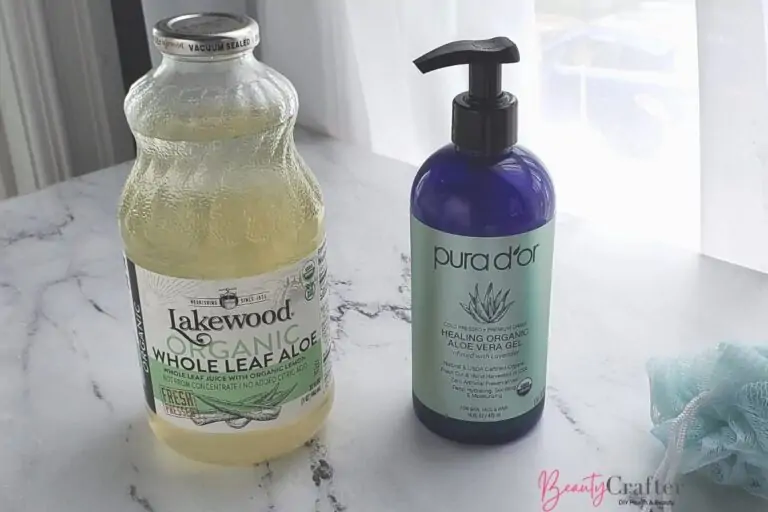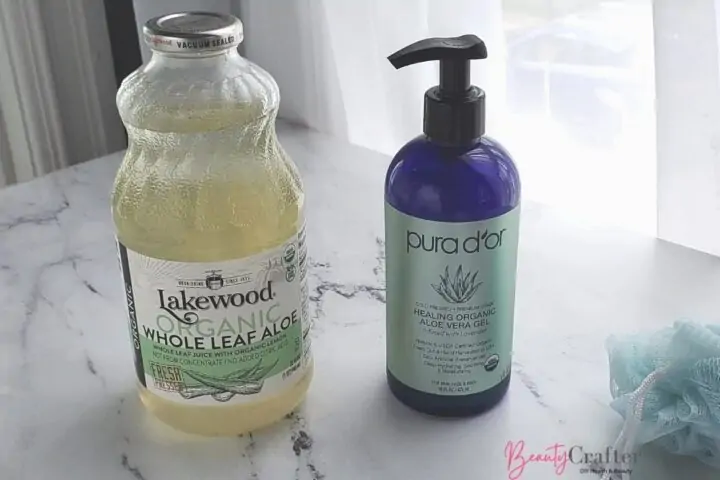 The juice is most typically ingested orally, but can be used as a hair rinse or in a mist for the hair.
Aloe vera gel is what we commonly apply to the skin and can also be used on the hair. It is ideal for use in hair masks and can me thinned down for use in hair rinses as well. I like to water it down a little and apply with a spray bottle to hair ends.
How to Use Aloe Vera for Hair
Aloe vera is going to be most beneficial to those with very oil hair or very dry and brittle hair. Though anyone can still enjoy its moisturizing benefits.
You could blend aloe vera into products that are meant to be washed out of your hair such as a hair mask, conditioner or mild shampoo.
Making an aloe vera hair mask that is mainly composed of the gel for a hydrating boost to your hair is also easy.
One simple recipe is aloe vera gel and honey for a deeply moisturizing and calming hair mask. This would be especially helpful for damaged dry hair! Just keep in mind that honey can lighten hair color over time. Apply to scalp and down the length of your hair.
Some people even use aloe vera in the place of styling gel though I would not strongly recommend that. Aloe can create a film once dried that might not work for those with thin or fine hair. I have fine hair and do use small amounts of aloe vera successfully on my hair when it seems dry.
Scalp Care
If you're trying to treat dandruff or using aloe vera as a treatment of seborrheic dermatitis, apply the gel onto you itchy scalp and massage thoroughly. Leave it on for a minimum of at least half an hour before rinsing out. This gives it adequate time to saturate the skin of your scalp and hair follicles. This will alleviate dry scalp and prime the hair follicles for growth.  [ref]
After all a healthy scalp is essential for healthy hair.
Cautions
Though rare, some people may be allergic to aloe, so doing a patch test on the inside of your wrist or a less visible spot on the body is recommended if you have not previously applied aloe vera to your skin.
It's important to keep in mind that aloe vera may cause mild sun sensitivity. Avoiding UV sun exposure right after application would be wise.
Just to be cautious, use your hair masks with aloe vera at night making sure to thoroughly wash them out before going into the sun.
Aloe vera can also increase your skin's absorption of cortisone. So, it would be best to avoid using the gel in an area you recently applied a hydrocortisone cream.
Make a Hair Mask 
This simple hair mask will nourish both hair and scalp. It will aid in reducing dandruff, add moisture, shine and strength to hair as well as promote healthy hair growth.
Grab the printable recipe card below to have on hand when you are ready.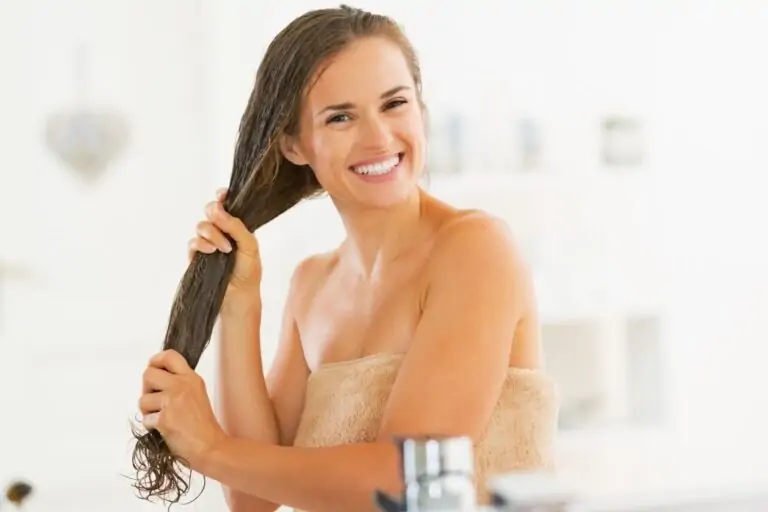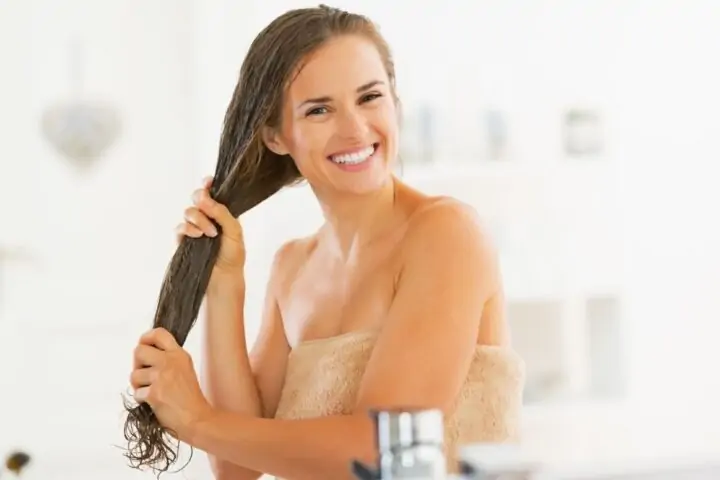 Ingredients
Directions
Mix well and apply to unwashed hair. Massage into the scalp and leave on for 30-40 minutes before washing out with a gentle shampoo.
Note: You can also swap the coconut oil for Argan oil or Rosehip oil both are great for hair.
If you want to leave the hair mask on to repair overnight, I recommend wearing a shower cap over your hair at bedtime. Simply rinse out the next morning.
Do you want to try using aloe vera gel on your hair now? If so, don't delay in getting your hands on some organic aloe vera gel or bring home an aloe plant!
Print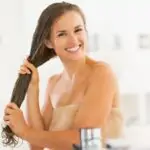 Aloe Vera Hair Mask Recipe
---
Description
This simple hair mask will nourish both hair and scalp. It will aid in reducing dandruff, add moisture, shine and strength to hair as well as promote healthy hair growth.
---
1 tablespoon

aloe vera gel

1 teaspoon

honey

2 teaspoons

fractionated coconut oil

4

-

5

drops of essential oil (such as lavender, rosemary, clary sage or tea tree) 
---
Mix well and apply to unwashed hair.
Massage into the scalp and leave on for 30-40 minutes before washing out with a gentle shampoo.
Notes
Rosehip oil or argan oil are good substitutes for the coconut oil if you prefer.
Keywords: aloe vera hair mask