Are you looking for a treatment for dry hands this winter? For remedies to help treat dry winter skin that is dull and tender? If so, you are in the right place because I have ten ways to treat dry hands this winter and prevent hand dermatitis from happening.
With cold weather comes dry scaly skin not to mention the fact that this is also a season where seasonal colds and the flu are floating around. Frequent hand washing to avoid germs strips skin of natural oils, further leading to dry chapped skin on hands.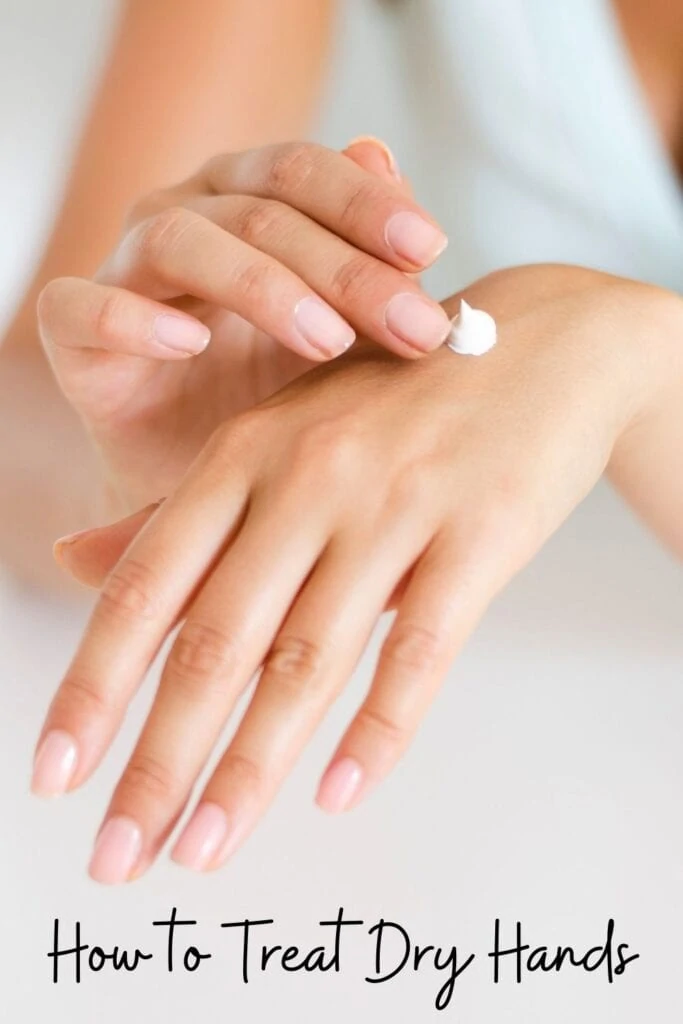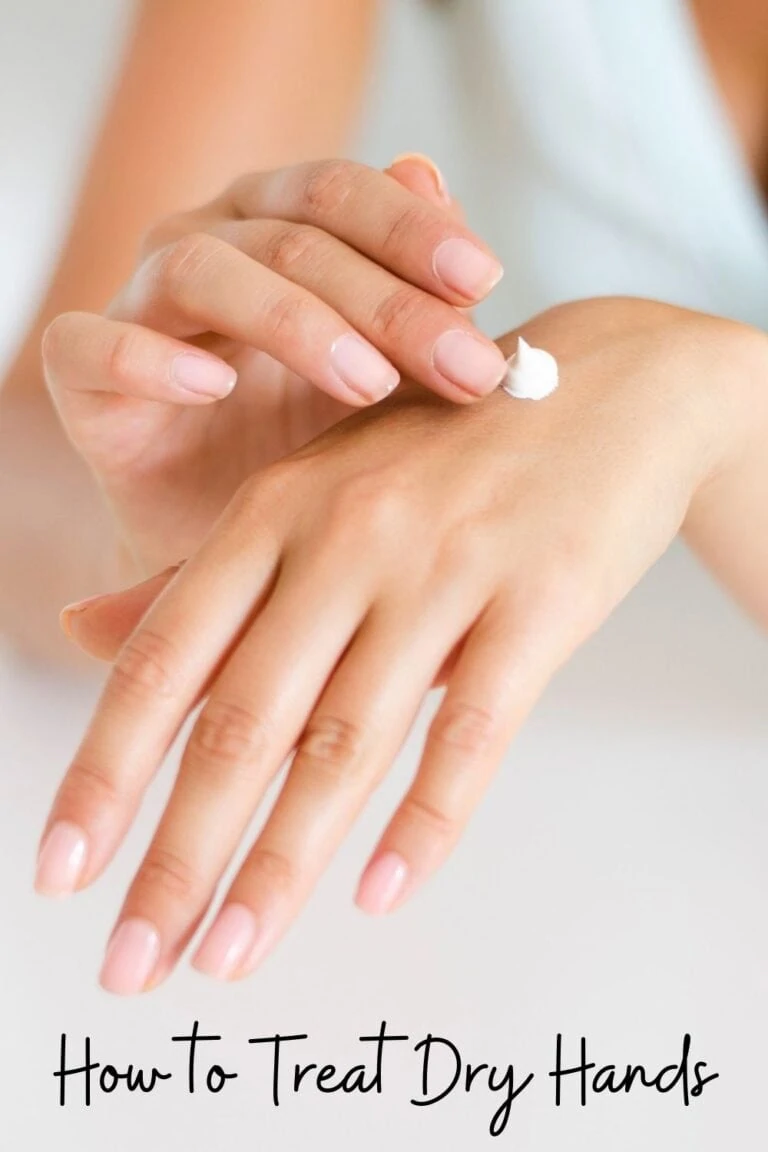 Dry flaky hands can easily be prevented and treated with just a few precautions and treatments. Extremely dry hands have a much higher risk of cracking. So, keep reading to find out how you can treat dry hands and dry skin patches this winter season!
Note: This information is meant for typical dry hands, if you have deep cracks in the skin, any sign of infection or the issue persists please seek medical attention from a board certified dermatologist.
You could be suffering from a treatable skin condition such as Atopic Dermatitis (eczema) or psoriasis. In the winter months, flare ups are more common. A medical professional can determine the true cause and if you need a prescription.
Remedies for Dry Hands
Dry winter skin is inevitable for most of us especially if you are already prone to having dry hands. Thankfully there are many treatments you can turn to ward off that pesky dry skin this holiday season. So that you won't have to struggle with dry and scaly hands all winter.
With these solutions to dry hands, you will be able to prevent them before they ever get a chance to happen!
Here I share ten easy ways that you can treat and prevent dry skin on hands this winter!
1. Moisturize Throughout the Day
One of the most important tips for treating dry skin on hands and dry skin patches during the colder seasons is to moisturize often. By often, I mean apply moisturizer as frequently as possible!
Try to moisturize your hands after you wash them and throughout the day, don't wait until they feel dried out. Use a moisturizer with ceramides and plenty of emollients.
When it comes to treating dry skin on the hands and really anywhere on the body it is important to moisturize well. I prefer a two step process for treating chapped dry hands. First a light water based hand cream, then a protective oil based treatment.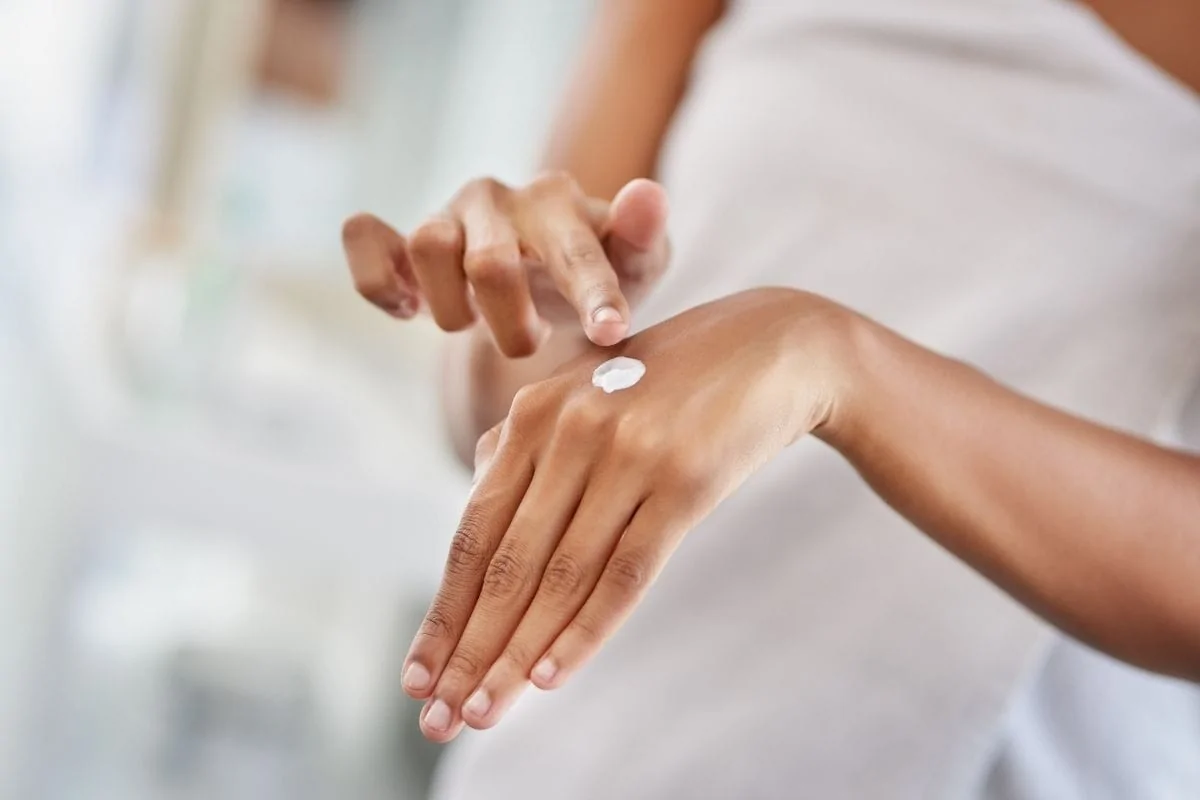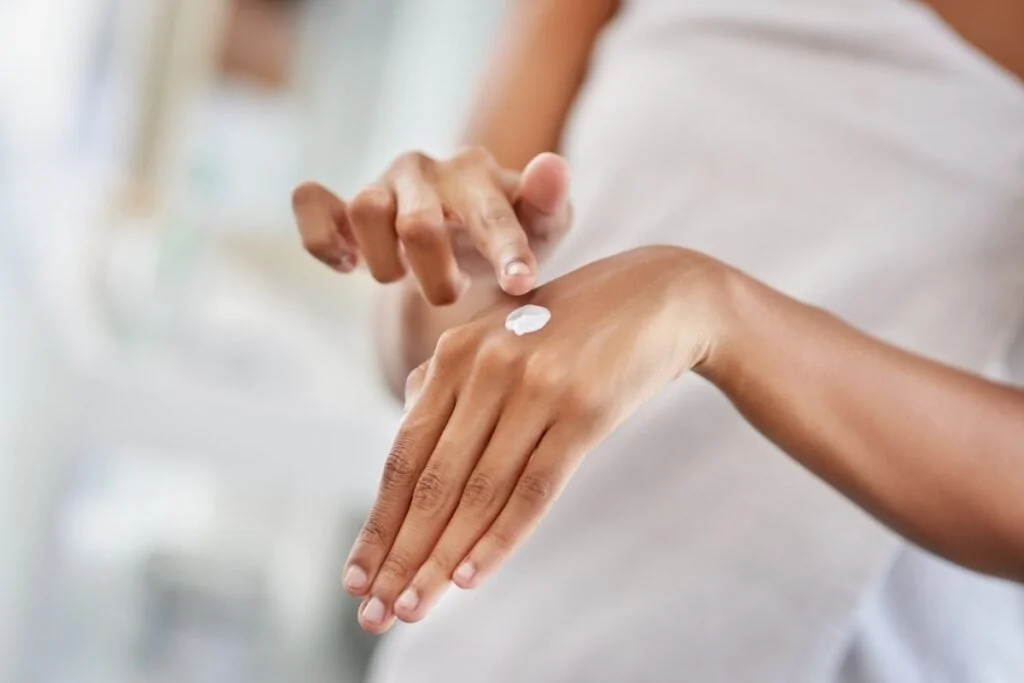 Use a Water-Based Moisturizer
Water-based moisturizers are especially important as they are easily and quickly absorbed by thirsty skin. Allowing your skin to get a quick hydration boost.
Look for a hand lotion with natural humectants such as glycerin or hyaluronic acid.
These light moisturizers are great for fast application as they absorb within minutes and leave your skin feeling and looking refreshed. Application will immediately make chapped hands feel soothed.
Use an Oil-Based Moisturizer
Much like water-based moisturizers, oil-based moisturizers are also very important when treating dry skin. Choose one with a natural fat such as shea nut butter or coconut oil or a petroleum-based moisturizer, such as Vaseline petroleum jelly or Aquaphor. Any of these will create the skin barrier needed,
In order to really take care of dry winter skin, you need both kinds of moisturizers.
Oil-based moisturizers are heavier and take longer to absorb into the skin because they are more deeply moisturizing and soothing.
They are good at treating very dry and cracked hands as they penetrate deep into the skin thoroughly moisturizing it.
I always suggest shea butter as a deeply moisturizing butter for dry hands! It is rich and luxurious and so very moisturizing to parched skin. It is great applied after a light moisturizer or aloe vera to seal moisture in and create a protective skin barrier.
2. Deep Conditioning Treatments
One key tip to keeping your hands soft and healthy is to do moisturizing or conditioning treatments.
You can do this by applying a heavy oil-based moisturizer or body butter to your hands before bed. Or applying a heavy moisturizer before putting on gloves and letting it be absorbed for about 30 minutes.
These treatments are great ways of deeply moisturizing dry and damaged skin.
3. Try Aloe Vera Gel
Aloe vera gel is a great hydrational moisturizer as it is mainly composed of water and is soothing when applied to the skin.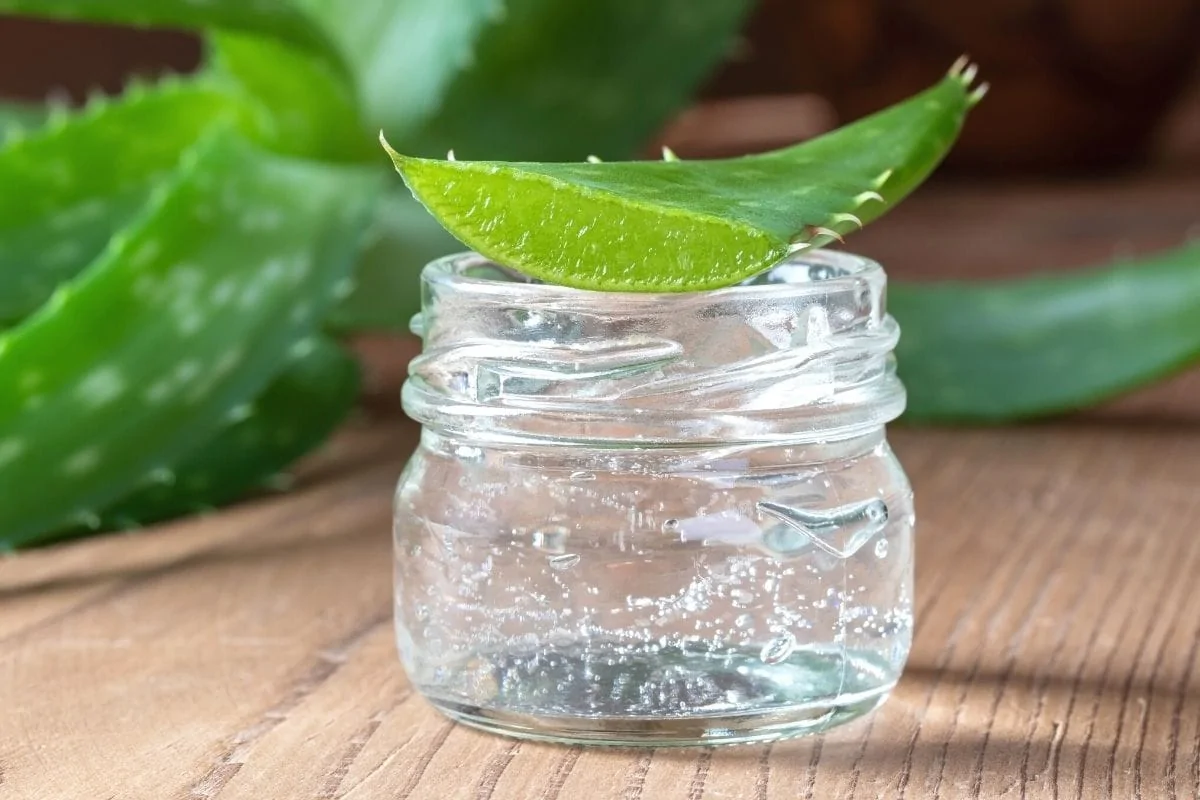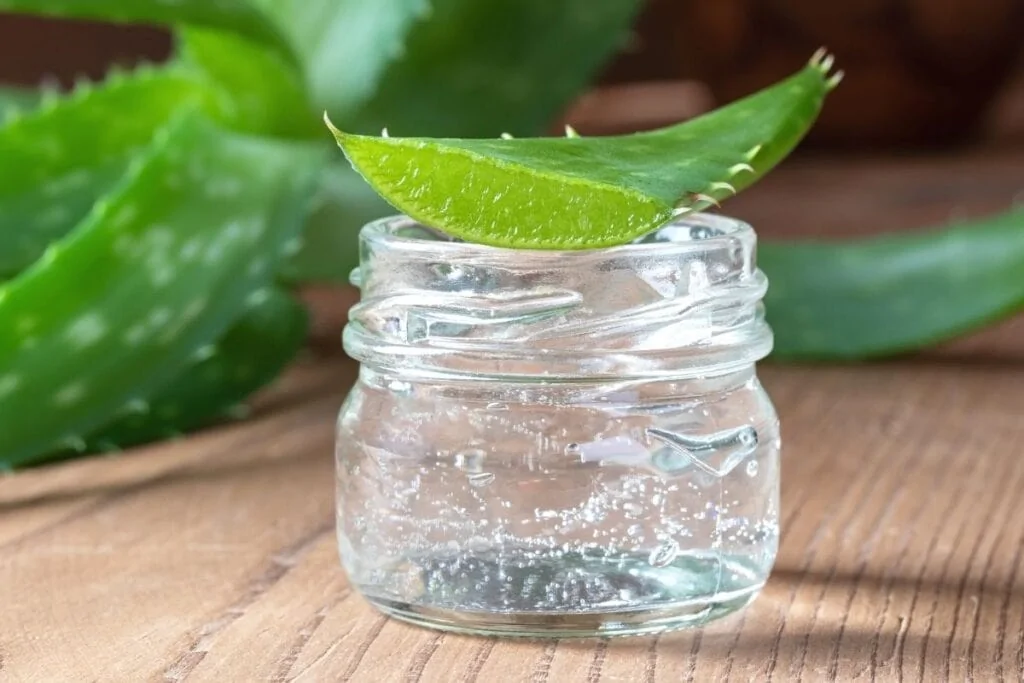 If you are suffering from very dry, tender skin that is painful or cracked, aloe vera is a great option. As it cools and soothes while repairing and hydrating.
Some water-based moisturizers even contain aloe vera for this very purpose. You can either buy the gel or squeeze some direct from the plants leaves. Aloe is also great for hair, in addition to skin, so I recommend you keep some on-hand.
4. Smart Hand Washing
Having to wash our hands repeatedly throughout winter is inevitable and unpreventable. That doesn't mean you must to ruin your hands maintain cleanliness and hygiene.
Try replacing those harsh and drying hand soaps with a more gentle and moisturizing mild soap. Doing this small preventative step can greatly help you to preserve the skin on your hands. Enabling you to continue to wash hands as often as needed without stripping off natural oils and drying them.
Select a more natural hand soap that is suited for sensitive skin. If you are washing your hands frequently, be sure to apply moisturizer immediately after as often as you can.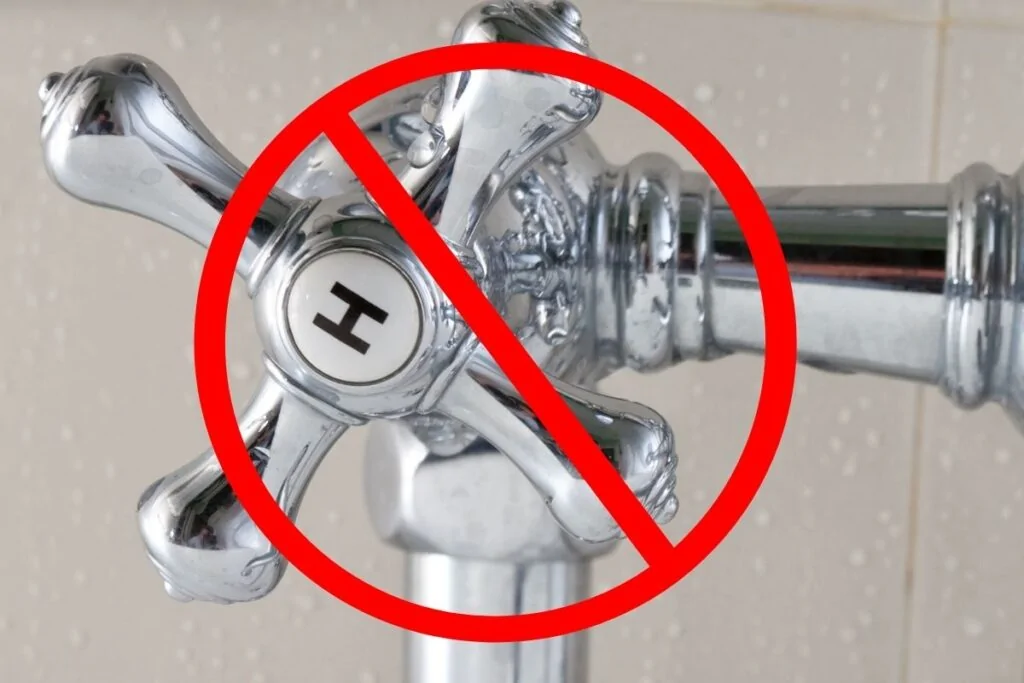 Avoid Washing with Hot Water. Wash your wands with lukewarm water rather than hot in order to avoid drying out your skin. Warm water will still effectively get them clean, but without scalding or stripping the skin's protective barrier.
Hot water is extremely drying and should be avoided. Especially since it doesn't help with cleaning your hands.
5. Buy a Humidifier
This might seem like an odd tip, but it can actually make a world of difference for dry skin in general. During the colder seasons, there is often hot air running wherever you go. This reduces humidity levels which dries out your skin.
Try investing in a humidifier that you can have running in your home to help replace the water in the air that the heat is evaporating. Doing this can help to bring moisture back into the air allowing you to enjoy the warmth without drying your skin out.
This humidifier is a great option if you want something that looks sleek and isn't too bulky. It also works with an app on your phone.
6. Gently Exfoliate
If your hands are feeling terribly dry and scaly you might want to try a simple hand scrub to gently exfoliate.
It is best to make your own to avoid all of the chemical additives and preservatives in store-bought scrubs. Homemade scrubs are very inexpensive to make as well.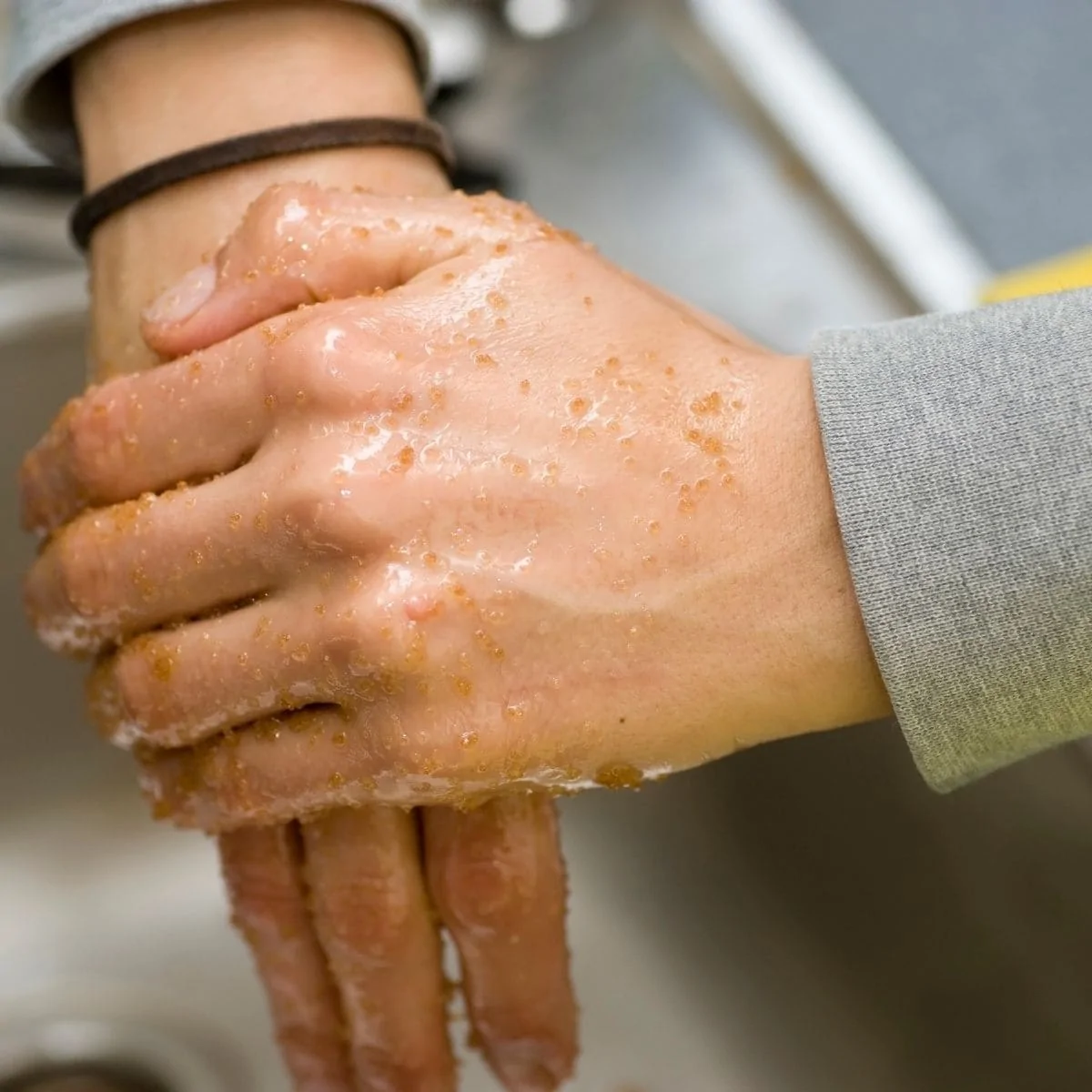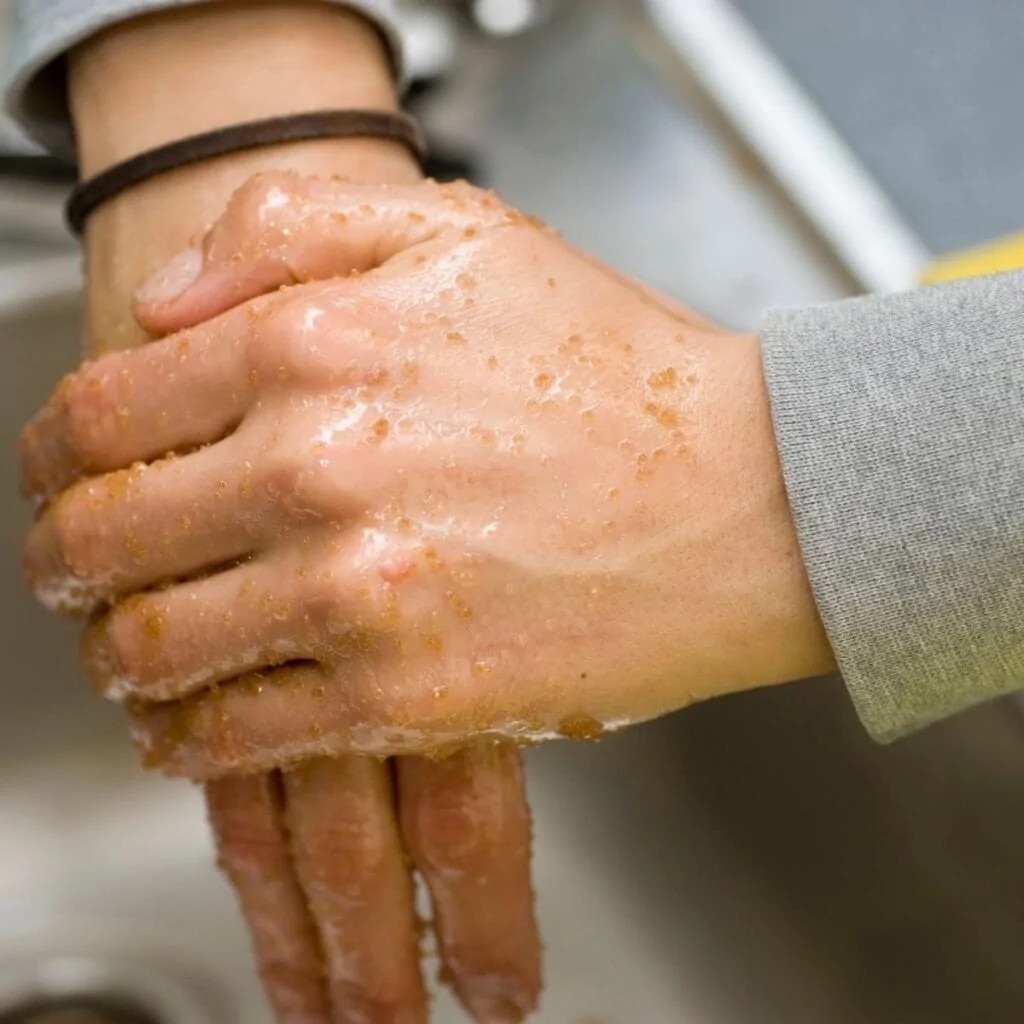 Try making your own hand scrub out of sugar and coconut oil and use it as often as needed to help remove dead skin cells. Doing this will allow your moisturizers to penetrate deeper into the skin without the barrier of dead skin cells that build up.
This article on Sugar Scrubs vs Salt Scrubs can help you decide between two popular types of scrubs that you can make at home!
7. Take an Oatmeal Bath
Oatmeal is a great option for any kind of dry tender skin as oatmeal is moisturizing and soothing to irritated skin.
To use oatmeal for dry skin on hands you can make an oatmeal hand soak or an oatmeal bath. Soaking your hands in either one will help to rehydrate the skin and soothe any irritation that the dryness is causing.
You could even go a step further and make a hand mask with colloidal oatmeal and water made into a paste for a skin treatment.
8. Use Gloves
Whether you are washing dishes, cleaning the house, or going out of doors it is important to wear gloves to protect dry winter skin.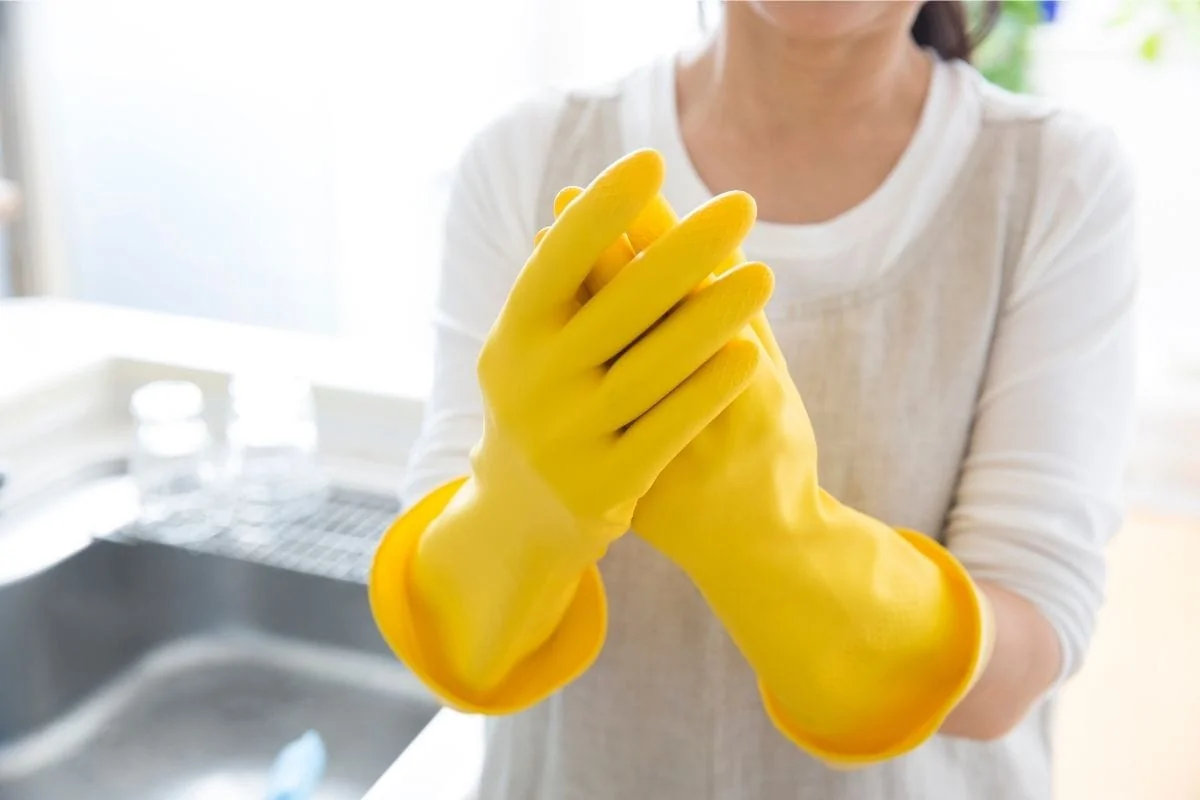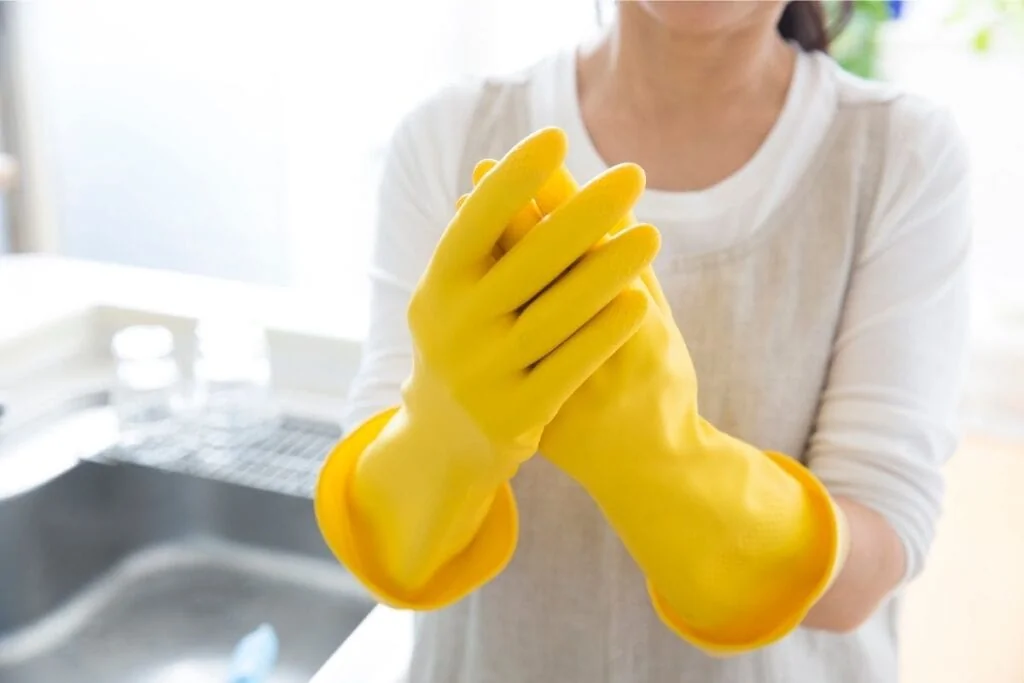 If you are going to be using water, try to wear good quality rubber gloves to protect your hands from being dried out by hot water or cleaning products.
Wearing gloves will prevent you from dirtying your hands and avoid drying them out with harsh cleaning chemicals. You have to wash your hands less while doing your chores when you wear gloves, which will help to retain some of your skin's natural moisture.
You can even use this as an opportunity to do a hand treatment! Just apply a heavily conditioning moisturizer to your hands and let that soak in as you do your tasks with the gloves on.
Not just rubber gloves protect your hands, winter gloves do too. If you are going outside frequently or have cold hands, try buying some warm winter gloves to protect them from harsh environmental factors. Also keep in mind sun exposure is still an issue even in the coldest of days.
9. Avoid Hot Air Dryers
Try to avoid using those hot air dryers that some restrooms have. These might provide a fun way to dry off your hands but they are very drying to your skin.
Hand dryers have also been shown to disperse fecal molecules... YUCK! [study]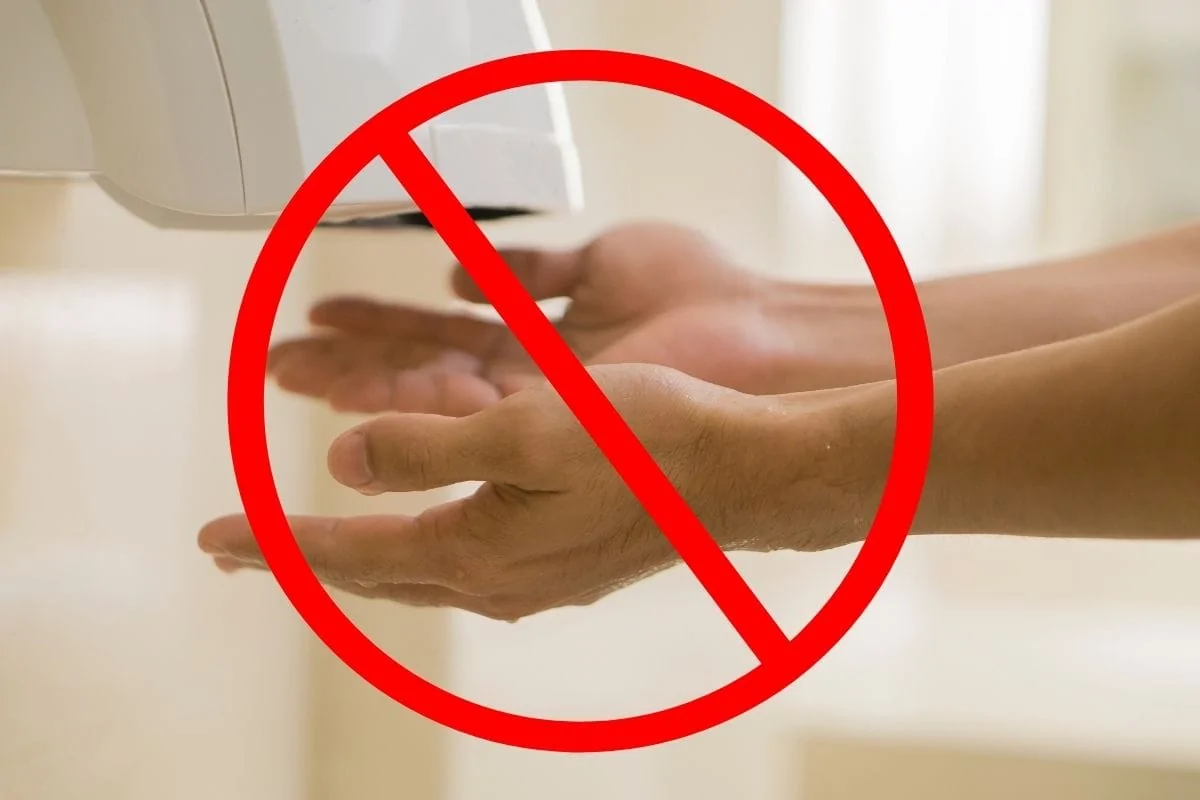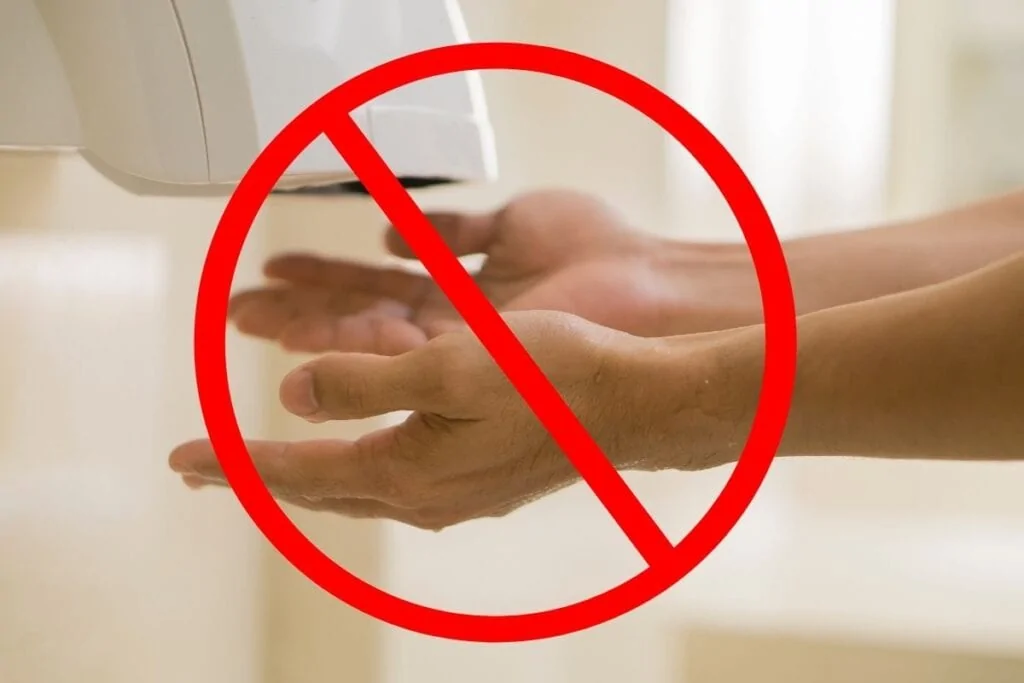 Instead, choose to use the provided tissues or towels in order to avoid unnecessary heat. Any kind of heat is going to be drying to your skin so try to avoid it.
10. Use Hand Sanitizer Sparingly
Alcohol based sanitizers for hands are sometimes necessary, but you should always opt for hand washing over their use whenever possible. The alcohol in sanitizer is very harsh on your hands.
Use hand sanitizer as sparingly as possible in order to preserve your skin's lipid barrier, which aids in maintaining moisture. Overuse will leave your hands feeling tight and dry. It leaves your skin much more susceptible to cold weather damage too.
Preventing Dry Hands
Dry winter skin and especially dry skin on hands are very preventable with a little forethought.
Once the weather behind to change and becomes colder try to start implementing these tips. They will not only heal damaged hands, but prevent dry hands in the first place.
It is always best if you can prevent damage rather than trying to heal it after the fact. So, try to take good care of your skin from the very beginning in order to avoid getting dry hands.
With just a few preventative steps you can help to preserve your skin's moisture and elasticity this winter. Avoiding dry cracked hands before they even happen! Which can help to make your cold season of the year much more enjoyable and less bothersome.
Maintaining Healthy Nails
Dry hands also frequently mean dry nails, that easily hip and split. While the tips I've given here to alleviate hand dryness will help with nail condition, you may also want to try my nail strengthener recipe. It will improve both nail and cuticle condition.
Dry Skin on Hands Conclusion
Dry hands are preventable and thankfully so as they can be both irritating and painful to deal with! Winter is a harsh time of the year for our skin, especially if you are already prone to having dry skin and hands.
Don't worry because as I've shown you, there are plenty of ways to repair those tired dry hands while still helping to stop the spread of germs! You don't have to sacrifice cleanliness for nice, soft hands.
Let me know in the comments what you do each winter to help prevent dry rough hands! Do you have any special tips, any products that you find yourself using again and again?