Activated Charcoal soap is not only great as a detoxing agent, the deep black color is perfect for making DIY Galaxy Soap  too! This is an easy bath product to make and everyone loves the results of this cosmic inspired charcoal soap recipe.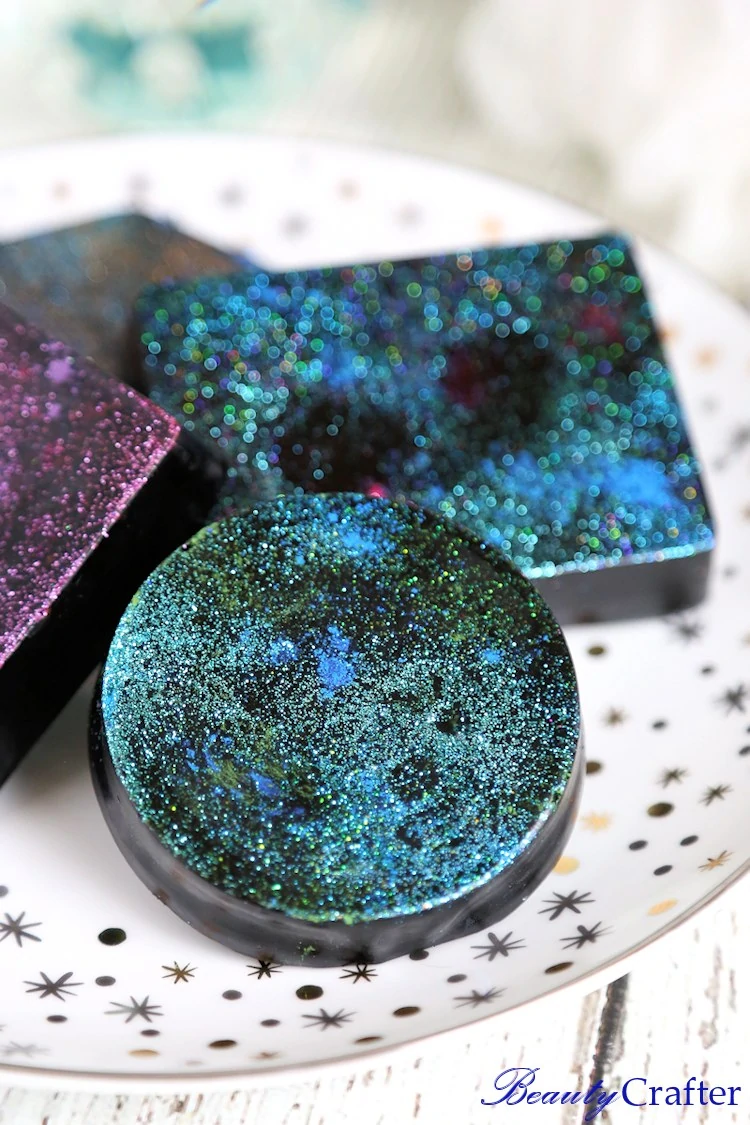 I came up with this super easy way to make DIY Galaxy Soap while attempting to make something entirely different but loved the way the glitter looked against dark soap. I've since made several batches of this pretty charcoal soap recipe... much to my nine year old daughter's delight.
Activated Charcoal Soap
Activated charcoal soap is one of my favorites to make. The rich deep black soap that only a small amount of activated charcoal powder creates is quite lovely.

Why Charcoal Soap
First off, yes use activated charcoal when making this galaxy soap recipe.  Not only is activated charcoal
a great detoxifying ingredient to use in bath products, but the rich black just a little scoop of it creates is outstanding. A small bag goes a long way and it has a wide array of other health and household uses. See my article Activated Charcoal Powder: Health and Beauty Benefits and Uses for more information on this amazing ingredient.
Note: When bathing with charcoal soap there is a dark color to the suds.  No worry is rinses right off and is great at pulling toxins and deodorizing.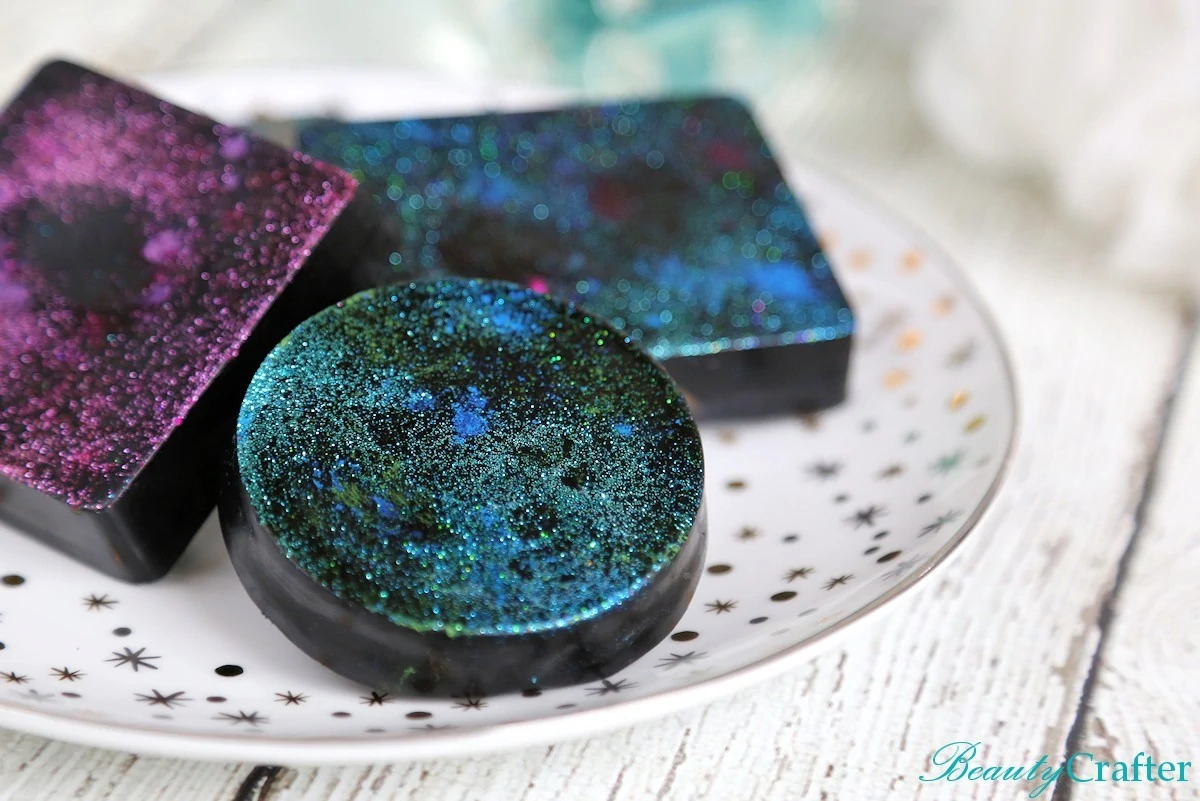 DIY Galaxy Soap
While I did use flecks of cosmetic pigment powder in addition to the glitter to create the galaxy effect of this charcoal soap.  The pigment powder could be skipped without altering the results too much.  I would say, if you are just making this as an isolated project and not into further soap craft projects, skip it.  If you have some or desire to make more soaps, then use or invest in the pigment. Pigment powders do seem to add richer color to soaps than liquid/gel dyes.
Grab the supplies you will need:
Full directions below.
Food Grade Activated Charcoal Powder - Huge 1 LB bag, Amazing Body Detox, Teeth Whitener, Potent Skin and Digestive Cleanser, Impurity Filter, Odor Eliminator, Essential Elements Brand
45 Colors Nail Art Make Up Body Glitter Shimmer Dust Powder Decoration
10 Piece Mineral Makeup Soap Dye Shimmer & Matte Bright Pigment Cosmetic Grade Soap Colorant DIY KIT Soap Making Color Each Color Is Packed In 3 Gram Size Jar Myo 10 Piece Set # 1 & 2
Cybrtrayd M177 Rectangle/Circle Bar Miscellaneous Chocolate Candy Mold
Soap Expressions - Clear Glycerine Soap Base- 2lb
Viva Naturals French Lavender Essential Oil, 4 fl oz - 100% Pure & Therapeutic Grade for Relaxation, Sleep & Happy Mood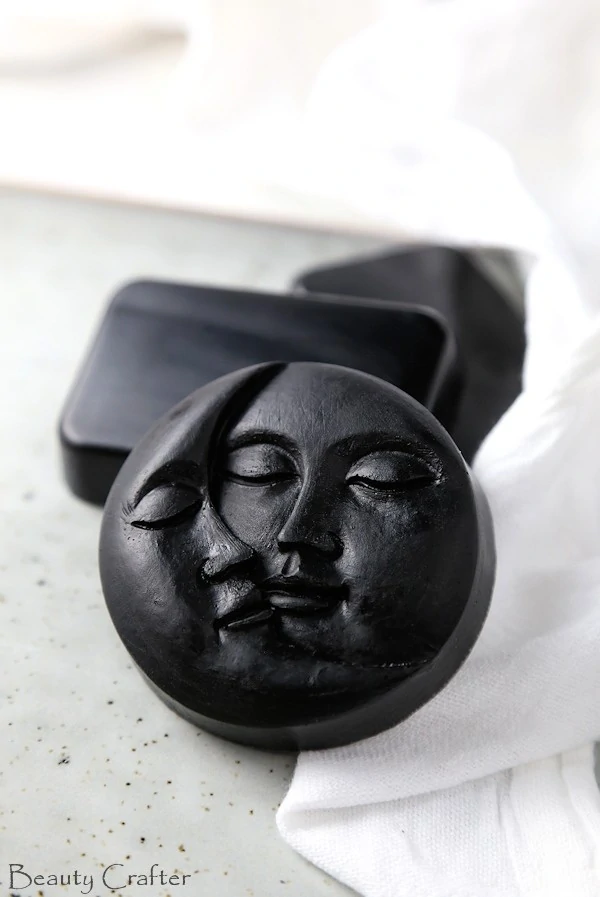 Here is the silicone soap mold used in image above.


Print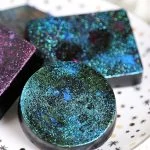 Charcoal Soap Recipe: DIY Galaxy Soap
---
Description
Activated charcoal soap recipe and directions to make it into cool Galaxy Soap!
---
---
Chop the glycerin soap into smaller chunks. Place in a microwave safe container and pour in the activated charcoal.
Microwave the glycerin soap until melted (only takes slightly over a minute in my microwave). Mix well, until all the activated charcoal is fully dissolved. Pour into molds slowly until nearly at the top of each cavity.
Allow to completely cool (yes, it is fine to carefully place them in refrigerator), then pop out of molds.
Galaxy Version
Before pouring your soap into molds:
If you are using pigment powder, take a toothpick and scoop up a tiny amount. Fleck into the soap mold cavities in a random pattern. Keep it in tiny clumps.
Sprinkle glitter in the soap molds. Lighter tones of blues and greens are my favorite as they contrast nicely against the black of the charcoal soap. Use 2-3 complementary colors in each cavity.
Finish as above.
Notes
I used half frankincense and half orange essential oils in the plain soap and just lavender in the Galaxy soap version.
Where to Buy Activated Charcoal