Products containing natural activated charcoal (also called activated carbon) are currently popular. Charcoal is included in many beauty and health products. It's been offered as a facial cleanser, skin detoxifier, acne treatment, hair brightener, natural deodorant, and a host of other beneficial uses. Recently, people are discovering the benefits of activated charcoal powder itself, to use alone or in their own DIY health and beauty products. It has long been used in Chinese medicine for it's health benefits, yet there are still a lot of questions people have about using the powder. By learning what it is and how activated charcoal works, I hope you'll feel more confident about trying it.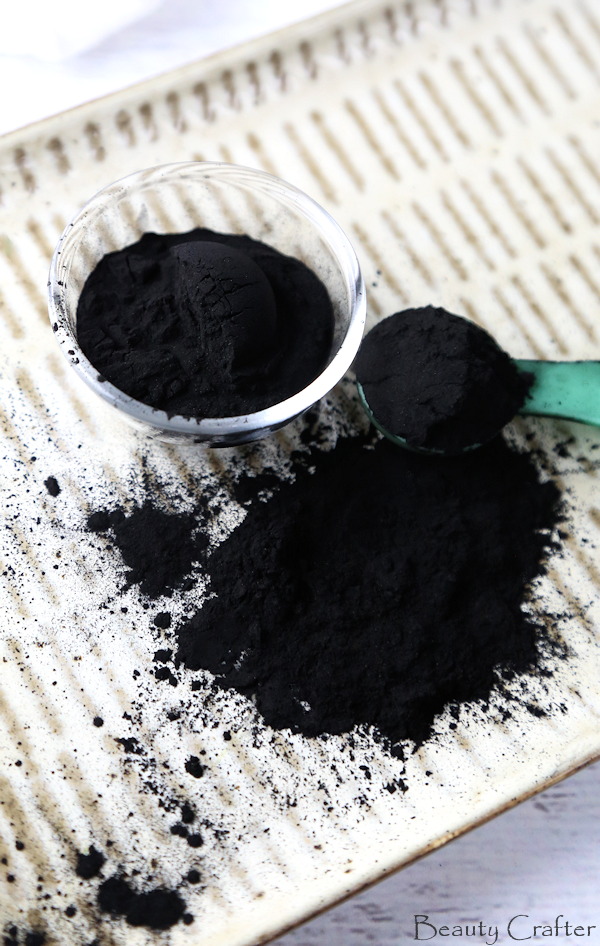 What is activated charcoal powder?
Before we get into activated charcoal benefits and uses, let's discuss what it is.
Activated charcoal used in beauty products and health treatments comes from a variety of sources. The fine black powder can be made from a combination of "ground bone, char, coconut shells, peat, petroleum coke, coal, olive pits, or sawdust." Once the powder is ground, it is heated to very high temperatures which and activates the charcoal particles, changing the internal structure and increasing the surface area. This makes the result much more porous and absorbent than other types of charcoal (including what you put in your grill)
This heating process also purifies the charcoal. It removes any odor or flavor. If you add this to a smoothie or a beauty product it effectively just changes the color to black. The activated charcoal will not change the taste or smell of what you are making at all. It just enhances the detox capabilities of your results.
Another kind of charcoal powder is also out there – one derived from chemical concoctions, rather than the ground/heated powder recipe. For anything you're going to put on your body or in your mouth, ensure you're getting naturally activated charcoal, rather than a chemically activated one. If it isn't clear from the label, choose another product.
How does activated charcoal powder work?
Because the ultra fine powder is highly porous and an effective absorbent, it can draw liquids and toxins such as heavy metals out of the body and skin relatively quickly. Charcoal can bind with other charged chemical compounds, including those which can damage your skin.
The powder is also applied topically to the body, mixed with various beauty products, or ingested in a tablet or pill.
Where to Buy Charcoal Powder
Here is a quick overview of some of the better options when buying activated charcoal. The top pick is the one we use ourselves and the ample bag will last a long time in most households.
Health uses for activated charcoal powder
Until a few years ago, the primary use for activated charcoal powder was in the treatment of drug overdose or poisoning. While not effective against all drugs and toxins, it is regularly used in the treatment of prescription drug overdose, as well as an overdose of acetaminophen, sedatives, or even aspirin.
Activated charcoal can quickly absorb these dangerous chemicals, allowing swift removal from the body before side effects emerge. For other toxins, it can be less helpful. For instance, activated charcoal does little to improve cyanide, lithium, alcohol, or iron tablet poisoning.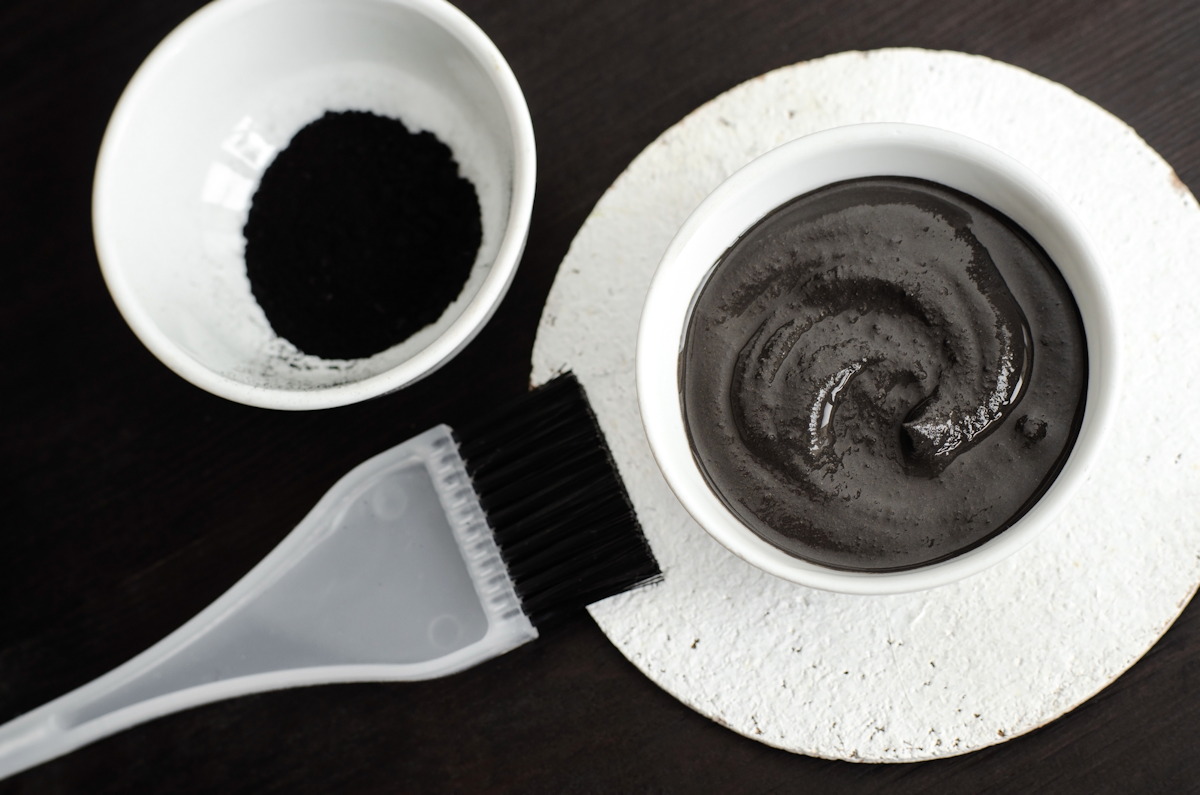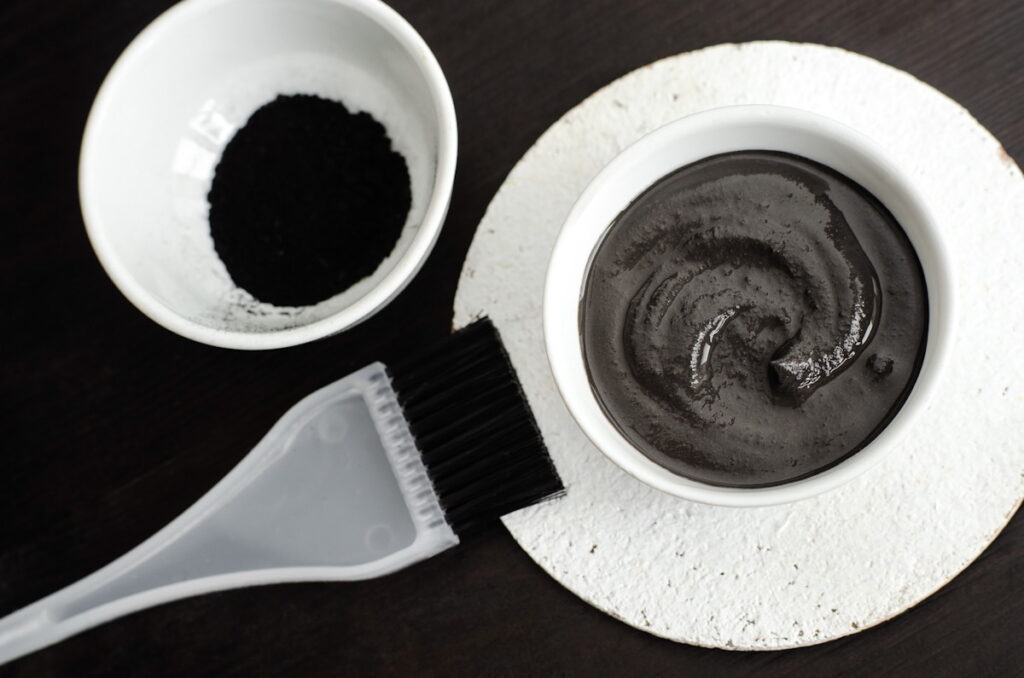 Beauty uses for activated charcoal powder
In terms of use in beauty routines, activated charcoal has popped up in a wide range of products – helping improve skin, hair, teeth, and more. While many products include charcoal along with other ingredients, you can also purchase the powder directly and create your own charcoal-based products at home.
Oddly deep black activated charcoal is fantastic for whitening your teeth. Activated charcoal can also be helpful in the treatment of bug bites, rashes, and other skin irritations that can be soothed by the removal of toxins. Charcoal powder is effective at controlling body odor too, making it a great addition to natural deodorants.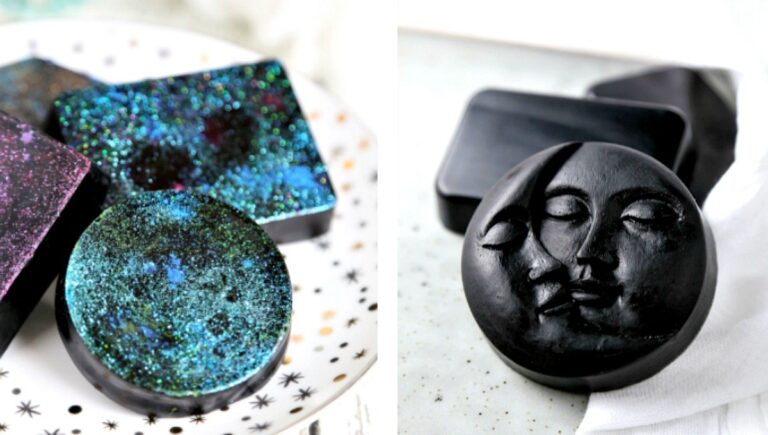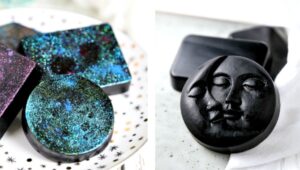 See my activated charcoal soap with  Galaxy Soap version.
Activated Charcoal Benefits
While the proven health care benefits are obvious, it might not be immediately clear why you want it in your beauty products. Here are just a few of activated charcoals benefits in this area.
Activated Charcoal Skin Benefits
One of the key skin care benefits of charcoal powder is its ability to draw out toxins and chemicals for easy removal. Anyone suffering from acne knows the value of removing dirt and impurities from the skin to cut down on blemishes and clear your complexion. Activated charcoal applied directly to problem areas or used as a scrub is a highly effective acne treatment without relying on harsh or over drying cleansers, toners, scrubs, etc. This makes is a great addition to soap, sugar scrubs and face masks.
Activated Charcoal Teeth Whitening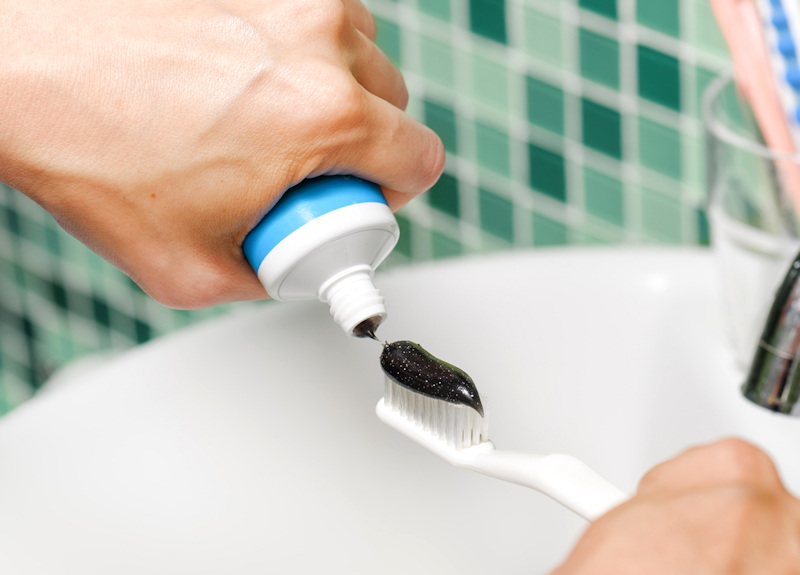 It may be time to add charcoal to your oral health care routine. Many have reported the dramatic whitening effects of using activated charcoal on teeth! It's said that the charcoal draws the plaque off teeth and removes stains leaving them brighter and whiter. You can apply the powdered form directly to brush your teeth. Prepare yourself though, seeing youth mouth essentially blacked out can be a little disturbing at first and using the charcoal powder straight tends to make a bit of a mess of the sink area. It all rinses away though and whiter teeth and a fresh healthy mouth are worth the extra clean-up. Activated charcoal toothpaste is a bit less messy and typically includes other helpful ingredients as well, such as coconut oil and baking soda.


Benefits for Hair
Activated charcoal benefits your hair too! It be a terrific hair treatment. If you suffer from an oily scalp or you're an infrequent washer, applying a paste of activated charcoal powder to your scalp can remove build-up and other impurities. It is a fast and effective way to clear out especially strong styling products from your hair and scalp and can even be used instead of traditional shampoos.
Is Activated Charcoal Safe?
Given its use in healthcare, it's easy to understand why some people might be skittish about trying charcoal. However, it's such a neutral substance it is very unlikely to cause any damage, regardless of how you use it. It's been studied as a remedy for a wide range of medical conditions (including hangovers!) although more research needs to be done to confirm these benefits.
The major warning about using charcoal is when it is ingested by mouth. Since it is not absorbed by the body (it passes through unaffected by the gastrointestinal system) but absorbs material as it travels, it can seriously impact the absorption of things you want in your body.
You shouldn't take activated charcoal supplements or powder within 2 – 3 hours of prescription medications that you do want to be absorbed by your system. It can also interact with certain medications you might be taking (such as certain heart medications or antidepressants) so be sure to check with your doctor before taking charcoal by mouth if you have such conditions.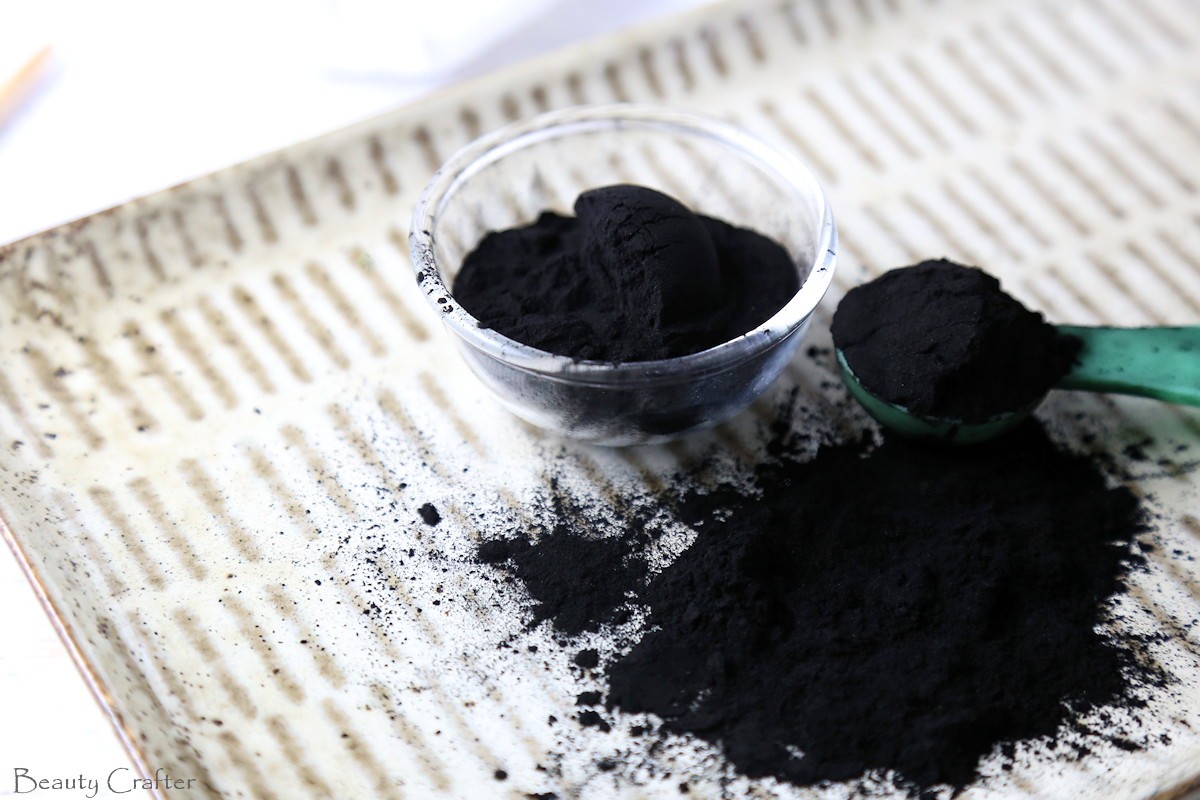 Activated Charcoal Powder Side Effects of Ingestion
Side effects of taking charcoal in high doses internally can include, black stools, a black tongue, vomiting or diarrhea, and constipation. Like anything, too much of a good thing is not necessarily a good thing.
However, if you're applying it topically, drug interactions are no longer a worry. It is perfectly safe and beneficial for use in health and beauty products such as toothpaste, scrubs and soap.
Activated charcoal powder can be a powerful ingredient in your beauty routine. Relatively harmless even when taken orally, you can reap the benefits of activated charcoal powder literally from your head to your toes! Stay tuned for more about how you can incorporate activated charcoal into beauty products you love. I use it often, and will be sharing more DIY products and uses soon.