What could be more appropriate than a yellow rubber ducky soap for bath time? Not much in my opinion.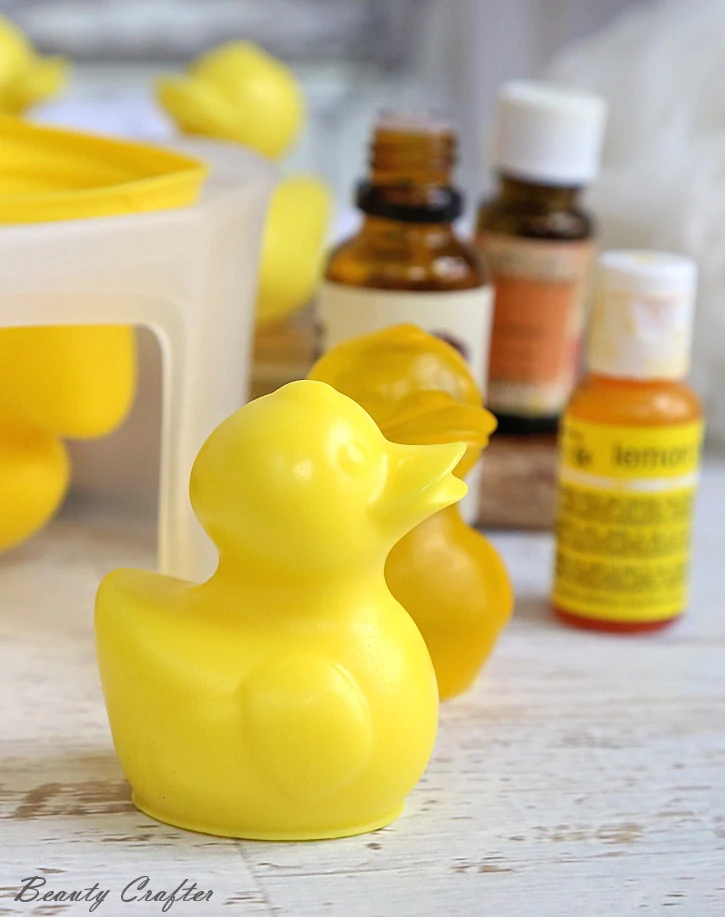 Rubber Ducky Soap
These cute little yellow duck soaps are made with melt and pour soap base. This makes the project quick and easy. It will literally only take you 5-6 minutes to prepare the soap and pour into molds. Then it is just a matter of letting them coll fully before removing the ducks from their silicone molds.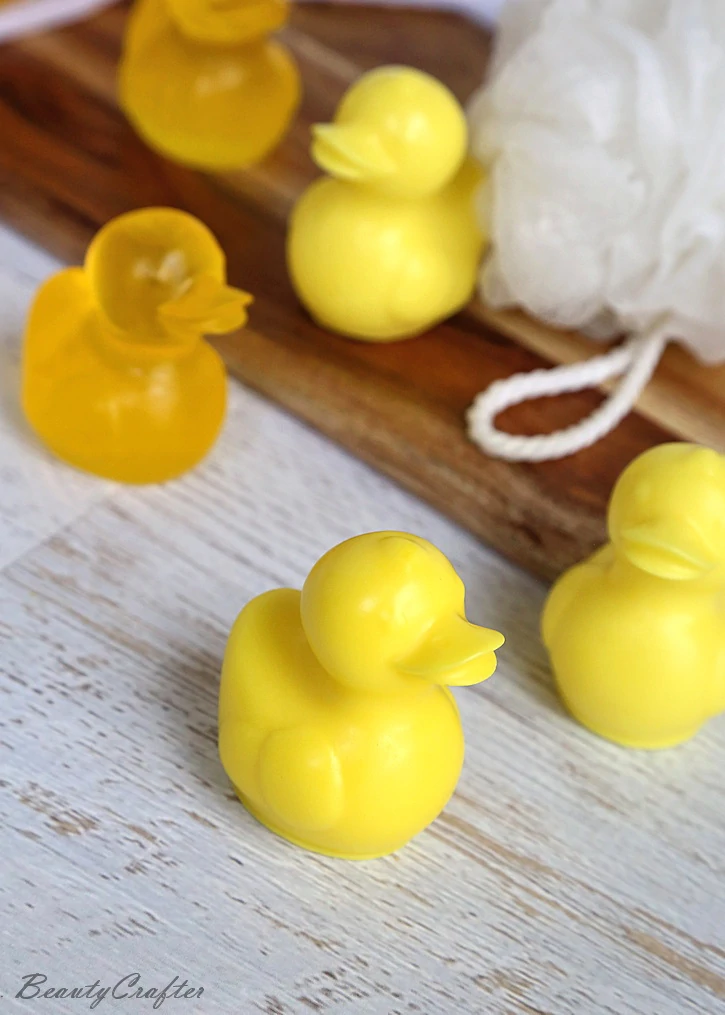 The Soap Mold
This mold comes with 3 individual silicone inserts in a plastic base. Technically, it is an ice mold, but works perfectly as a soap mold. I find it easier to clean than the one piece multi molds. It cleans right up in the dishwasher (both the silicone and plastic stand).

Making the Duck Soaps
Here are the supplies you will need to make these adorable soaps. I used lemon essential oil and vanilla oleoresin to scent the soaps, but feel free to change that according to your preference.

As mentioned these soaps only take a few minutes to mix and pour, but make sure they are hard before trying to remove from mold.
Options:
The ducks can be made from most of my DIY soap recipes. If you select my popular Lavender Oatmeal Soap (which is great for children), grind the oats to a fine powder before using in the recipe. This will ensure a smooth surface on the little ducky soaps.
Finishing Touches:
When gifting these cute soaps, consider tying a grosgrain ribbon around there little necks or adding them to a gift basket along with other bath time items.
Print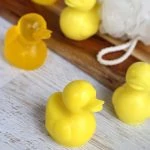 Rubber Ducky Soap
---
Description
Easy DIY soaps shaped like cute rubber duckies. Great for spring or Easter gifts and adorable for baby showers.
---
10 ¼ ounces melt and pour soap
(white or clear)
3-5 drops of yellow gel food coloring
25 drops lemon essential oil
20 drops vanilla oleoresin
Supplies:
---
Cut and weigh the clear melt and pour soap base. Place in a glass measuring cup.
Melt the soap base in microwave. Start with 30 seconds and add 10-20 second intervals until soap is fully melted.
Add the yellow gel colorant. Stir gently until the color becomes evenly distributed.
Add the essential oil & vanilla or alternative fragrance you have selected and stir in.
Carefully pour in your prepared melted soap into the duck molds gently tap the mold against surface to release air bubbles and top off with soap.
 Allow the soaps to fully cool before removing them from the silicone molds. Use particular care around the beak area.
Trim off any excess soap at the bottom if there is any.
Notes
Recipe is for 3 ducks. You need about 3.4 ounces of soap, 1-2 drops of gel color and about 15 drops of essential oil for each soap. Fragrance oils may be stronger and less likely to dissipate when added to the hot soap, so you would likely need less oil.