I found a fun clover soap mold recently and decided it was perfect to make a shamrock shake St. Patricks Day soap in.  It is a thick silicone mold and the soap is tinted with small pieces of broken green crayons stolen from my daughter's stash. Children's crayons are non-toxic and dissolve in melt and pour soap perfectly. It is an easy soap craft and can even be used the same day you make it. No lye needed.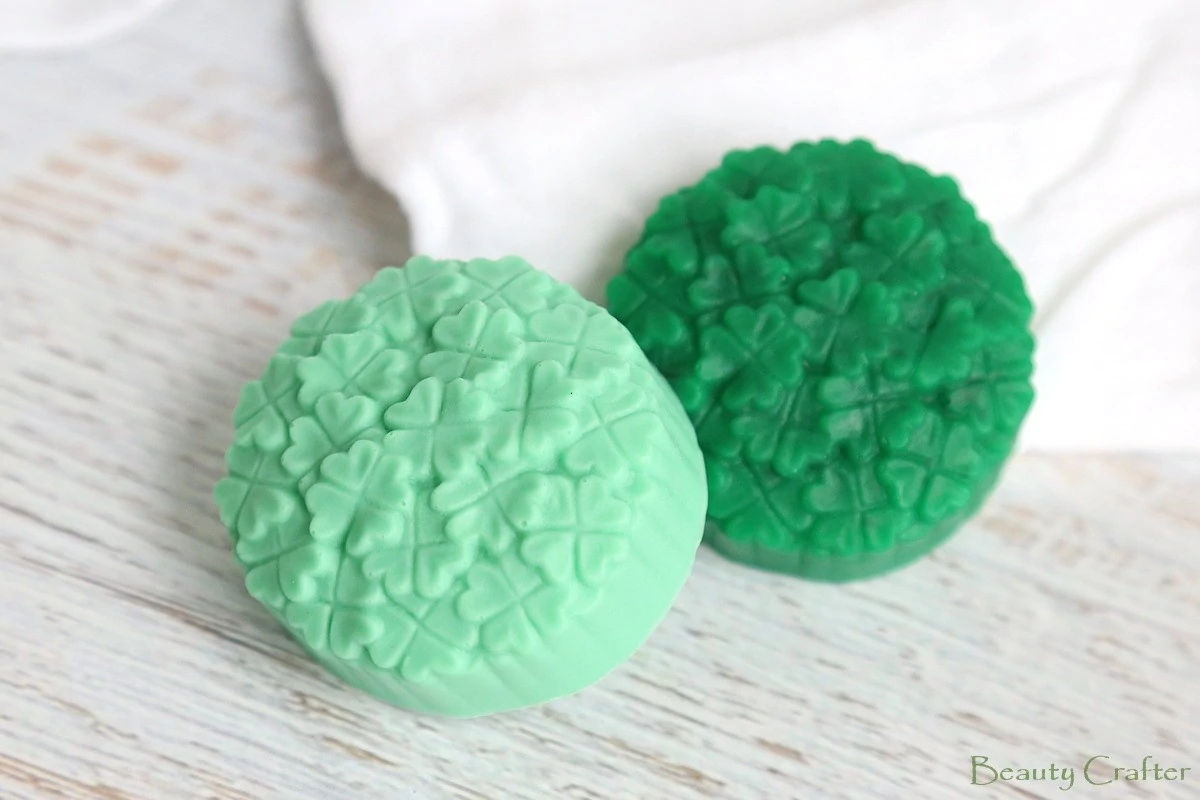 Be sure to make my Shamrock Shake Bath Bomb to go with the soaps!
St. Patricks Day Soap Craft
I made a few different versions of this St. Patricks day soap and these two were my favorites. They are fun to make and the project is easy enough for any child who is old enough to safely use a microwave to complete.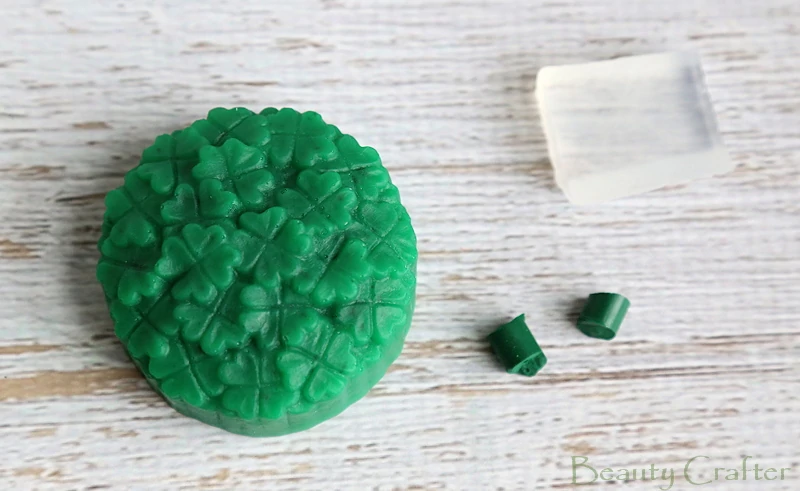 The deep green one was made with clear glycerine soap and a green crayon chunk.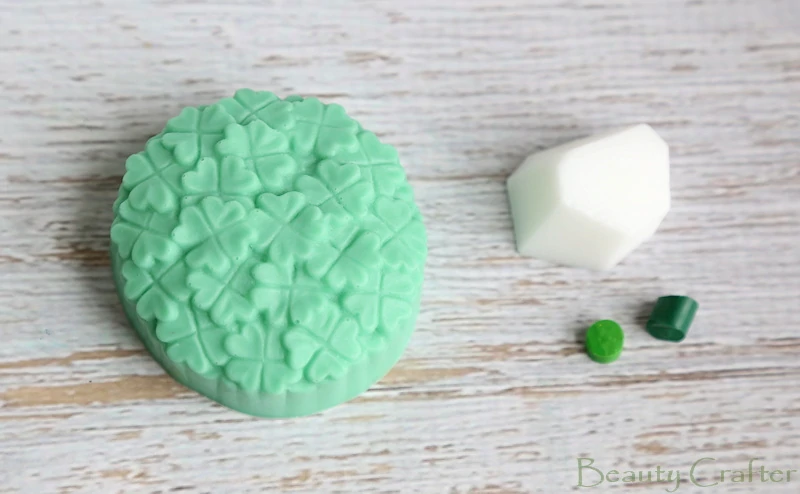 The creamy shamrock shake green soap was made with goat's milk soap base and a mix of regular and grass green crayon bits.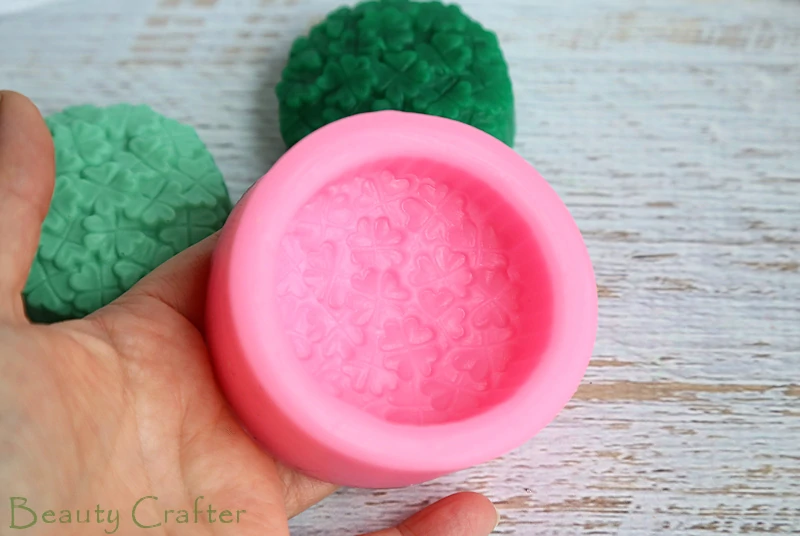 Grab your mold to make this soap yourself!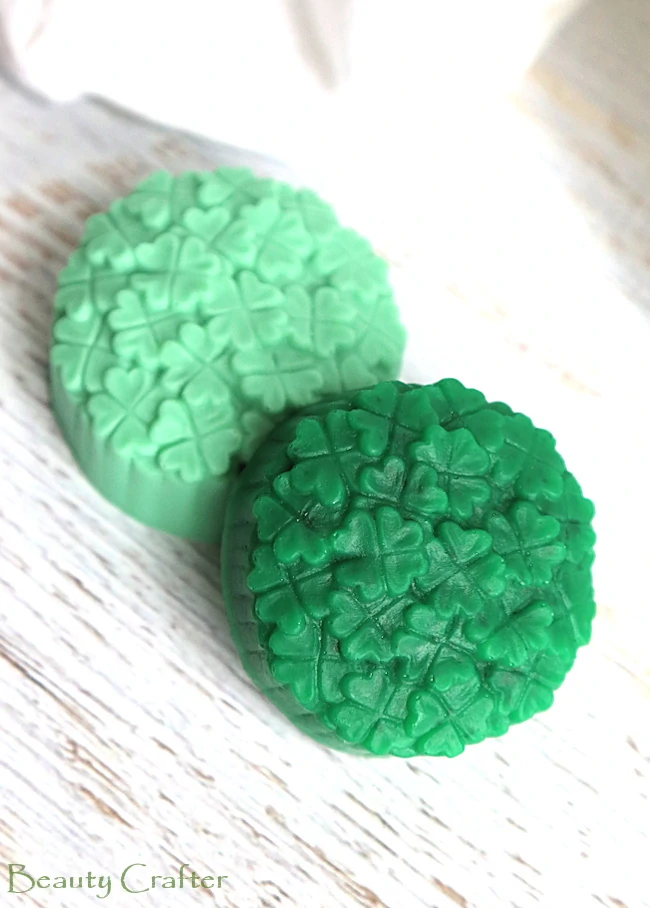 Print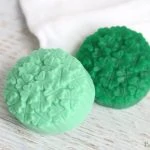 Shamrock Shake Soap: DIY Soap for St. Paticks day
---
Description
Cute Shamrock Shake Soap made on a silicone clover soap mold. Perfect DIY St. Patrick's Day Soap
---
Deep Green St. Patricks Day Soap
Creamy Shamrock Shake Soap
Required for Either
---
Place chopped soap and broken crayon in a microwave safe dish (I prefer a glass measuring cup) and microwave until soap is fully melted (30-45 seconds). Stir until crayon is fully dissolved.
Add the essential oils. Stir.
Place mold on plate and pour in the melt and pour soap mixture. Set out to cool.  If you wish to make more soaps, just place in refrigerator to cool.
Pop out the soap.
Notes
Recipe is perfect for making one bar in this cute clover mold or any 3 oz. mold.