It is so easy to make loofah soap aka luffa soap at home. I have an easy DIY Loofah Soap recipe to help you along.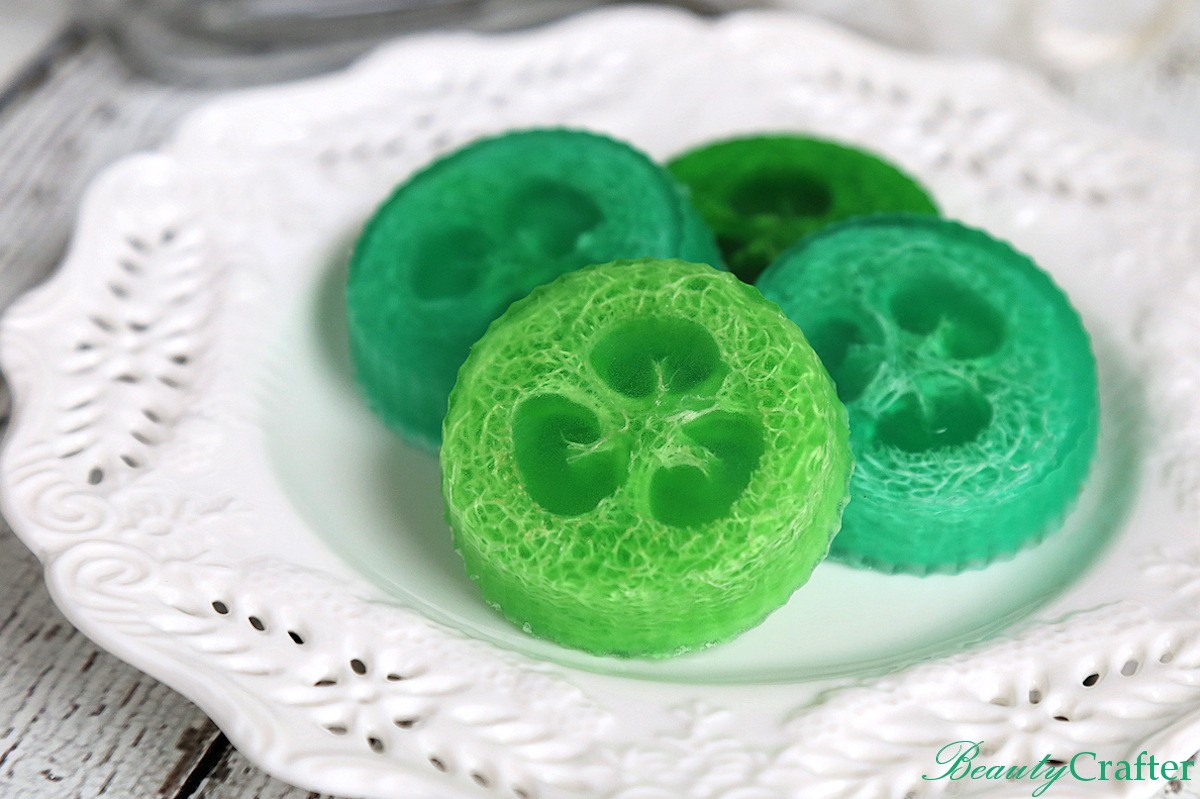 Make Loofah Soap at Home: Easy DIY
This is such an easy way to make loofah soap, you can make a batch of this exfoliating soap in just a few minutes and kids love to get involved. The simple DIY Loofah soap recipe uses melt & pour glycerin soap base and silicone baking cups.   You can literally make these DIY luffa soaps an hour before you gift them.
Loofah / Luffa
In case any of you are a little confused as the what a loofah actually is, it is the fibrous remains of the luffa fruit (part of the cucumber family) after everything else has been removed.   Luffa is generally referred to as loofah in everyday usage and is a completely natural material that is great for skincare. Natural loofah sponges have long been popular as an exfoliant to remove dead skin cells.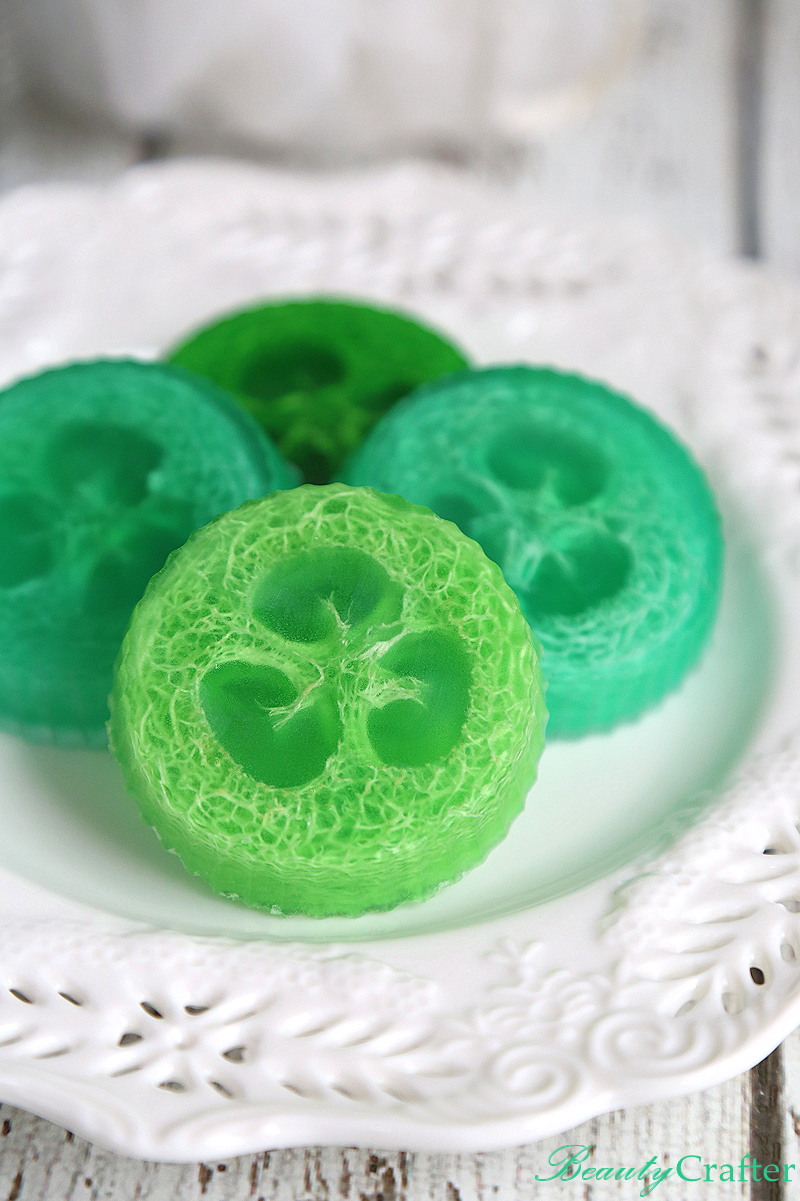 Making DIY Loofah Soap
To make the luffa soaps, it really just takes pouring melted soap base that has been  tinted and scented over slices of loofah that have been placed in silicone baking cups.  Care should be made not to over tint the soap base, as being able to clearly see the loofah inside the soap bar is a big part of the appeal of this craft project.
Scent Choice for Loofah Soap
Any skin safe essential oil with a soothing scent would be fine to use making these soaps, but I chose frankincense for them myself. I thought it compliments the sea glass tones I used making the soaps and frankincense is a highly beneficial essential oil for skin health. Like lavender is is relaxing in the bath too.  Lemongrass and orange are also great choices for bath soaps. Pick one you enjoy that seems a natural fit for the color you make the soaps.
Grab the Project Supplies to Make DIY Loofah Soap
Full directions below.
Natural Loofa Exfoliating Bath Sponge 6″ by Spa Destinations "Creating The In Home Spa Experience"
Soap Expressions – Clear Glycerine Soap Base- 2lb
Life of the Party Liquid Soap Colors, 0.25-Ounce Each Color, Red, Yellow, Blue, Lilac, Peach, Seafoam, Yellow, Turquoise and Lime
Frankincense – 100% Pure, Best Therapeutic Grade Essential Oil – 10 ml
AmazonBasics Reusable Silicone Baking Cups, Pack of 12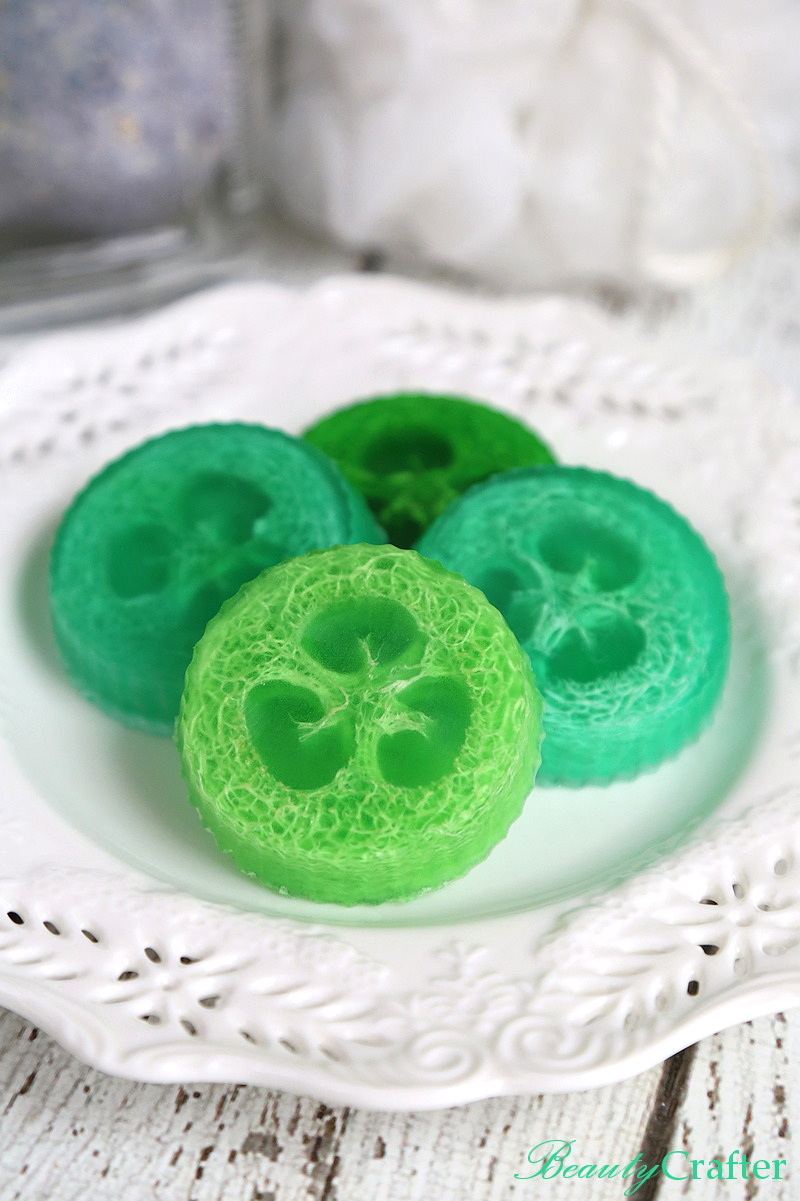 Print
DIY Loofah Soap Recipe: Easy to Make Loofah Soap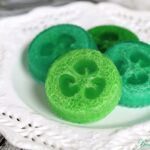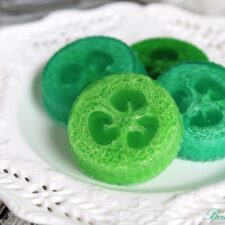 Here is the easy DIY Loofah Soap recipe for you to make these neat luffa soaps yourself.
Ingredients
small loofa sponge
(about 2 1/2 inch diameter)
melt & pour glycerin soap base
soap colorant
(gel food color would also work)
essential oil
(I used frankincense)
silicone baking cup
liners or round molds
Directions:
Instructions
Make sure your loofah is not larger than mold diameter before starting.
Slice the loofah into 1/2 – 1 inch thick pieces, depending on how big you want your soaps and drop one in each baking cup. I sliced mine about 1/2 inch.
Chop up a few ounces of the melt & pour soap base and place in glass measuring cup along with a drop or two of colorant.  Microwave until melted. Check color if it is too dark add more base, too light another drop of color. Once at the color you like, add a few drops of essential oil. Stir then slowly pour over loofah. Make sure to saturate the loofa sponge with the soap and don't fill much past depth of sponge.
Repeat until all slices are covered.  As you refill the measuring cup adjust the color a little to make complimentary color shades of soaps all in the same color family.  If you want contrasting colors use another cup/bowl or wash between colors.
Allow it fully cool before popping them out of molds. If you are in a hurry, feel free to place them in the refrigerator, but not the freezer.