This DIY coffee soap recipe has a fresh brewed coffee scent and exfoliating properties. It is very easy to make since it utilizes a melt and pour soap base. The homemade soap is a simple craft project that produces giftable results and is perfect for soap making beginners.

DIY Coffee Soap
An easy melt & pour coffee soap recipe that is great for the skin and has a distinct handmade look to it.  Not having to mess with lye solution makes this one of the easiest homemade soap recipes you can make.
Benefits of Coffee Soap
Coffee soap benefits are numerous. Here is why adding a coffee bar of soap to your skin care routine is worth it.
First of all the coffee grounds of course have a mild exfoliating effect.  Sloughing of old dead skin is always a good thing for ensuring a fresh look.
Caffeine is anti-inflammatory for the skin.
Reduces water retention, making skin look less puffy and improves circulation (both are good for reducing the appearance of cellulite).
Getting the Handmade Soap Look with Melt and Pour Soap
There was a purposeful attempt to make this soap look clearly homemade.  I love rustic looking natural soaps. This is how I got the look.
Creamy Goat's Milk melt & Pour Soap Base, Two Pound
Shea Butter Suspension Soap Base, 2-Pound
To mimic the look of handcrafted lye soap, the melt and pour soap
mixture was poured into a single mold then sliced into bars. I think this gives it an appealing homemade look. The layered effect takes no effort, the coffee grounds tend to float to the top. I actually stir the soap mixture to cool it for awhile before pouring to ensure the bulk of the bar is richly saturated and a few coffee grounds run throughout the bars.
This is the exact soap mold I used.
BAKER DEPOT 500ML Silicone Mold For Handmade Soap Mold Toast Mold Bread Mould Square, Set of 2
While you can certainly keep this coffee soap recipe to the base and grounds, adding some vanilla oleoresin
or coffee fragrance
can add to the experience of using the exfoliating soap. The coffee fragrance oil will ensure you get that uplifting coffee smell while showering or bathing. The scent from the coffee grounds will not be strong alone.
Vanilla Essential Oil - 30ml Great scent for the Spa and Home
Plant Therapy Coffee Essential Oil. 100% Pure, Undiluted, Therapeutic Grade. 10 ml (⅓ oz).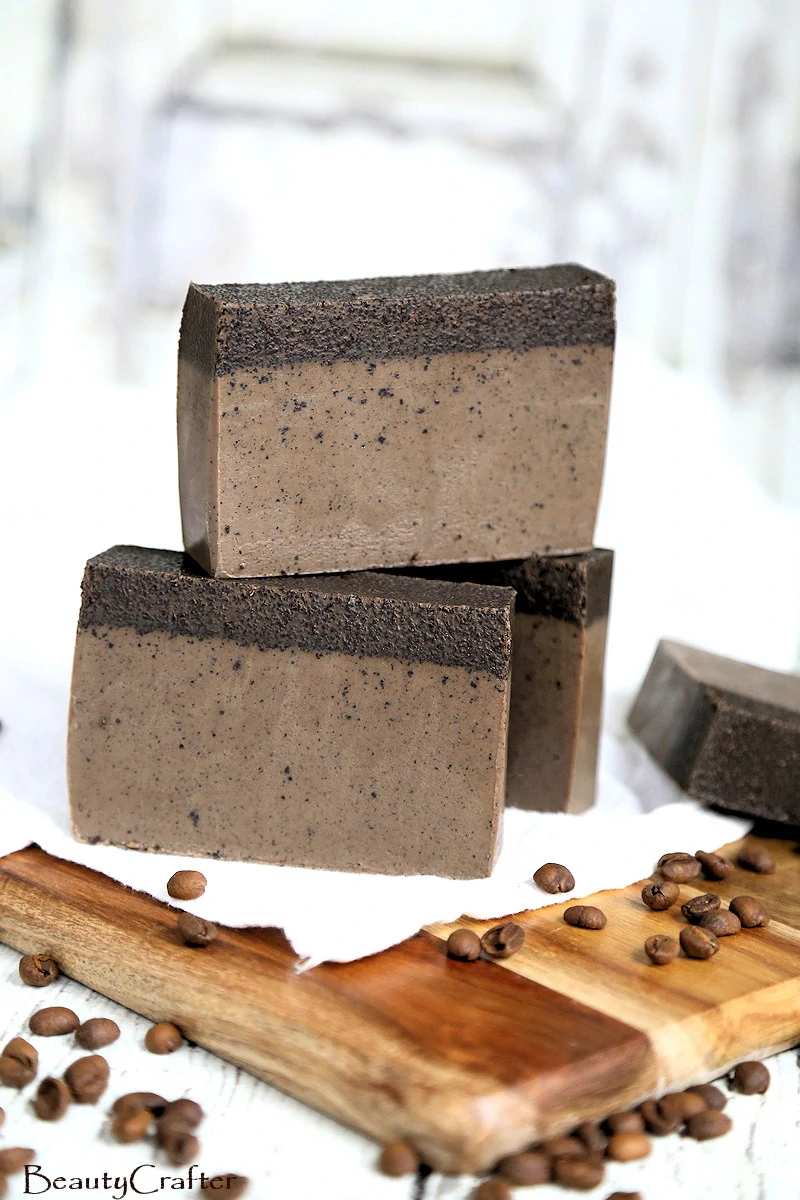 Make some Coffee and Cream Bath Bombs or DIY Coffee Scrub to go with these bar soaps for a gift set.
Print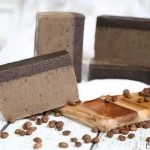 DIY Coffee Soap Recipe: Easy Melt and Pour Coffee Soap
---
Author:

Beauty Crafter

Yield:

The

one

pound cube will make 4-5 good sized coffee soap bars.

1

x
Description
This melt and pour coffee soap couldn't get much easier. Here is how to make this simple DIY coffee soap recipe that any java junkie will love!
---
1

pound goats milk melt and pour soap base , shea butter soap base would be OK too

¼ cup

coffee grounds

¼ tsp

vanilla essential oil (Oleoresin) or coffee fragrance oil ***optional***
---
Cut soap into smaller pieces. Place in microwave safe bowl along with coffee grounds. Microwave for 40 seconds, stir then repeat in 10-20 second intervals until soap in fully melted.
Remove and stir until soap begins to slightly slightly thicken (add fragrance if you wish at this point and stir in). Pour into the soap mold and allow to cool fully.
Cut into slices to create bars.
Notes
Time: Takes about 10 minutes to make, but then must cool at least an hour (or more) before cutting.