Making your own cute fish bath bombs to display and enjoy in your bath is easy. Kids especially love these little homemade bath fizzies.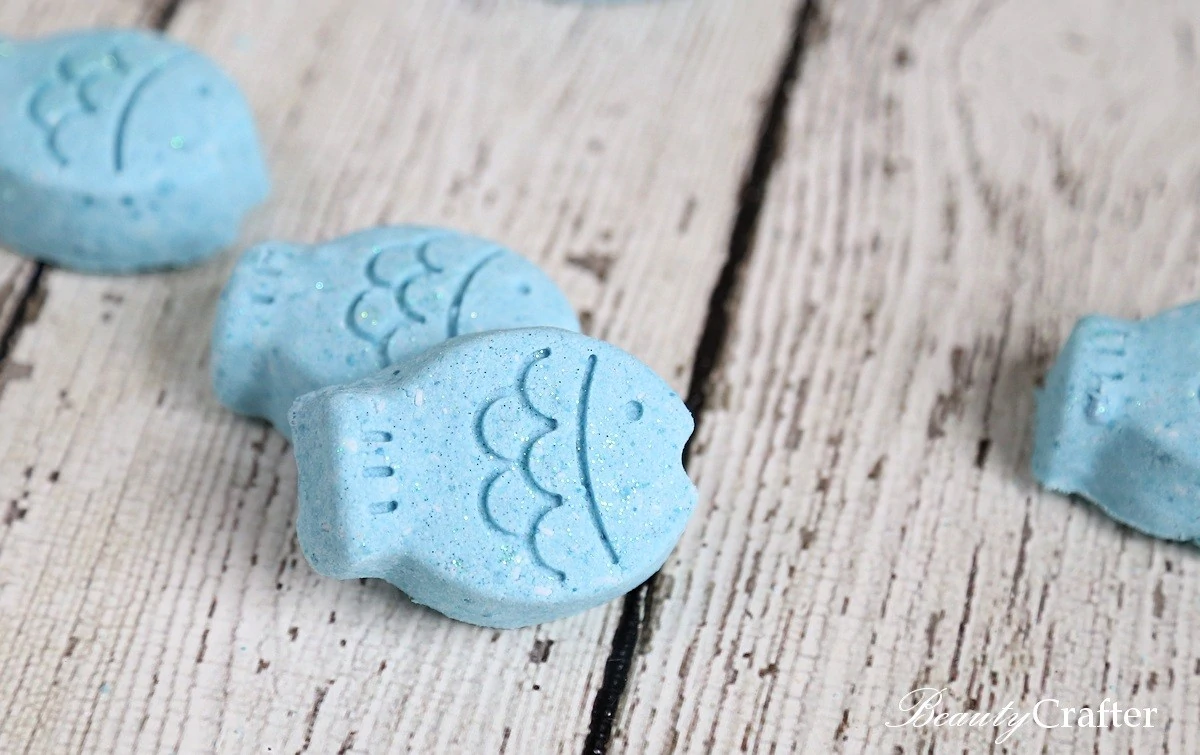 Cute Bath Bombs are Easy!
Whether you have a sea theme in your bathroom or just like the thought of fish in the bathtub these little fish bath bombs are just the thing. They are no harder to make than any other bath bomb.  You may actually find they are a little easier to make than the spherical bombs, when making a large batch.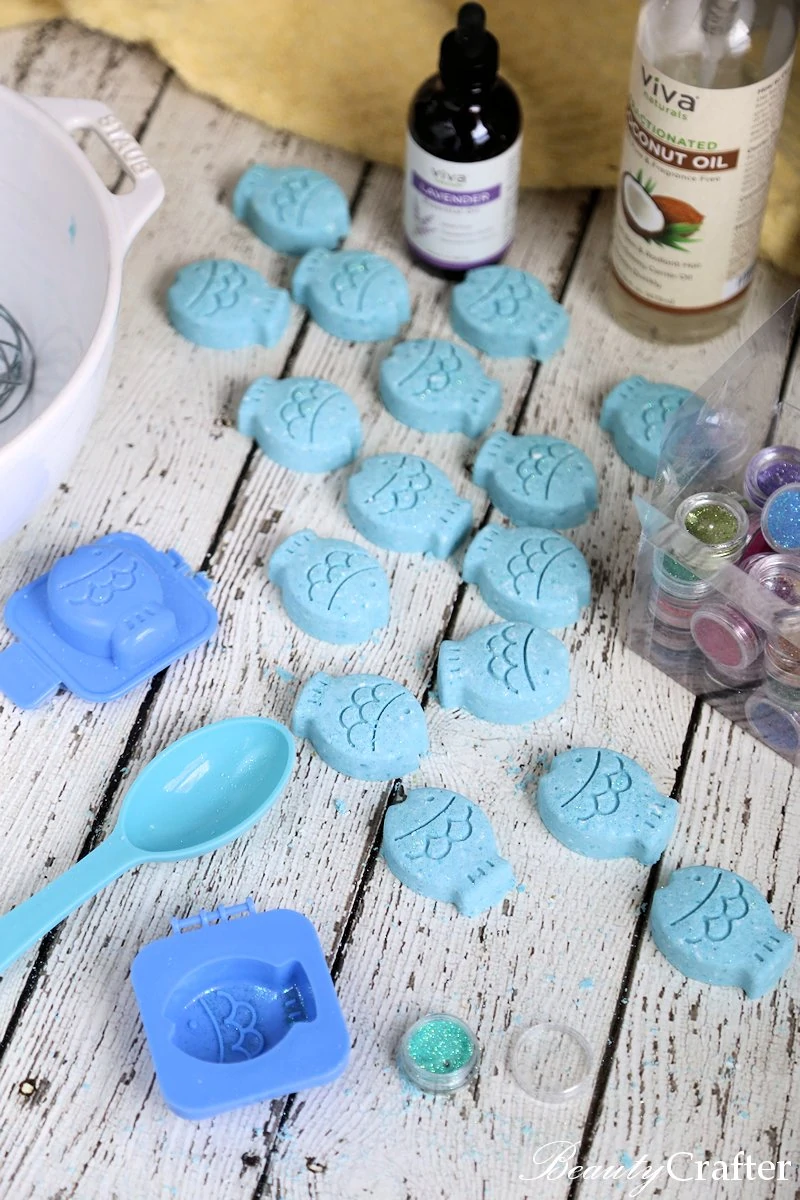 I simply colored these fish bath bombs a nice fresh blue and added cosmetic glitter
to the molds before pressing the bath bomb mixture in. Although the fish shaped egg mold
I used have two sides and 3-d fish bath bombs could be made with them, I opted to just use one side and keep them flat on the back. This allows for easier display and 2-3 can be tossed into a bath for an adult and 1 or 2 for a child (I try and use less essential oils in my daughter's bath than my own). I scented these  bath bombs with soothing kid safe lavender essential oil
, but scent as you like.
Cute Bath Bomb Molds
This Japanese egg mold that I used to make these cute bath bombs into little fish can be bought in a set along with other fun shapes.  The molds are difficult to find in stores especially here in the U.S., so I suggest just grabbing them off Amazon and saving yourself the time, gas and aggravation that I wasted trying to buy some locally, without success. I also have some Easter bath bombs I made with this mold set that are cute bunnies.
Yunko 6set Fish Car Heart Shape Egg Sushi Rice Mold Mould Decorating Fondant Cake Tool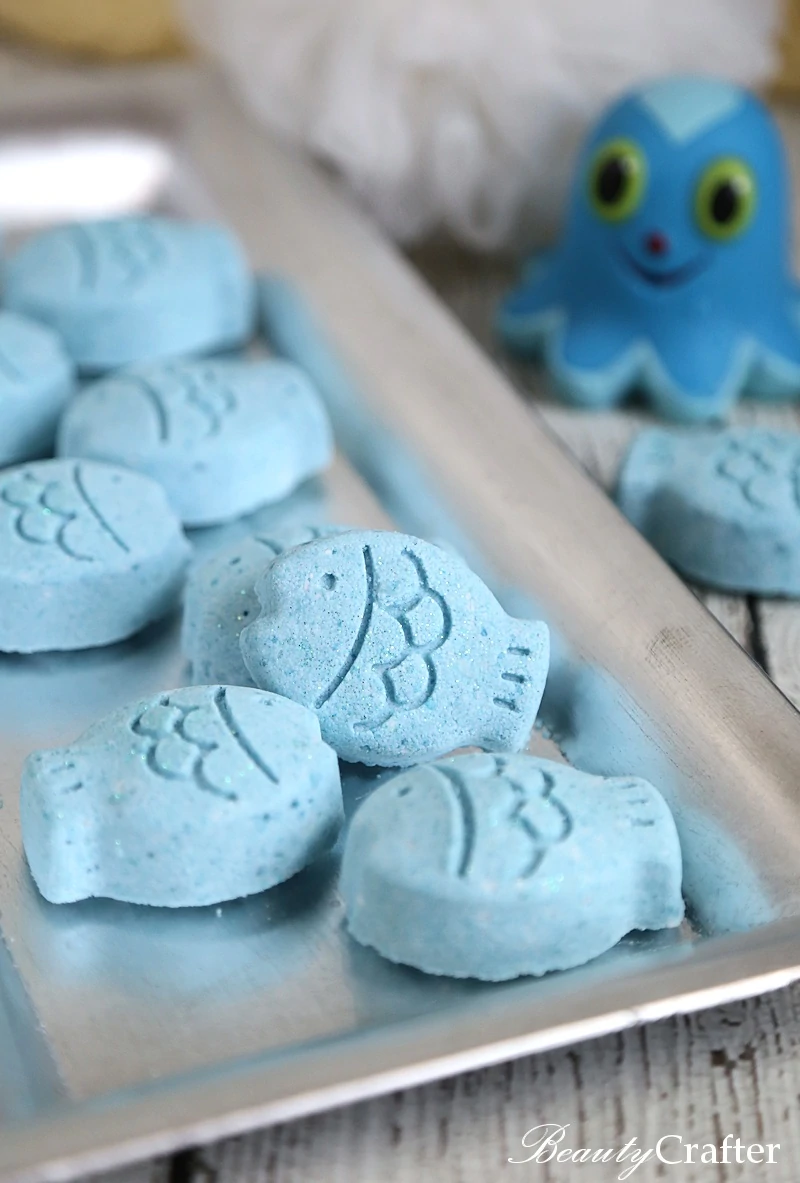 Grab Your Supplies
Here is what you will need (other than the mold shown above, baking soda and water)
Viva Naturals Fractionated Coconut Oil, 16 oz - Ultra Hydrating Massage & Aromatherapy Oil, Hexane-Free
Wilton Gel Food Color Set, Primary
Ajent Citric Acid 100% Pure Food Grade Non-GMO (Approved for Organic Foods) 1 Pound
Viva Naturals French Lavender Essential Oil, 4 fl oz - 100% Pure & Therapeutic Grade for Relaxation, Sleep & Happy Mood
Natural Epsom Salt (Original) 16oz
45 Colors Nail Art Make Up Body Glitter Shimmer Dust Powder Decoration
How to Make Fish Bath Bombs
Here are the easy directions for making these cute fish bath bomb fizzies. Check out my other character molded bath bombs; Cute Skull and Poop Emoji.
Print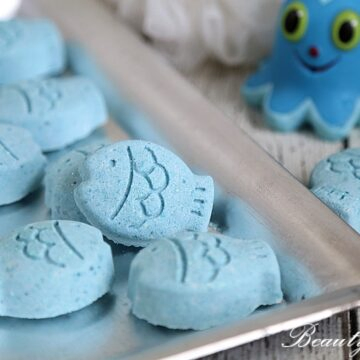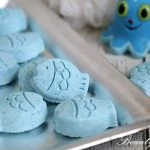 Fish Bath Bombs: DIY Bath Fizzies
---
Description
These adorable little fish bath bombs look great in the bathroom anf kids love them. Make your own batch of these bath bombs with an inexpensive Japanese egg mold converted to a bath bomb mold.
---
---
Whisk together the baking soda, cornstarch, citric acid and epsom salts.
Add the oil, essential oil, and gel food coloring. Mix thoroughly. Add the water while mixing to avoid a reaction.
Sprinkle in glitter, then scoop mixture into molds and press firmly to ensure a firm pack and well detailed fish.
Tap mold on counter to drop the bath bomb out.
Allow to dry for a few hours before putting in airtight packaging.