Ever wanted a shiny gold bath bomb? Today, I have a Golden Egg Bath Bomb DIY project for you!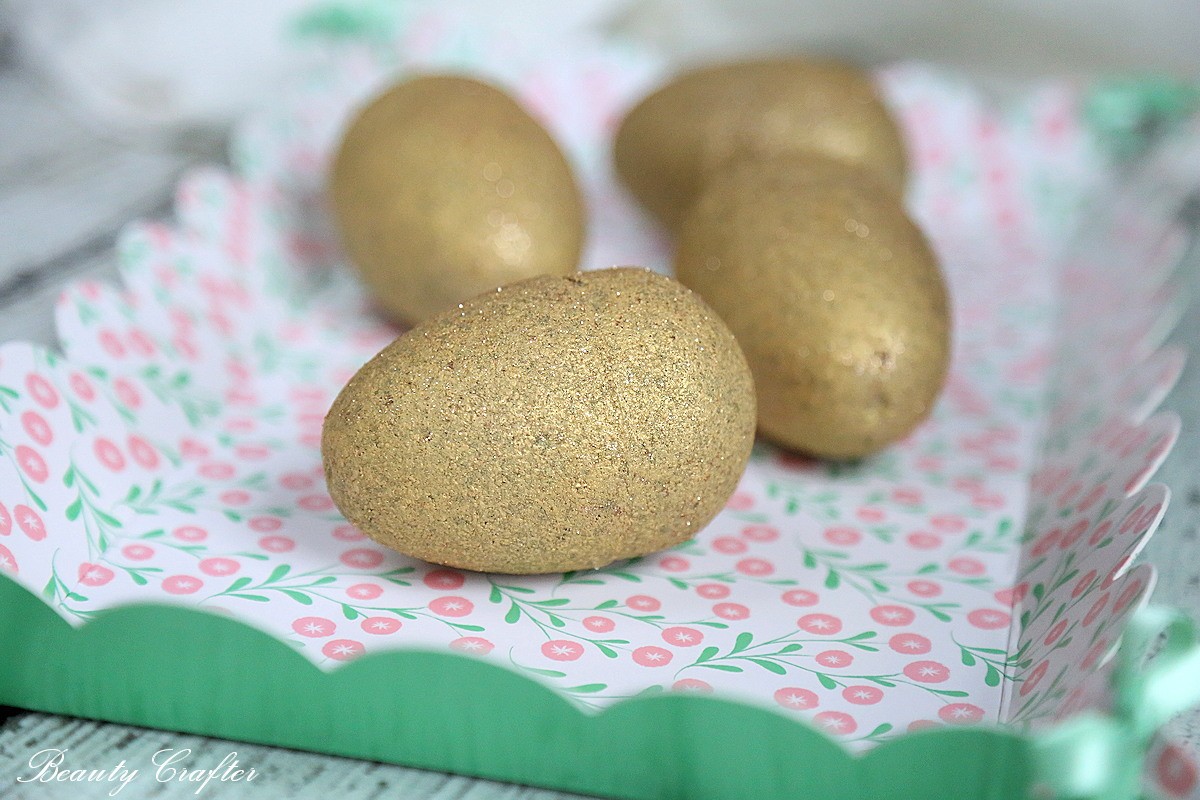 Gold Bath Bomb
What is more luxurious than a sparkling golden bath? Creating that bath with a gold bath bomb. While I chose to make Golden Egg Bath bombs, these gold bath bombs can just as easily be made in any shape bath bomb mold.
Non-Toxic Gold Bath Bomb Paint
These non-toxic egg shaped gold bath bombs
are covered with edible gold spray paint
 from Wilton and lightly dusted with gold cosmetic glitter
. The inside of the bath fizzy is colored purple with gel food coloring. The coloring of the actual bath bomb itself is important to get a nice natural gold tone. If the bomb is too light the gold will look more yellow and not realistic. Purple, blue or most other darker shades make a nice base for the easy to use spray edible gold paint. See my Lavender Oatmeal Bath Bombs Recipe for idea of the level of color that is ideal.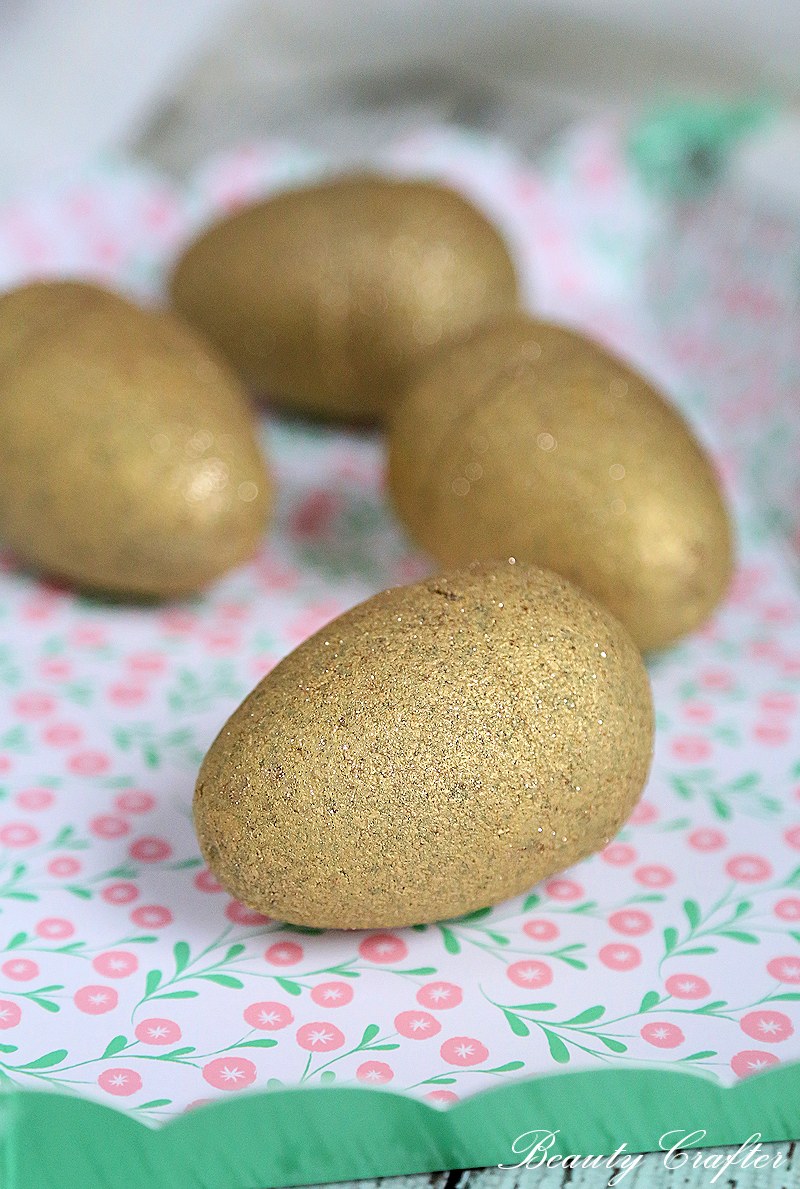 The cosmetic glitter is quite fine and adheres to the gold spray when wet. Â Simply sprinkle it on for a sparkling gold effect.
For your convenience, here are the ingredients that may not be readily available at your local grocery/drug store.
 Wilton Gold Color Mist
 Viva Naturals Fractionated Coconut Oil, 16 oz
 45 Colors Nail Art Make Up Body Glitter Shimmer Dust Powder Decoration
 Food Coloring Liqua-Gel - 6 Color Rainbow Kit in .75 fl. oz. (20ml) Bottles
 Plant Therapy Lavender Essential Oil. 100% Pure, Undiluted, Therapeutic Grade. 10 ml (⅓ oz).
 Ajent Citric Acid 100% Pure Food Grade Non-GMO (Approved for Organic Foods) 1 Pound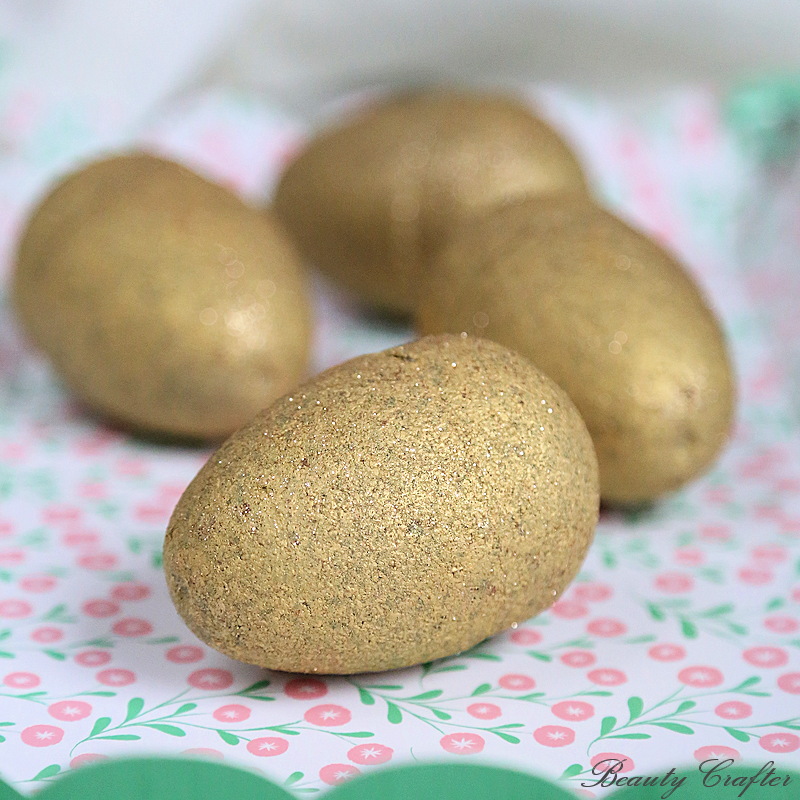 Print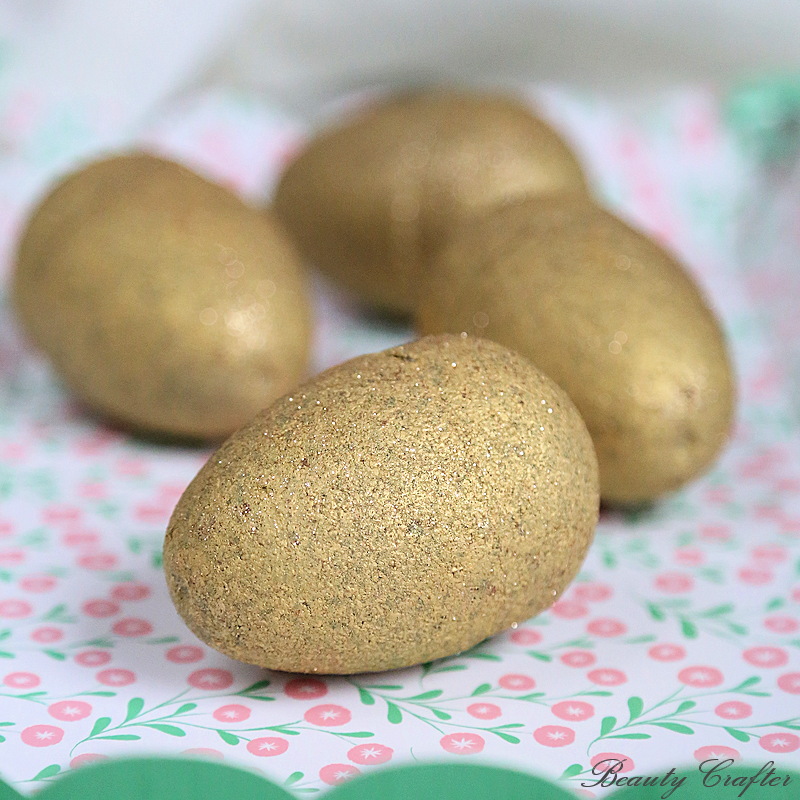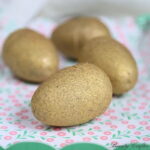 Gold Bath Bomb: Make Golden Egg Bath Bombs
---
Description
These egg shaped gold bath bombs are non-toxic and while of course perfect for Easter are lovely and fun year round.
---
Supplies for Golden Egg Bath Bombs
---
Mix together the dry ingredients for bath bombs, then add the oil, essential oil and water.  Take care to whisk quickly as you add the water so it can blend in before causing much reaction.
Add the gel food coloring. It may take a few doses to get a nice rich tone.  It doesn't have to be too dark, but can't be pale either to get best results.
Pack the bath bomb mixture into each side of a plastic egg candy holder. Press down to ensure the mold is well packed, then add more. Press down, once sides are full add an extra scoop on each side and press firmly together.  Set the bath bomb filled molds aside to set for about ½ an hour, then remove to dry out for about another hour before painting (longer is fine).
Once the egg bath bombs are dry, shake a can of the Wilton edible gold paint and mist on the bath bombs.  It will take a number of coats to fully cover the egg with gold paint. While the spray is still wet sprinkle on some cosmetic glitter to add more glisten to the Gold bath bombs.
Notes
Makes 4 large egg sized gold bath bombs, 6-8 standard sized (like a chicken egg)