A shower steamer makes the experience of showering more than just getting clean. Here I will fill you in on the various aromatherapy benefits of using shower steamers with essential oils and show you how to make your own DIY shower steamers! A homemade steamer with natural scents, beats mass produced ones with synthetic fragrance oils any day!
Turn a quick shower into an amazing therapeutic aromatherapy experience! The natural scents enhance relaxation or can even energize you. Making your own tablets ensures you have the best shower steamers. They make fabulous gifts too! After all you can customize the scents for the gift recipient.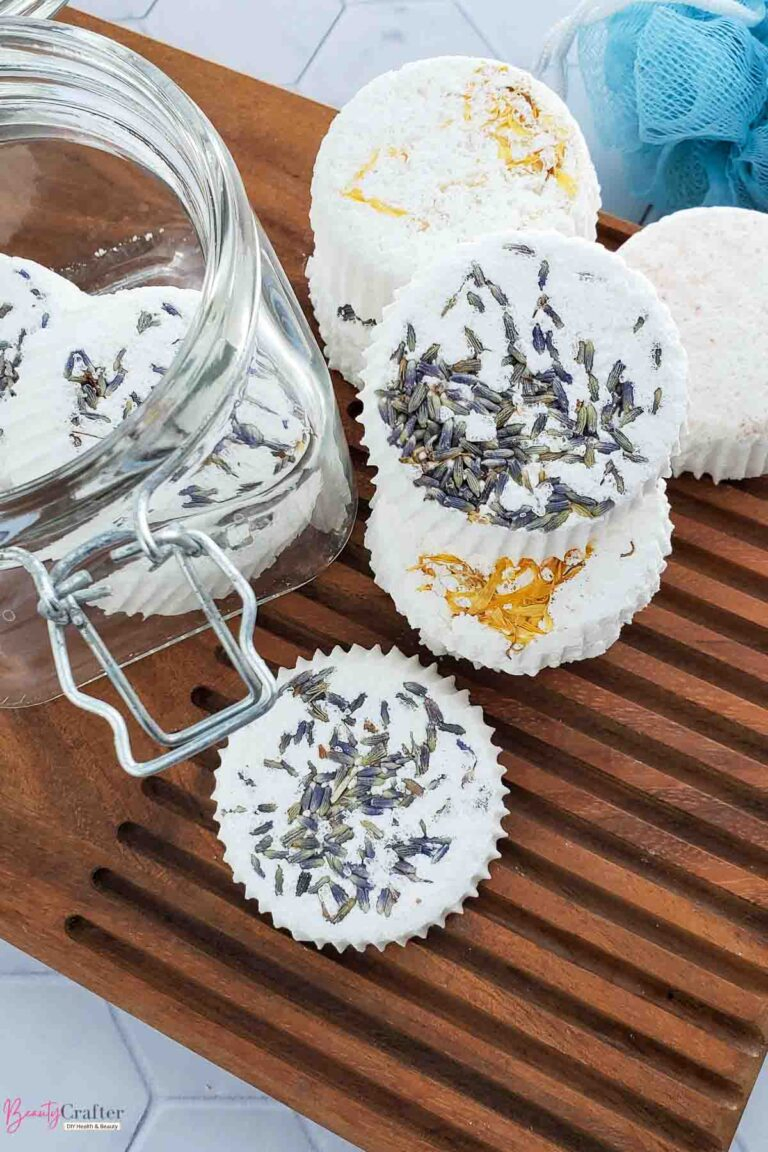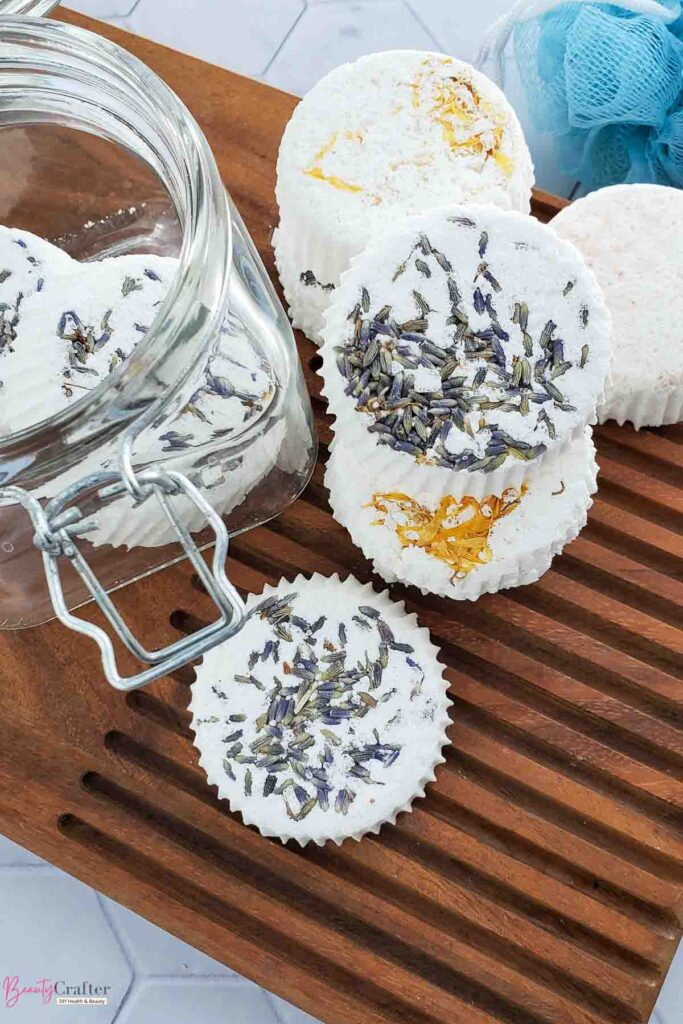 What is a Shower Steamer?
A Shower steamer is basically a bath bomb you use in a shower. They are also referred to as shower bombs, shower fizzies, shower melts or shower tablets. When using them, toxin-free scent is released during a shower.
How they Work
Place a shower fizzy near the tub or shower drain. The hot water splashing down from your shower dissolves the steamer tablet. As the steamer starts to melt, the essential oil fragrance is released into the steam which is inhaled. The chemical-free scents diffused in the steam bring relaxation and stress relief or can energize and invigorate.
Your shower is basically transformed into an essential oil inhaler, treating you with therapeutic oils.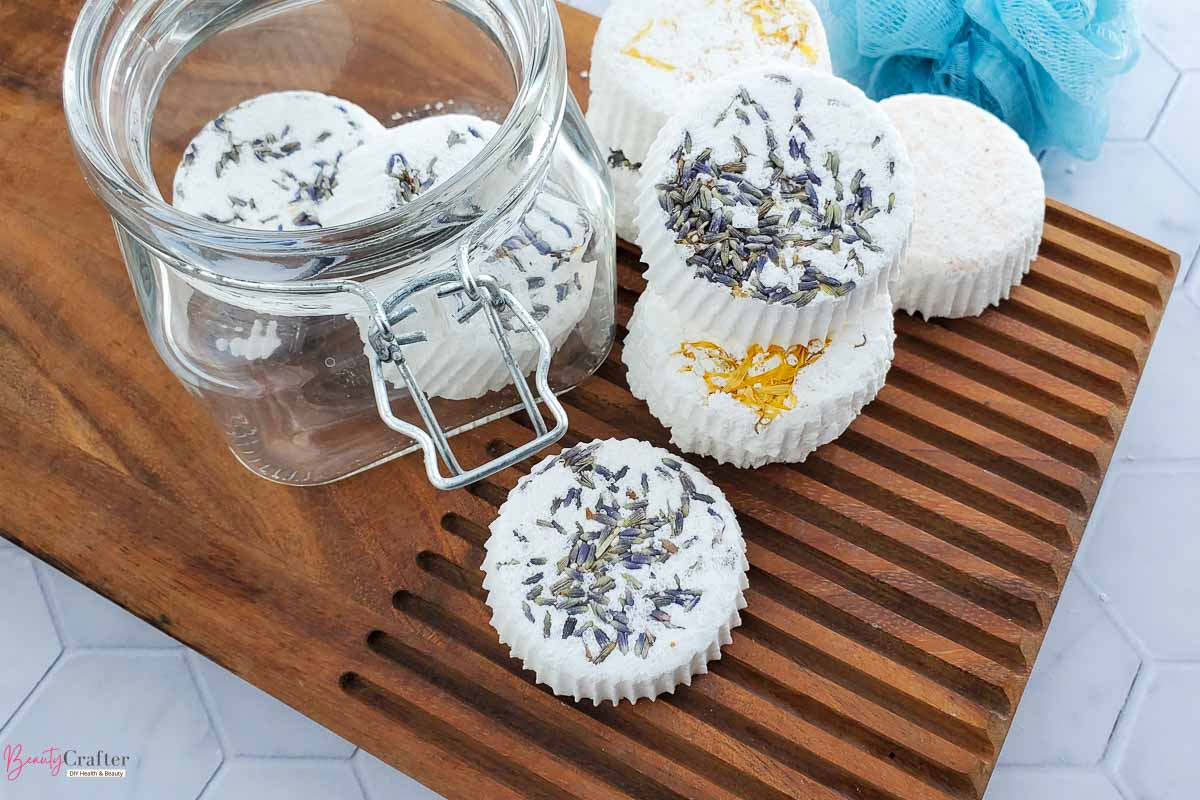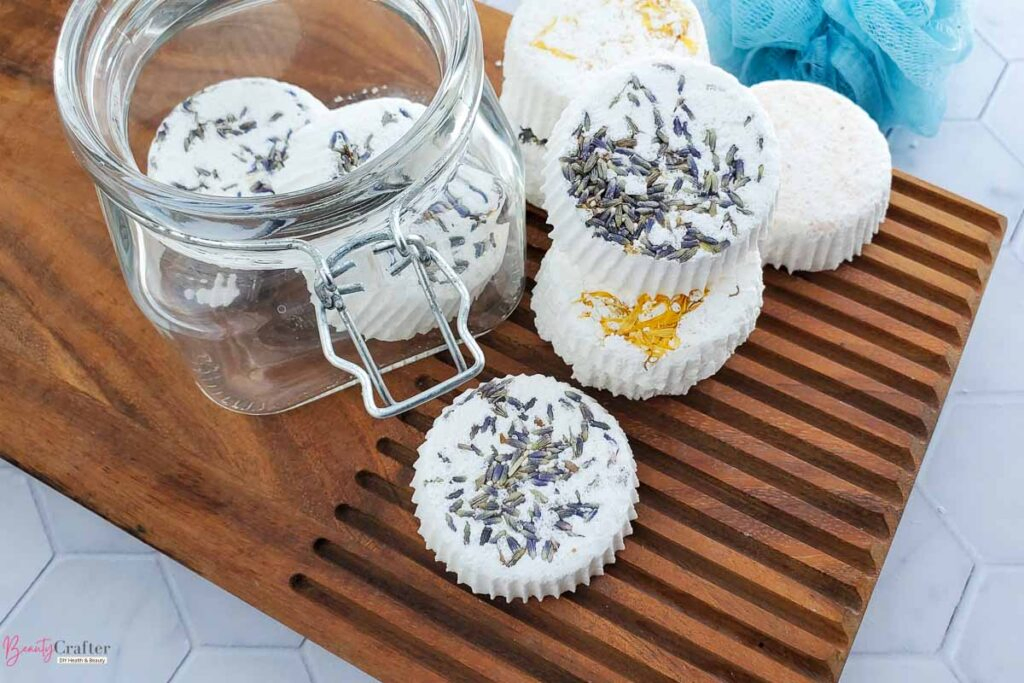 Benefits of Using Essential Oil Shower Steamers
Shower steamers are an excellent way to diffuse essential oil for aromatherapy. No special diffuser needed, just place the tablet on the shower floor, near the drain before taking a hot shower.
Shower tablets are great for relaxation after a stressful day, charging up in the morning for a productive day or for alleviating sinus congestion.
What is the Difference Between a Shower Steamer and Bath Bomb?
While shower steamers are like bath bombs in many ways, there are also some significant differences.
First off, a steamer will typically be flat at least on one side, so that when you place one on the shower floor it won't roll around. With bath fizzies shape is not a concern.
Since you don't have to worry about direct skin contact with the essential oil and the focus is sharply on diffusing for aromatherapy purposes the mixture used to make steamers will be more concentrated. Skin moisturizing oils are not needed. Citric acid is also used less and, in some cases, not at all. Using it speeds the dispersion of the natural aromas, but also makes the steamers melt faster.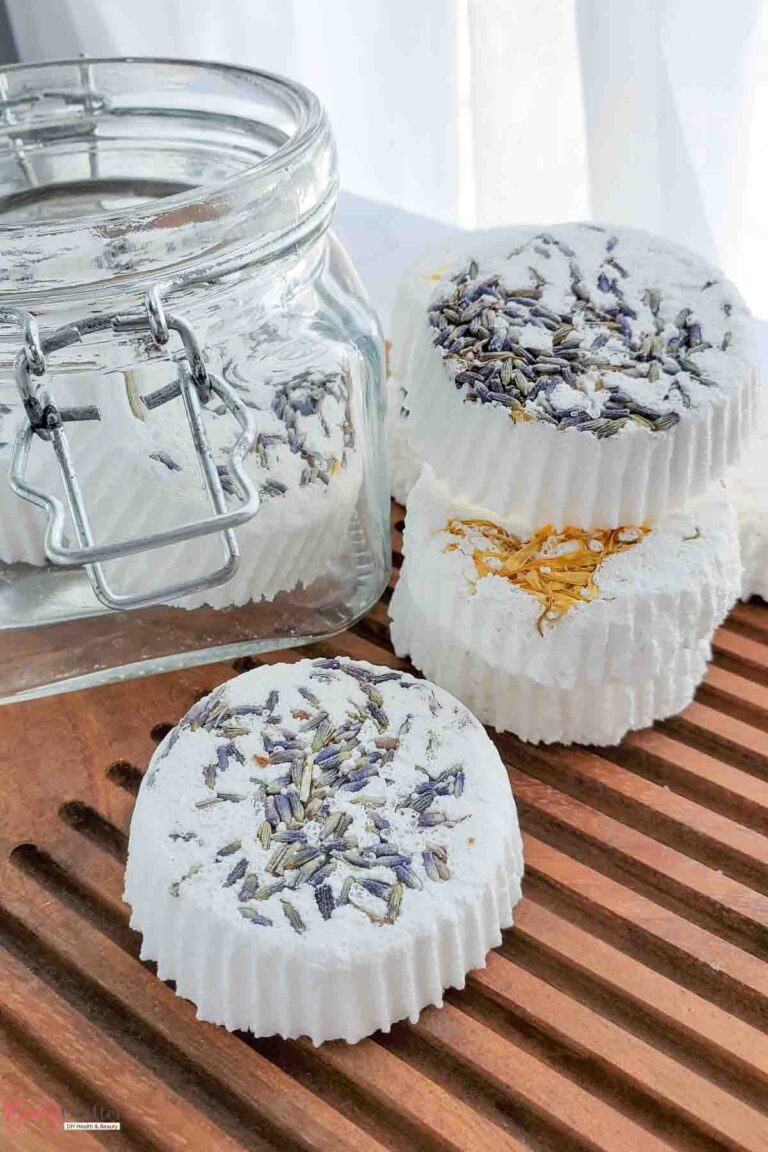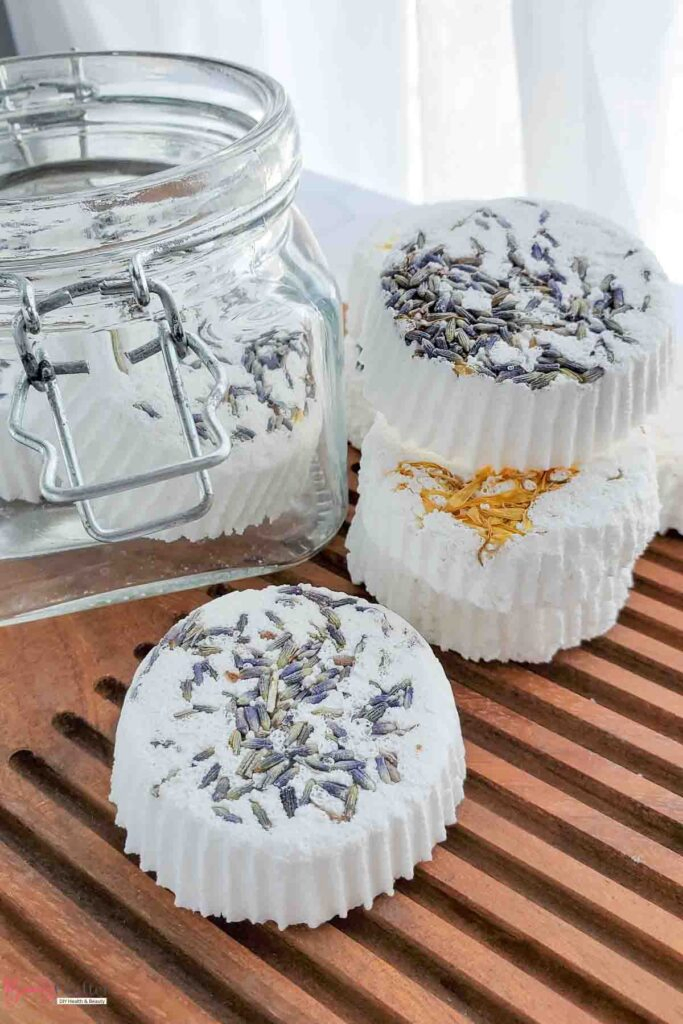 How to Make Shower Steamers (step-by-step)
Making DIY aromatherapy shower steamers is quite easy.  There is less need to concern yourself with fizzing action, so less sodium bicarbonate is needed. Here I will walk you through the steps with pictures. Make your shower bombs to use yourself or gift to loved ones, for the best shower ever!
Time: It will take 5-10 minutes to make the project, then a few hours drying time.
Yield: The recipe made a batch of 8 standard cupcake liner sized and roughly ½ to ¾ inches thick tablets.
Ingredients you will need:
baking soda
citric acid
corn starch or arrowroot powder
essential oils
witch hazel ( or water)
lavender buds or other dried flower petals to decorate the tablets with, Dessert sprinkles and colored sugar are also fun choices that will wash away.
Making:
Here are the step-by-step instructions to make a batch. There is also a video on the easy craft and a recipe card you can print below.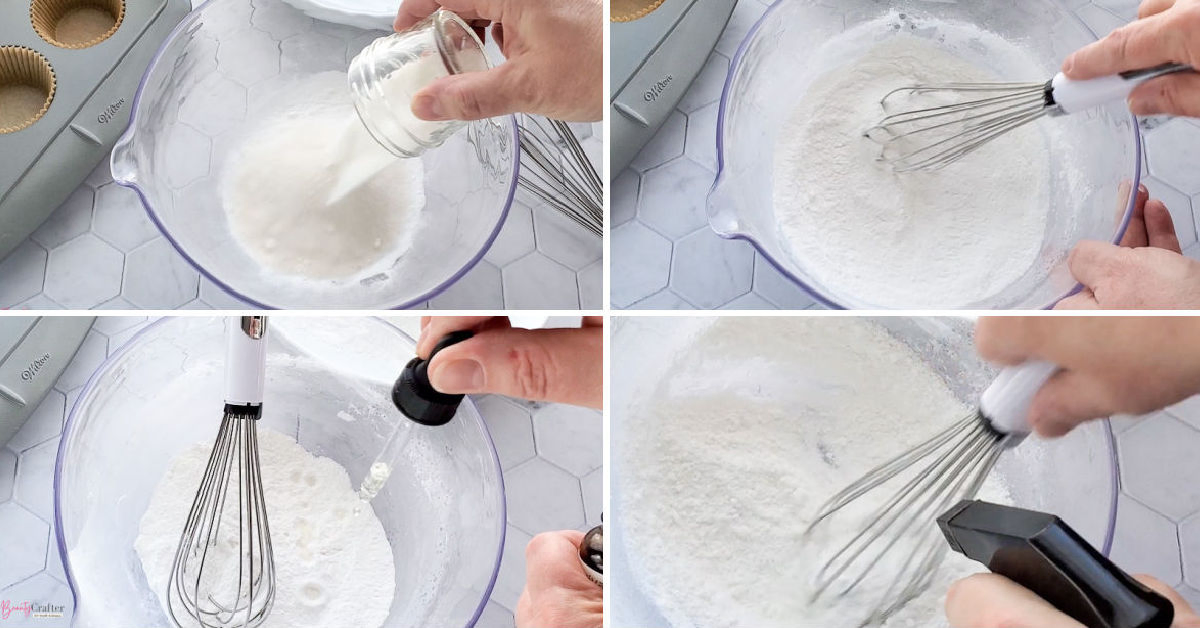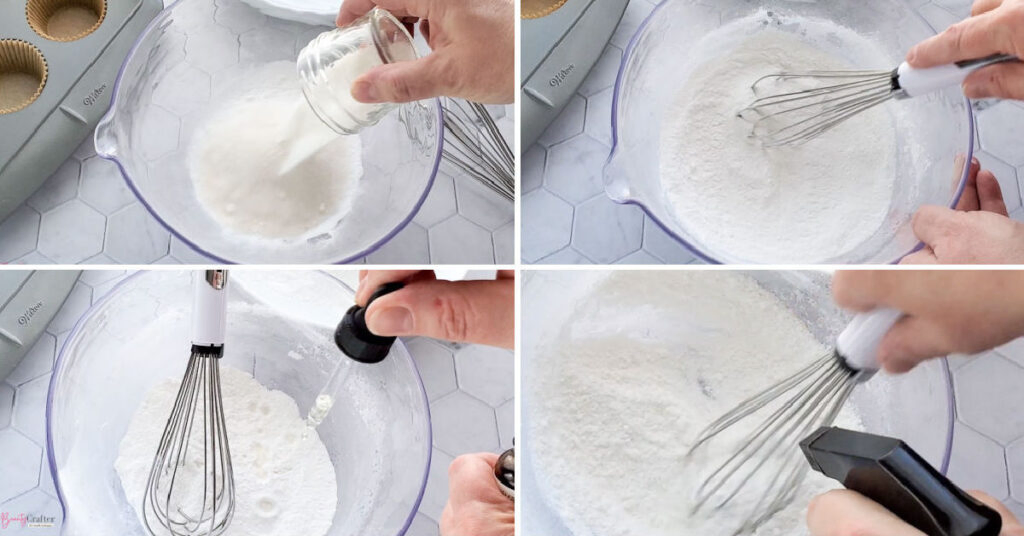 First mix the dry ingredients, make sure to get any clumps out. Then add your essential oil scents.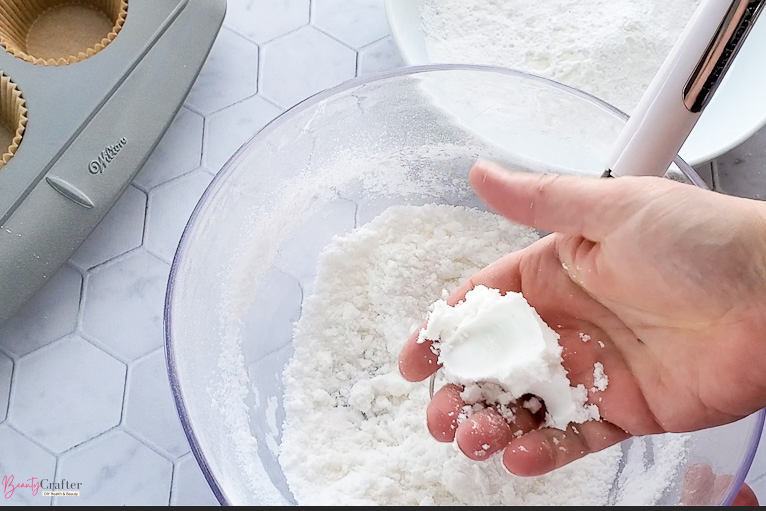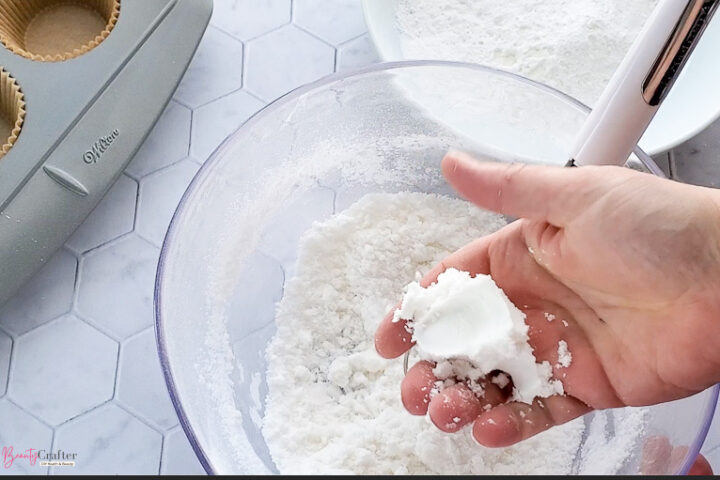 Using a spray bottle mist on witch hazel while mixing. You only want to add just enough to enable the mixture to clump in your hand when you squeeze a handful NO MORE than that.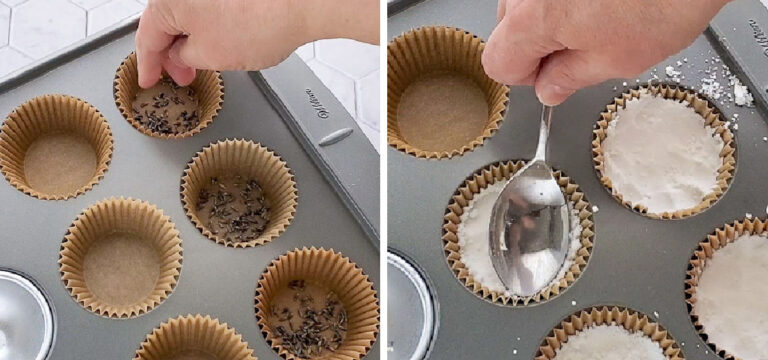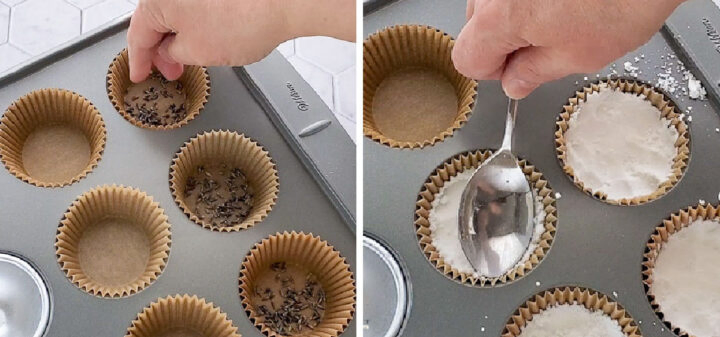 Press the mixture into molds or lined muffin tins. Air dry them until firm, then unmold and fully dry before storing.
How to store:
Store the DIY shower steamers in an airtight container such as a mason jar, plastic bag or shrink wrap. If kept well sealed, they will have a long shelf life and of course be ready to be used as gifts if you choose.
Which Essential Oils to Use in an Aromatherapy Shower Steamer Recipe
The scents you choose make a huge difference in the effect the steamer will have. Only use pure essential oil to fragrance the shower bombs, using a  synthetic fragrance oil as scenting ingredient will smell nice, but give you no aromatherapy benefits. Fragrance oils are also seldom chemical-free as well. Let's stick with natural oils.
Cough, Cold, Congestion
When you want an aromatherapy shower steamer than will help alleviate cold symptoms, you will want a blend with oils such as eucalyptus, peppermint, spearmint, lavender, thyme, tea tree, and camphor.
I actually have a tried and true recipe for this already >> Natural Decongestant Shower Tablets
Use the suggestions below to create your own mood enhancing essential oil blend or see my printable recipe card below.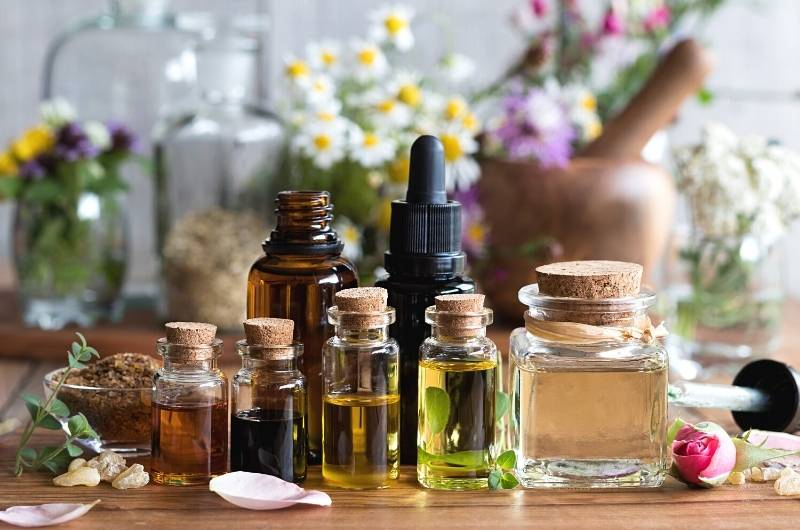 Energizing, Uplifting Morning Oils
These natural essential oils will help wake you in the morning or add a little spring in your step when things have got you down.
The refreshing menthol scent of peppermint essential oil is a great pep start in the morning. Peppermint is also said to improve focus.
All the citrus oils (lemon, orange, lime, grapefruit, etc.) are also great choices. Citrus fruits all have a bright energizing tone to them.
Rose is renowned for it's ability to elevate mood, making the oil or absolute a nice fragrance option.
Morning Blend
This is one of the essential oil blends I used in the video. (It was halved since I split the steamer batch)
20 drops lemon oil
15 drops lemongrass oil
Himalayan salt ( a few generous pinches throughout as you pack the molds)
Relaxing, Soothing Bed Time Oils
When stress is getting to you a shower is a nice way to relax and these essential oils will enhance that. Great when you take a shower before bed to get you set up for a great night's sleep.
French lavender oil (or English) has a soothing aroma widely used to aid in inducing sleep and it's perfect for stress relief. Lavender essential oil is also widely available as it is among the most popular oils.
There is some evidence that the intoxicating scent of lemongrass has an anxiety reducing effect on humans. It also lengthens sleep duration in rats. [study]
Eucalyptus essential oil is calming, great for relieving tension. Eucalyptus is a popular oil with those suffering from congestion or allergies too.
If you are in the mood for romance, make some shower steamers with an aphrodisiac essential oil.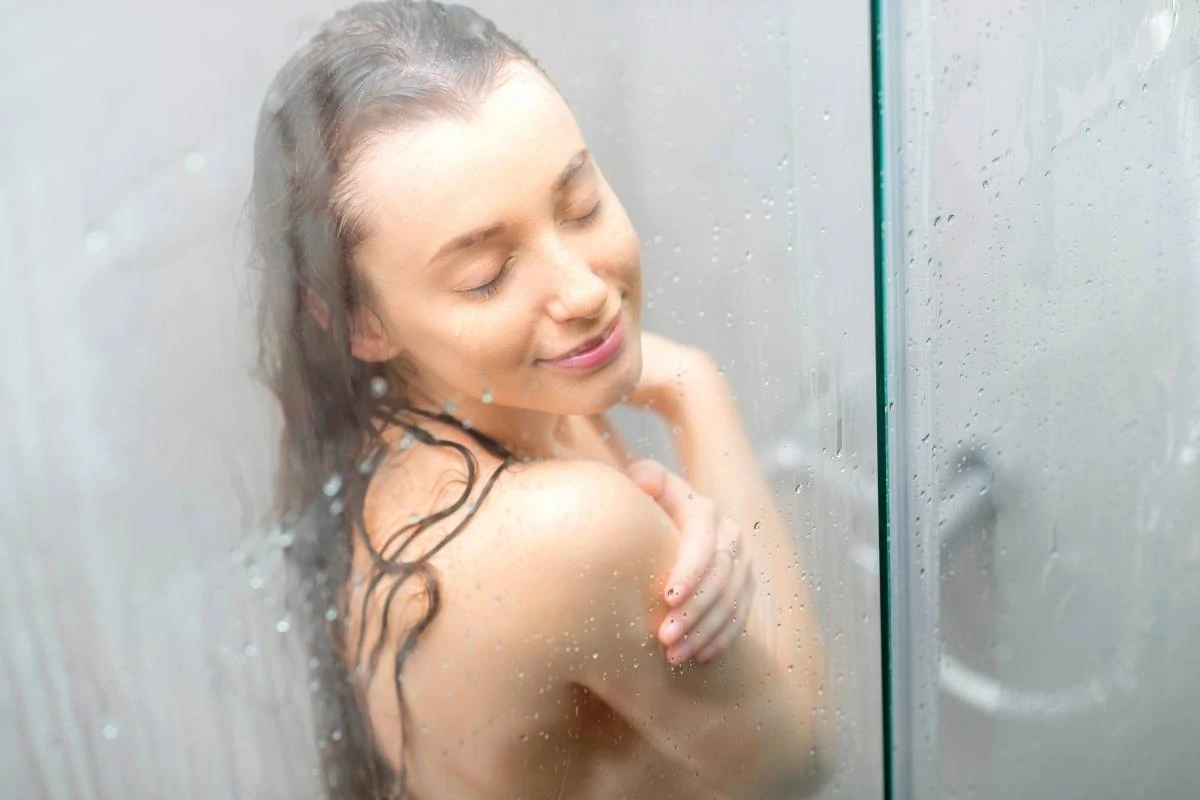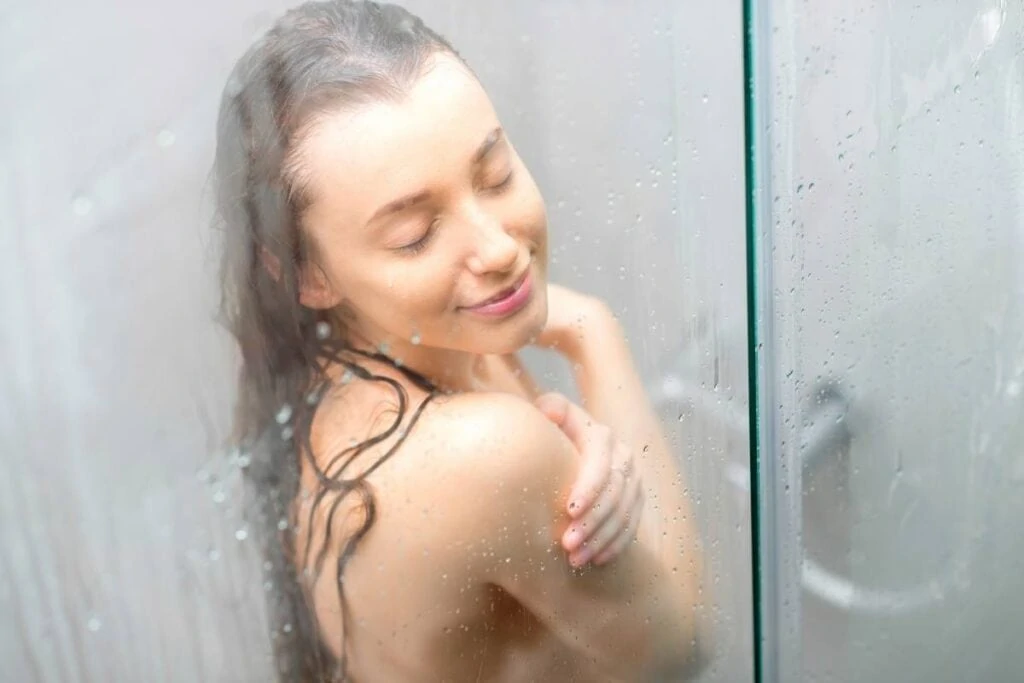 Using Salt in a Shower Bomb
While adding sea salt or Himalayan salt to your steamers will not provide as many benefits as taking a salt bath, there may still be some benefit. Just as a rock salt lamp will produce refreshing negative air ions, so will the hot shower water splashing on the salt in the tablet. It will certainly make your shower atmosphere more pleasant and spa like.
Great DIY Gift Idea
This is one of my favorite gift ideas. Give a batch of this shower steamer recipe as a homemade present or make a gift basket by pairing them with a DIY sugar body scrub or a simple melt & pour soap. The recipient will certainly enjoy such a lovingly crafted handmade gift set.
Make sure they are well sealed in airtight packaging and dress your gift basket up with a candle, ribbon or some dried flower petals.
My shower steamers are bubbling up while drying. What do I do?
If your steamers start to bubble up while drying, don't fret. That just means you added a little too much liquid. It also sometimes happens on rainy or very humid days.
Simply press down on the shower steamer with the back of a spoon.  Repeat if necessary. They may fizz less, but that is far less important than it is with bath bombs. They will still work just fine
Print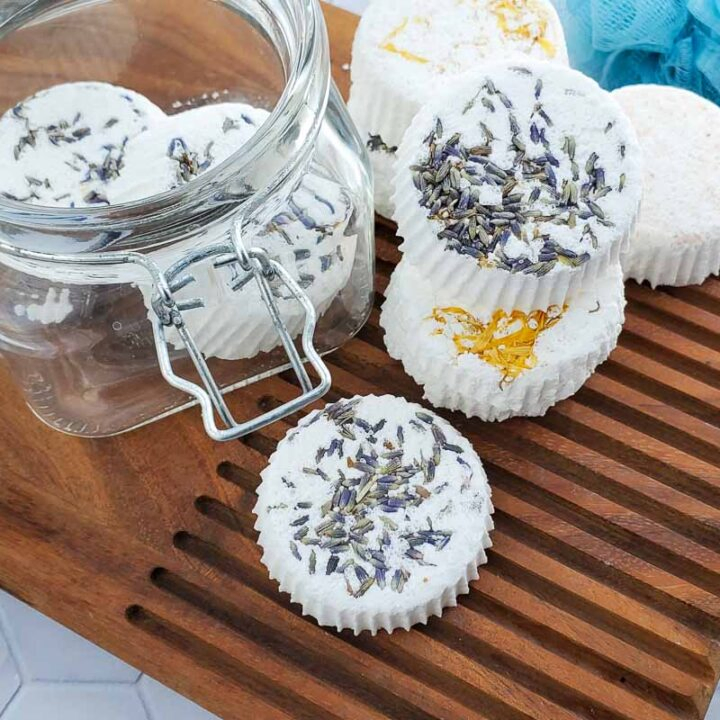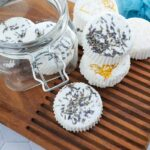 DIY Shower Steamer Recipe
---
Description
Make some soothing shower steamers with this easy recipe. These shower bombs are just the thing you need when you want to relax and steady your mind.
---
1 cup

baking soda

½ cup

citric acid

¼ cup

corn starch

30

-

35

drops of essential oil or blend
witch hazel (misted on)
dried flowers, candy sprinkles or sea salt crystals *** optional for top
Supplies
fine mist spray bottle
large bowl and whisk
molds or muffin tins with paper liners
---
Mix the baking soda, citric acid and corn starch together. Then add essential oils.

Next mist the powder mixture with witch hazel while stirring until the mixture will clump in your hand.

Fill mold an press firmly to pack well. If you are decorating add that to bottom of mold before filling.
Air dry the 
 fully, then place them in airtight packaging or a sealed jar to retain the strongest scent.
Notes
If you want to split your batch just estimate separating the dry mixture in two. Then apply 15-18 drops of essential oil in each bowl and mist each with the witch hazel while stirring. I split the batch in the video 50/50 -  lavender with buds in half for evening showers and the other half was a blend of lemongrass and lemon oils with Himalayan salt and marigold petals for morning showers
Makes 8 tablets as shown, but yield will vary based on mold size.
Prep Time:

5 min

Cook Time:

0 min
Keywords: aromatherapy shower, shower steamers