These soothing lavender oatmeal bath bombs are wonderful for dry skin and smell fantastic. Homemade bath bombs make a great handmade gift with an old fashioned appeal. Making them yourself is so much more thoughtful than a store bought bath bombs. Though an easy bath bomb recipe to make, the results are quite lovely and the moisturizing bath bombs are nourishing for the skin.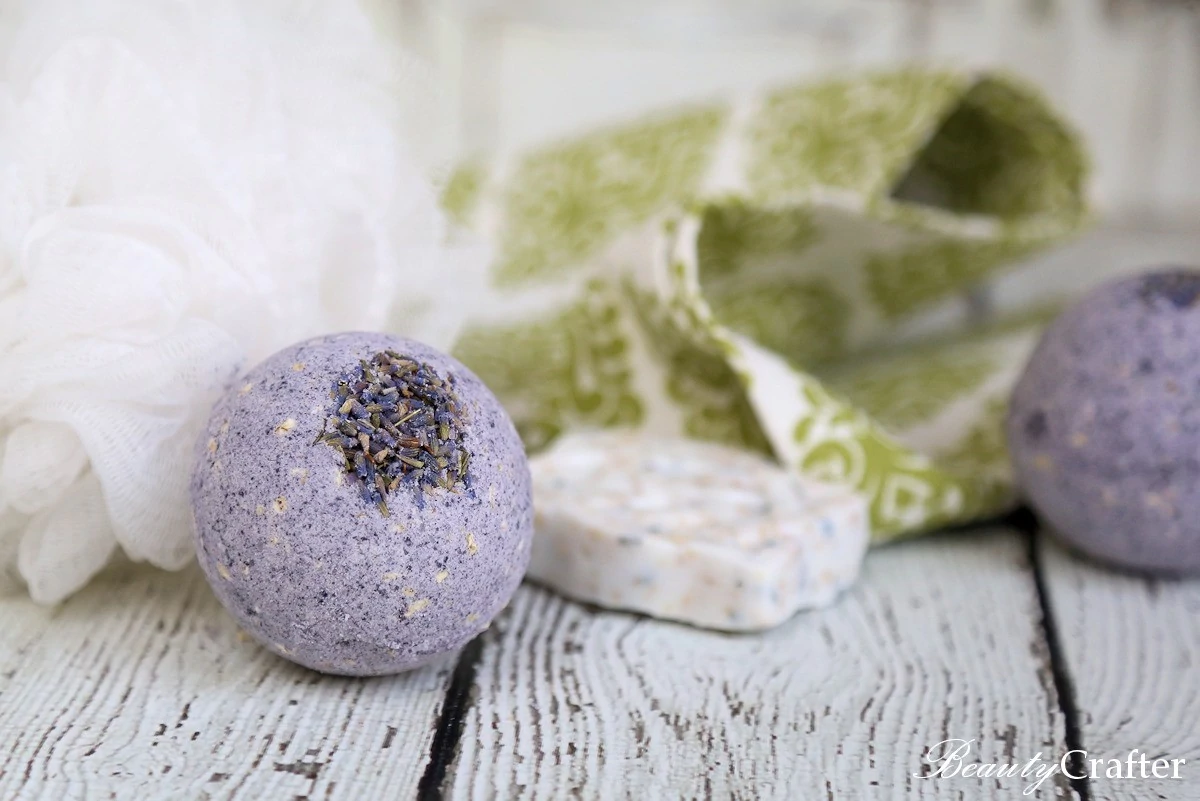 Lavender Oatmeal Bath Bombs: A Soothing DIY Gift
Making this lavender oatmeal bath bombs recipe along with my lavender oatmeal soap would make for a wonderfully giftable combination. It is also a great way to make a variety of homemade bath products while not having to buy too many entirely different ingredients. Both lavender and oatmeal are soothing to the skin, and the lavender and epsom salts are relaxation inducing.  Both lavender and oatmeal are therapeutic for dry itchy skin and rashes too. Just what you need for a relaxing bath. My Sparkling Lavender Bath Salt Recipe would also make a nice gift basket along with thise DIY bath bombs.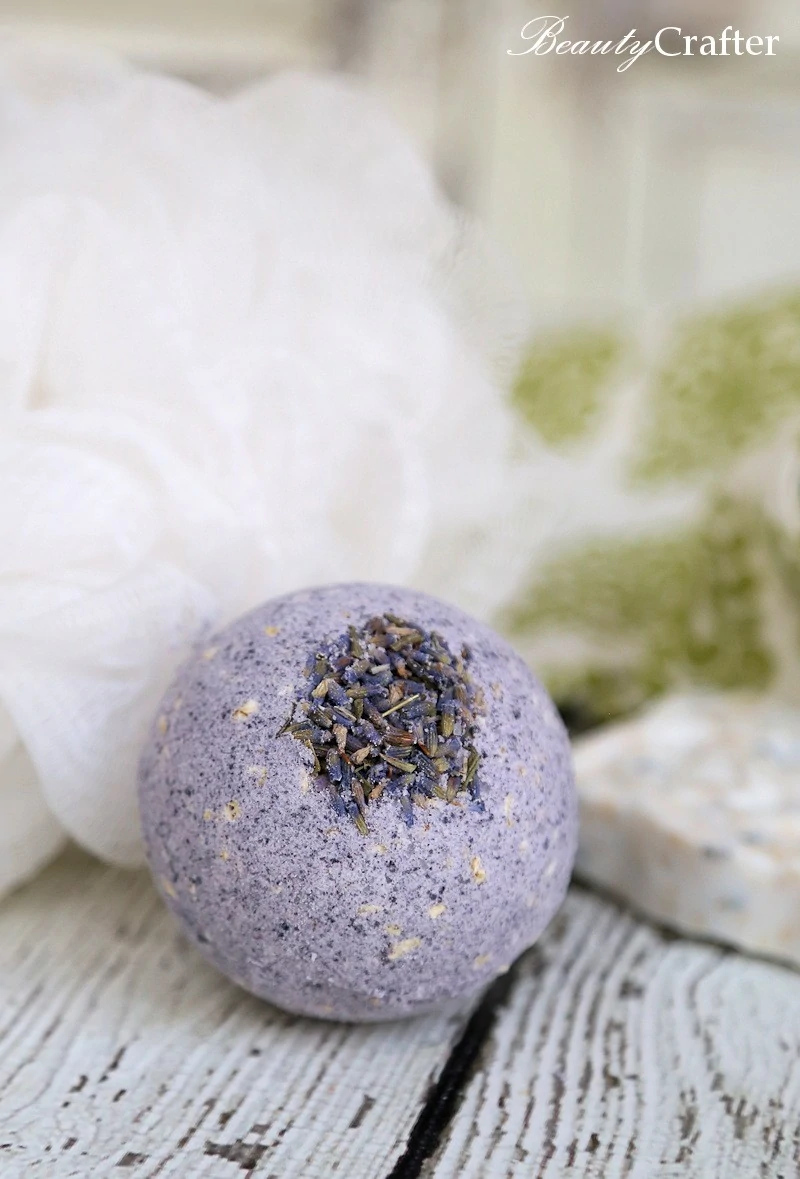 Adjusting the Bath Bomb Recipe
Bath Bomb Color
These diy bath bombs make the bathwater a pretty purple tint, but the coloring can be skipped if you prefer (just add a few more drops of oil or water to make up the difference). I simply wipe up any stray remaining flakes of oatmeal after the bath.
Oatmeal Texture
I chose to leave the oats whole in this bath bomb recipe, but it isn't necessary. Pulsing the oats in a food processor will create a fine powder referred to as colloidal oatmeal. This will dissolve into the bathwater and make clean-up easier. I personally prefer the look of the bath bombs with the oats unground. I like the oats floating in the bath and it makes the bath bomb recipe easier to make.
Bath Bomb Ingredients and Supplies (Full recipe and measures below.)
You will also need cornstarch and baking soda (not shown)
Organic Lavender Flowers (Extra Grade - Dried) - 4oz Resealable Bag - 100% Raw From France - by Feel Good Organics
Viva Naturals French Lavender Essential Oil, 4 fl oz - 100% Pure & Therapeutic Grade for Relaxation, Sleep & Happy Mood
Bob's Red Mill Organic Quick Cook Steel Cut Oats, 22 Ounce
Viva Naturals Fractionated Coconut Oil, 16 oz - Ultra Hydrating Massage & Aromatherapy Oil, Hexane-Free
6 Food Color US Cake Supply by Chefmaster Liqua-Gel Paste Cake Food Coloring Set - The 6 Most Popular Colors in 0.75 fl. oz. (20ml) Bottles
Metal Bath Bomb Mold - DIY - Make Lush Bath Bombs - 2 Molds (4 pieces) - 2.56
Ajent Citric Acid 100% Pure Food Grade Non-GMO (Approved for Organic Foods) 2 Pound
Epsoak Epsom Salt 2 Lbs - 100% Pure Magnesium Sulfate, Made in USA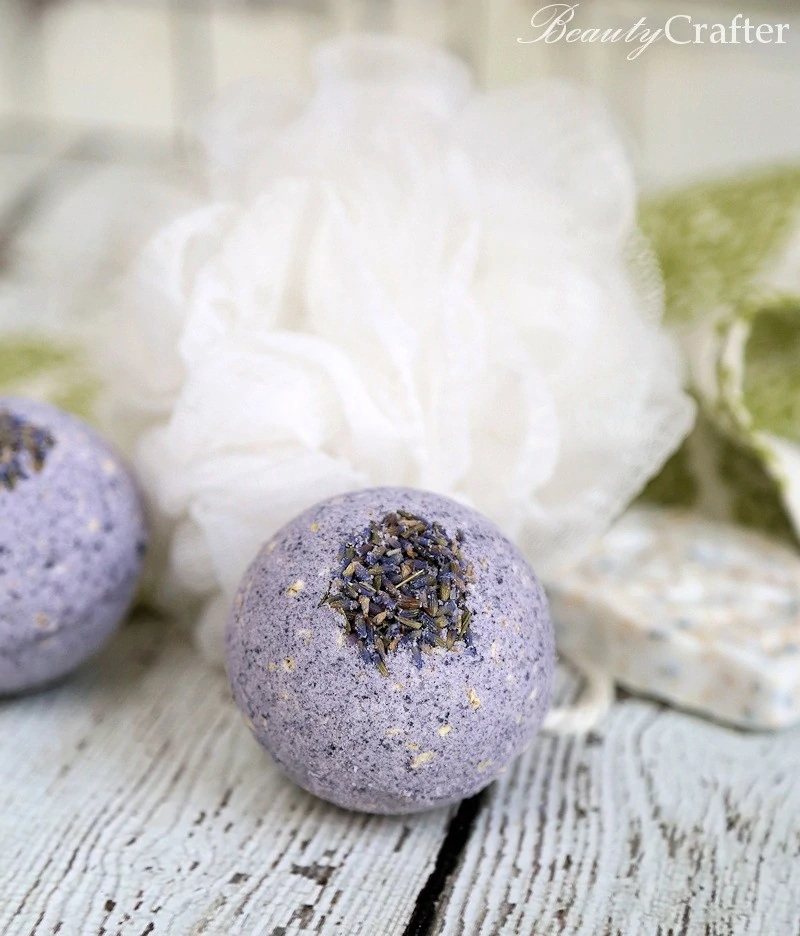 While these DIY bath bombs are soothing for the skin, if a serious skin inflammation such as bad eczema or a case of the chicken pox is the problem I suggest making my Oatmeal Bath Soak instead.
Print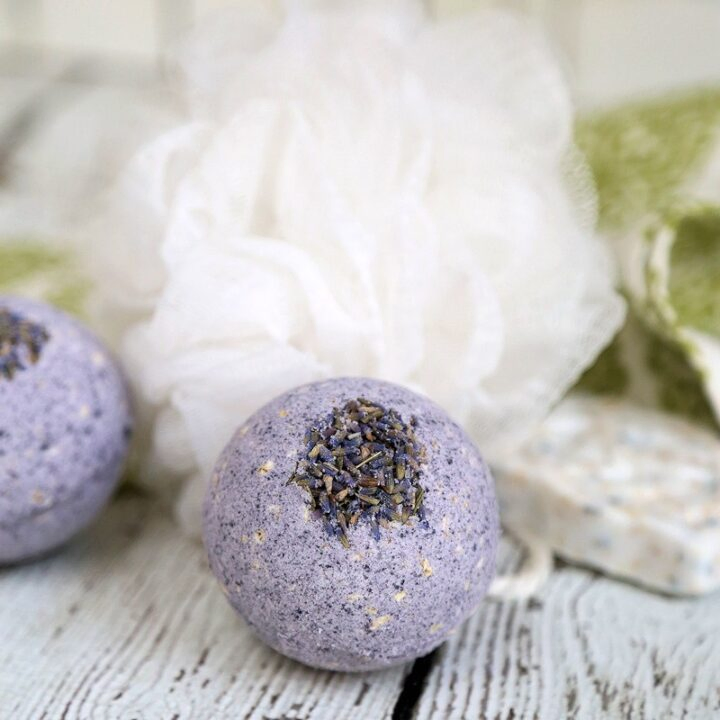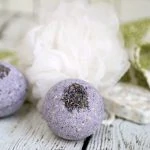 Lavender Oatmeal Bath Bombs Recipe
---
Author:

Beauty Crafter

Yield:

Makes

4

bath bombs in 2.5-2.75″ spherical molds.

1

x
Description
The bath bomb recipe for these homemade lavender oatmeal bath bombs is easy to make. Both oatmeal and lavender have a soothing effect on the skin, so these are great for those with dry or irritated skin.
---
---
Whisk together the baking soda, cornstarch, citric acid, epsom salts and oats.
Add the fractionated coconut oil, lavender essential oil, and purple gel food coloring. Mix thoroughly. Add the water ONLY IF NEEDED while mixing to avoid a reaction. Grab a handful of mixture and squeeze if it stays together it is plenty moist enough.
Sprinkle a pinch of dried lavender flowers on one side of a bath bomb mold, then top with the lavender oatmeal bath bomb mixture and press down firmly.  Top off and fill other side. You actually want to overfill the molds then press together with a good amount of pressure. When using metal sphere molds, I twist slightly while pressing, this helps excess mixture fall back into bowl and ensures a tight pack and easy release.
Remove the bath bombs from molds gently and set out to air dry before storing in airtight container or shrink bags.
Packaging supplies (shrink wrap for airtight seal & organza bags to dress them up)
6" x 6" Shrink Wrap Bags for Soap Making, Bath Bombs, Bottles, Arts Crafts & homemaking Products by Mighty Gadget (R) - 100 pack
Anleolife 50pcs Purple Lavender Organza Bags 7x5 inch Bushiness Sample Display Bag Wedding Favors Gift Bag Jewlery Candy Bag Velvet Drawstring Pouch(50pcs purple)