I put together this Play Dough Soap recipe in order to help keep my daughter occupied over the spring school break. Make some for your kids too!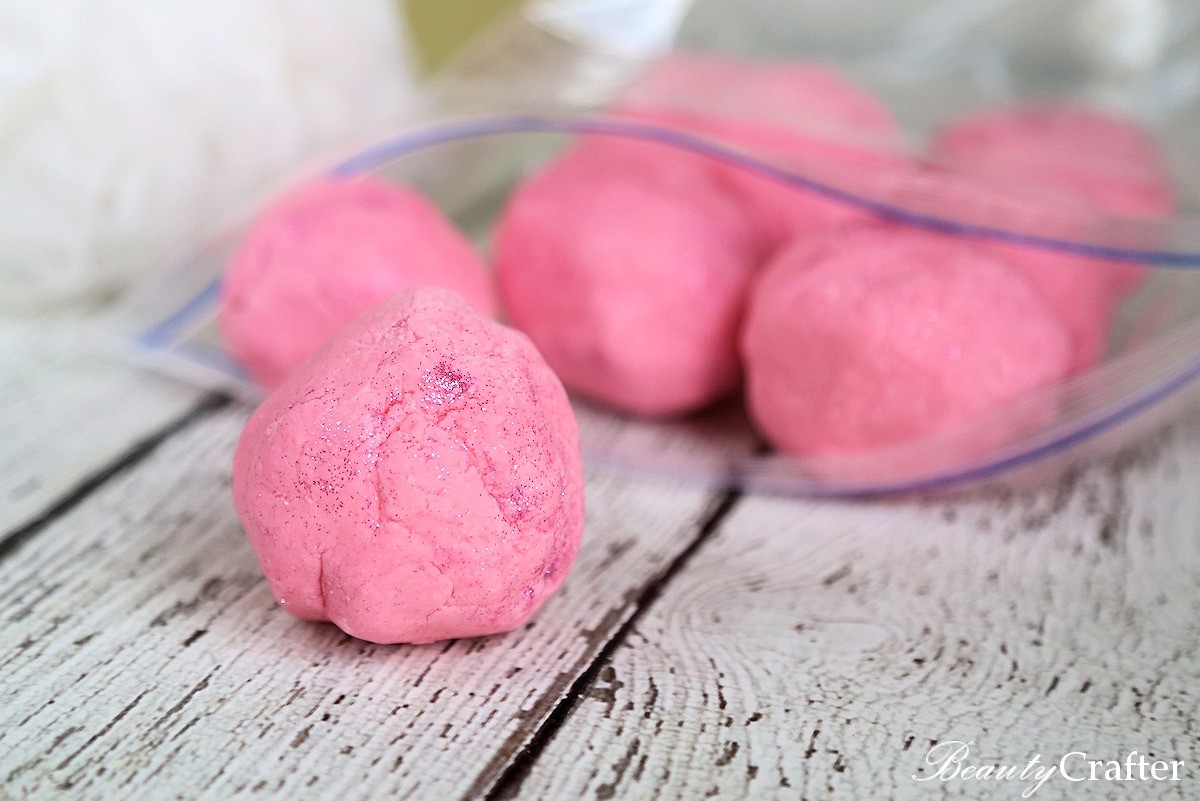 The recipe for the play dough soap is easy to make and basically foolproof. Too dry, add a few drops of water, too wet add a tsp or so of cornstarch. The pictured here (and the included recipe) is purposely made slightly dry.  It is a large batch and this way the balls don't adhere to each other when tossed in a ziploc bag. The soap is still quite malleable.  I do make smaller batches slightly softer.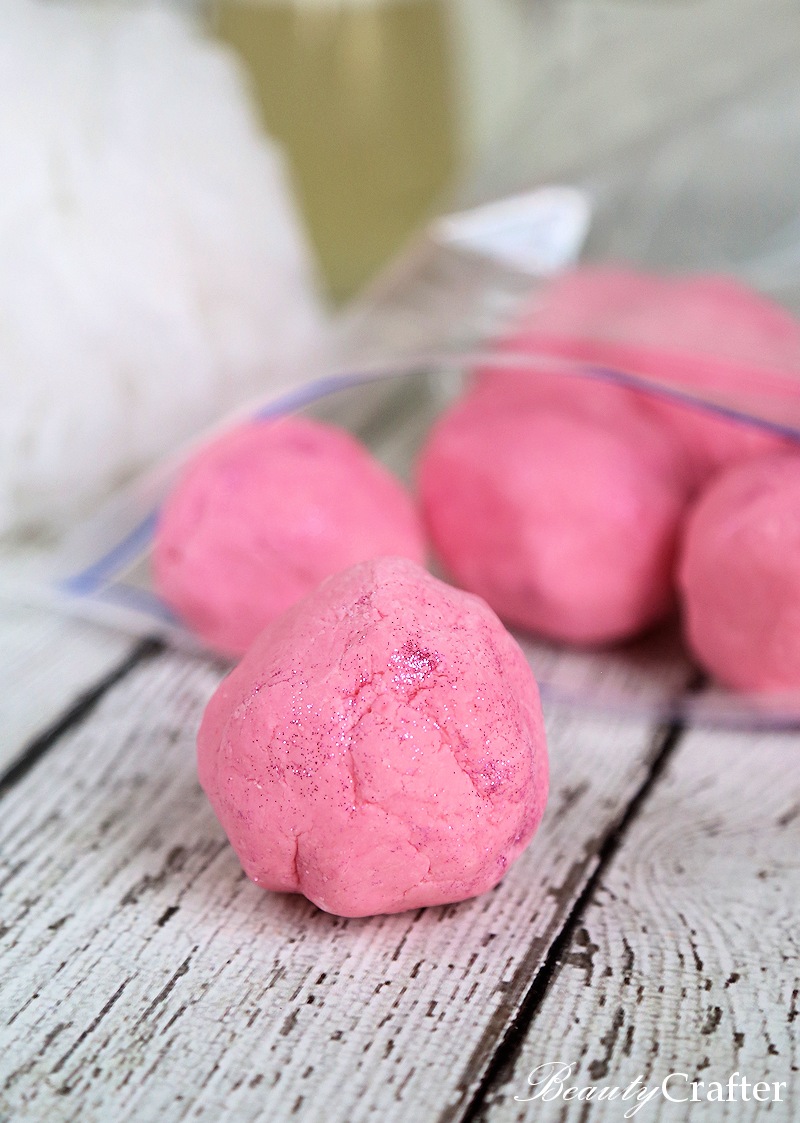 She loves playing with the play dough soap in her bath as well as in the sink, especially when it gets to a gooey slime stage.  I love that it washes down the drain and other than a little starch residue to rinse out of the tub it is basically mess free.
Play Dough Soap for Kids
The play dough soap starts at a texture much like you would expect, but over time as it gets wetter it transforms during play.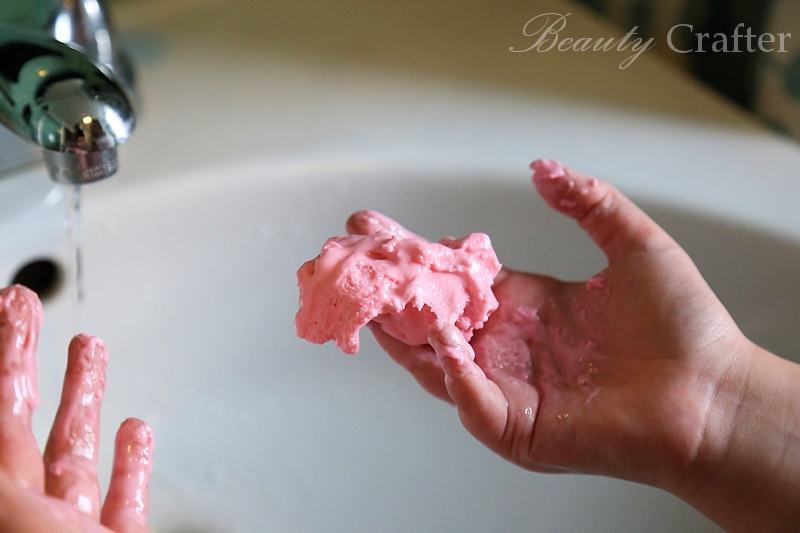 Once it is relatively saturated the soap dough has a pasty wet clay feel to it.  Fun to squish and smear.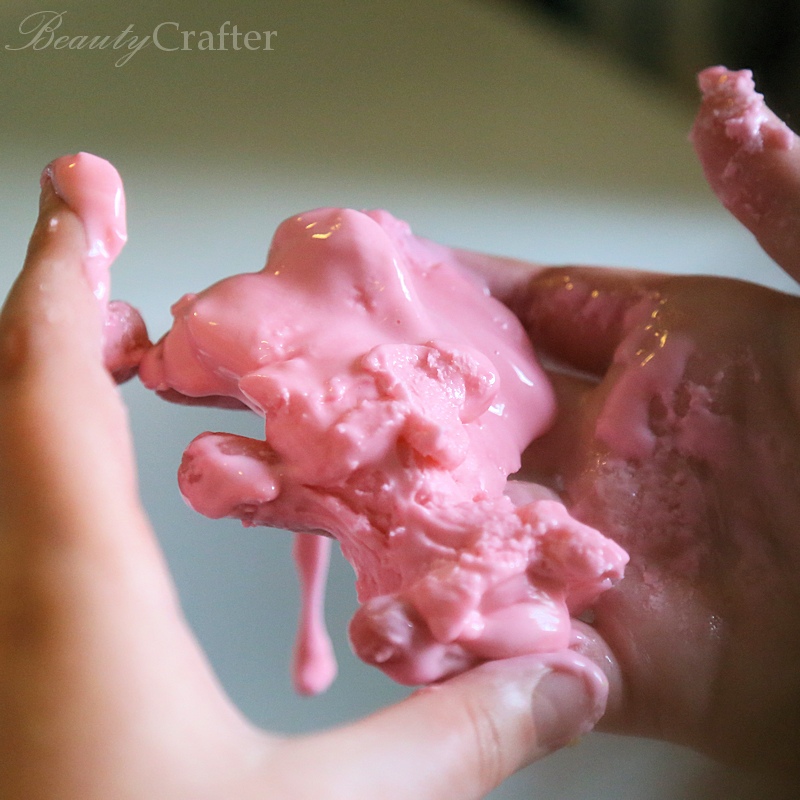 With more water play, the play dough soap morphs into a drippy oozy slime like stage. Fun to watch and feel, as well as paint the sides of the tub with. Finally the soap dough dissolves into the water, hopefully after your child is clean…lol.
What's in the Soap Dough?
Here's all the supplies (full recipe below)
Dr. Bronner's Pure-Castile Liquid Soap – Baby Unscented 16oz.
Viva Naturals Fractionated Coconut Oil, 16 oz – Ultra Hydrating Massage & Aromatherapy Oil, Hexane-Free
NOW Solutions Glycerine Vegetable, 16-Ounce
Wilton Gel Food Color Set, Primary
Surepromise 45 Colors Eyeshadow Makeup Nail Art Pigment Glitter Dust Powder Set
Bob's Red Mill Corn Starch, 22 Ounce
Play Dough Soap Recipe
Here's how to make this easy recipe for Play Dough soap, that turns into fun bath slime in the tub! Other than the gel food coloring and glitter used to make the soap more attractive all the ingredients to make the soap are natural.  I will try future batches with natural pigment and probably just skip the glitter it really didn't add much to the end results anyway.
Ingredients
Makes about 10 balls of Play Dough soap
1 cup liquid Castille soap
3 tbs vegetable Glycerine
1 tbs fractionated coconut oil
gel food coloring
2 1/2 cups cornstarch
***optional*** micro glitter
Directions
Mix the wet ingredients together, then add 2 cups of the cornstarch and mix well.
Add the remaining cornstarch in increments until you reach the consistency you want.
**optional roll balls in cosmetic glitter**
Store the play dough soap in an airtight container to maintain moisture.