This Orange Clove Soap was inspired by the Christmas pompadours made from oranges pierced with cloves. It is an easy melt and pour soap recipe.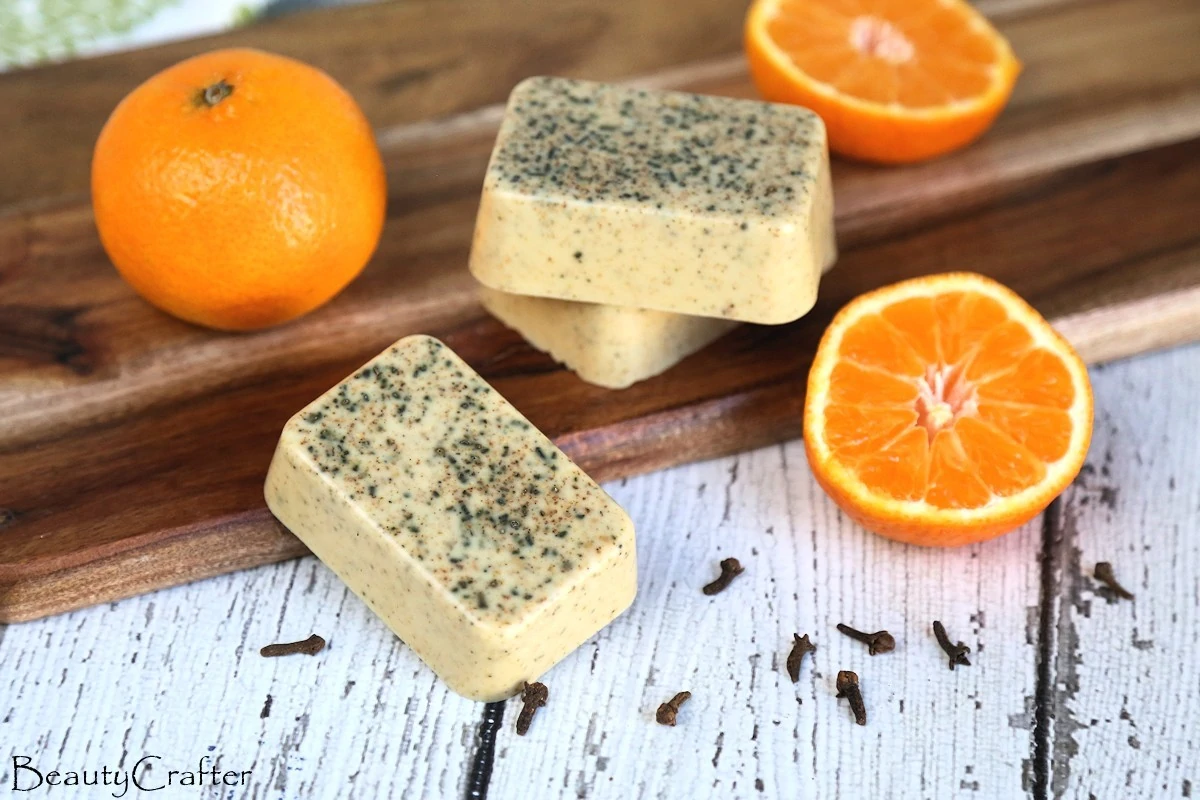 Orange Clove Soap Recipe: Easy DIY Gift
If you are a beginner to soap making this Orange Clove Soap Recipe (like most of my melt and pour soap recipes) is great for beginners. It is pretty much foolproof and requires no lye to make. In fact, the entire project should only take you about ten minutes excluding cooling time and results in a very giftable craft.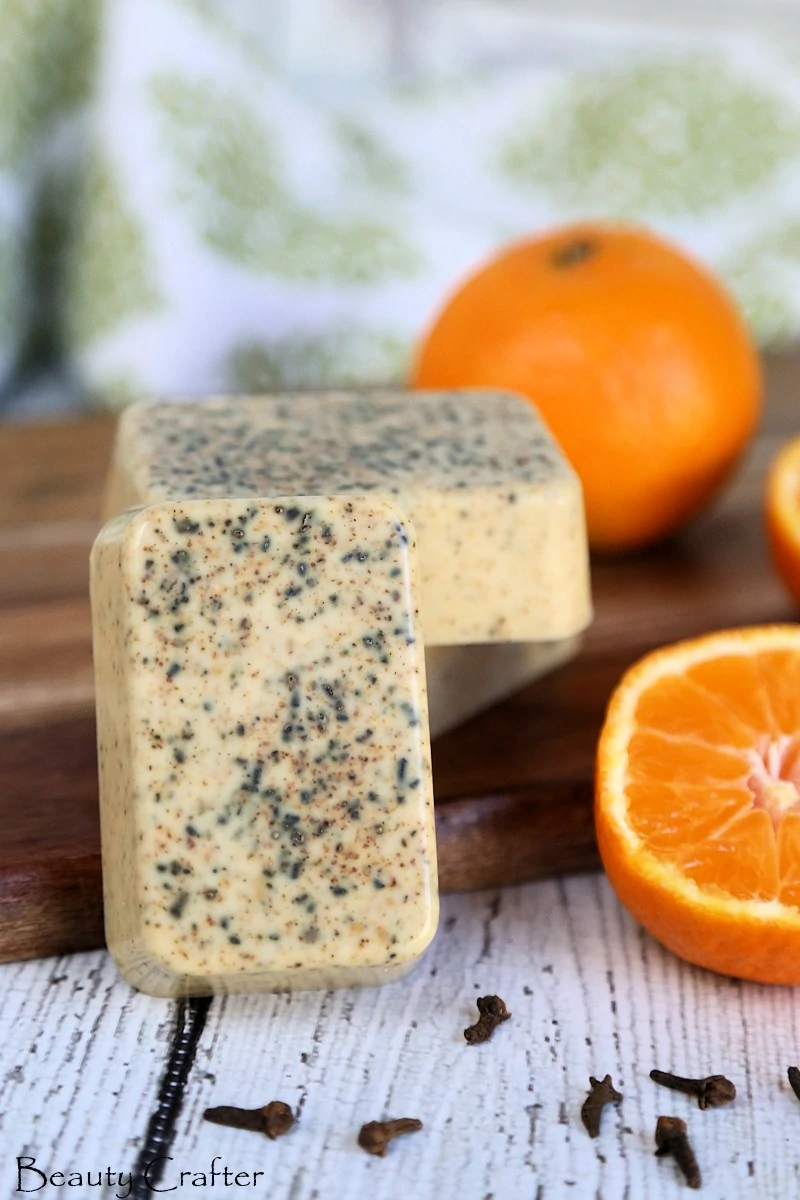 Orange Clove Soap: Benefits
There are numerous skin benefits to bathing with orange clove soap. Both orange and clove essential oils have antiseptic properties and are great for assisting in the treatment of acne. Both oils also serve as antioxidants. Clove is also known to reduce anxiety and orange has a mood enhancing effect, making them a great combo for an uplifting shower or bath. Orange is a popular ingredient in anti-aging treatments too.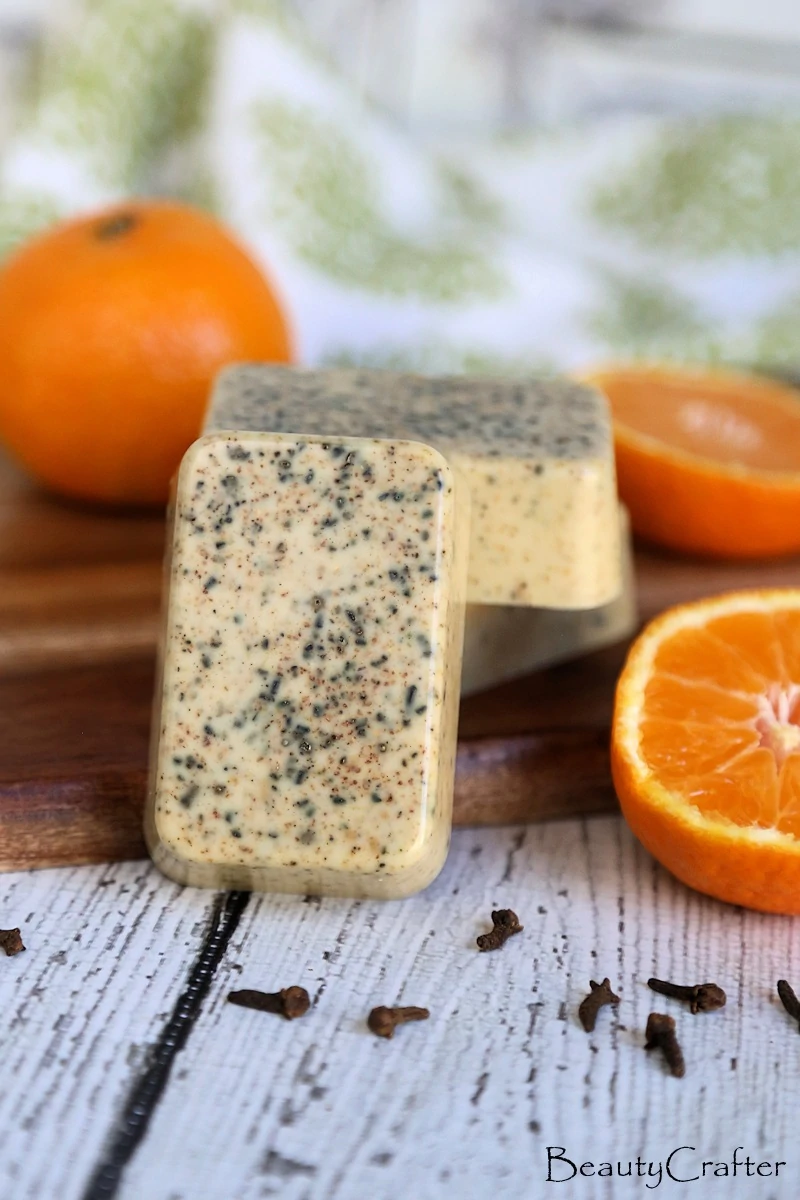 Grab the Supplies You Will Need
Full recipe directions and measures below.
Goats Milk - 2 Lbs Melt and Pour Soap Base - Our Earth's Secrets
Clove - 100% Pure, Best Therapeutic Grade Essential Oil - 10ml
Sweet Orange - 100% Pure Essential Oil - 10ml
Simply Organic Citrus A'peel Certified Organic, 2.54-Ounce Container
Simply Organic Cloves Ground Certified Organic, 2.82-Ounce Container
Freshware 12-Cavity Petite Silicone Mold for Soap and baking
Make your own Ground Orange Peel
I make my own with clementine/mandarin orange peels. I use a couple peels, but even one will give you plenty to do a batch of soap.
Preheat your oven to 225 degrees f. While it is warming up rip the peels into small bits. The smaller you tear them the quicker they will dry out in the oven.
Spread them out loosely on a baking sheet. Bake for about 30 minutes, then check them to gauge progress and toss around a bit. The orange peels will probably need to bake another 10-20 minutes depending on how small they were torn and if they were a little air dried prior to baking. When they are crisp and snap rather then bend they are done.
Allow to cool completely, then grind them in a spice grinder, small food processor, mortar and pestle or even crush them and chop stubborn pieces. Finer grind is better for coloring soap, coarser for exfoliation.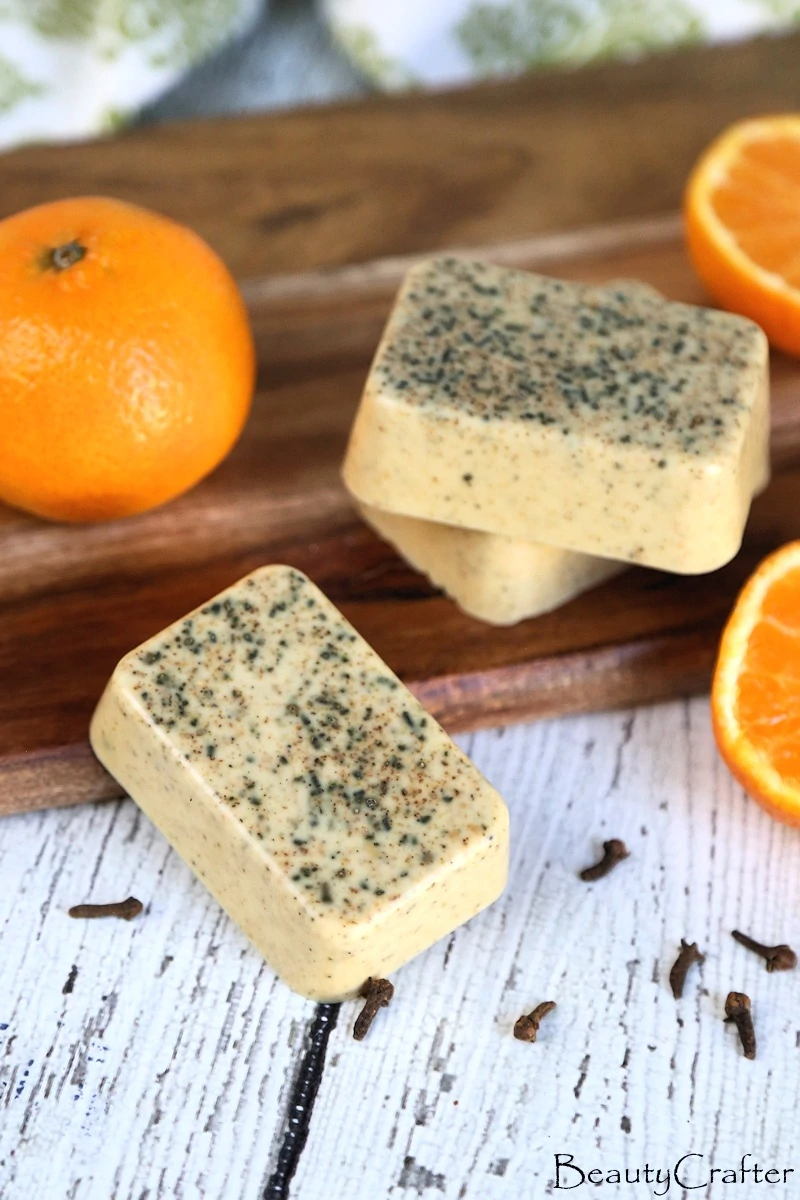 If you enjoyed this easy project, check out my Frankincense and Myrrh Soap too! I also have an orange spice fall essential oil diffuser blend you may like.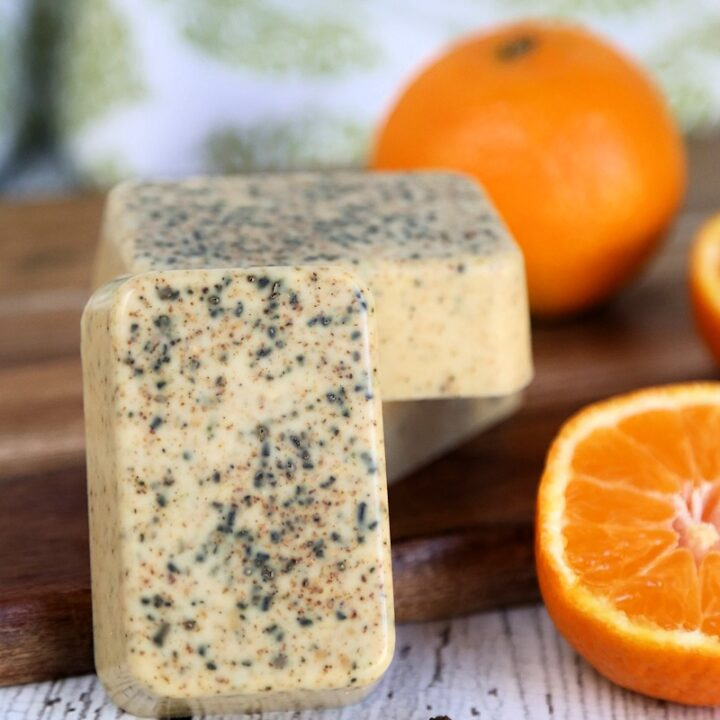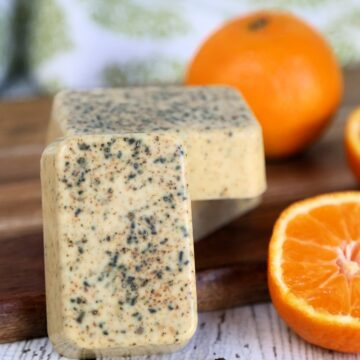 Orange Clove Soap Recipe
This easy Orange Clove soap recipe takes approximately 10 minutes to make (excluding cooling time).
Instructions
Cut the soap into smaller chunks and place in microwave safe bowl or large glass measuring cup/batter bowl. Add the ground clove and orange peel.

Microwave on high for 40 seconds, then stir and repeat in 10-20 second intervals until soap is melted.

Remove from microwave and stir until the additions to the soap are well dispersed and soap is consistency is just starting to thicken slightly.

Add the essential oils, stir until well mixed, then pour the soap mixture into the cavities of the soap mold.

Allow to fully cool undisturbed, then seal the orange clove soap in airtight packaging or a jar.