Rose Face Spray is an classic moisturizing facial toner that you can easily make at home. Beyond hydrating skin, the face mist smells heavenly too! A few spritzes of this light toner instantly refresh and leave skin dewy. Rose face spray can be applied before or after makeup application.
I've even included two different free printable labels for you below.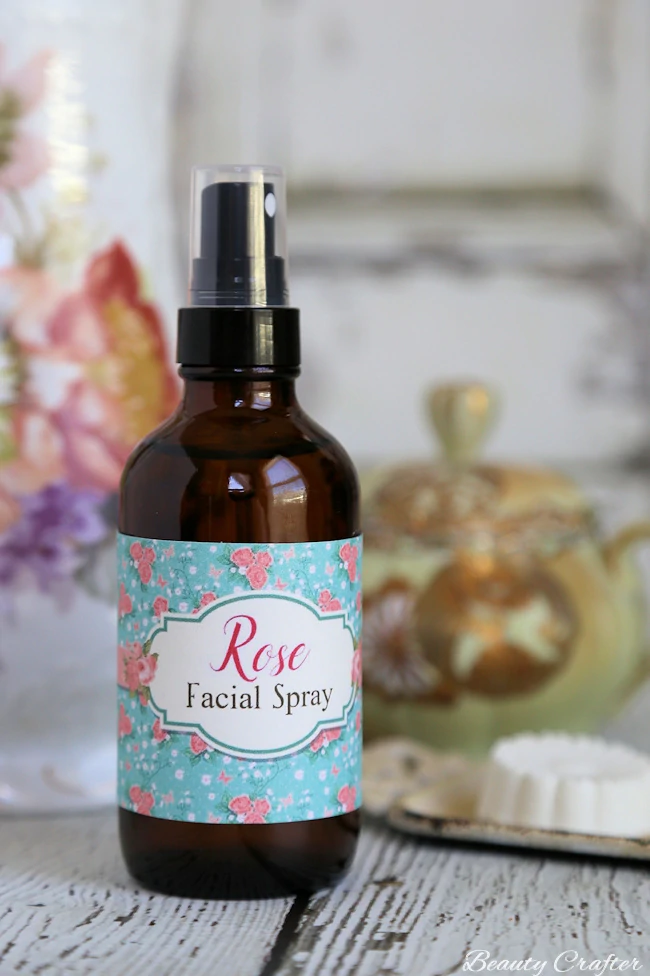 Rose Face Spray for Complexion
Rose has long been used to improve the complexion.  Taking a moisturizing and healing bath in rosewater was popular from ancient times.   Despite all the chemicals so popular in cosmetics today, rose is still a popular ingredient in face creams.  The lovely uplifting scent of roses, that comes along with it's facial benefits, is of course a wonderful bonus.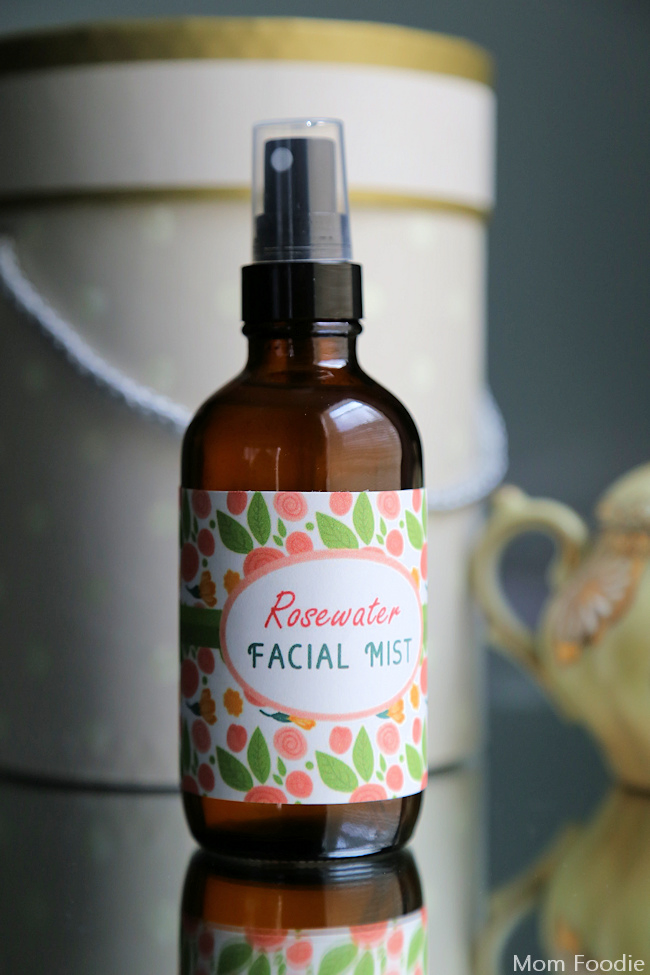 I've been making this facial mist for a couple years, and use it pretty much daily. I like how it feels on my skin, and the smell is certainly lovely. Even my daughter loves of being misted with this homemade face spray.  It seems to put her in a cheerful mood.
My goals were make a nourishing and hydrating facial mist, while keeping the recipe as simple as possible. I wanted it to be something I could use daily without any concerns.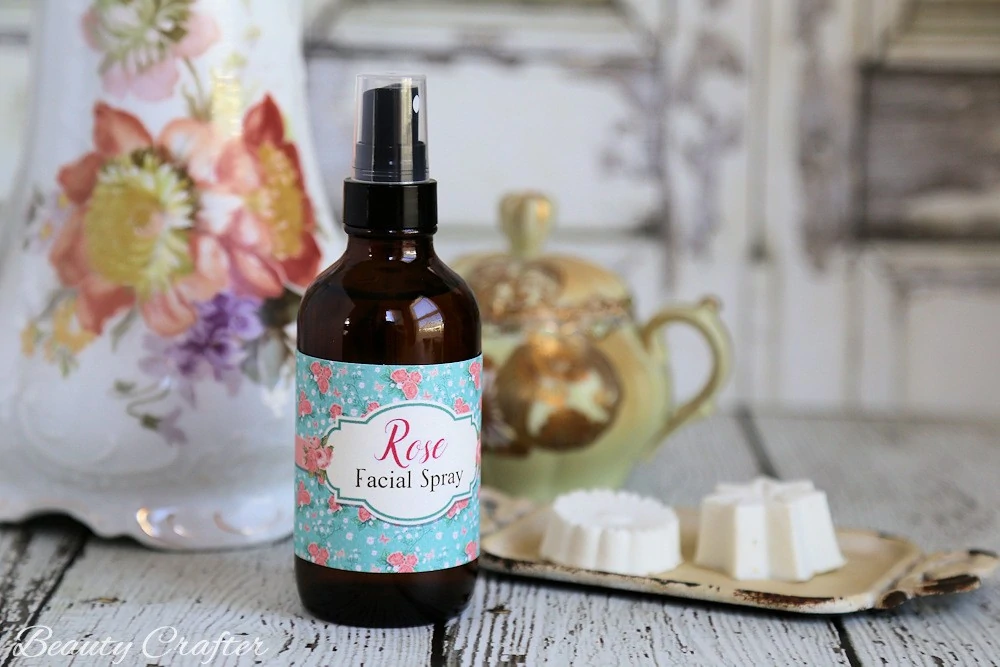 The Benefits of Rose Face Spray
This moisturizing face toner is very simple, comprising of just three ingredients, yet it boasts a lot of benefits for the skin.   Each ingredient has been chosen to enhance the overall effectiveness of the spray for skin care. Two are derived from roses.  All can be sourced organically.
All the ingredients as well as the bottles can be purchased right off Amazon (affiliate links).
Rose Water (Rose Hydrosol)
Rose hydrosol
(more commonly known as rosewater) renowned for it's complexion benefits. It is often used alone as a delicate toner and moisturizer.  Among it's benefits for the skin;  it shrinks pores, soothes inflammation and is mildly moisturizing. It also has mild anti-bacterial properties making is a great cleanser or mid-day refresher  The lovely floral scent is also said to reduce stress and improve mood.
Rosehip Oil
Rosehip oil
is considered a "dry oil" which means it readily absorbs into the skin, without leaving a greasy residue. Of course, this is perfect  for use in a face spray.  The skin healing benefits attributed to rose hip oil are due to it's high level of essential fatty acids.  These fatty acids moisturize dry skin and help reduce wrinkles. Rosehip oil is also great for hair.
Glycerin
Glycerin
creates a beneficial barrier for the face,  keeping skin lightly protected from the elements. It also soothes and softens skin.   The vegetable glycerin will even help by drawing moisture to your skin on a humid day.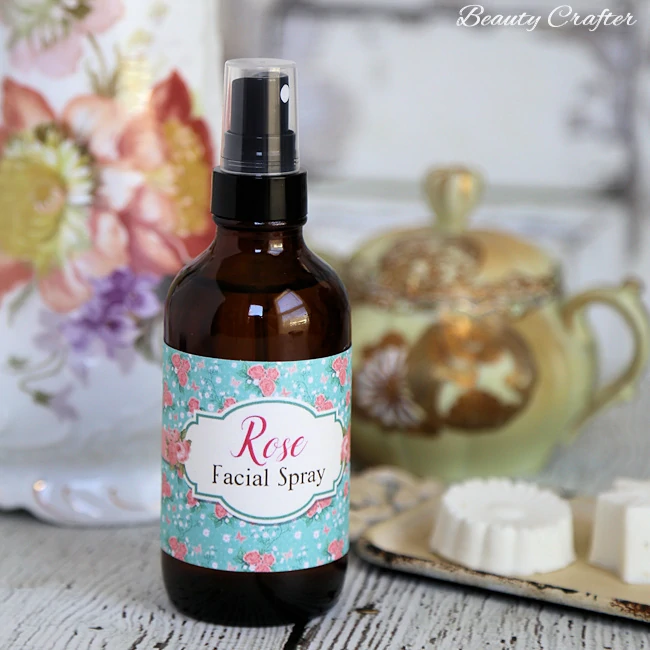 Easy DIY Moisturizing Rose Face Spray (Toner) Recipe
As you will see this Rosewater and glycerin rosehip toner is a very simple beauty product to DIY.
Print
Rose Face Spray : DIY Moisturizing Facial Toner
---
Description
Moisturizing rose facial spray. I use this DIY facial mist daily.
---
---
Pour rose hydrosol into glass bottle about 75-80% full.
Add the rosehip oil and glycerin.  Shake well.
Print and apply label. pdf found below
For longest shelf life, store in the refrigerator.  Rosehip oil is degrades quickly in warm temperatures.
To use:  Simply shake a couple times and apply a few sprays to the face.
Notes
If you really need some extra moisturizing boost up the amount rosehip oil and glycerin a little.  I use a more concentrated bottle to mist dry skin areas after my shower. BONUS: this doesn't irritate like most moisturizers shortly after shaving.  It helps lock in moisture until you can generously apply a regular body lotion.
Free Printable Rose Face Spray Labels
Here are some pretty Victorian style labels I've created for your spray bottles.  Just print them on a light cardstock paper and glue onto bottles. I used 65# cardstock and all-purpose glue.
Here is the free printable PDF file for the Victorian style labels >> Rose Facial Spray Labels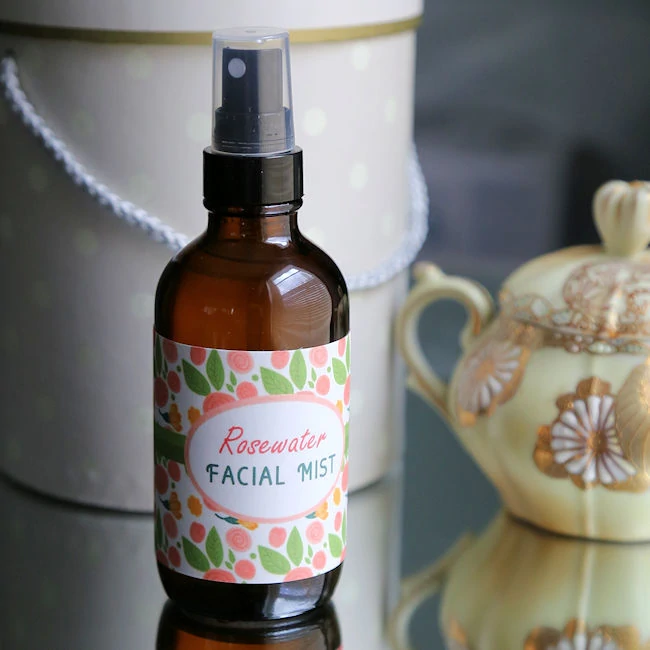 Another label option:
If you prefer this more modern styled label, just click here is the PDF for the label above >> Rosewater Facial Mist Labels
Enjoy this refreshing and uplifting face spray.  It makes a great gift too! Of course, while you are on a rose kick why not make some  Rose DIY Bath Bombs to go with the facial mist!