Making a DIY turmeric scrub is super easy and great for your skin. The scrub exfoliates dead skin cells and moisturize skin, leaving you with a healthy glowing skin tone. Use the face scrub to aid in reducing black heads and acne blemishes, as well as the appearance of wrinkles.
The anti-inflammatory properties and scar lightening abilities of this turmeric sugar scrub make it is just the thing to brighten and clarify dull dry skin!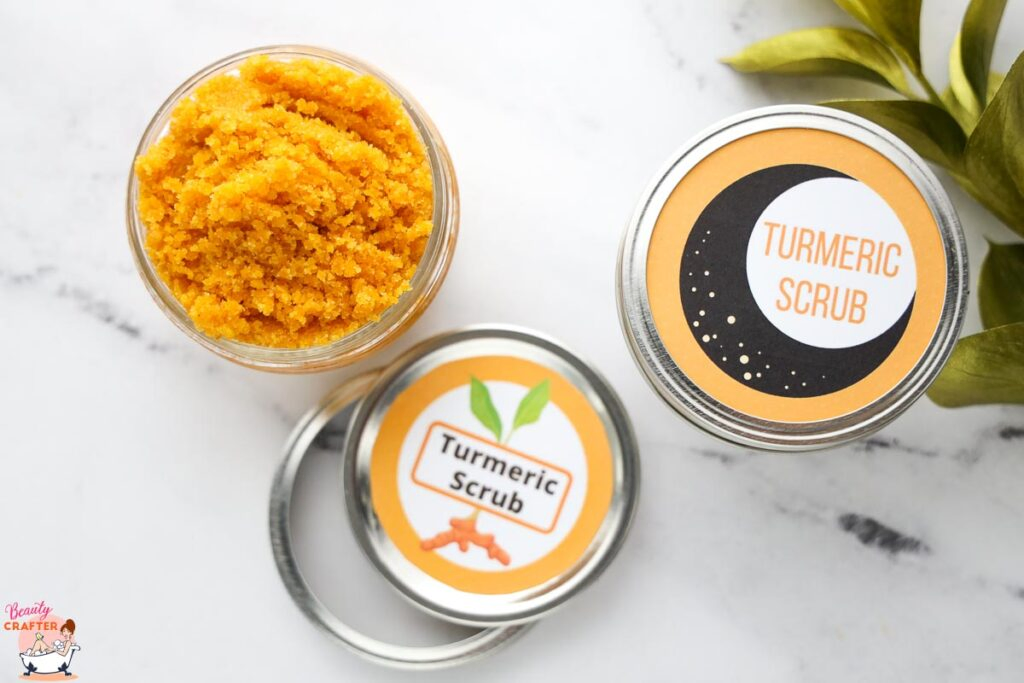 This DIY sugar scrub with turmeric powder, skin moisturizer oils and essential oils is easy to make. I've included labels for your convenience and to make the sugar scrubs giftable.
Turmeric Scrub Benefits
You may be wondering... What does a turmeric face or body scrub do? The benefits of turmeric in skin care are numerous and when used in an exfoliating scrub they are magnified.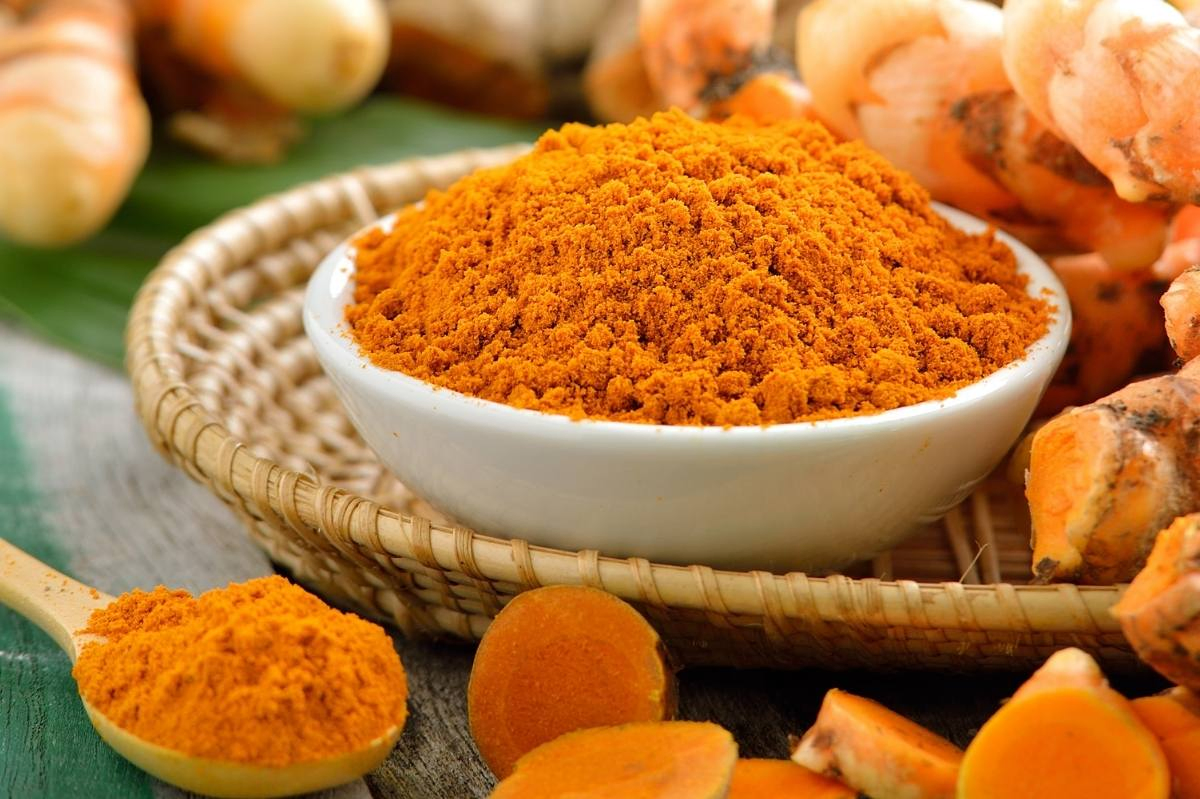 Turmeric (Curcuma longa) has anti-inflammatory properties which do seem to soothe irritated skin when applied topically. This helps you have a clearer complexion. It is also a nice choice for easing the symptoms of eczema, particularly during those difficult winter months.
Turmeric root even in a powdered form has antibacterial properties making it deal for many natural skin care products. It is especially helpful for those suffering from acne, as it's antimicrobial action may reduce severity of acne outbreaks. [study]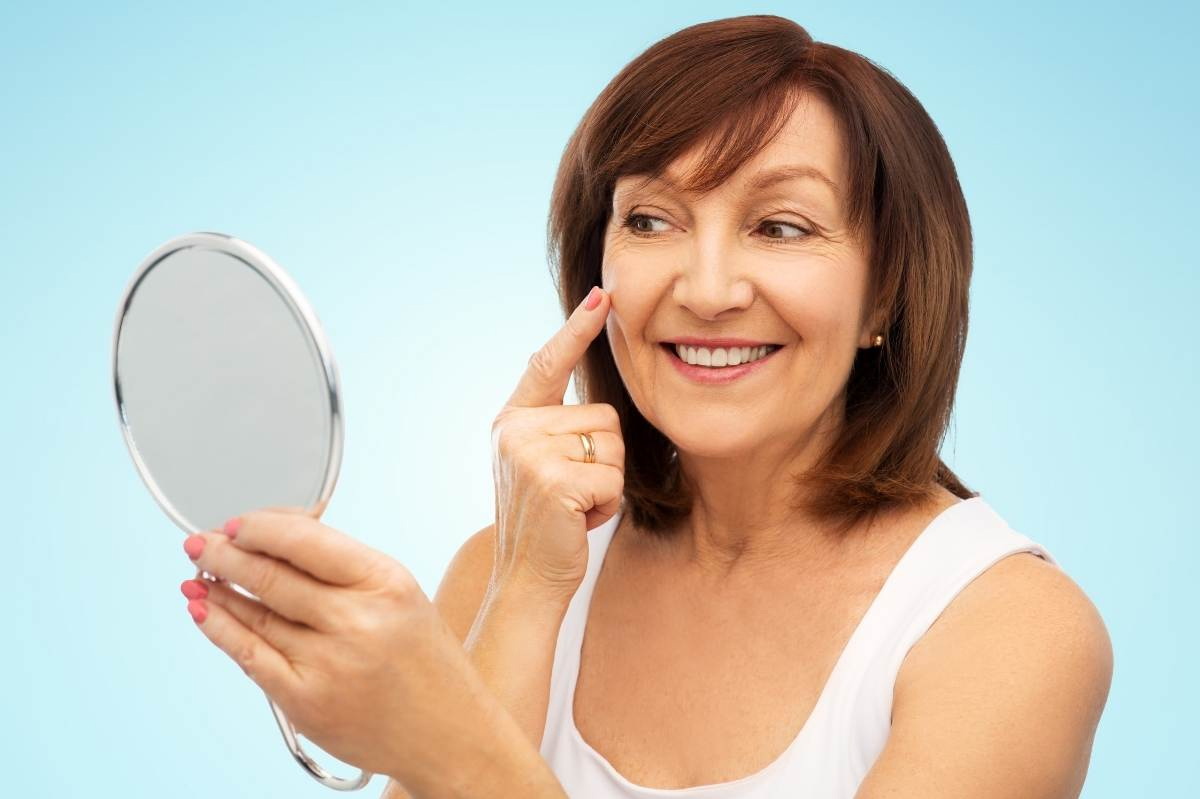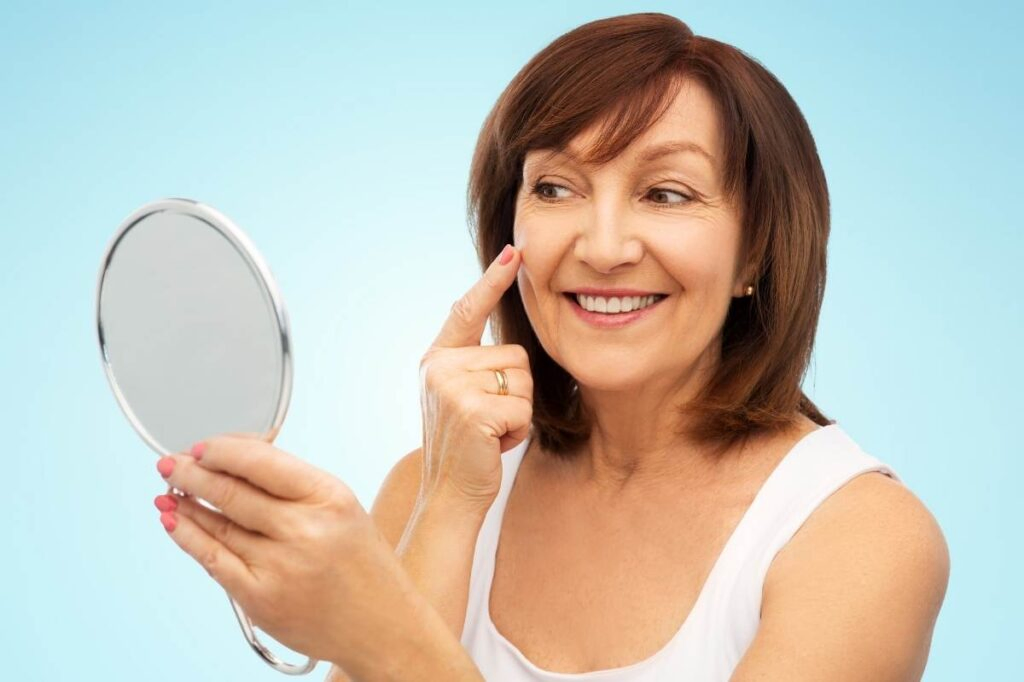 A turmeric face scrub is helpful with treating uneven skin tone, whether from age hyperpigmentation related dark spots or acne scars. It tends to lighten [study] and fade them. Scars from stretch marks also reduce in redness and become less noticeable with regular use of a turmeric body scrub.

The almond or coconut oil used to make the scrub are natural moisturizers. Thus the scrub improves skin elasticity and softness, reducing the appearance of fine lines and wrinkles.
Like most scrubs it will visibly reduce the appearance of cellulite, but will not actually get rid of it.
All in all, use should result smother healthier skin, bright and clearer in appearance. It will definitely leave you with softer skin.
Sugar Scrub for Face or Body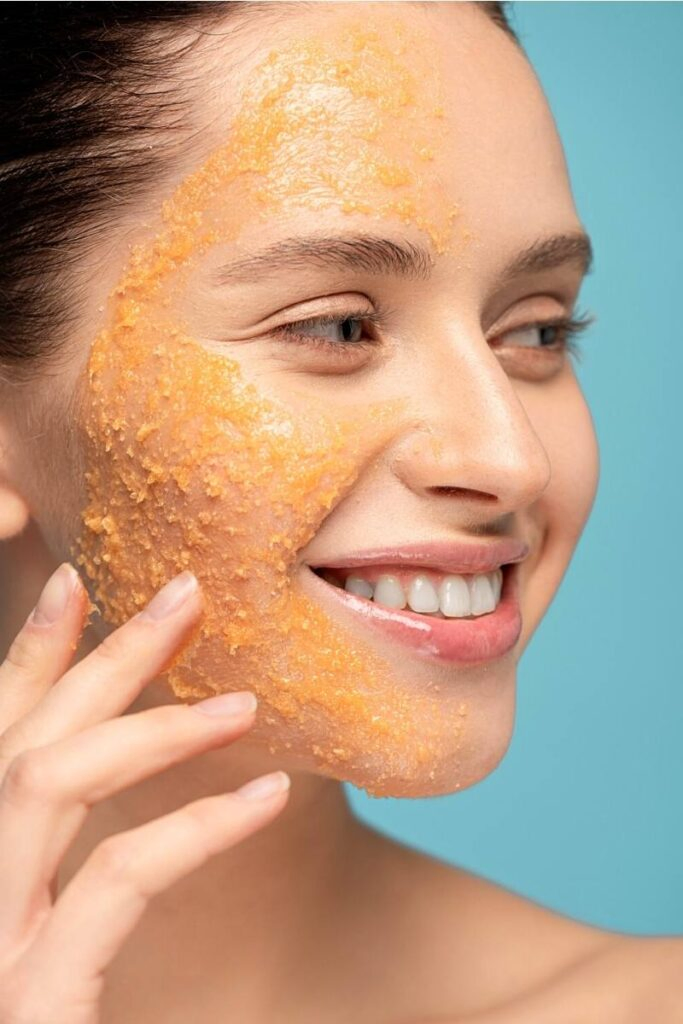 When preparing a DIY sugar scrub recipe, area of application will determine the type of sugar used.
If you wish to make a turmeric face scrub, brown sugar is the best choice. It is gentle on delicate facial skin.
For a sugar body scrub, regular granulated sugar should be used. It is a great middle of the road choice between the softer brown granules and salt.
Salt Body Scrub
Salt crystals are larger and dissolve slower than sugar, so are a good choice for rougher areas of skin. They are perfect for elbows and feet, but can be used gently on other body areas.
Try adding a few pinches of turmeric to my lip scrub recipe for added healing power. Of course if you are not concerned about exfoliation, you can simply make some Turmeric Soaps to use in your skin carte routine. The beneficial properties of the spice will still apply.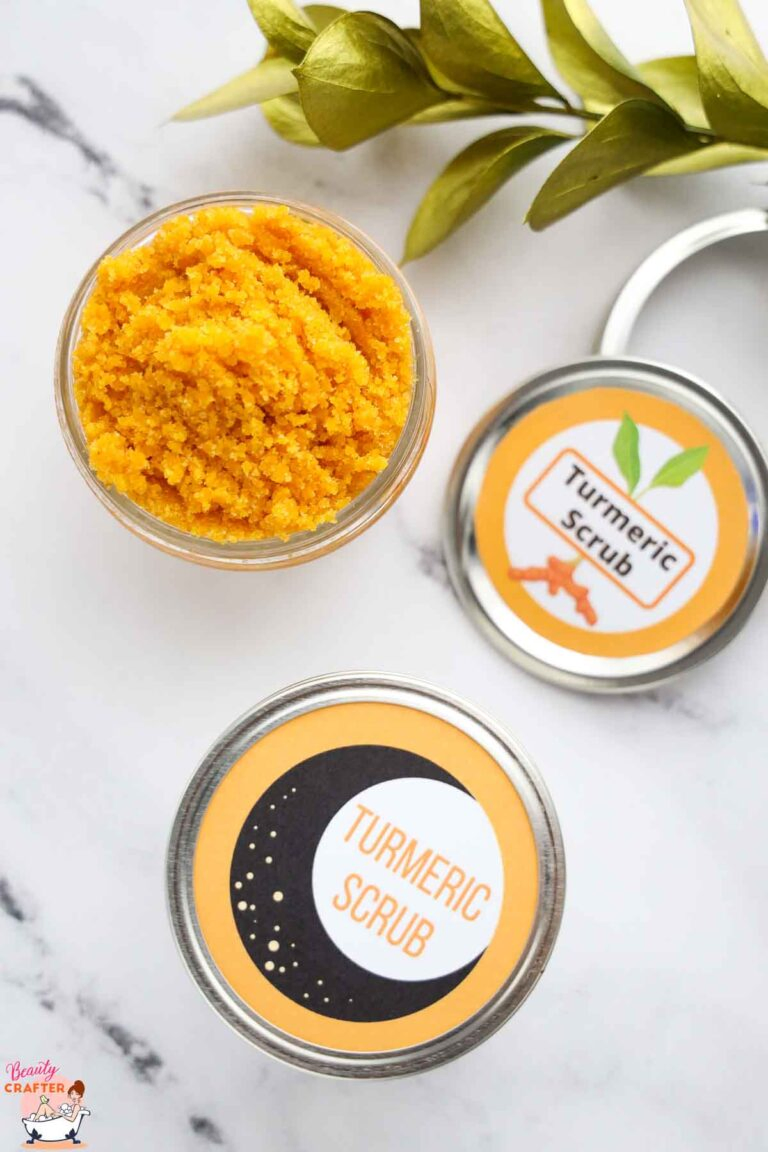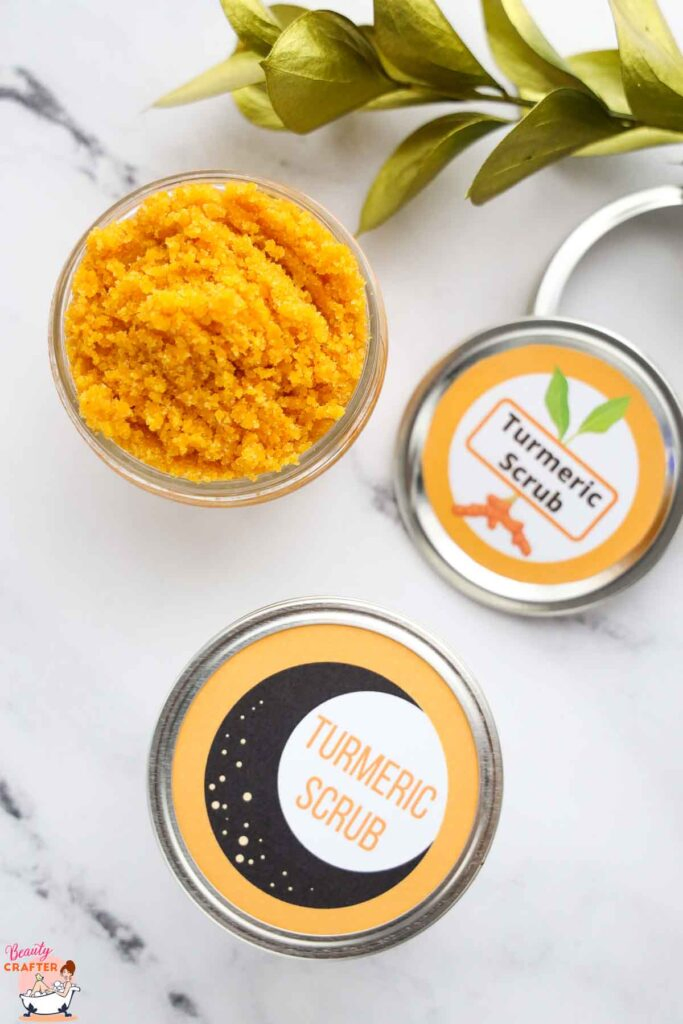 How to Make Turmeric Body Scrub, recipe adjustments
Making the sugar scrub is as easy as mixing and sealing in an airtight container. You may like to make some adjustments to the recipe though.
Adding a little Vitamin E oil, castor oil or rosehip oil to the scrub is nourishing for the skin and provide essential fatty acids and antioxidants. They are all great skin moisturizers too.
Citric Acid is another option to add, a teaspoon added to the scrub mixture will add Vitamin C nutrients and will enhance the anti inflammatory properties of the other ingredients. It is also considered a mild preservative.
If you are making a small batch for immediate use is a simple to add. The juice enhances the fighting and lightening ability of the . DO NOT STORE AT ROOM TEMP and discard within a week even if refrigerated.
Essential Oils to Use
While you can make the scrub without them, skin safe essential oils may increase the overall effectiveness of the scrub. Lavender, lemon, tea tree or bergamot are excellent choices.
See my essential oils for acne article for more options, if that condition is a concern.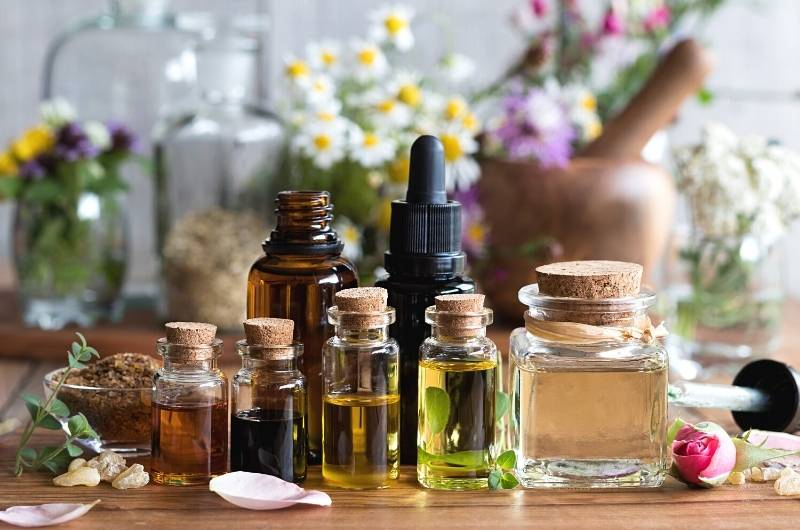 Adding essential oil also makes for a more pleasing scent to the finished product.
Using the Scrub
Apply the sugar scrub to wet skin, and massage in a circular motion paying attention to rough dry patches of skin. If you are using a facial scrub, take care to avoid the delicate under eye area.
Rinse off the scrub with warm water (not hot), and pat dry with a fresh towel.
HOW LONG DOES IT TAKE FOR TURMERIC TO LIGHTEN SKIN?
There are reports of lightening in just 3 weeks, but in general plan on one month to two months of continued use to see results.
HOW LONG WILL TURMERIC SUGAR BODY SCRUB LAST?
The scrub will last 2-6 months depending on how well it is stored. Sealed in a jar at room temperature with out getting water in it should last at least 3-4 months
ARE THERE OTHER OILS I CAN USE IN THIS SCRUB?
Yes, jojoba or Argan oil would be fine for the face, as they are non-comedogenic and won't clog pores. Avocado oil or olive oil would be good choices for a body scrub.
Free Printable Labels
For fun and to make the scrub more giftable, I designed a couple jars labels to go with the scrub.
They will fit on mason jar lids. Print them on cardstock rather than regular paper for better quality. Trim to fit in indent of actual lid or lip of sealing ring and glue on.
Print for Free >> Turmeric Scrub Labels
Print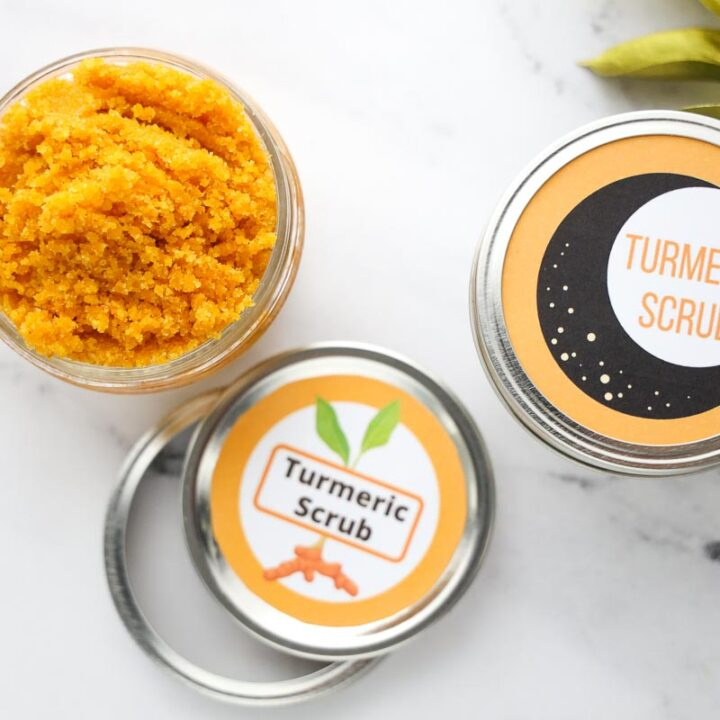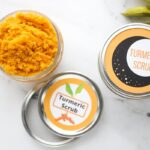 Turmeric Scrub Recipe
---
Description
This turmeric body scrub recipe is easy to make and has many skin benefits. Also tips for a versions for face, sensitive skin or rough skin.
---
1 cup

white sugar (or brown for face scrub, use salt for more aggressive body scrub)

¼ cup

sweet almond oil or coconut oil

2 tablespoons

ground turmeric powder

10

-

12

drops essential oil (I used lavender and lemon)
Optional: add ½  teaspoon rosehip oil or Vitamin E oil or a teaspoon of castor oil
Optional: teaspoon of citric acid
---
If you are using coconut oil that is solidified, melt it first.
Combine all ingredients in a medium mixing bowl and stir well.
Once evenly mixed, transfer to an airtight container, such as a mason jar.
To Use: Apply to wet skin and massage on skin in a circular motion. Rinse with warm water and pat dry with a towel.
Notes
 For those with very sensitive skin, almond meal can be used in place of the brown sugar in a face scrub. It is even gentler. Be mindful, this will need to be refrigerated and will have a short shelf life.
A tablespoon of honey added as well will make the scrub more akin to a scrubbing face mask. Give it a try.
Keywords: DIY turmeric scrub, turmeric body scrub, turmeric sugar scrub, homemade turmeric scrub
Alt spellings: tumeric scrub, tumeric body scrub
More Body Scrubs
Here are a few more scrub recipes you may enjoy: