This easy melt and pour striped spice soap recipe is colored with kitchen spices that create rustic fall colors.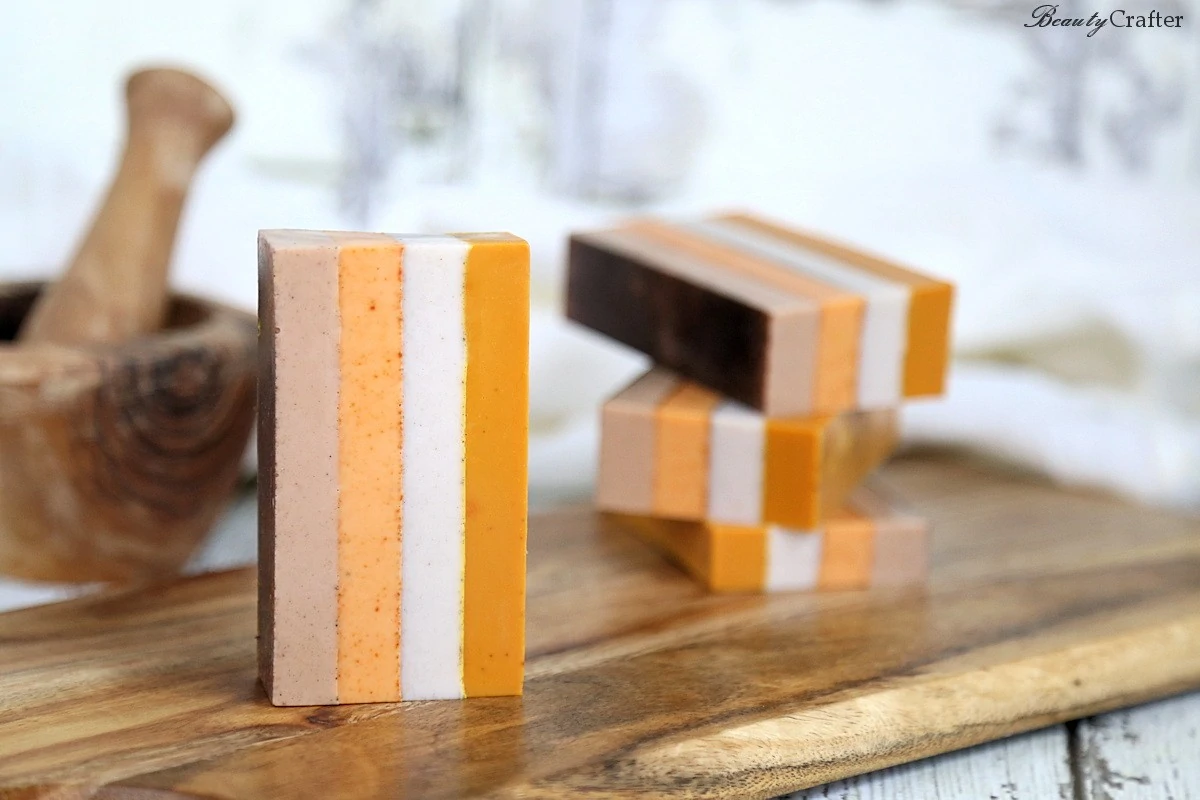 I think the natural variation in the coloration in each stripe of the soap really adds to the overall look of the soap and goes great with the Harvest Spice fragrance oil
I chose for it. It makes the simple melt and pour soap
look more handmade than commercial colorants (soap pigments can be pricey for those who only want to do an occasional soapmaking craft).  Hand cutting the bars also adds to the handcrafted appearance.
Making Spice Box Soap Recipe with Natural Color for Spices
Full recipe with measures and directions below.
Making these striped spice soap bars colored with kitchen spices is easy, just weigh and melt each layer of melt and pour soap then color and scent.  I chose cinnamon, paprika, cardamom and turmeric for the soap layers. Patiently waiting for each layer to be semi-firm will be the only hard part.
Start with a nice rich melt and pour white soap base. I suggest one with Goat's milk or shea butter.
Goats milk Glycerin Soap Base- 2 Pound
Soap Expressions By Candlewic. Shea Butter Glycerine Soap Base- 2lb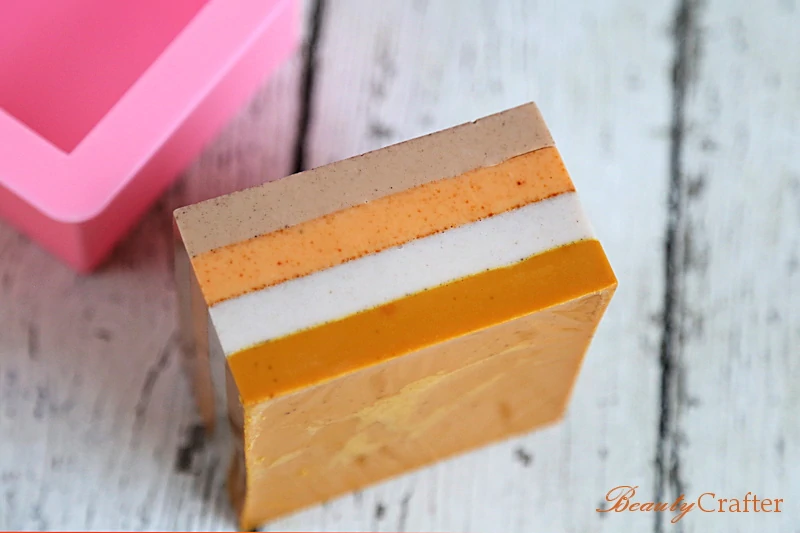 I found a square silicone loaf mold that holds one pound of soap with ease.  It can actually fit up to 18-19 ounces, but is still far more manageable than the 42 to 48 ounce size of most molds.  It makes 4-5 nice full sized bars of handmade soap. Usable for both melt and pour as well as cold process soaps.
X-Haibei Large Cube Square Soap Candle Cake Jelly Candy Silicone Mold Mould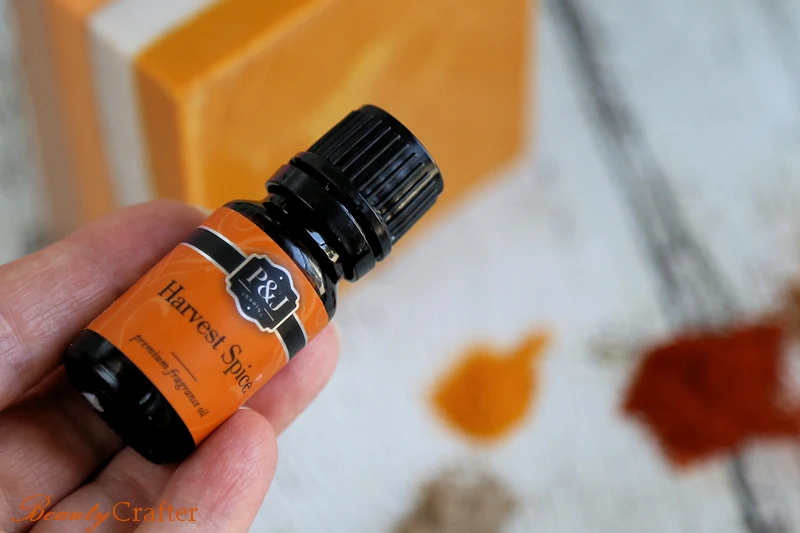 The Harvest Spice fragrance oil I selected for the spice soap recipe came out of the set below. I have been using the different oils in a number of fall projects on this site. They are also nice for candles and diffusing. The scent is available as a single oil
also. ... and no the spices coloring the soap will not provide enough fragrance alone.
Spice Set of 6 Premium Grade Fragrance Oils - Cinnamon, Harvest Spice, Apple Cider, Coffee Cake, Gingerbread, Pumpkin Pie - 10ml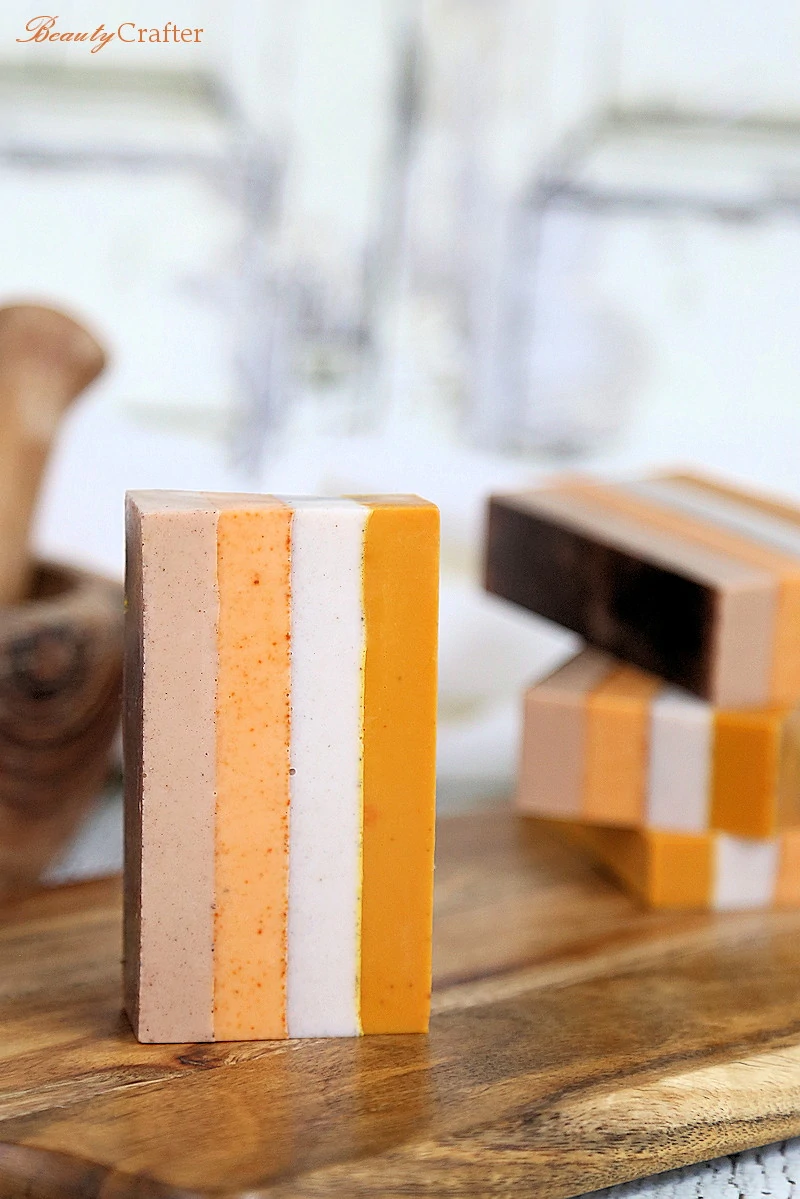 If you liked this soap bar, you may also like my Pumpkin Spice or Apple Cinnamon Oatmeal Soap Recipes.
Print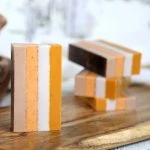 Striped Spice Soap Recipe
---
Description
A lovely striped melt and pour soap colored with kitchen spices.
---
---
Cut up soap into small chunks and divide into 4 ounce portions.
Place one 4 oz portion of chopped soap into a microwave safe bowl or glass measuring cup, then microwave until melted (30 seconds maybe a little more).
Stir in spice for the layer (start with layer 1) until well mixed, allow to slightly cool but not enough to start solidifying, then add the fragrance oil and mix again.
Gently pour into mold, avoiding spilling on sides. Allow to cool until a thick skin has developed before pouring next layer.
After all four layers are poured and soap has fully cooled and firm. Slice into 4-5 bars.
Store in airtight container or shrinkwrap bags.
Here are the additions for each layer (in order pictured from left to right):
1- ½ teaspoon cinnamon 10 drops oil
2 - 1 teaspoon paprika 15 drops oil
3 - 1 teaspoon cardamom 12 drops oil
4 - 1 teaspoon turmeric 15 drops oil