An exfoliating coffee scrub can give you smoother skin with a fresh glow. Luckily DIY coffee scrubs are easy to make right in your kitchen and I've included two recipes for you, a face scrub and a salt body scrub. Enjoy the many homemade coffee scrub benefits right away!
A coffee sugar scrub is great for combating premature aging skin, and a coffee body scrub is an excellent choice to remove dead skin cells and reduce cellulite appearance.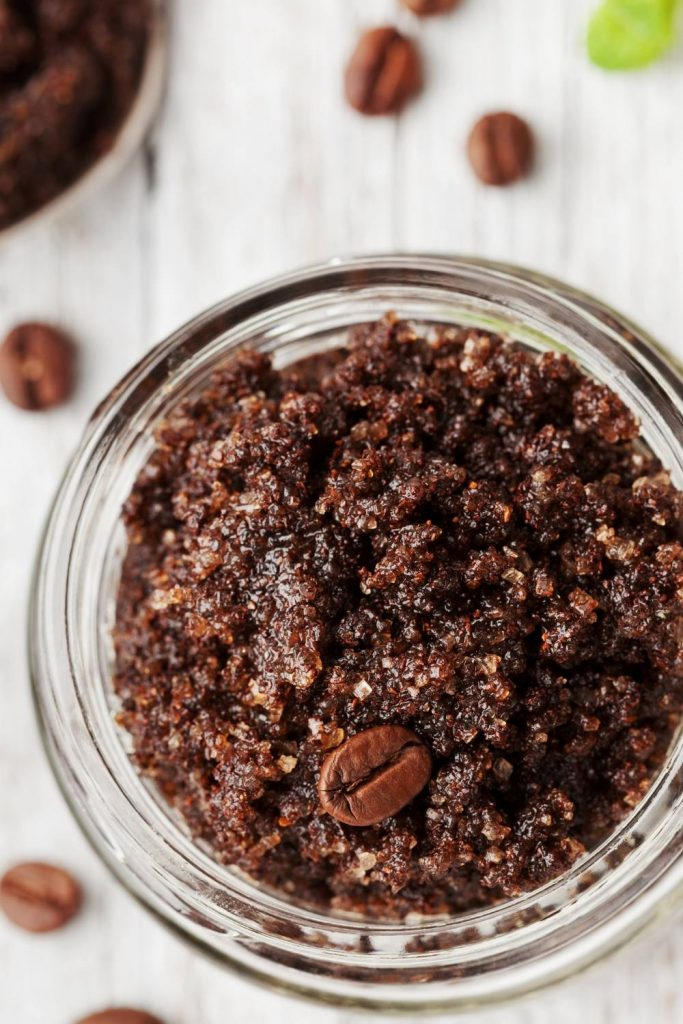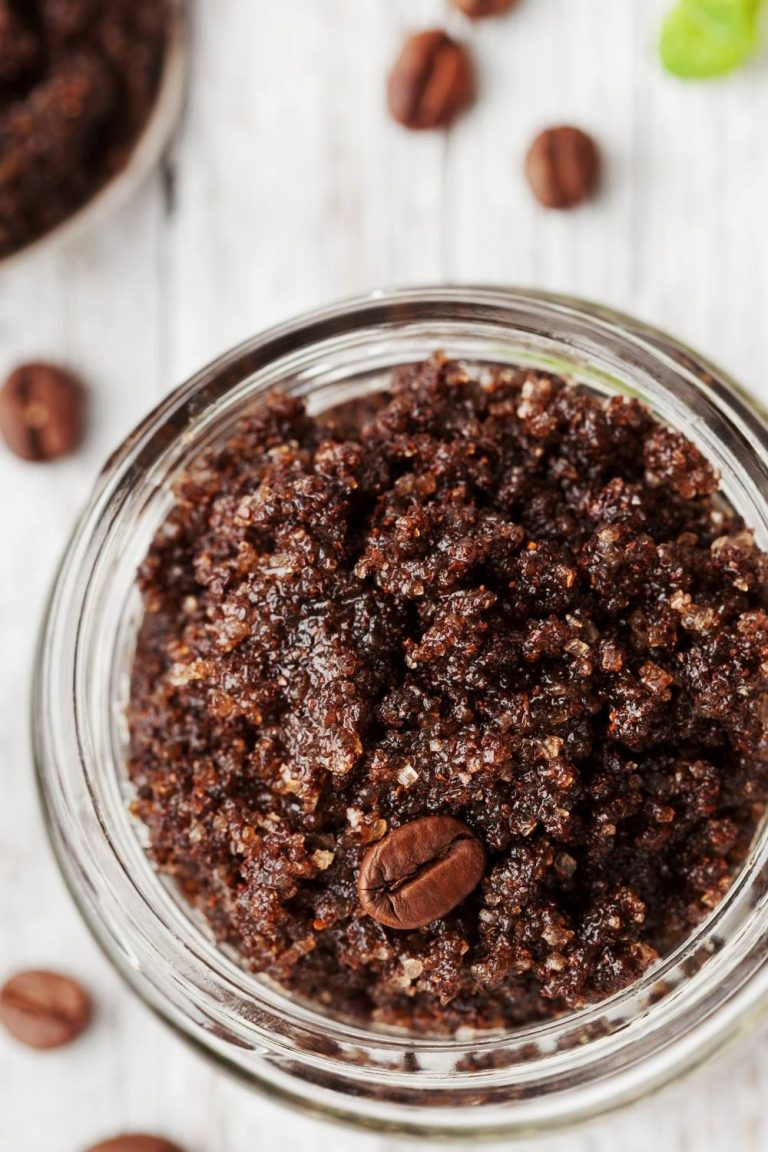 Coffee Scrub Benefits for Skin
The benefits of coffee scrubs are numerous and come primarily from two sources: the exfoliation of scrubbing with coffee grounds and the beneficial anti inflammatory properties of compounds found in coffee beans.
Of course, any coffee lover will also point out the enticing scent of coffee is also a big plus! It really is an excellent addition to any natural skin care routine, regardless of skin type.
Exfoliating + Caffeine a Powerful Combination
The damp coffee grounds are perfect for sloughing off the outer layer of dead skin cells and exposing fresh glowing skin. It will make your skin appear smoother and more youthful. The scrub also moisturizes dry skin reducing the appearance of skin issues.
Beyond simply removing dead skin, their are compounds in coffee, most notably caffeine, that have important anti-inflammatory properties.
Cellulite
A coffee body scrub for cellulite will not get rid of the actual cellulite, but it will significantly reduce the appearance of cellulite.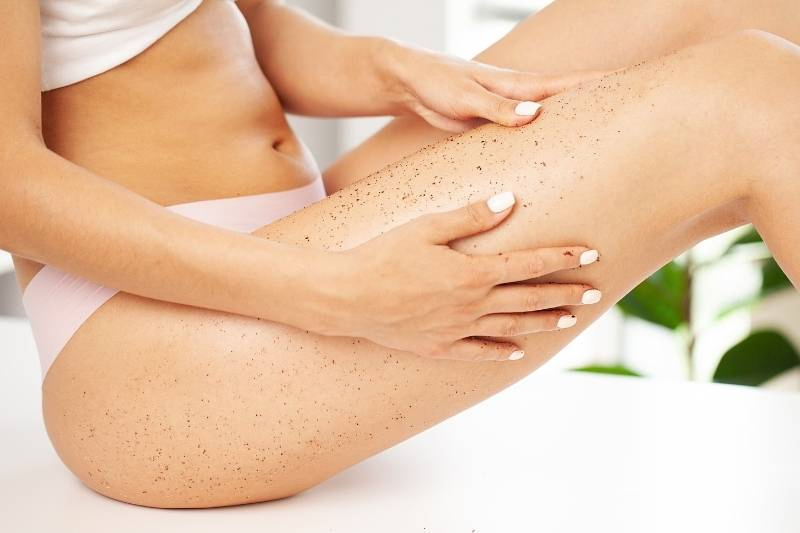 The caffeine in coffee is an antioxidant which also aids in tightening and hydrating the skin. More supple skin lays flatter against the bumps of cellulite, making them less noticeable. Caffeine is also used as an active ingredient in many "anti-cellulite products because it prevents excessive accumulation of fat in cells"[study]. So, it may help shrink cellulite deposits a bit.
Stretch Marks
Scrubbing off dead skin cells with homemade coffee body scrubs also aids in fading scars and stretch marks. Removing the dead cells activates the dermis to make new cells.
Caffeine further stimulates circulation and collagen production to aid in healing. This assists in fading all sorts of scars over time.
It will take a month or two of regular use to notice a difference. Stretchmarks won't completely go away but fade like old marks, just at a faster rate.
Anti-aging
The most notable benefit in using a coffee scrub for those of use over 40 is it's anti-aging effects for the skin. Using a simple DIY coffee facial scrub may reduce fine lines and wrinkles, as well as fade age related dark spots. Leaving you with a more youthful smooth looking face overall. Who doesn't love that?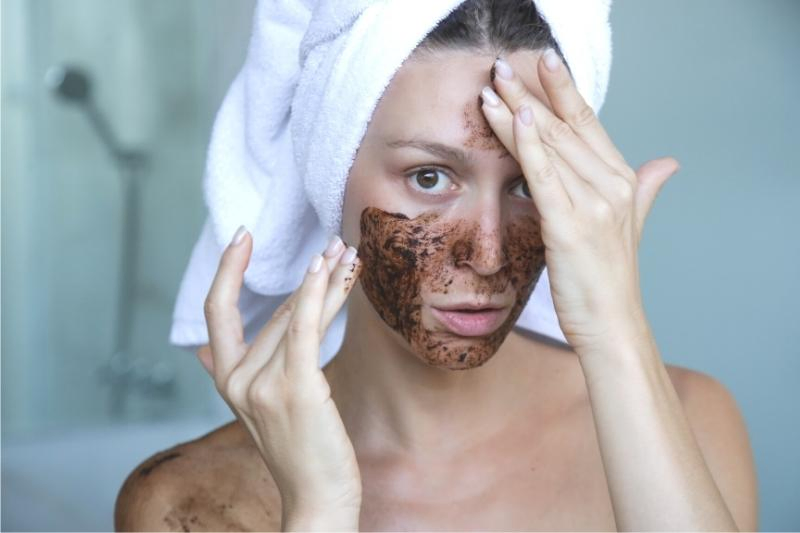 Acne
Drinking coffee may not be great for acne sufferers, but a using a coffee scrub may actually help with the affliction.
As mentioned, due to the caffeine present in the coffee, topical application may help reduce inflammation. It constricts blood vessels which reduces blood flow, thus lessening the redness associated with acne. It is also mildly diuretic when applied on the skin which can lessen swelling related to blemishes.
Be sure to try my DIY Purifying and Firming Clay Facial Mask recipe as well if oily skin or blemishes are an issue for you.
DIY Coffee Scrubs
There are several ways to make a DIY coffee scrub, but most include either sugar or sea salt. Oil is the other primary ingredient, though essential oils, extracts and and other natural ingredients are often added.
While you can use leftover coffee grinds to make your scrubs and save money, fresh ones will pack more antioxidants. If you do choose to use leftover coffee grounds, you may choose to add a little vanilla extract or vanilla oleoresin to boost up the scent.
Now lets discuss face vs body scrubs and whether you should use salt or sugar in yours.
Coffee Body Scrub
Coffee body scrub is a is great for exfoliating dead skin cells. It will also aid in increasing blood flow to the outer dermis. This exfoliation process will reduce the appearance of cellulite and stretch marks.
A body exfoliating coffee scrub recipe is often made with sea salt, as the granules are larger than sugar, and hence more abrasive. I generally keep salt scrubs for the body simple the one below has just 3 ingredients; coffee grounds, salt and coconut oil. White sugar can be used for a gentler scrub.
If you want to add even more nourishment to the body scrub, whip in some melted Shea butter. While, not generally necessary it does make it extra creamy and rich. You may need to add a few more grounds too.
Coffee Face Scrub
Using a coffee scrub on the face can be a great solution for dry skin and reducing the appearance of fine line as wrinkles. The antioxidants in coffee can help reduce inflammation
Both the stimulation of the scrubbing and the caffeine in the coffee will increase circulation in the face. This increase will assist in collagen production and reducing fine lines and wrinkles.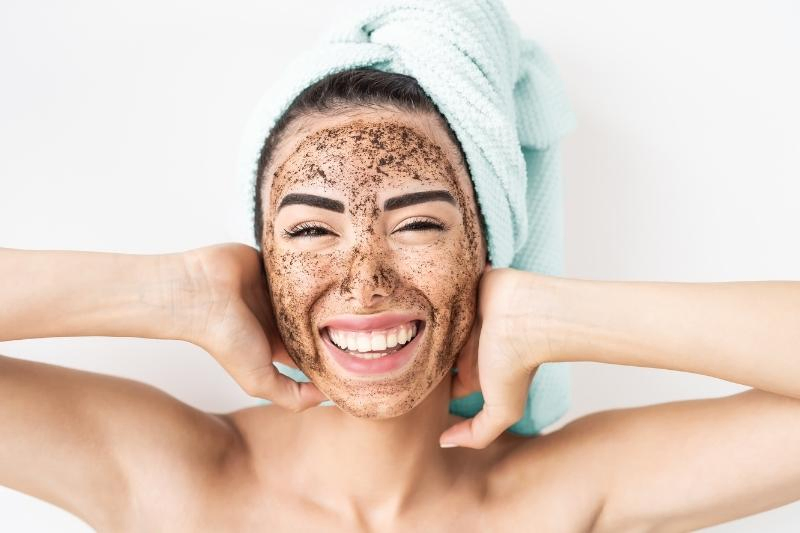 When making a face scrub, I prefer to use sugar as it is gentler and dissolves easier than salt. A brown sugar scrub is preferable over white for the facial area. Salt is too harsh for facial scrubs in my opinion. Regardless of which you use avoid the delicate area around the eyes when scrubbing.
I suggest a finer grind of coffee for facial application, at least for your first batch. Particularly for sensitive skin or older thinner skin.
Coconut Oil Notes
You may use either virgin or refined coconut oil in the body scrub. The unrefined virgin oil will maintain it's coconut scent and beneficial lauric acid. You may want the coffee scent to be more prominent though, which would make refined a better choice.
For the face scrub version, I use fractionated coconut oil or another non-comedogenic oil to avoid clogged pores. Adding other beneficial skin ingredients like antioxidant rich rosehip oil along with the standard coconut oil I typically use in sugar scrubs boosts their effectiveness.
Other Oil Options
Argan oil is also a great ingredient addition or alternative to coconut oil, it is loaded with Vitamin E or of course you could add a few drops of straight vitamin E oil into your mixture.
Another great oil to use in your face or body scrub is sweet almond oil. It is non-comedogenic, so an excellent choice for those prone to breakouts.
In a pinch grab some olive oil to make a body scrub, though I would be careful about this one if you already have oily skin.
How to Make a Coffee Scrub
Ingredients you will need to make the coffee scrub recipe. Both recipes are coffee and coconut oil based.
Coffee Body Scrub
ground coffee fresh ground coffee beans is best, but leftover coffee grounds will work
coconut oil
sea salt or white sugar
Coffee Face Scrub
coffee grounds fresh is best
fractionated coconut oil (any non-comedogenic oil such as, Argan, Jojoba or Sweet Almond are acceptable substitutes)
brown sugar
rosehip oil or Argan oil
Preparation
Simply soften the coconut oil by warming, then mix ingredients together and store in an airtight glass jar.
Go Organic
Making your own, also makes organic cost effective. Just use organic coffee, coconut oil and salt generally already are.
Using The Scrub
Now let's get down to using the scrubs and reaping their benefits!
For Salt Body Scrub
Apply a coffee body scrub in the tub or shower on wet skin. Scrubbing should be done in a circular motion, with attention given to dry rough areas. Give more attention where you have scars or stretch marks too. Rinse with warm water (not hot water) and pat dry with a towel after use.
For Sugar Face Scrub
Start by splashing lukewarm water on your face or applying in the shower.
When using the face scrub gently massage around the face using a circular motion. When applying the sugar scrub void the delicate skin under and around the eyes.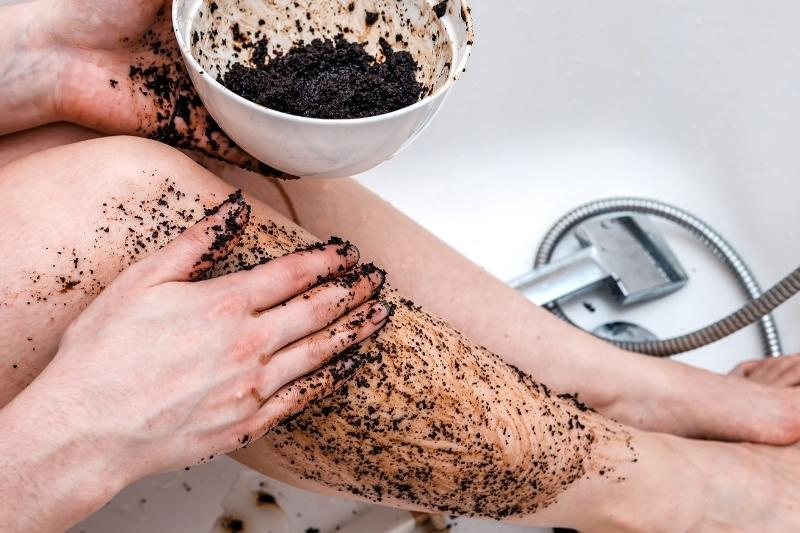 How often can I use a coffee scrub?
For best effects you should use the scrub 2-3 times a week.  You will see some improvement of skin immediately after use, but full effect won't be seen for about 2 months.
How long will coffee scrub last?
The shelf life of your scrub stored at room temperature in a sealed container is up to 2 months. You will need to add preservatives to make it last any longer.
More DIY Coffee Skin Care Products
I have a few more easy beauty craft projects for you here on the site. Make my easy exfoliating Coffee Soap or divine smelling Coffee and Cream Bath Bombs. Team them with a Mason jar of this scrub and you have a great homemade beauty gift!
Print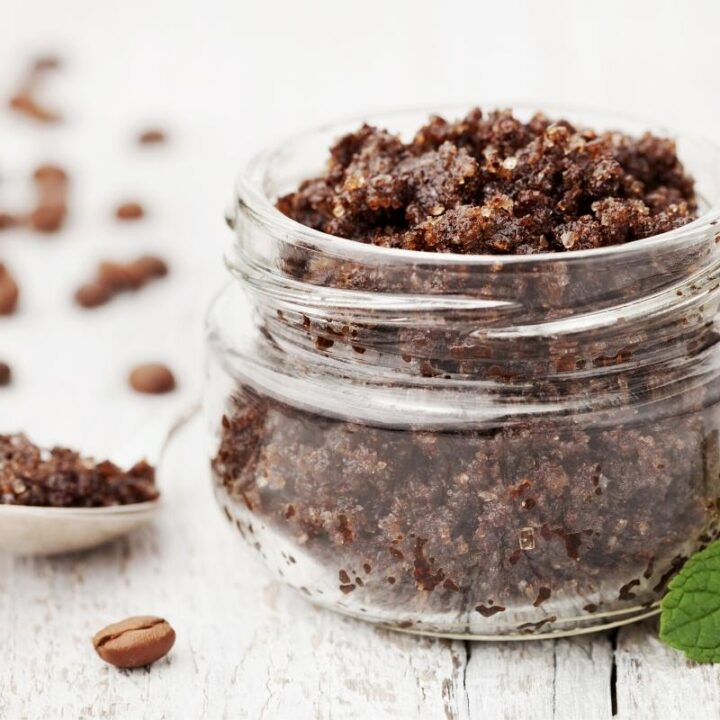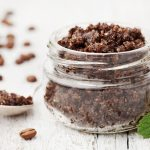 Coffee Scrub Recipe
---
Description
Making a DIY coffee scrub is easy, yet it brings so may benefits for your skin. Here I have 2 recipes, one for the body and the other for the face.
---
Body Scrub
½ cup

ground coffee fresh ground coffee beans is best

½ cup

coconut oil

½ cup

sea salt or white sugar
Face Scrub
¼ cup

coffee grounds fresh is best

¼ cup

brown sugar

3 tablespoons

fractionated coconut oil

1 teaspoon

rosehip oil or Argan oil
---
Soften the coconut oil by warming if it is not in a liquid state.
Mix all the ingredients together and store in an airtight container.
Keywords: coffee scrub, coffee face scrub, coffee body scrub,