Can you promote healthy hair with collagen supplements? There is evidence that not only does hair benefit from a natural daily collagen supplement, but more youthful skin, strong nails and supple joints also result.
As collagen is the most abundant protein found in the body, it's importance is of little surprise.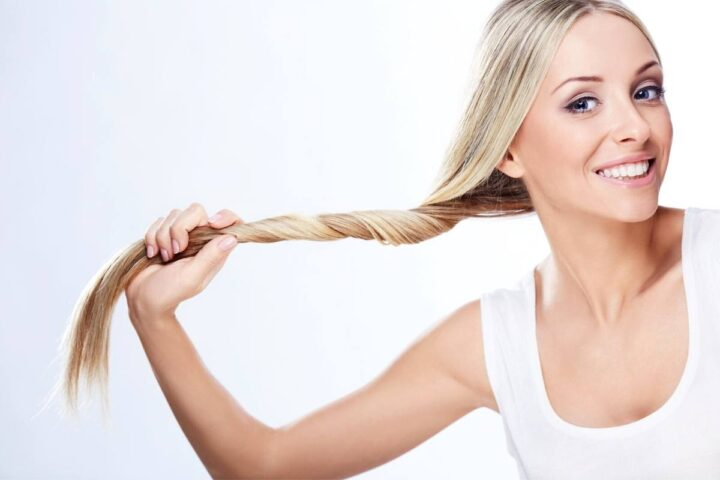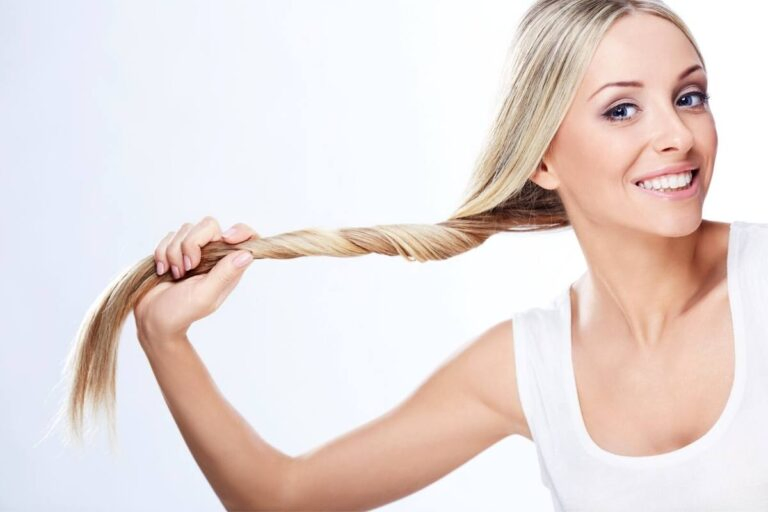 Why Supplement Collagen for Hair Growth?
Our body's natural collagen production is one of the essential building blocks of our dermis, nails and hair. The protein is also important to our joint health. It ensures we can repair skin cell damage. Collagen also helps maintain our strength and elasticity of both skin and connective tissue.
Our own natural collagen production declines as we age, this weakens our scalp's ability to produce strong and plentiful hair. Less collagen leads to hair thinning, reduced skin strength and a host of other issues.
Hair strands themselves contain very little collagen, but what is present is a big part of why hair has it's flexibility. The hair follicles also need collagen to do their work.
The good news is the amount of collagen is not necessarily permanently held at the lower level. Giving it a boost by taking collagen powder, liquid or bone broth is a great way to replenish.
Keto Hair Loss
Supplementation with collagen peptides is especially recommended for those on a ketogenic diet. One of the side effects of this strict low carb diet is often hair loss. Healthy hair growth can be maintained by these dieters though by ingestion of collagen.
Bovine collagen from chicken or beef bone broth is a top choice of keto practitioners wishing to prevent hair loss. You can even make your own bone broth at home to use.
Promote Hair Growth and Reduce Hair Loss
Hair health is at it's root dependent on scalp health. Ample collagen, antioxidants, vitamins and minerals are necessary for a healthy scalp. These nutrients can also improve the strength and shine of the hair our follicles produce.
The amino acids in collagen add elasticity to your hair strands, this makes them less brittle and prone to breakage. This makes it an essential teammate to keratin which is the primary structural component of hair. Collagen also aids in maintaining hydration of hair.
The body's ability to produce collagen naturally decreases with age. Poor diet and hormonal imbalances can also lead to collagen decreases.
There is clinical evidence supporting the oral supplementation of hydrolyzed collagen protein to reduce thinning hair in women. [study]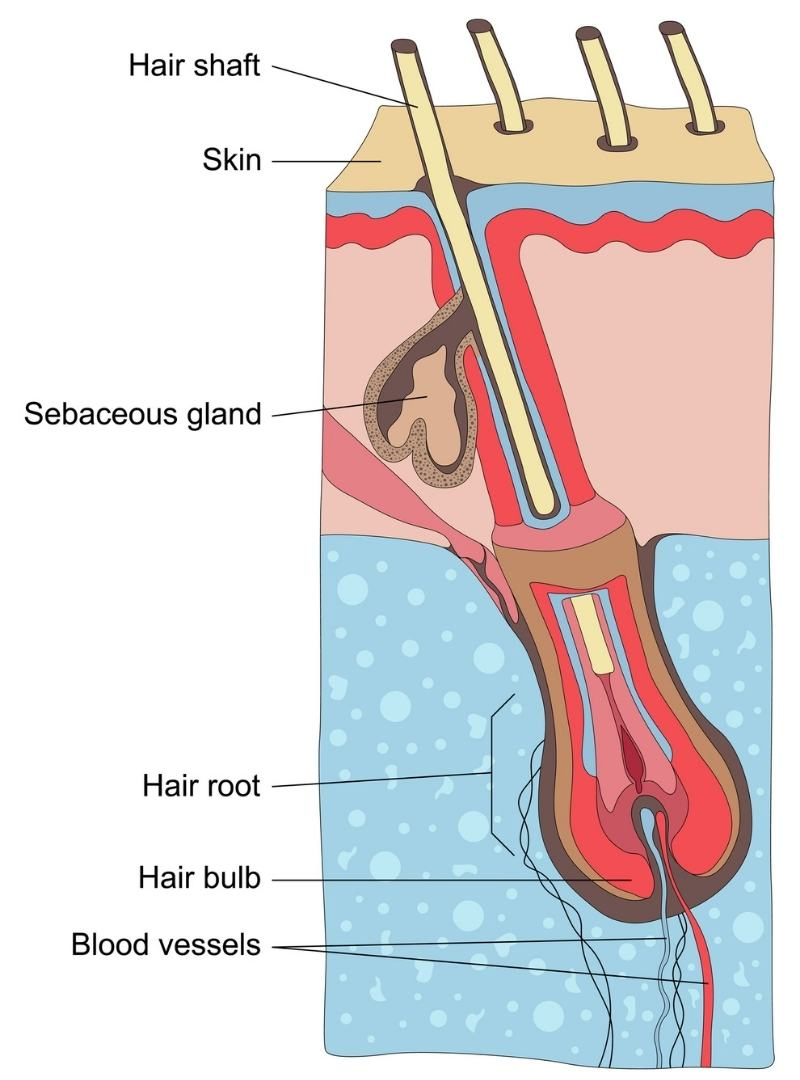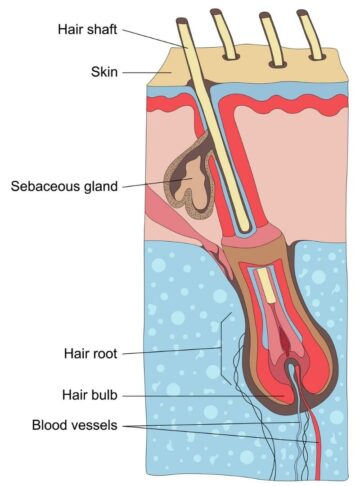 While people think of hair as dead, the hair follicles needs nourishment, much of this comes via the blood vessels at the base of the shaft. This is how the amino acids used to build the keratin and collagen proteins needed for healthy hair get in.
Topically applied to hair, collagen can help alleviate brittleness and split ends, while creating a protective barrier. Some also purport that collagen supplements will also help maintain hair color, avoiding graying, by nourishing hair follicles. [ref]
Using collagen protein in tandem with biotin, a nourishing rosehip oil serum or hair growth essential oils can produce even more pronounced results.
Best Collagen Supplements for Hair
There are several different types of collagen supplements. Collagen type, can vary in both form, source of origin and usage.
A good collagen supplement choice for you will depend on a few factors.
Collagen as a dietary supplements can be ingested as liquid collagen. Vitamin C is often included in the liquid to aid in absorption and for it's antioxidant properties, which combat free radical damage. Collagen pills are also available. Whichever you chose, make sure you are taking a daily multivitamin to ensure you have adequate nutrients to process the collagen.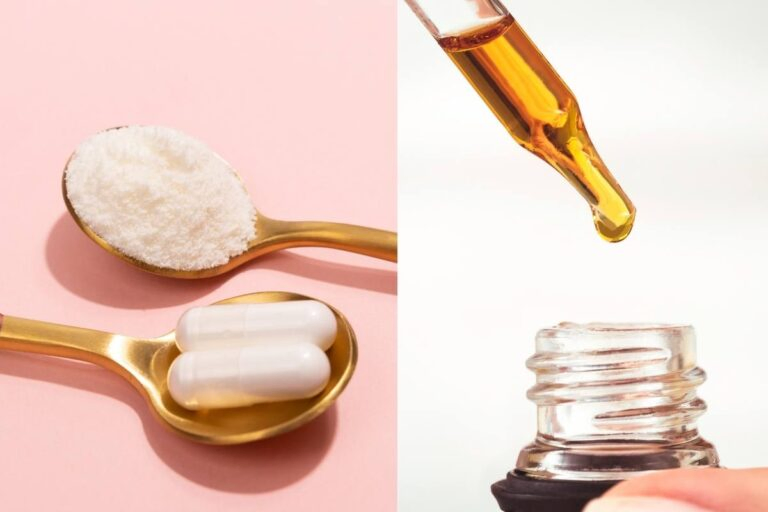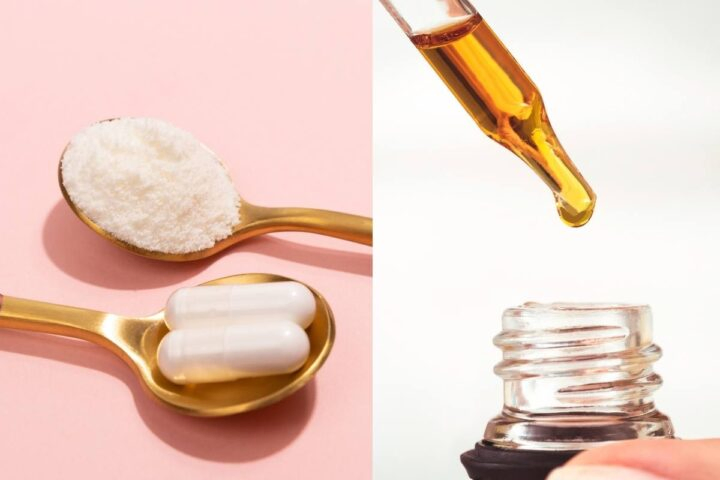 Hydrolyzed collagen is a broken down form of collagen which is easy for our bodies to absorb effectively. The process of hydrolyzing collagen yields bioactive collagen peptides and free amino acids, most importantly  proline, glycine and hydroxyproline. These are the building blocks our bodies use to create new collagen in our bodies.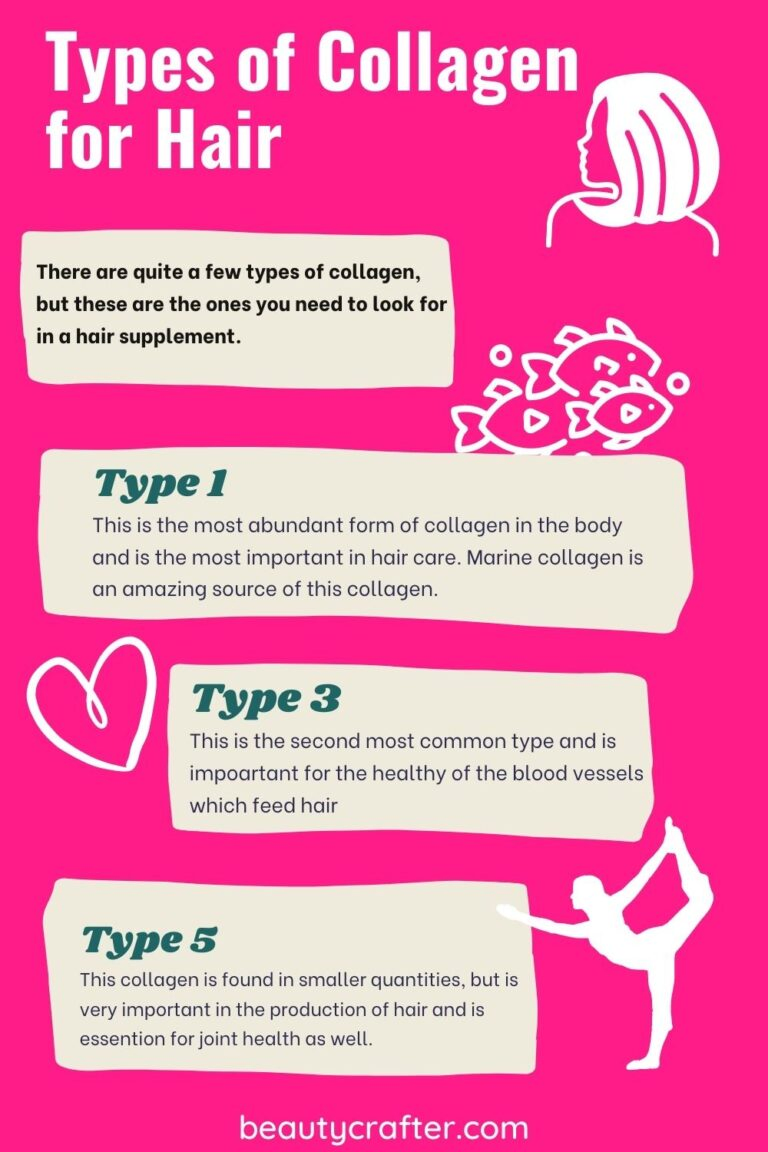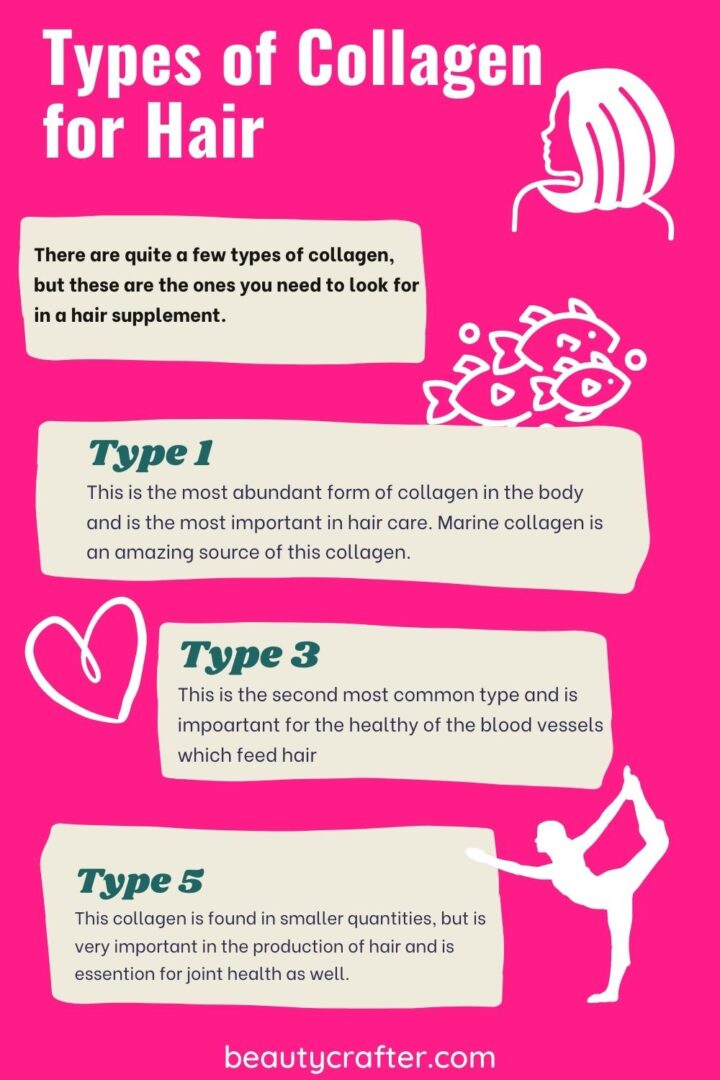 Collagen Types
There are actually 16 different types of collagen [ref], but you really only need to ensure you are getting a few of them for your hair. Make sure any supplement contains types 1,3 and optimally 5 as well. Ideally choose a hydrolyzed multi peptide blend.
The renowned brand Vital Proteins has a wide array of offerings and most contain types 1 and 3. There are also many options that contain all five primary types of collagen our bodies use.
Here is a great choice that has all 5 types plus Biotin and nourishing hyaluronic acid. I would make sure to take a multivitamin with this, as it doesn't contain Vitamin C or minerals, such as iron, zinc and copper.
Sources
Marine Collagen supplements are derived from ingredients such as fish scales. It is one of the best sources of type 1 collagen. In recent years, marine collagen has been shown effective in treating some hair loss conditions, particularly in women. [study 1, 2] Shop marine collagen.
Bovine collagen comes from the body parts of cattle which are high in collagen. It is available in both liquid and collagen powder forms, although it is also popular it get it from bone broth. Shop bovine collagen.
Other Benefits of Collagen
Let's look closer at some of overall health benefits of collagen supplementation.
Skin Health
As mentioned above, collagen is important in maintaining healthy skin elasticity. It has many proponents who also claim it assists in reducing fine lines and wrinkles. Taking collagen can help prevent thinning skin too.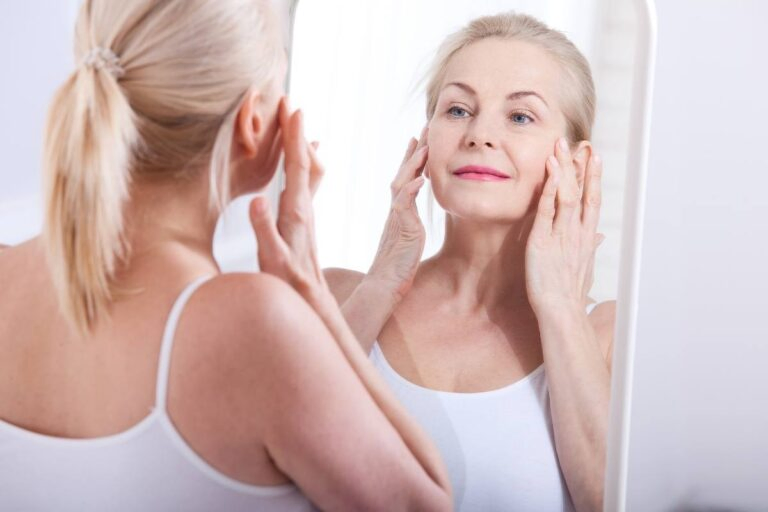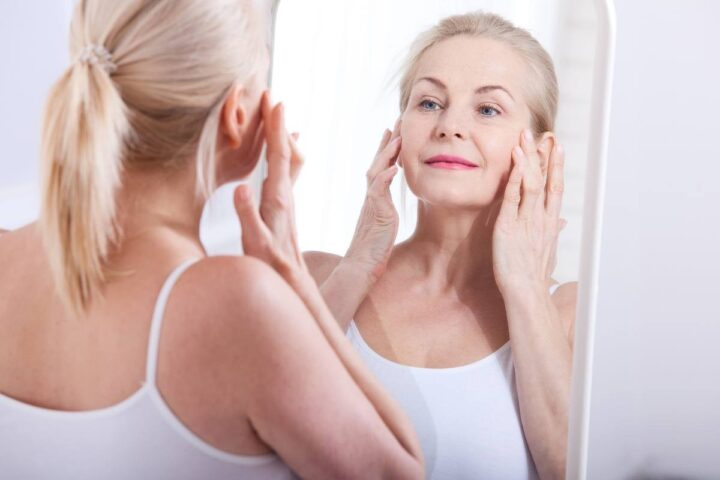 Nail growth and strength also improves when collagen levels are sufficient. A deficiency will lead to brittle nails.
Bone and Joint Health
Collagen peptides aid in the absorption of calcium. This leads to better bone mineral density and stronger bones. It is also important to keep our bones flexible to help avoid breakage.
This protein is an important factor in the health of our tendons and joints too. Supplements may reduce joint pain and help prevent tears.
So yes, adding collagen benefits beyond healthful looking skin and hair.
Personal Experience
Sharing research and general information is important, but our experiences are too.
I personally have noticed improved skin condition and hair fall when taking the supplement. I seemed have less joint issues, but that may be due to taking a specific targeted supplement for those issues, rather than added collagen.