A homemade oatmeal bath is quite easy to make and is both skin soothing and moisturizing. It is a great addition to your skin care routine as well as a treatment for various skin conditions. Oats actually provide a skin barrier to help avoid further irritated skin.
Among the many benefits of an oatmeal bath soak is it's alleviation of skin irritations and itchiness, whether from a common rash, eczema, poison ivy, hives, bug bites or even diaper rash. Below, I show how to make the soothing colloidal oatmeal bath soak along with a lavender oatmeal bath recipe. The soothing bath treatment includes a few other beneficial anti-itching ingredients to treat even sensitive skin and other issues.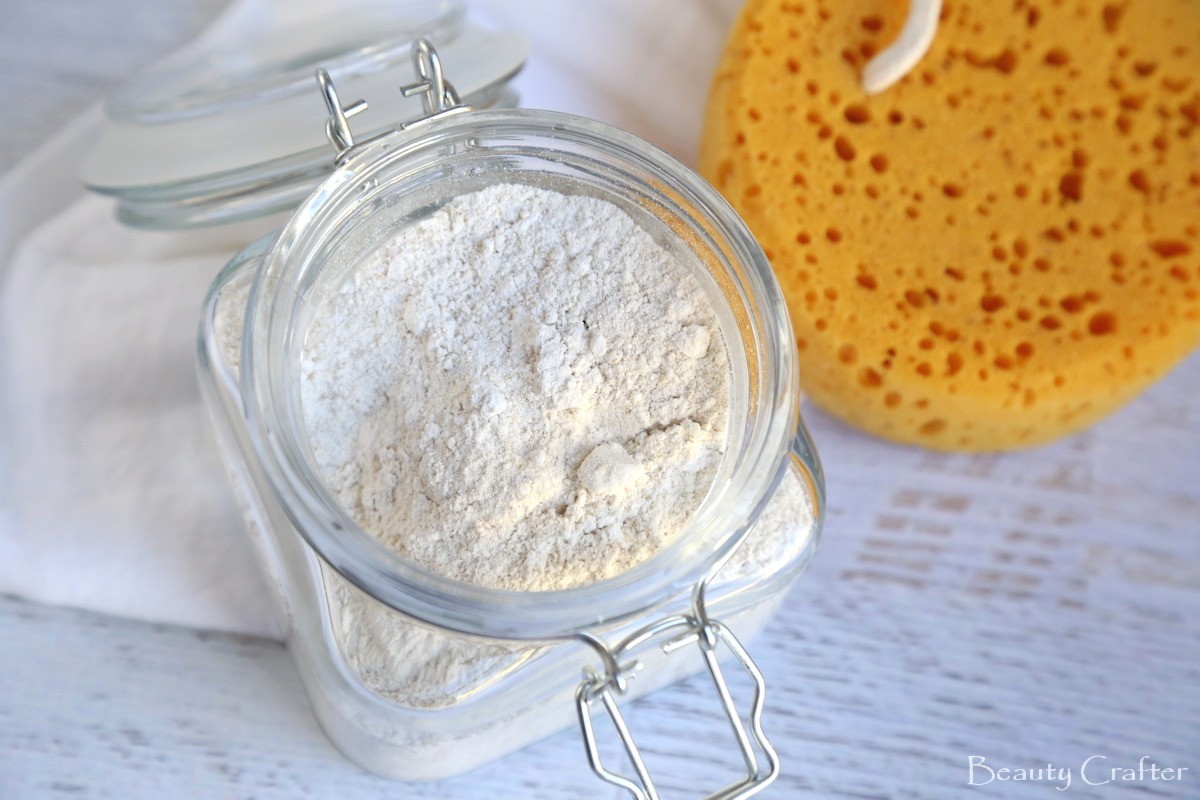 DIY Oatmeal Bath Soak
An Oatmeal soak is an old fashioned remedy for itchy skin that really works. (see this study on it's anti-inflammatory ability) This soak is one of the easiest and least expensive skin treatments to alleviate skin inflammation and dry skin.
While oatmeal is of course the primary ingredient in this soak, other ingredients can have a complimentary effect. Soothing essential oils, baking soda or Epsom salts added to a therapeutic oatmeal bath soak, increases the benefits.
Oatmeal Bath Benefits
Oatmeal baths are a go to home remedy for all sorts of skin issues, from simple dry skin to major outbreaks. Soaking in a soothing oatmeal bath is often the first thing suggested for treating eczema flare ups, rashes and poison ivy outbreaks. Colloidal oatmeal is skin soothing and can reduce itchiness, which of course assists with healing.
These therapeutic baths are also suggested for those suffering from hives or chicken pox, as the bath will lessen the likelihood that sufferers will scar themselves scratching after having one.
As you can see, oatmeal baths are great for a wide array of skin conditions.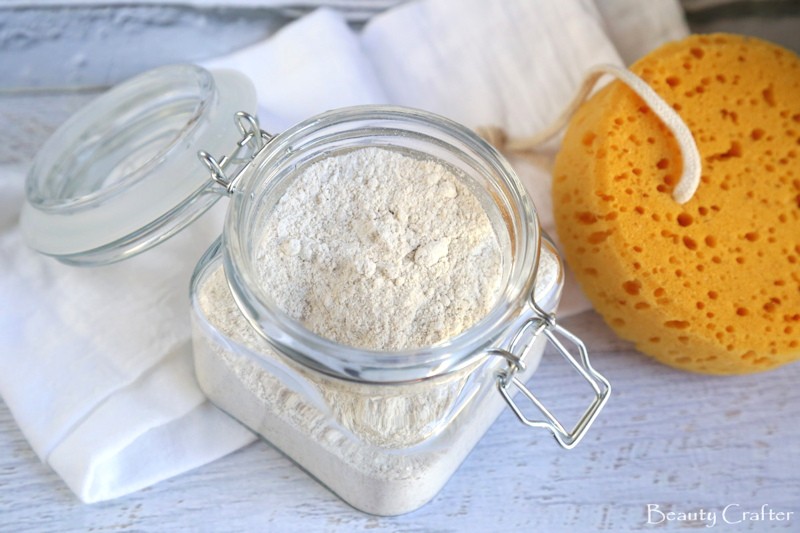 Oatmeal Bath for Rashes
Soaking in an oat bath calms the inflammation of a rash and coats the surface of skin with hydrating lipids (fats/oils). These oils also create a protective barrier on the surface of the skin.
With less itchy skin, scratching is reduced so healing can occur. For eczema, diaper rash, sunburn, heat rash and other simple inflammations keep the focus of teaming the oats with other soothing ingredients, such as lavender oil, frankincense oil, baking soda (helps reduce acidity), Epsom salts and milk (if if does not cause issues for your skin).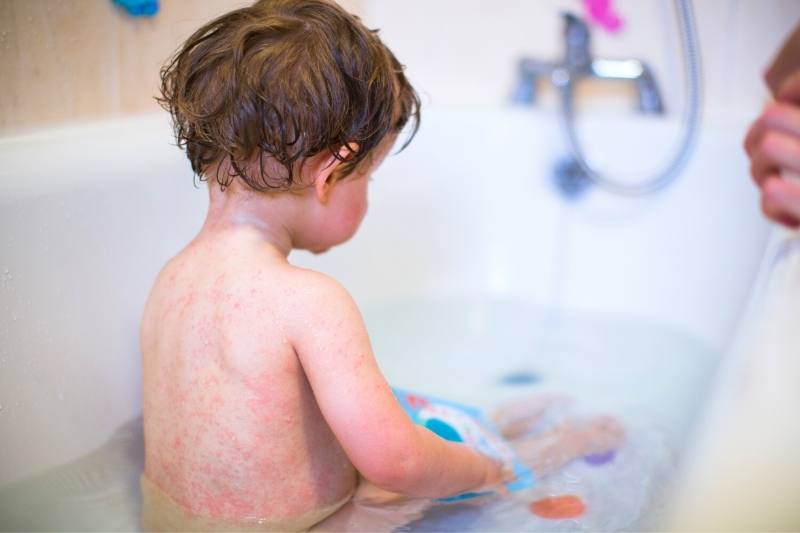 Oatmeal baths are particularly popular remedies for diaper rash as they are safe and gentle for the delicate skin of babies. The soak will also protect the skin from further irritation.
Oatmeal for Hives
If you are looking for natural remedies to relieve itching from hives, and oatmeal bath is just the thing. Soaking should alleviate the affected area. Soaking in a bath in general eases stress, which is often a trigger of hives. Lavender oil in an oatmeal bath for hives is also helpful, as it is considering relaxing in aromatherapy.
Oatmeal Bath for Eczema
For those suffering from eczema symptoms, this is among the simplest of eczema treatments. The bath often provides significant relief from the inflamed itchy skin associated with the condition.
Dissolving finely ground oats into the bath water along with a few supporting ingredients (such as baking soda or Epsom salts) can help soothe and heal the the inflammation of eczema. After soaking, gently pat the skin dry.
Learn more about using oatmeal for eczema treatment.
Oatmeal Soak for Chicken Pox
The same bath ingredients that help with a rash also assist in treating chicken pox blisters. Adding tea tree oil to the soothing bath soak when treating theses issues can also be beneficial, as it is antiseptic and antibacterial. Make sure to use lukewarm water not hot, as hot water will cause the rash to worsen.
Poison Ivy, Oak and Sumac
If you are exposed to poison ivy, poison oak or poison sumac, the irritating rash that comes along with the oils of these plants can be quite the ordeal. A colloidal oat bath can soothe afflicted skin and aid in quicker healing. Add some Essential oils for Poison Ivy to make for an even more effective skin treatment.
Bug Bites
A ground oat bath will also help ease the discomfort of insect bites, including mosquito bites. The oat powder will soothe the skin irritation and aid in healing the bite wound.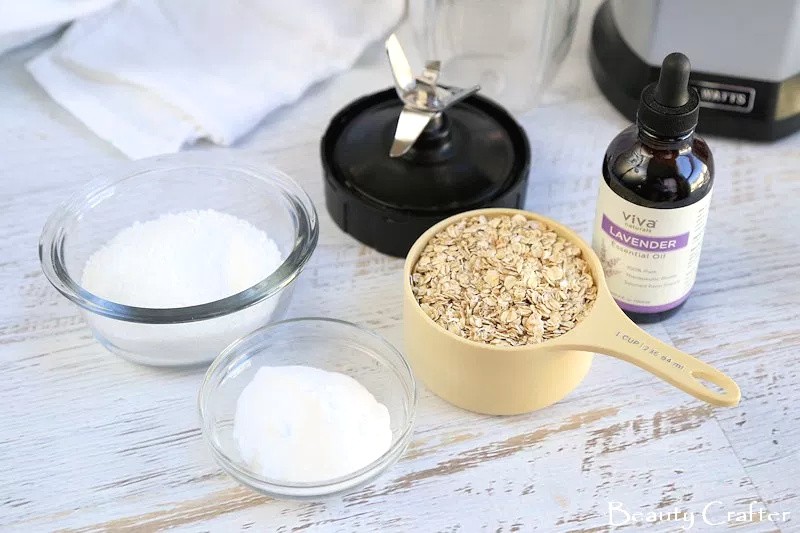 Is there enough oatmeal in a simple bath soak to be effective?
Yes, there is scientific evidence beyond the anecdotal results. This study found a 1% solution to be effective in treating dermatitis.
Colloidal Oatmeal Bath
Finely ground oats (sold as colloidal oatmeal) can be dissolved right into hot water when starting a warm water bath. Here I've made my own, by pulsing quick oats in a blender. This colloidal oatmeal bath dissolves in the bath rather than floating or collecting at the bottom of the tub. Making your own colloidal oatmeal is easy and can be done with a blender, food processor or coffee grinder.
The benefits of finely ground colloidal oatmeal are numerous, it is worth learning about them and making your own DIY colloidal oatmeal to ease the discomfort of irritated skin.
Bagged Oats Bath
Another option for taking an oat bath is to scoop some into a bag and drop it into a hot bath. While the colloidal oats are more effective, this will do the trick if you don't feel like making any. A muslin bag, stocking or cheesecloth will keep the oats under control and avoid clogging drains. Some of the skin nourishing properties of the oats will disperse into the water.
Add a scoop of Epsom salt and a few drops of lavender or chamomile essential oil right into the water.
How to Make an Oatmeal Bath Soak
As I described above, I grind my oats for bath soaks in a blender or food processor rather than purchasing colloidal oatmeal. This is a money saver.
To enhance the effectiveness of the powdered oats, I like to add magnesium sulfate (Epsom salts), bicarbonate of soda (baking soda) and a little lavender essential oil.
The ingredients are placed in a a blender and pulsed. When all the oat flakes are ground down to a fine powder, it is done.
There is a quick video showing how easy it is to make this homemade bath soak yourself. along with full printable recipe below.
Taking a Bath with Oatmeal
Taking and oatmeal bath is quite easy. Simply pour your bath soak mixture directly  into a warm (not hot) running bath, then soak in the warm bathwater for 15 minutes to 30 minutes.
Alternately, if you do not wish to grind your oats or buy colloidal oatmeal you can fill an old sock or stocking with a cup or two of oats. Then run a hot bath and allow the oats to steep in the water. When the bath cools to a gently warm temperature, soak in it for 15-30 minutes as above.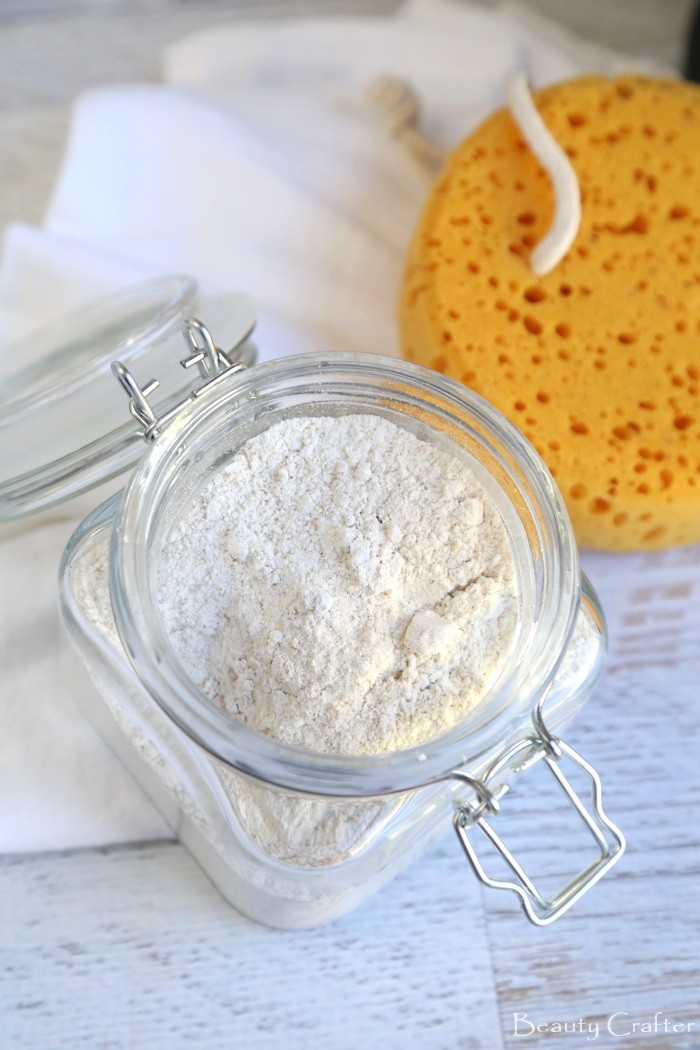 Other Homemade Oatmeal Bath Products to Help Soothe Skin
Oatmeal is sort of a go to item for me when making homemade bath products. Oats are mild and their benefits are great for kid's skin.
My daughter loves my Soothing  Lavender Oatmeal Soap and Lavender Oatmeal Bath Bomb recipe. They make bath time fun while soothing and healing skin.
Print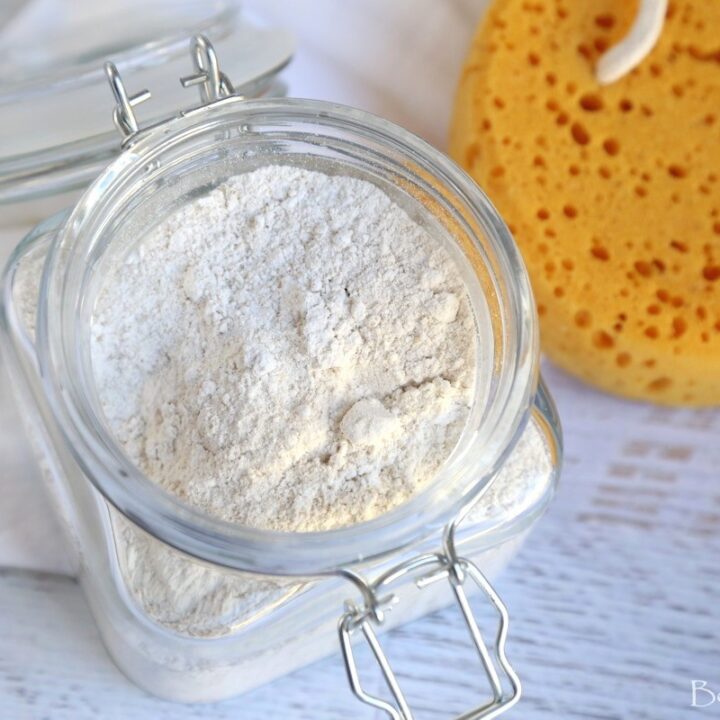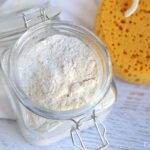 Oatmeal Bath Recipe
---
Description
Easy to make anti-inflammatory oatmeal bath for dry or irritated skin. Simply dissolve in bath water and soak in it for awhile. The soak is finely powdered to dissolve well in bath water.
---
---
Place ingredients in blender and pulse until the oats are finely ground.
Add mixture to warm bath and soak in it for 15 to 20 minutes.
Notes
If treating chicken pox or poison ivy add 4-5 drops of tea tree oil. This helps dry out the pustules and prevents infection if they break.