Trying to choose between a salt scrub vs. sugar scrub can be a confusing position to be in if you don't know the benefits of each type of scrub. Will what you are selecting do what you want it to, is that what it is even meant for?
If you are bewildered you are not alone, many find themselves in this dilemma when choosing a scrub.  Knowing the uses and benefits of sugar and salt scrubs makes choosing the right scrub  for your needs a breeze. Both are great at removing dead skin cells, so you will soon be enjoying soft silky smooth exfoliated skin.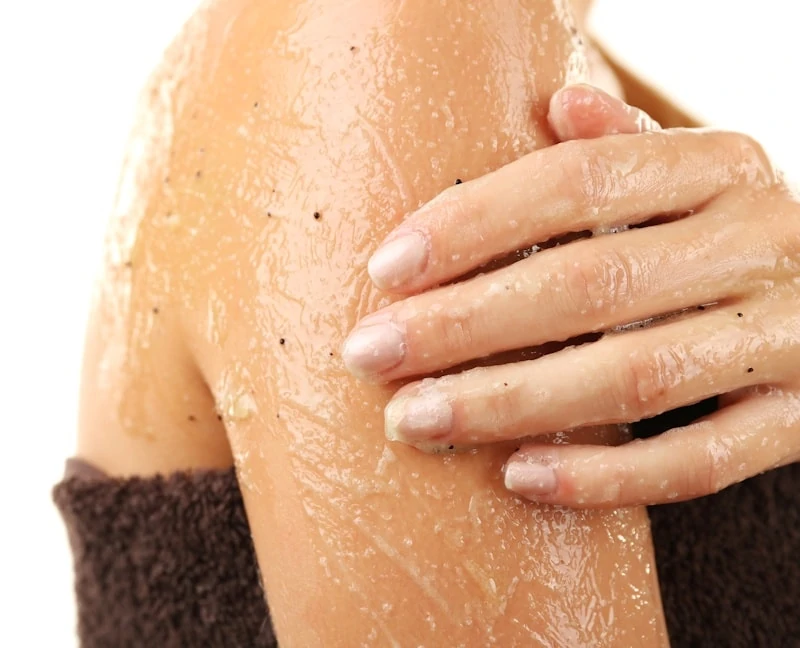 To help ease the confusion, here's the info you need to make smart choices about scrubs.
What's the difference between salt and sugar scrubs?
I always come back to this basic question – what is the difference between salt and sugar scrubs?  
It all comes down to size, at the end of the day.
Salt granules, which are larger and more abrasive create a stronger scrub than sugar. Salt scrubs are best for dry, rough skin areas like elbows, knees, and feet.
Salt particles vary in size. I would stick to fine sea salt for body scrubs and a coarser grain with essential oils for feet when making a foot scrub.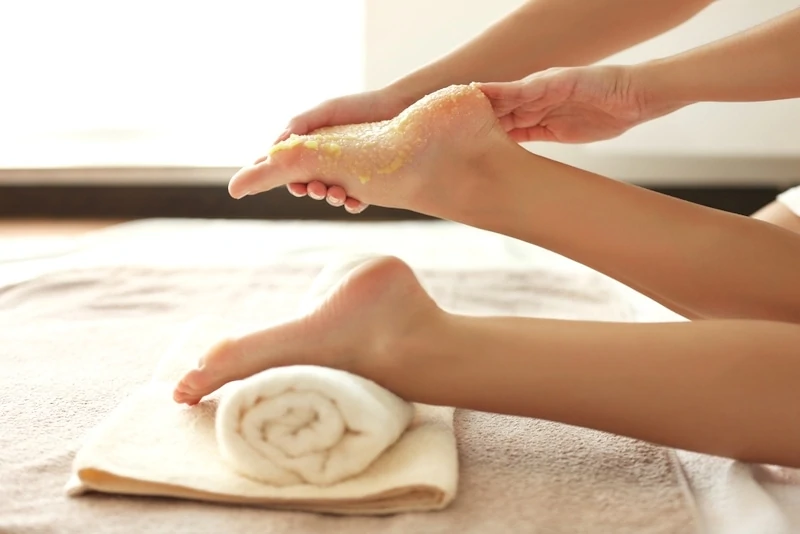 On the other hand, sugar particles are smaller and dissolve more easily in water.  This makes sugar scrubs less abrasive.
They are best for sensitive or delicate skin areas, like the face especially.  Sugar scrubs are great for the décolletage and even your lips! Sugar lip scrubs have become quite popular in recent years.  Of course, if you want to use a sugar body scrub it is still a good option and what I usually choose myself. It is also a good choice for those with older or more sensitive skin.
Both types of scrubs come in a wide variety of formulations, so you can select the oils, scents, or accompanying natural ingredients that best suit your style, preferences, and needs. Either will leave your skin fresh and soft. Remember though, while exfoliation is awesome, it is important to consider skin type and select the one least abrasive on the skin that can get the job done.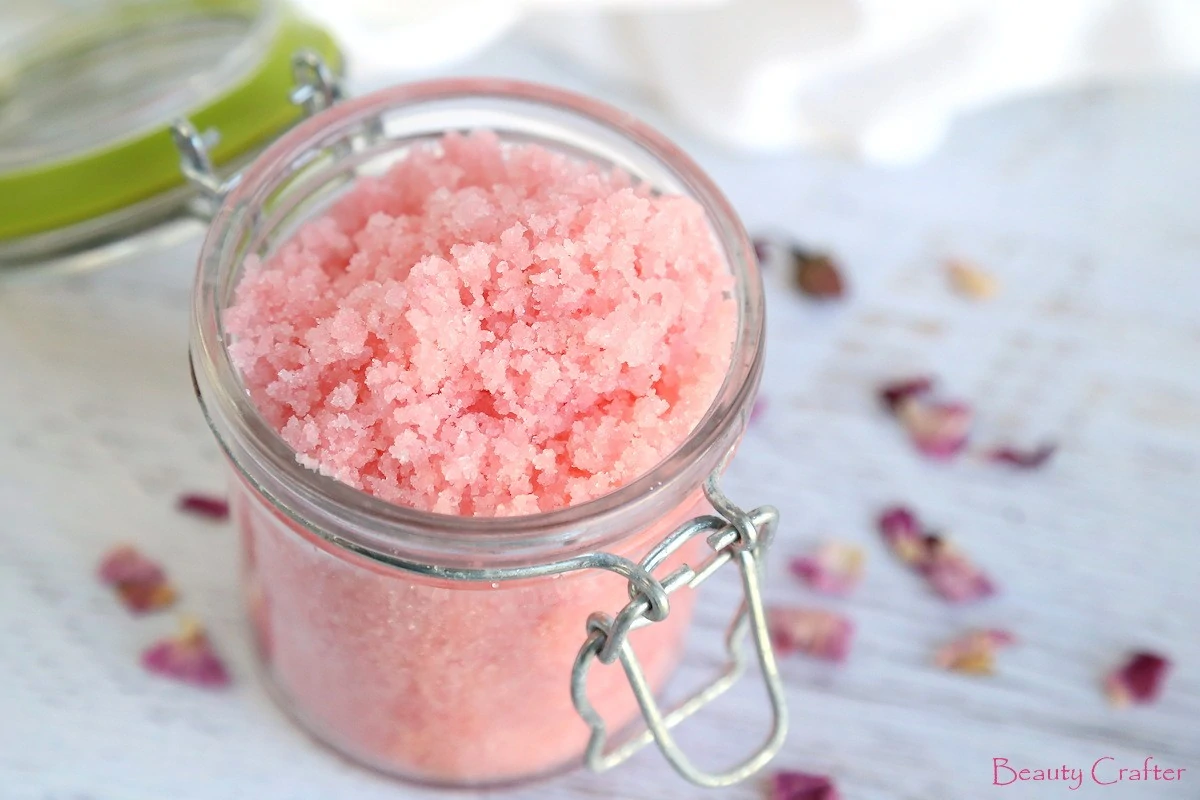 Also, don't forget if the scrub you are using does not include an oil, such as coconut oil, make sure to moisturize after using either a salt or a sugar scrub.  This will seal in moisture and prevent your skin from over drying.
The sugar scrub recipes here on Beauty Crafter all include an oil. Most are made with coconut oil, but a few like my Rose Sugar Scrub Recipe (shown above) feature other beneficial oils, in this case rose hip oil is used along with coconut oil to create a skin nourishing scrub.
How often should I use a scrub?
Whichever your preference, be sure not to use your scrub too often. We all want to slough away dead skin cells, but over exfoliating can be damaging to the skin, especially the harsher salt scrubs.  Stick to 2 – 3 times per week max for a sugar scrub and once a week for salt scrubs.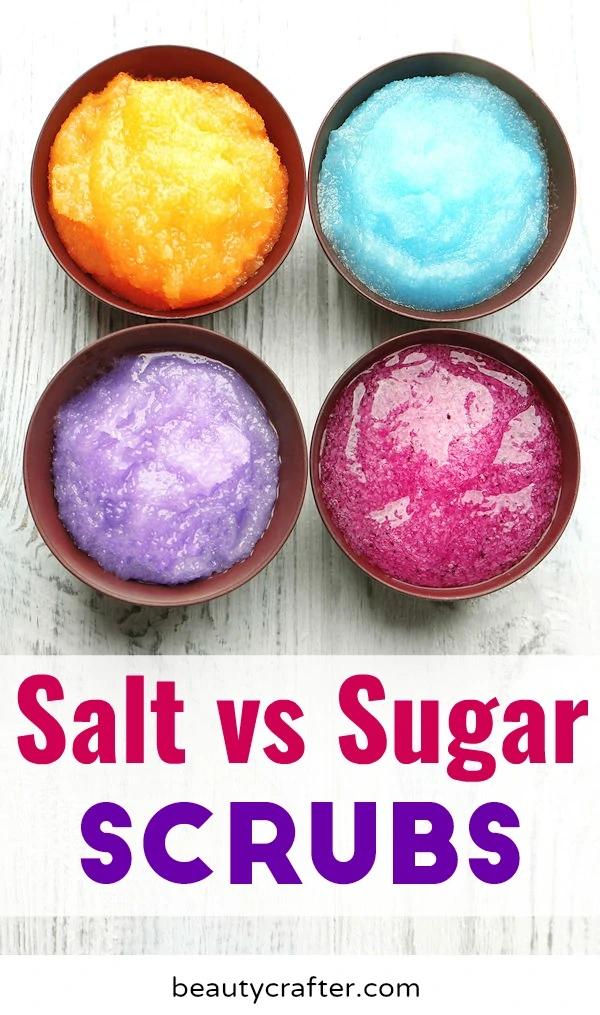 Benefits of salt scrubs vs. sugar scrubs
The exfoliating benefits of scrubs are similar for both types, but there are some differences in the benefits of salt scrubs vs. sugar scrubs.
Exfoliating is a critical part of any beauty routine – it removes dry skin cells, helps unclog pores, diminishes the appearance or marks left from breakouts, opens ingrown hair follicles, and stimulates blood flow to the skin.  With increased blood flow to the skin, it's easier for the cells to regenerate, keeping your glow fresh and healthy.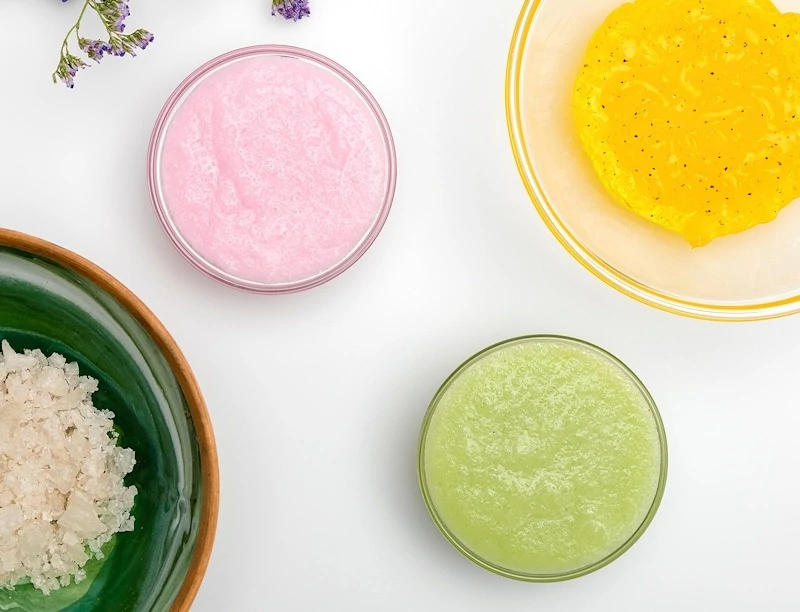 Salt and sugar scrubs also offer specific beauty benefits beyond general exfoliation.
Sugar scrubs using unrefined cane sugar offer a number of vitamins and nutrients that are beneficial for your skin and body,

including potassium, iron, calcium, and magnesium

.  

Sugar also contains AHA-glycolic acid naturally which works as a chemical exfoliant. It boosts the exfoliating power of your scrub while allowing it to be less abrasive on the sensitive skin of your face. 

On the other hand, salt scrubs offer other types of health benefits to skin and body.

Salt particles are known for drawing toxicity out of the body (think Epsom salts).  The granules also serve as a poten

t anti-inflammatory agent, soothing sore muscles and easing aches and pains.
Sea salt scrubs are not only exfoliating, they may nourish your skin with the therapeutic sea minerals in them.  My Salt Lamps article touches on some if the advantages of salts.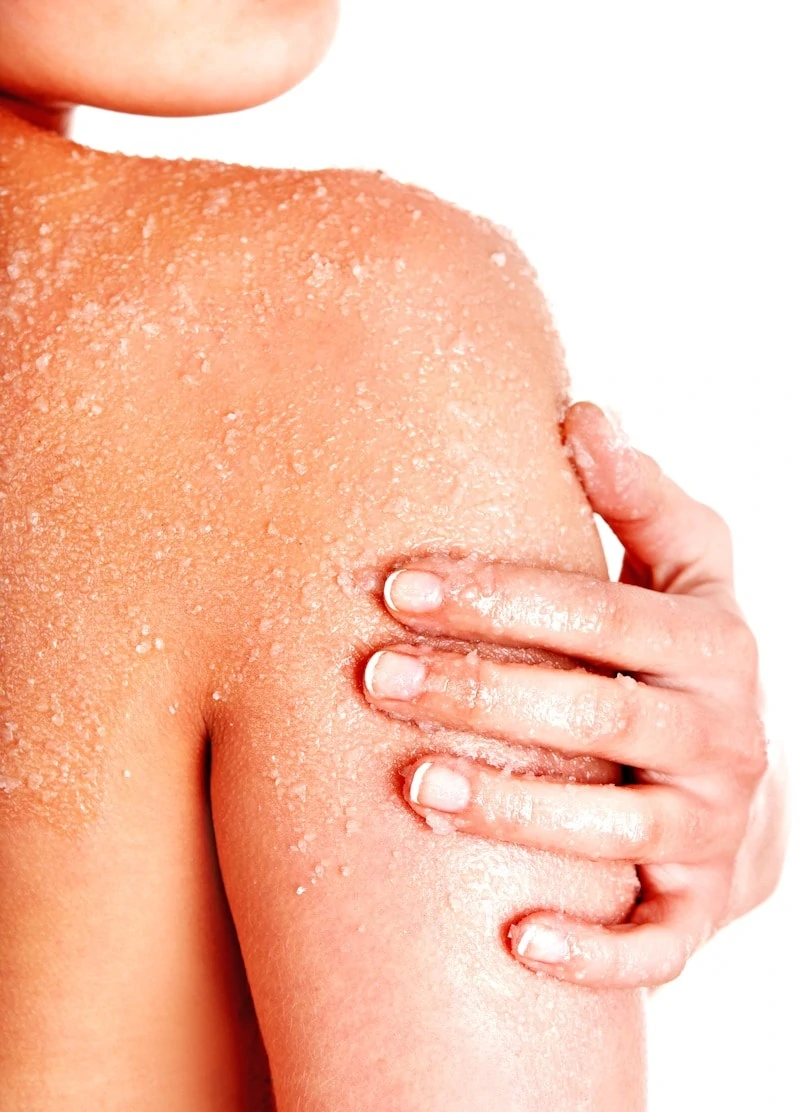 Both salt scrubs and sugar scrubs have important places in your beauty routine. Having both types of scrub on hand can help you have vibrant, fresh, and baby smooth skin every day.