There is nothing like setting up a romantic bath for your partner to show your love and make sure they feel desired. The relaxing warm bubble bath will get their mind off stresses of the day and set the mood for romance.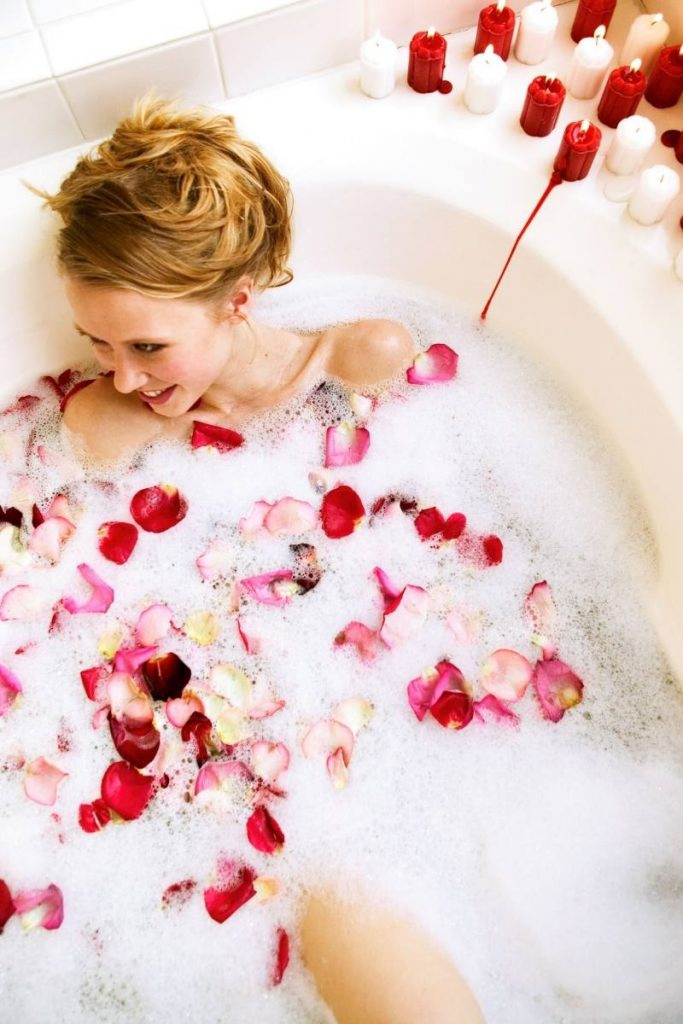 A scented bubble bath in a romantically staged bathroom with candles and rose petals can be an enticing experience for all their senses. It's all about the blend of relaxation and stimulation...
Here are some romantic bath ideas to get you started.
Romantic Bubble Bath
A bubble bath with essential oils is classic romance and what most people associate with romantic baths. Warm water scented with essential oils is the perfect thing to soak stresses away and make room for a romantic mood. Epsom salts will further relax and soothe tired muscles, as well as soften skin.
By all means if you have a jetted tub, make use of that. Remember to use a lot less bubble bath though. I learned that one, as I was practically buried alive in bubbles on a getaway weekend...lol
Romantic Bathroom Staging
Start setting the bathroom up ahead of time, to create the mood for an amazing romantic evening. Start by giving it a thorough cleaning and decluttering. Then start building a luxurious spa atmosphere to immerse your lover in.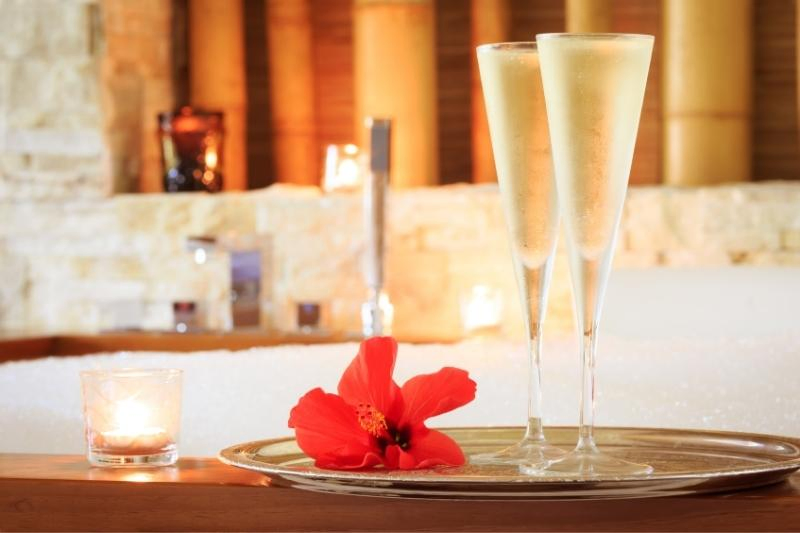 Set out scented candles or tea lights and a lighter (away from flammable items) and flowers. Fresh towels and a luxurious bath robe should be put out for easy access. Select some great music, that is relaxing, yet not sleep inducing.
Run the bath with hot water shortly before presenting the bath to your partner. Light the candles, dim the lights and turn on the music. Perhaps some classic Barry White.
Most of these staging tips would also also work as romantic shower ideas for couples. After all not everyone has a bath tub these days.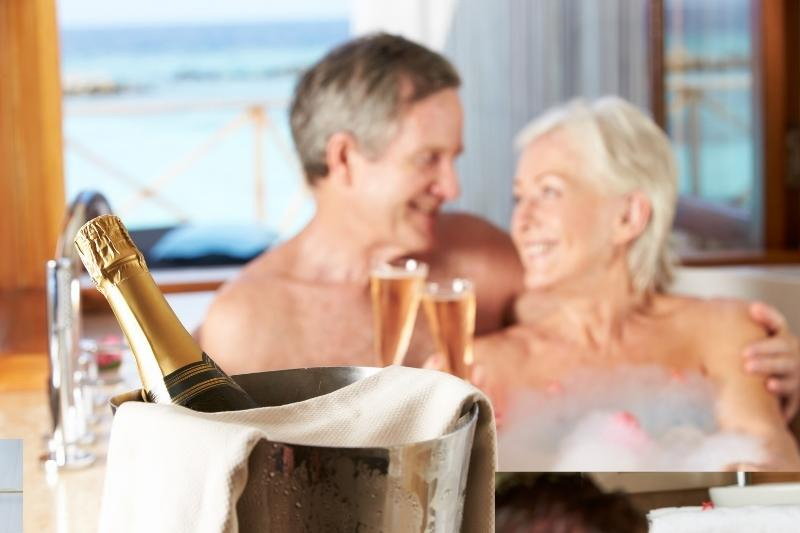 Romantic Bath for Him
Yes, men thoroughly enjoy a nice relaxing soak in hot bath water too. If you have a tub for one and want to treat him to a great spa experience at home, just make a few small adjustments.
Skip the flowers and choose scents that are less floral. According to one study the combination of pumpkin pie and lavender are the scents that are associated with highest penile blood flow increase... just saying...lol
See my article 9 Aphrodisiac Essential Oils for Love + DIY Massage Oil for more ideas.
If he is not a big fan of champagne, provide a drink choice he would prefer. Remember this is all about making your partner feel special and loved, not what is "expected".
Special Valentine's Day Bath
Create a Romantic Valentine's Day Bath experience for your spouse or partner with just a few extra steps.
Start the bubble bath before presenting to your lover. Use fragrant bath oils, rose petals, herbs or a rose petal bath bomb to pump up the romance. Be cautious about what you add if you are setting up a whirlpool tub. 
Set out two champagne glasses and a chilled bottle. Make sure to chose shatterproof glasses. A flute slipping out of wet fingers causing a trip to the emergency room is not romantic.
Make sure to get some chocolates for your valentine too!
Valentine's Bath for Two
If you are lucky enough to have a bath tub large enough make it a bath for two! Then you will both be relaxed and fresh in all your naughty parts after.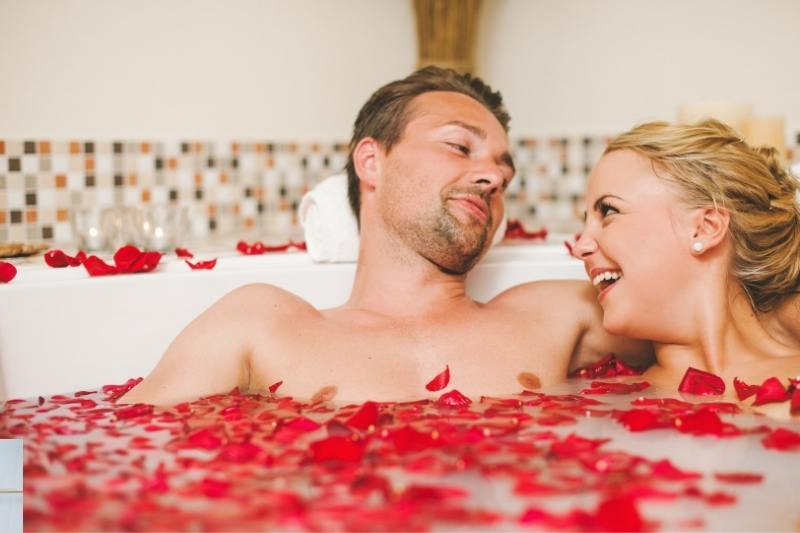 Plan ahead a little more for this to have everything you will need on hand. You don't want to be getting in and out of the tub for things. It would be a bit of a mood kill. An ice bucket with champagne or drink of choice at arms reach and turning off phones are musts in a romantic bathroom set-up for two.
After the Bath...
Of course, your romantic evening doesn't end after the ultimate romantic bath. After your significant other or hopefully both of you are done soaking in the hot bath, it's off to the bedroom, where a romantic atmosphere also awaits. Fresh rose petals on the bed, music, candlelight and fresh bedding are a great start. Don't forget to bring the champagne in too.
Set out massage oil and a large fluffy towel to prepare for giving your partner a full body massage. After that, let nature take it's course... wink, wink.
No bath tub or no time? Make some of my DIY aromatherapy shower steamers with aphrodisiac essential oils.