These are the best essential oils for foot soak recipes. Overworked feet will benefit from soaking in a foot bath with these soothing, healing and deodorizing essential oils. I prefer doing my foot spa treatments at home, it is a far safer and less expensive way to care for your feet.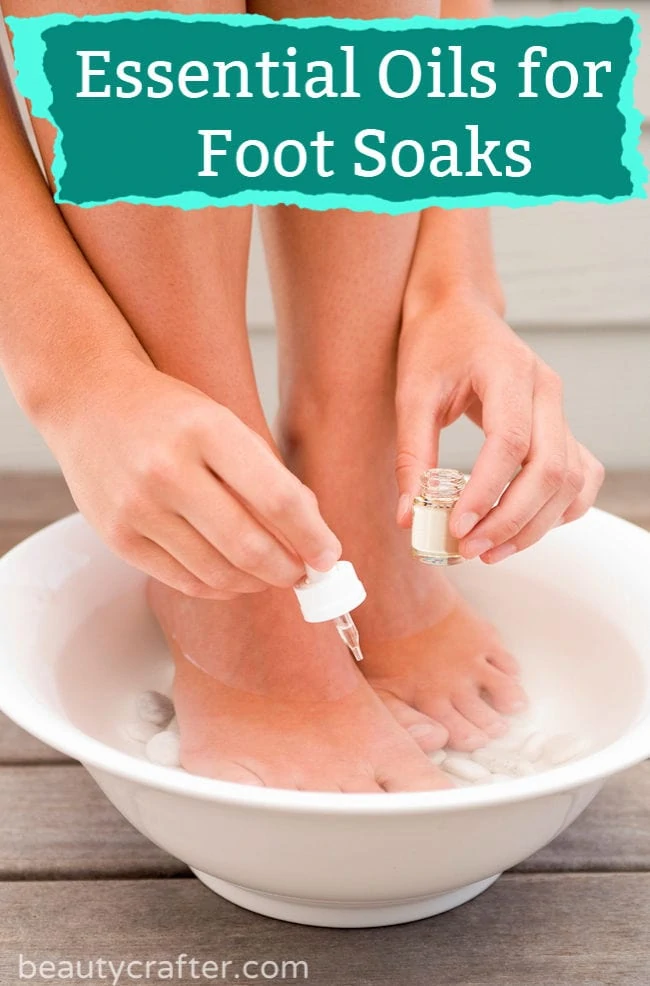 Our feet are one of the hardest working parts of our bodies, barely ever taking time off and going through all sorts of abuse. Essential oils are a great way to relieve the pain of overworked feet and can even help minimize unpleasant foot odor caused by sweating and wearing shoes all day. It is easy to put together a simple foot soak at the end of the day and well worth the small effort.
You can also use these beneficial oils to create balms and lotions that you can rub into your feet as needed. They can be  applied with a carrier oil topically right on the skin as well for quick relief.
Essential Oils for Foot Soaks
These are some of the best working essential oils to treat foot odor and pain associated with activity, some of which might already be your favorite oils. Soak your feet in these.
Tea Tree Essential Oil
Tea tree oil
is useful for eliminating the causes of unpleasant foot odors. A simple foot bath with essential oil added to it eliminates everything from sweaty foot smell to the worst foot smell you can imagine. If there are any cuts or scrapes on your feet, the tea tree oil also helps to heal the skin. The anti-fungal properties of tea tree aid in killing off any infection that might be present.
Peppermint Essential Oil
Peppermint is a wonderful essential oil to use on skin and is especially great for foot odor because it freshens and deodorizes the strongest sweat borne foot smell. Tired feet that are irritated, burning, swollen or just sore also benefit from a peppermint essential oil
soak or rub. This oil has a cooling effect that can calm the skin down fast and has a long lasting effect.
Lavender Essential Oil
Also great for deodorizing and healing, lavender essential oil
works with other deodorizing oils to give feet a long lasting pleasant odor. A single drop is enough to add a light floral scent that is not overwhelming, but leaves feet smelling great. Dry, cracked feet benefit from the lavender because this oil has healing properties and hastens the healing process of the skin.
Eucalyptus Essential Oil
Tired, sore feet benefit from the use of eucalyptus oil
which has long been used as a stimulant and as a muscle pain reliever. Add this oil to any foot soak immediately after any increase in foot pain or long walks and hikes. It can also be added to lotion and then rubbed into feet on a regular basis in order to promote foot health.
German Chamomile Essential Oil
Chamomile is prized for its healing properties and can be used in foot care. Burns, rashes, inflammation, irritation and blisters can all benefit from German chamomile essential oil
being applied to the area. Adding it to a warm foot soak is not only good for your feet, but it promotes a sense of calm that always helps while you are giving your feet the time they need to heal.
How to Use the Foot Soak Essential Oils
Generally a few drops of the essential oil are added to warm water with epsom salts
. A little baking soda is also a common addition it foot soaks, as it absorbs odor and is said to support healing.  You should soak your feet for at least 15 minutes.
It is suggested you use a carrier oil
as well to aid in distribution and to help moisturize the skin of the feet. That is nice if you are using a simple bowl or bucket to soak in.
I don't use a carrier when using a bubbling or vibrating foot spa
. I am not keen on the film it can leave. A foot soak is usually just the first step of treatment for me. I pat dry with a towel and then  immediately exfoliate any rough areas on my feet. I moisturize them after that.
Foot Scrubs are also great choices for keeping your feet in top shape. Use some of the essential oils suggested here to make your own salt scrub for your feet.