This DIY Frankincense Myrrh Soap makes a fantastic Christmas gift.  After all, it contains two out of the three gifts of the Magi. The recipe is easy and makes a good sized batch of soaps.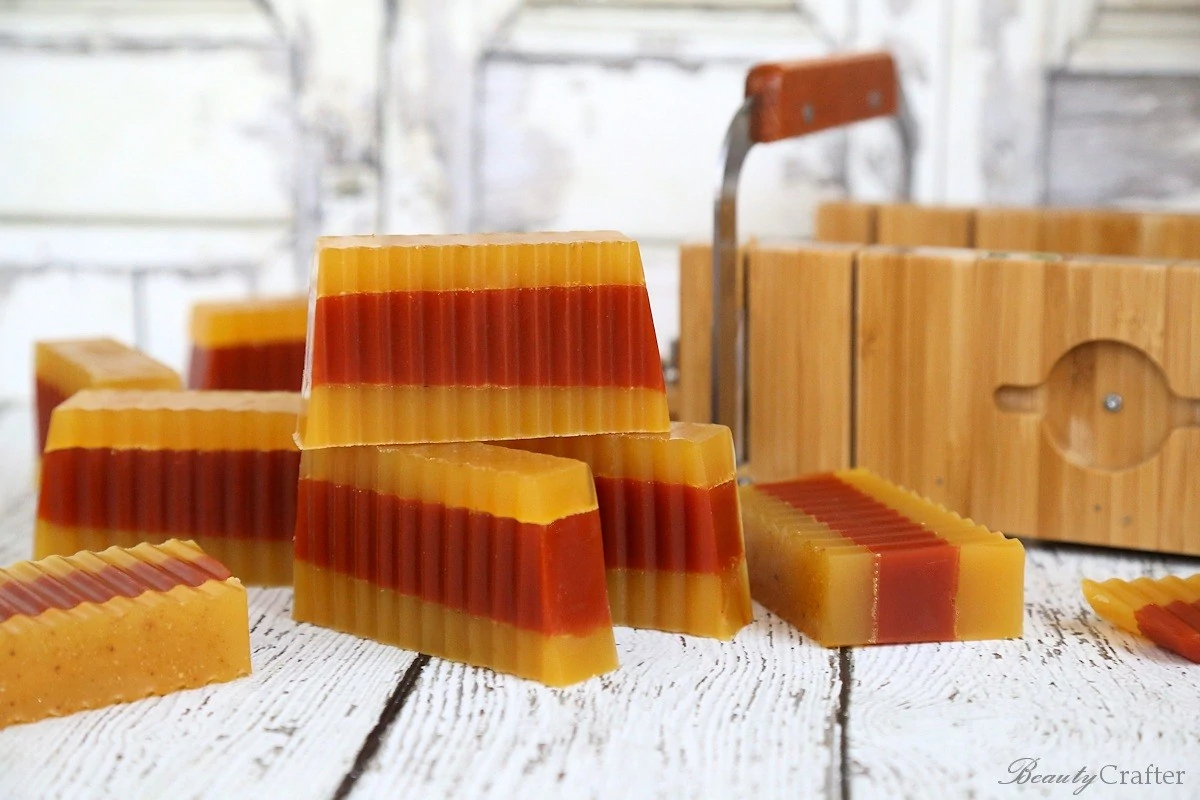 I chose to keep the two frankincense and myrrh in separate soap layers colored to match the tree gum resins they are derived from. I think it makes for a nice look for the finished soap bars. A honey soap base is used and the soap is also accented with a slight orange scent.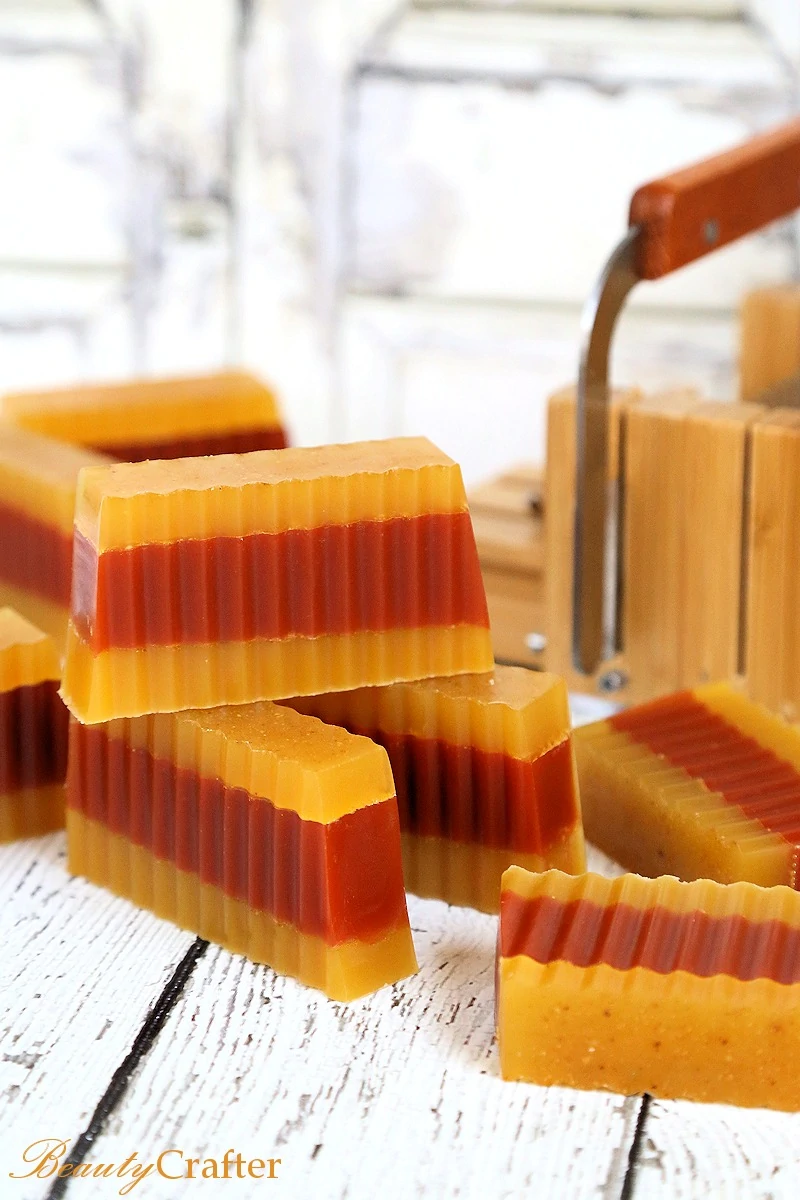 Making DIY Frankincense Myrrh Soap
The melt and pour soap base is split into two batches. One is tinted with yellow oxide pigment, then scented with frankincense and orange. Half of that batch is poured into a silicone loaf mold.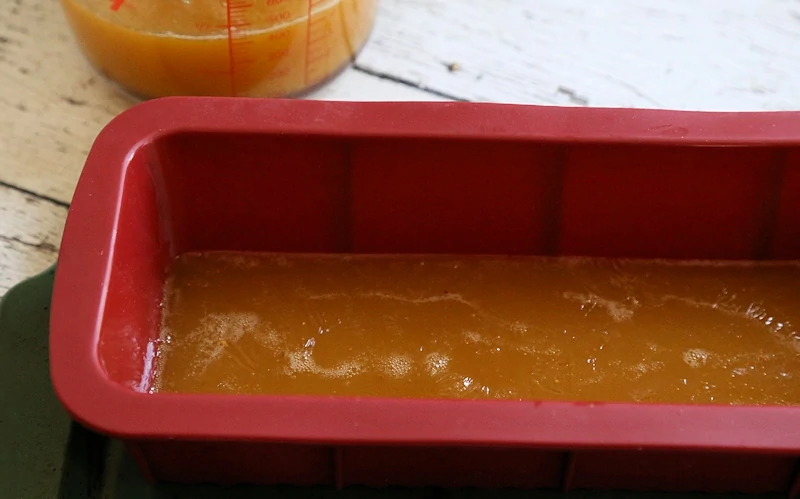 The other half the soap base is tinted with  Red Iron Oxide pigment and scented with myrrh and orange essential oils. That batch is poured over the bottom layer, then topped with the remaining frankincense batch once it has firmed slightly. Once the soap has cooled it is removed from mold and cut into bars.
Benefits of Frankincense and Myrrh Soap
Frankincense
Frankincense is a great de-stressor. The essential oil also has anti-inflammatory properties that are healing to the skin. It is a natural antiseptic, which is always good in a soap and frankincense has also been shown to fight the signs of skin aging.
Myrrh
Myrrh essential oil, like frankincense is a relaxing addition to bath products. It is antibacterial and antifungal combatting infections of the skin. The oil soothes damaged skin too.
Grab Your Ingredients for Frankincense Myrrh Soap:
&
Frankincense and Myrrh Essential Oil Combo Pack 100% Pure, Best Therapeutic Grade Essential Oil - 2/10ml
Pifito Premium Honey Melt and Pour Soap Base (3 lb) - Natural Vegetable Glycerin Soap Base - Excellent Hand Soap Making Supplies
Mineral Matte Oxide & Shimmer Mica Powder DIY For Soap Making, Cosmetic, Candle Making, Nail Art, Resin Jewelry, Artist, Acrylic and other Craft Projects. Set 2 & 1 (3) Gram Jars
McCormick Gourmet Orange Peel, 1.5 oz
You will also need a 3 lb Silicone Loaf Pan and a Soap Cutter (and large glass measuring cups are ideal for melt & pour soap making):
&
Freshware CB-103RD 12.5-inch Large Silicone Mold/Loaf Pan for Soap and Bread - 1 PC
Biowow Adjustable Wood Soap Mold Loaf Cutter with Cake Cutting Tool
Pyrex Prepware 1-Quart Measuring Cup, Clear with Red Measurements
&

If you like this easy soap project, you may also like my Orange Clove Soap or perhaps my Cranberry Sugar Scrub. For other layered soap options check out my spice soap and vanilla mint soaps.
Print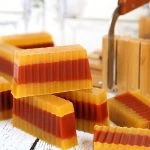 Frankincense Myrrh Soap with Orange and Honey
---
Description
Here is the recipe for this homemade Frankincense and Myrrh soap. A perfect choice as a Christmas gift, just like the wise men brought.
---
---
Chop the soap base into smaller pieces and weigh into 1 ½ pound batches. Place each batch into a microwave safe bowl or large glass mixing cup. Add red pigment and ½ tbs of orange peel to one and yellow pigment with 1 ½ tbs of the ground peel to the other.
Microwave the batch you prefer for the outer stripes for 40 seconds, stir and repeat in 10-20 second intervals just until the soap is melted. Remove and gently stir until the pigment distributes fully and the color enrichens. It will not seem like enough pigment at first, give it time to develop.
Once color is rich enough for your satisfaction add half to bottom of loaf pan and set aside to cool until a firm skin has developed on the top.
While that layer is cooling: Prepare the other batch of soap mixture in the same manner as above. Once fully developed, pour over the first layer. Once again allow to cool until a firm layer has developed on top of soap.
Reheat the remaining soap for last layer, just enough to be pourable (you may wish to add a few more drops of oil as fragrance will dissipate a little). Pour final layer, then allow soap to fully cool.
Once completely cooled soap will be firm. Remove from mold and slice into ¾" to 1 inch wide bars. Store in air-tight packaging or containers for gifting or until ready to use.