This DIY Peppermint Sugar Scrub is a fantastic homemade gift idea for your friends and family. It's festive and bath and body gifts are always appreciated. I even included free printable labels, that I designed to fit a mason jar lid. You can make these jars of homemade essential oils body scrub, complete with labels, in under 15 minutes.
These filled mason jars make super easy Christmas gifts that your recipients will actually use! The homemade peppermint sugar scrub recipe is easy to make with simple ingredients and is great for those on a tight budget this holiday season.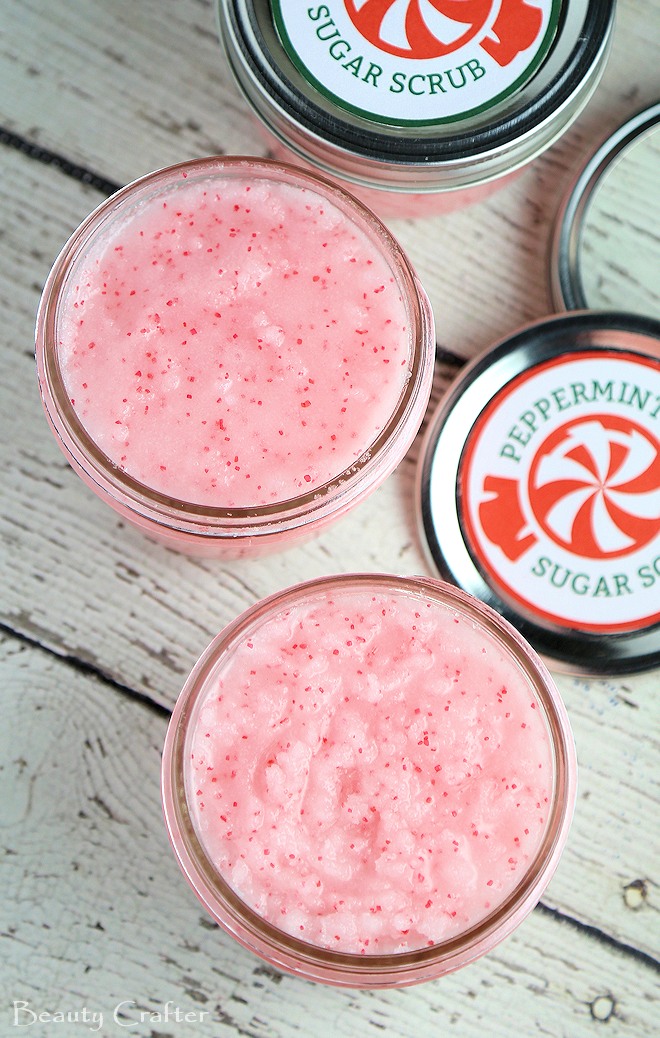 Homemade Peppermint Sugar Scrub
While homemade sugar scrubs are a lovely gift idea any time of year, they especially appreciated in the winter months, December through February, when many of us struggle with dry skin. This homemade exfoliating scrub will slough off dead skin cells and nourish skin with beneficial oils.
Natural peppermint oil scrub in particular is perfect for gift giving during the holiday season.  Peppermint and candy canes have long been associated with Christmas after all.
Sugar & Color
I wanted to make this scrub simple to make, yet pretty when you open the jar.  I decided to simply use red sugar sprinkles
mixed in with the regular white sugar
for ease and effect.
The overall sugar scrub does get pale pink tint to it, but the red sugar crystals hold on to most of their color. The flecks of red against the pink are attractive in my opinion. I also find it easier and less messy to use the sprinkles rather than food coloring. I did the same in my Peppermint Bath Bombs too.
If you prefer not to use the red sugar, then simply tint half the white sugar scrub with red food coloring. Layer the two colors into your jars to create a candy cane effect. Even better make a batch of each!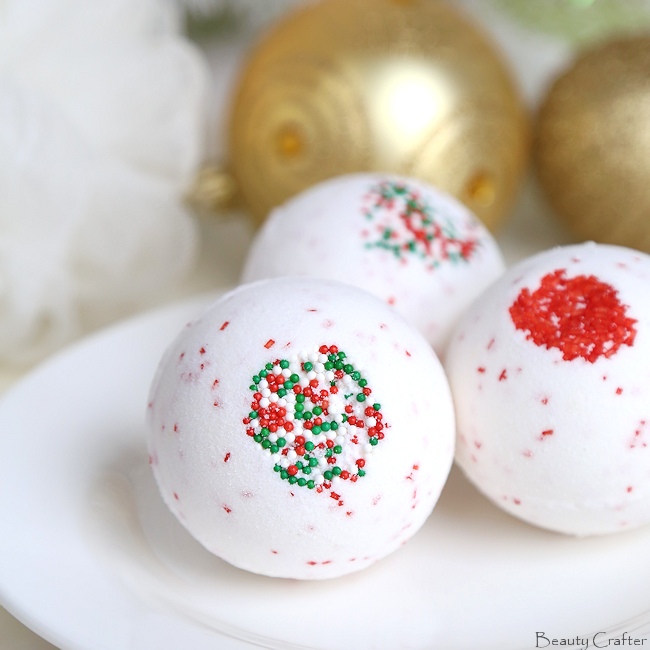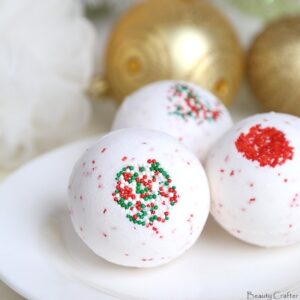 Oils & Scent
It can get pretty chilly around here in New England (yes, even inside our homes). I chose to use a combination of refined coconut oil
and fractionated coconut oil
as the fats in this scrub recipe.
I use fractionated coconut oil since it is a liquid form of the oil. It doesn't solidify at cooler temperatures, making it easier to apply the scrub. I've used it in many of my sugar scrub recipes.
The standard refined coconut oil adds richness, added nutrients and a silky feel to the finished sugar scrub. I also think the combination of oils gives it a little more of a glistening slightly translucent look too.
Of course, peppermint essential oil
was used to scent this scrub. This oil is invigorating with a nice fresh scent making it great to use in an exfoliating scrub.
Can I use peppermint extract?
In a pinch, especially it you are making the scrub for yourself extract will do. I really don't recommend it though. Peppermint essential oil has a much better scent and is more effective. Just a few drops peppermint essential oil would equal a teaspoon of extract and last much longer.
The scent is not as strong, dissipates quickly and won't provide benefits like the oil. The essential oil is inexpensive and readily available. There is really no reason not to use it except as a last resort.
Can I use other oils?
Yes, but it is best to use ones with no scent of their own to conflict with the mint. Almond oil, avocado and olive oil are popular choices with skin benefits. If using olive oil I recommend a light or classic oil rather than extra virgin, which has too much scent and color to it.
How long will a homemade sugar scrub last?
Stored in a sealed jar this peppermint sugar scrub should have a shelf life of about 4-6 months.
NOTE: Coconut oil lasts a long time and has antimicrobial properties, if you are using a different oil, it may not last as long.
Peppermint Sugar Scrub Labels
To give the project a completed look, I designed these fun labels to glue on the lids or jars. I suggest getting your jars ready first.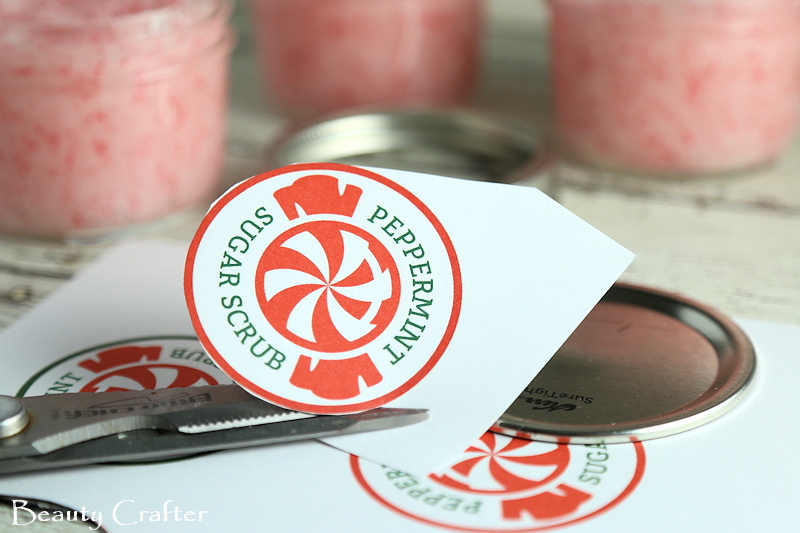 When printed on a regular sized sheet of cardstock paper you will get labels just the right size for wide mouth jelly jar lids. The thicker weight of card stock ensures the labels are durable and adhere well without the glue causing issues. I used 110 lb bright card stock this time, but anything over 60 pounds should work fine for labels.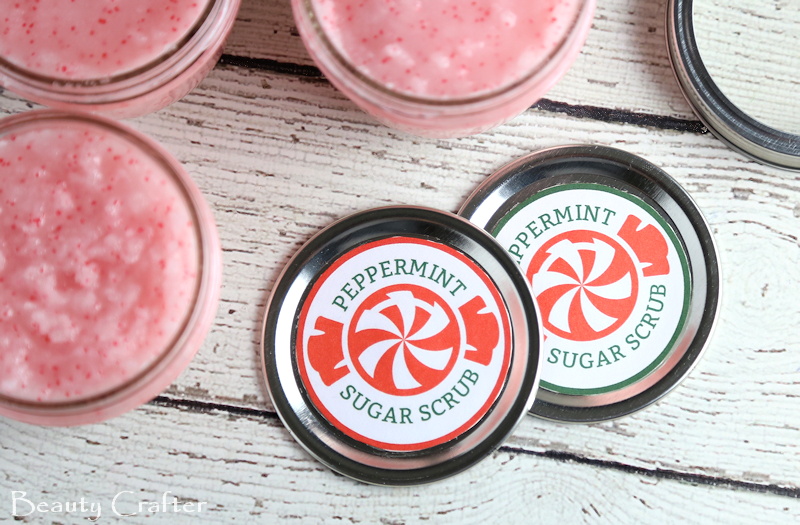 The Peppermint Scrub Labels print with half with red outer circle and half with the green option. Tie on ribbon or baker's twine under the mason jar cover to add gift tags.
Grab your Supplies!
Pint the full DIY peppermint sugar scrub instructions with measures below.
Everything you need to make the peppermint scrub, except regular cane sugar:
Peppermint Essential Oil. 100% Pure, Undiluted, Therapeutic Grade. (10 ml)
Wilton Holiday Sprinkles 4-Pack
Nutiva Organic Coconut Oil, Refined, 15 Ounce
Viva Naturals Fractionated Coconut Oil, 16 oz - Ultra Hydrating Oil, Hexane-Free
Some things you may need when packaging the body scrub:
Ball Mason 4oz Quilted Jelly Jars with Lids and Bands, Set of 12
Neenah Paper 110 lb, 8.5 x 11", 250 Sheets, White, 94 Brightness
.... and don't forget printer INK!
How to Make Peppermint Sugar Scrub
Once you have your jars ready, here is how I made the scrub.
First, dump the white sugar into a large bowl and mix in the red sugar sprinkles.
Next, melt coconut oil if it has solidified (this will take just a few seconds in the microwave). Add it along with the fractionated oil and drops of peppermint essential oil to the sugar and stir well to combine. (Yes, you can just use regular coconut oil).
Scoop into your mason jars, wipe off any excess and make sure your hands are not oily before you handle the lids.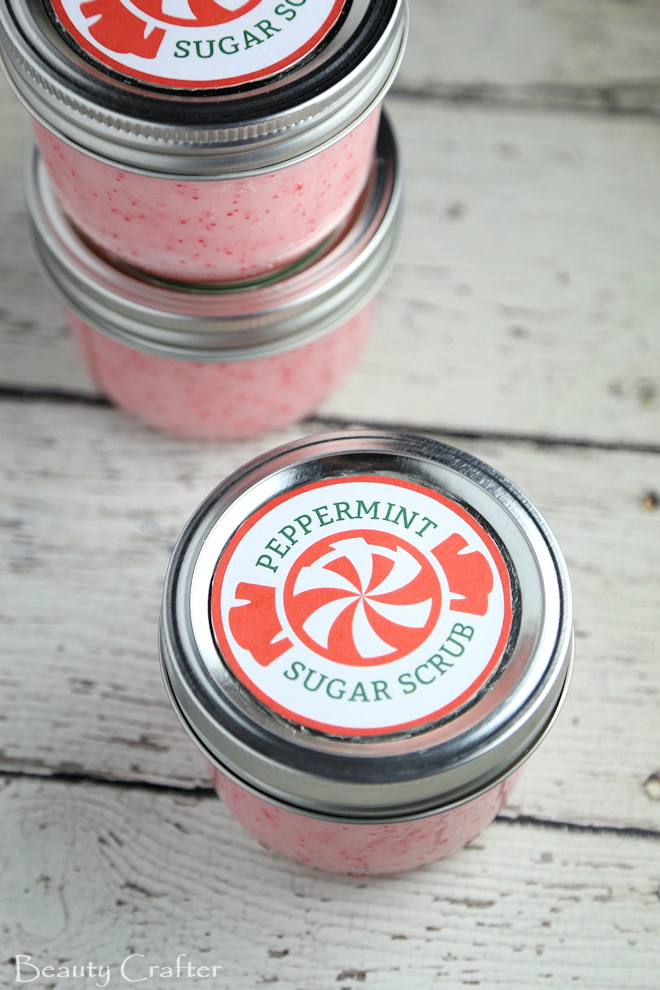 For an even more deluxe gift idea... make my Gingerbread Scrub recipe as well and some soaps or bath bombs. You will soon have plenty to fill Christmas gift baskets and stockings!
Print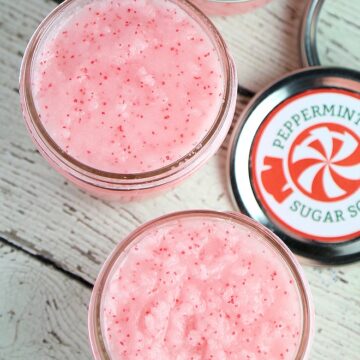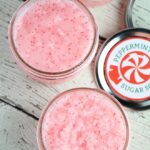 Peppermint Sugar Scrub Recipe
---
Description
This easy peppermint scrub recipe makes three half pint jars of the body scrub. The craft can be completed in less than 15 minutes, making it perfect for the hectic holiday season.
---
---
Print and cut out the labels. Adhere them to to the jar lids with a thin coat of glue. Set aside to dry, while you mix up the scrub.
In a med-large mixing bowl, whisk the red sugar crystals into the regular sugar.
Mix in the coconut oils and peppermint essential oil. If your refined coconut oil is hard, soften it a little before mixing it in.
Once the mixture is smooth and ingredients are evenly distributed, scoop the scrub into the jars, filling almost to the top. Place lid on each and screw on the ring.
Prep Time:

10 min

Cook Time:

0 min
Keywords: peppermint scrub