A Himalayan salt scrub with essential oils is a great homemade natural skin care product that is sure to leave you with fresh glowing skin! Add this salt scrub recipe to your personal care routine and it will feel like a spa day at home any day!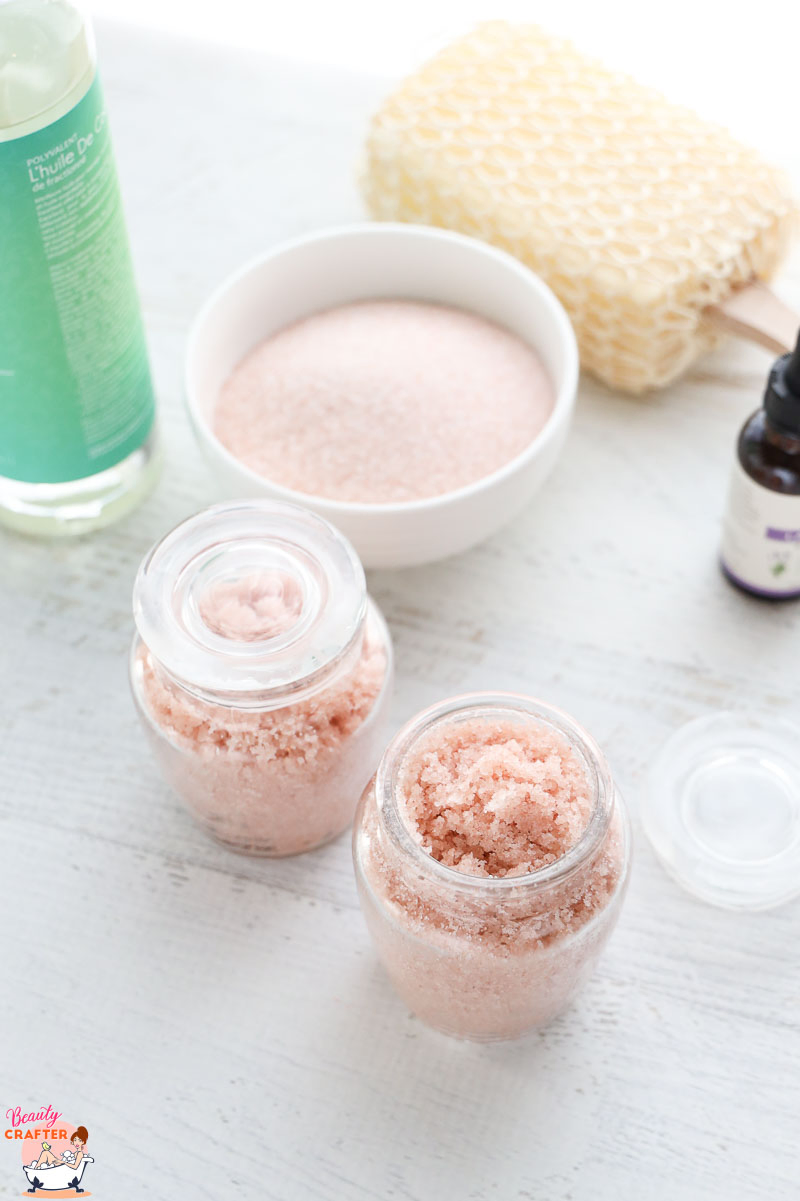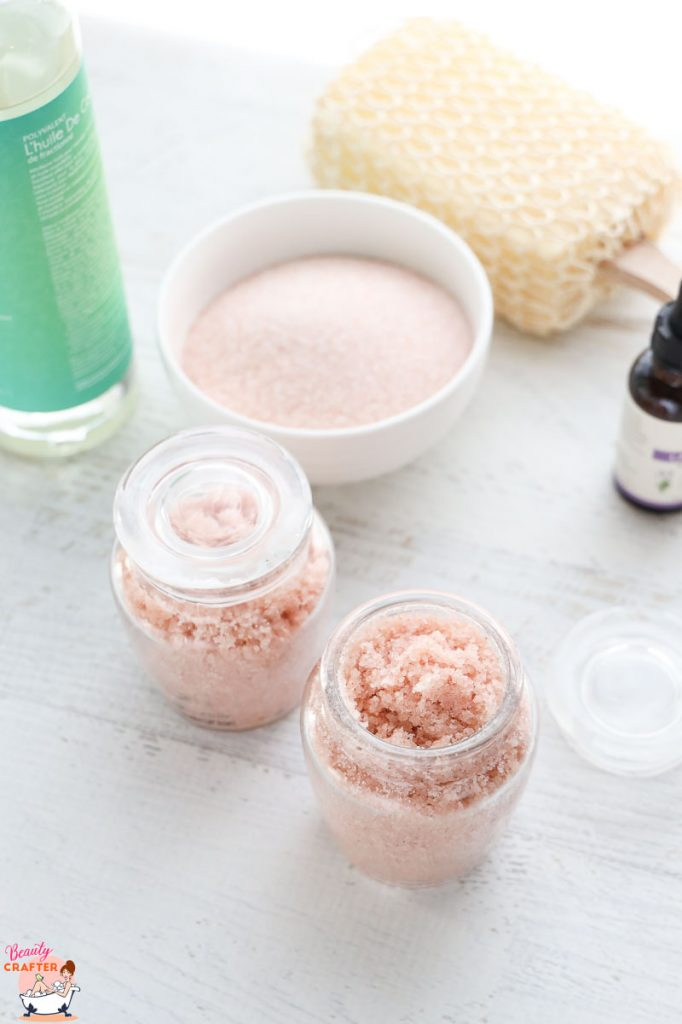 If you enjoy making your own natural products for skin care DIY pink salt scrubs are a must try. They can help with a host of skin issues and leave skin feeling soft and silky.
What is Himalayan salt scrub good for?
Of course, you will want to know what the benefits of using a Himalayan salt scrub are before you buy or make one this scrub. Here are the reasons you will want to start using these body scrubs pronto.
See my guide to choosing between Salt Scrubs vs Sugar Scrubs if you are not sure which is better for your needs.
Exfoliating
Like all salt scrubs a pink Himalayan salt scrub is great for exfoliating dead skin. This opens clogged pores and combats acne and other blemishes. Removing dead skin cells exposes fresh skin and allows oils, moisturizers and other skin treatments to absorb more readily.
Can you exfoliate your face with salt?
While I Generally recommend sugar scrubs for the face, if you use a fine grit salt and avoid the eyes using a salt scrub occasionally is OK. Be aware it can make skin dry.
Cellulite
The pink Himalayan salt body scrub will also help reduce the appearance of cellulite. Sloughing off dead skin cells and sealing skin with moisturizing oil alleviates dry skin problems and helps with resiliency. Many products promise a cure, that is not realistic. While this salt scrub won't get rid of cellulite, it will make the bumps will be less noticeable after scrubbing and for at least a day or two after.
Minerals and Negative Ions
Real Himalayan pink salt mostly sourced from Pakistan, contains more beneficial minerals than sea salt and comes in a lovely natural pink color.
Natural salt reacts with the air and water releasing negative air ions and creating a relaxing spa like atmosphere. More on that in my salt lamps article.
If you are more interested in relaxing than freshening your skin, you may like my soothing Pink Himalayan Sea Salt and Rosemary Bath Salts, no scrubbing involved.
DIY Himalayan salt scrub
It is so easy to make this DIY Himalayan salt scrub. This homemade natural skin care product has just two primary ingredients, and oil. The base salt scrub ingredients are pink Himalayan salt and any typical essential oils carrier oil. Almond, olive or coconut oil are the most common choices.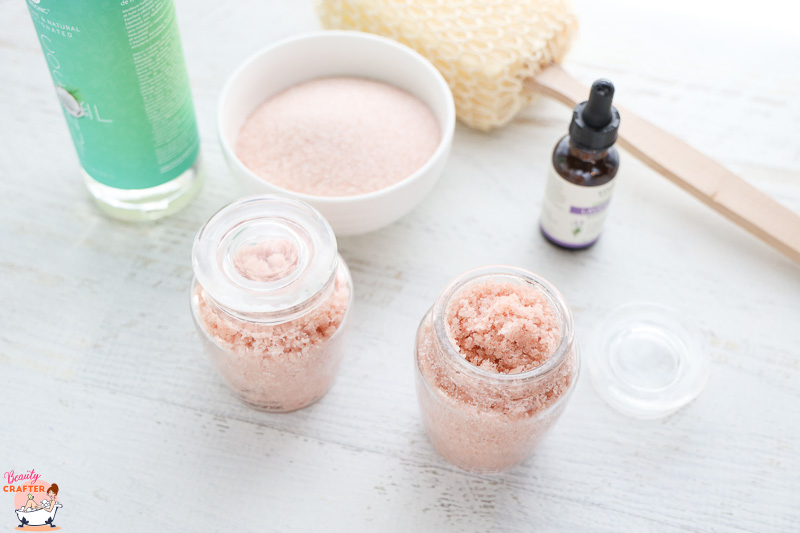 While it makes a fabulous body scrub, it is also nice used as a foot scrub, see my Essential Oils for Foot Soaks article for appropriate essential oils for this use.
How do you use Himalayan salt scrub?
So, you are ready to have that silky glowing skin yourself. Using this body scrub to freshen dry skin is super easy.
Start a warm (not hot) shower or bath. Too hot and the more of oils in both your skin and the scrub will wash down the drain.
After a few minutes your skin will have softened from the water, that is when you start to apply the body scrub.
Grab a small amount of the scrub in your hand (a tablespoon or two), and start massaging it on your skin using circular motions. Focus on the feet, knees and elbows, as those tend to be rough areas. Then gently exfoliate the rest of your body.
Once you have finished scrubbing rinse to get the salt off. Get out of the shower or bath and gently pat dry.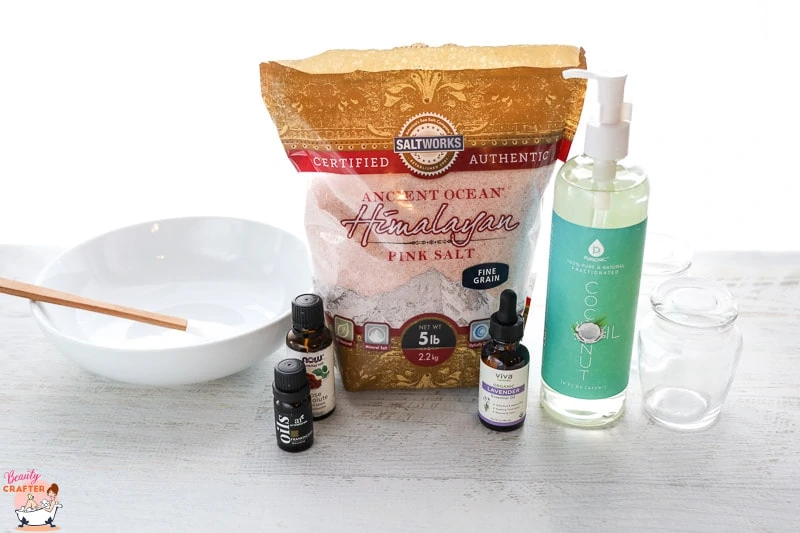 Print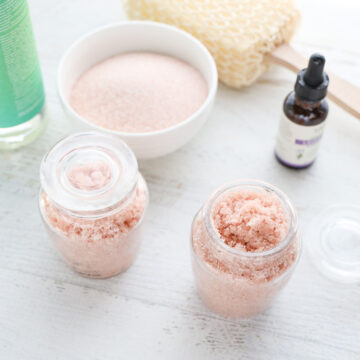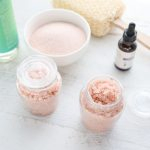 Pink Himalayan Salt Scrub Recipe
---
Description
An easy salt scrub recipe, to help you achieve beautiful skin.
Makes 2-3 applications. A ½ cup should be plenty for each use of the scrub.
---
---
If you are using coconut oil and it is solid, gently warm it until it melts.
Put the the salt, oil and essential oils in a medium bowl. Add the other oil if are choosing to use one. Mix well.
Scoop into an airtight glass jar for storage.
Keywords: himalayan salt scrub