Yes, I have Poop Emoji Bath Bombs for you today! No one will even complain when they receive these lil stinkers as a gift. Not only are they cute, they also smell like hot cocoa in your bath!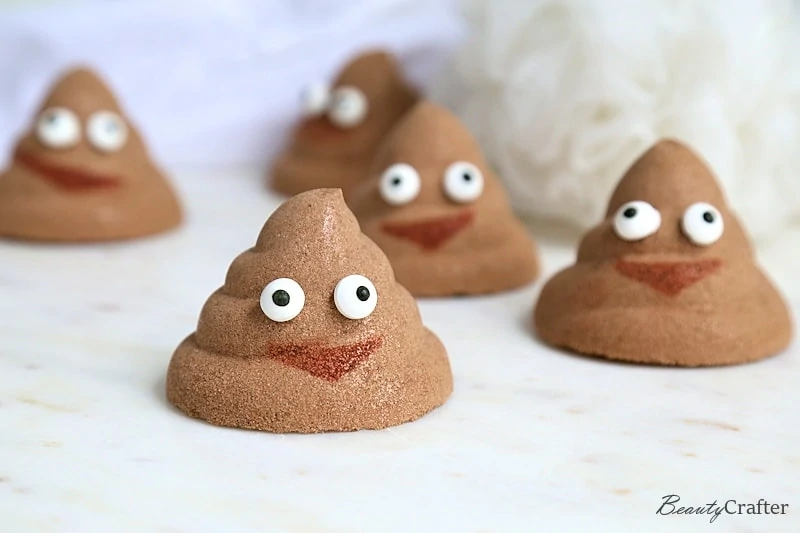 Poop Emoji
Poop emoji have become pretty popular these days and not just with the kids. There is something adorable and odd about a little pile of poo gazing at you with a friendly smile. He also sort of looks like a swirl of chocolate soft serve ice cream. According to Emojipedia "Pile of Poo was approved as part of Unicode 6.0 in 2010 and added to Emoji 1.0 in 2015." In that short time the character has steadily gained popularity. There are all sorts of Poop emoji products
available.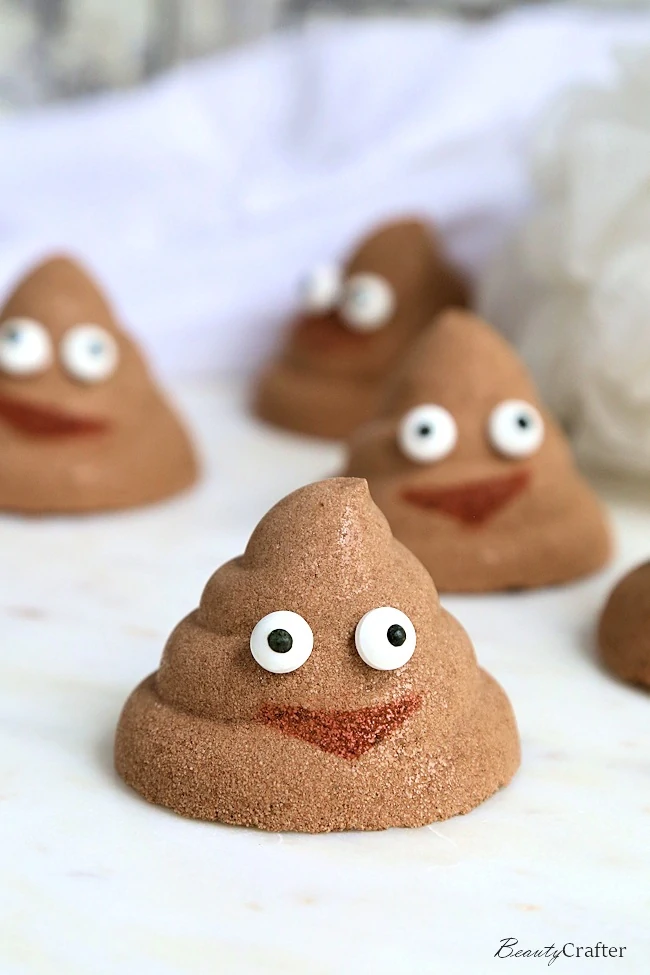 Poop Emoji Bath Bombs
These bath bombs are mighty cute despite their identification as poo. While I love the idea of them as a holiday gag gift, tweens are actually having having themed birthday parties centered around the character. These bath bombs would make a great party favor. The bath bombs get their brown color from cocoa powder, which was swapped in for the typical cornstarch binder. It worked like a charm and not only enhances the poop appearance, but dissolves well in the water, smells great and has skin benefits too.
Making Poop Bath Bombs
The only wet ingredients used in the bath bombs is vanilla essential oil
(oleoresin) and a little water. I wanted to keep the bath bombs themselves simple. The mouth is edible spray paint
(though I think thinly rolled fondant might work well too. Candy eyes
are the finishing touch to create the iconic character,
The silicone mold
has room for 6 but the recipe makes 5, so pack all the mixture into those and leave one open. I chose to let them fully dry overnight in the mold, so the tops would not have breakage issues. Like any bath bomb project, don't make these on a rainy or very humid day.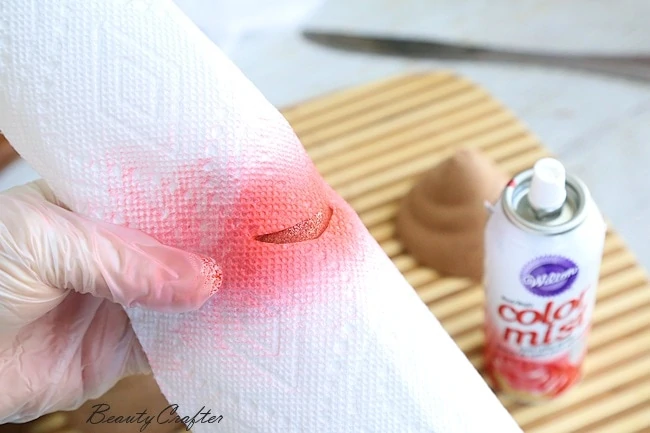 Let me be honest with you on this step. I really didn't even think about the mouth on these until they were out of the bath bomb mold. My first thought was to either cut them from fondant or pipe thick icing on... then I remembered my red can of Wilton Color Mist
in the pantry and decided stenciling on the mouths would be the easiest way to go. To avoid open space between stencil and the shape of the bath fizzy, I made these easy stencils out of paper towels. Simply fold a piece of towel and snip half the small mouth shape open and wrap around the poop bath bomb holding in position for mouth and paint in a few quick bursts. Make a new stencil for each pile of poo. You "may" be able to reuse a stencil once, but you don't want the saturation of the paper towel to ruin the shape.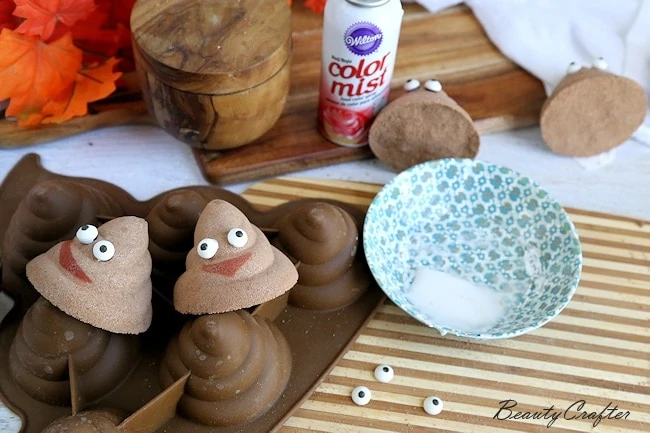 To adhere the candy eyes
I made a thick icing to act as a paste. I tried ready made squeezable icing first, as I had it on hand, but it is too thin for this. I didn't measure when making the icing. I just put a few tablespoons of confectioners sugar in a small bowl along with a tiny splash of water (like a ¼ tsp) and mixed. Then added a little more sugar to get it as thick as possible while still being able to dip the candies in. I then set the little poops sideways to dry, to ensure eyes stayed stuck.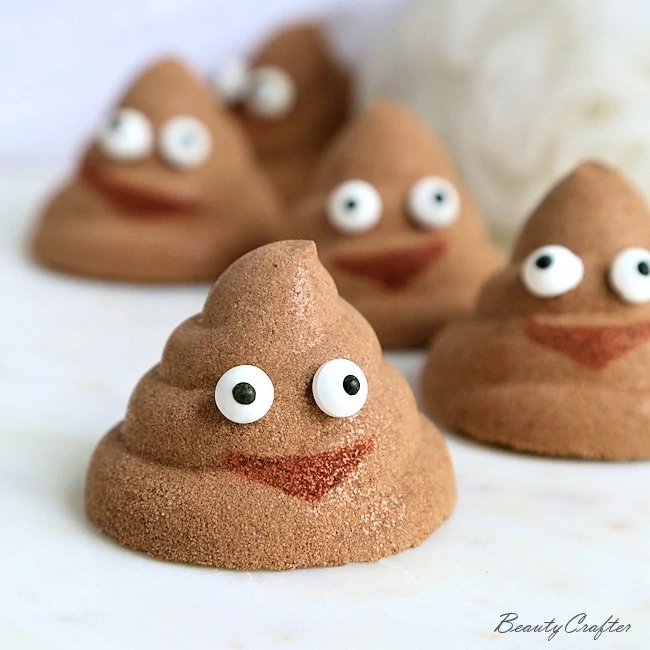 Ta da! Poop Bath Bombs.
Here are the products used which may be hard to find locally.  Baking soda, cocoa powder and confectioners sugar are widely available so not listed.

Print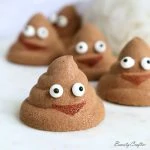 Poop Emoji Bath Bombs DIY
---
Description
The iconic Poop Emoji is now a DIY bath bomb project!
---
Poop Emoji Silicone mold
1 cup baking soda
½ cup citric acid
¼ cup cocoa powder
1 tsp Vanilla Essential Oil
(Oleoresin)*
1 ½ tsp water
Decorating
red
or white edible spray paint
paper towel (to cut stencils out of)
candy eyes
confectioners sugar
water
---
Mix the baking soda, citric acid and coco powder together. A blender or food processor is helpful to ensure their are no clumps.
Mix in the vanilla oil and water. Make sure to be stirring while water is added, to minimize the reaction.
Scoop mixture into 5 of the mold cavities pressing down to compact as you add. The recipe should make exactly 5. if you have any left compact more.
Set the mold with bath bombs aside to dry.  I suggest waiting until they are fully dry before unmolding (at least a few hours). The top of the swirl may be prone to breakage otherwise.
Once dry, pop the poops out of the mold. Cut a few smile stencils out of paper towel. Put on a glove** and hold the towel stencil onto the bath bomb.
Mix a few drops of water into confectioners sugar to create a thick icing. Dip the back of each eye candy into the icing and stick it in position on the poop bath bomb. Turn the little characters on their side, with help of towel, mold, etc. This ensures the eyes stay in place while drying.
Notes
* Rose Absolute
would be a great substitute for the vanilla oil. It pairs well with the chocolate scent. There is also something amusing about little poops that smell like roses.
**glove is merely to keep your hand clean. Edible spray paint is not toxic, but doesn't readily wash off either.
DIY Novelty Bath Gifts
Here are a few more cute DIY bath gift ideas.