Bath bombs with rings inside are very popular right now. Jewelry bath bombs are an off-shoot of the candles with similar surprises that have been around for awhile.  The surprise ring bombs provide more instantaneous gratification and of course a luxurious bathing experience. Today, we are making DIY gift that is sure to be a hit!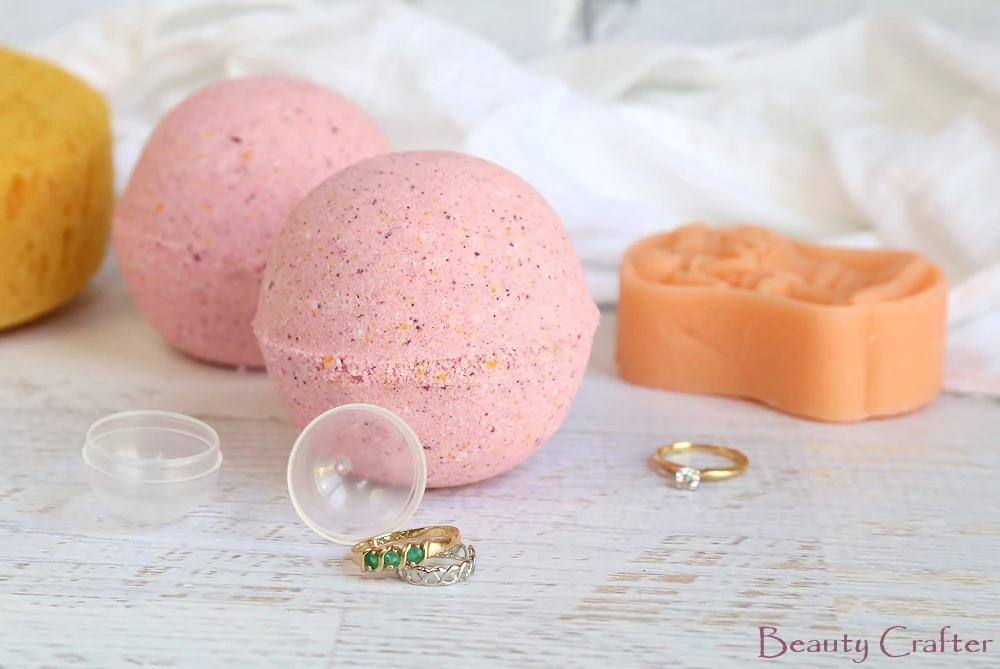 Bath Bombs with Rings - Why Make Your Own
You may be thinking part of the fun of getting a ring bomb is the possibility of getting a ring with a high retail value, like companies such as Fragrant Jewels tout. Obviously those are extremely rare to find though. If you make your own bath bombs with jewelry you can select a ring or other piece of jewelry specifically for the recipient. You can also make a larger batch of rings inexpensively for craft sales or a ring bomb party.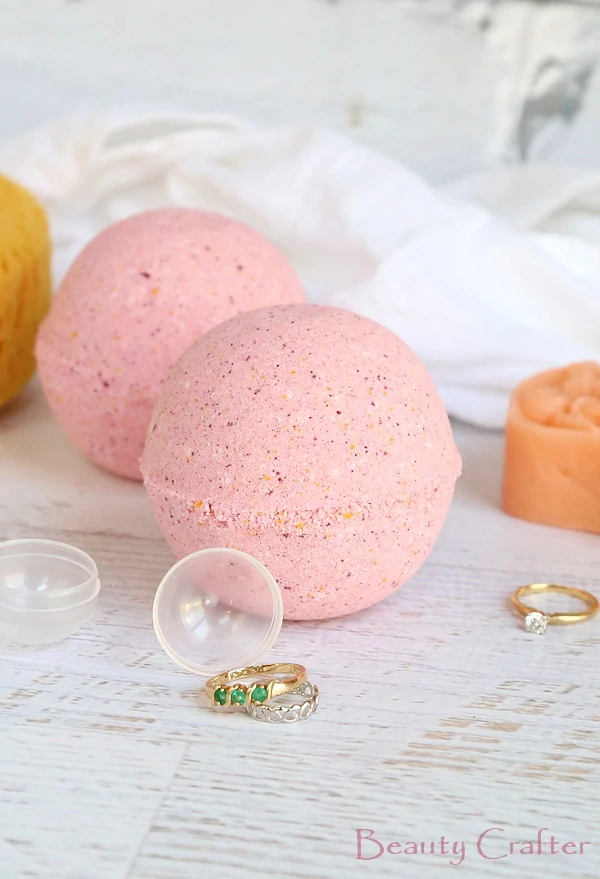 Ring Bomb Party!
There are actually three ways you could have a ring bomb Party:
DIY Ring Bombs Party
This type of party is great for teens or crafty grown-ups.  Simply gather up enough supplies and set up some stations to make these homemade bath fizzies. It would be great shortly before a holiday such as Christmas or Mother's Day. Since each party goer with leave with a finished jewelry bath bomb.
I would suggest buying bulk plastic molds to shape the bath fizzies for a party like this. The DIY bath bombs will not be fully dry when the party ends, and they can remain in the molds to take home that way.
Fun Jewelry Bath Bomb Party - Great for Birthdays!
Making your own bath bombs with rings inside is an affordable way to provide each guest with a fun gift to go home with. The best part though is that you can choose the jewelry or a toy surprise that will go in the bath bombs to suit the party theme or age group. A simple silver ring would be appropriate for any age and makes a nice gift.
The rings pictured in the video below are actually silver toe rings, that I bought with this sort of party in mind. I thought they would be perfect for tweens, teens and grown ladies for the spring and summer sandal months. They are adjustable in size and most of us don't expect them to be high value as they are easily lost at the beach. No matter what your recipient finds in theirs, it will make bath time fun!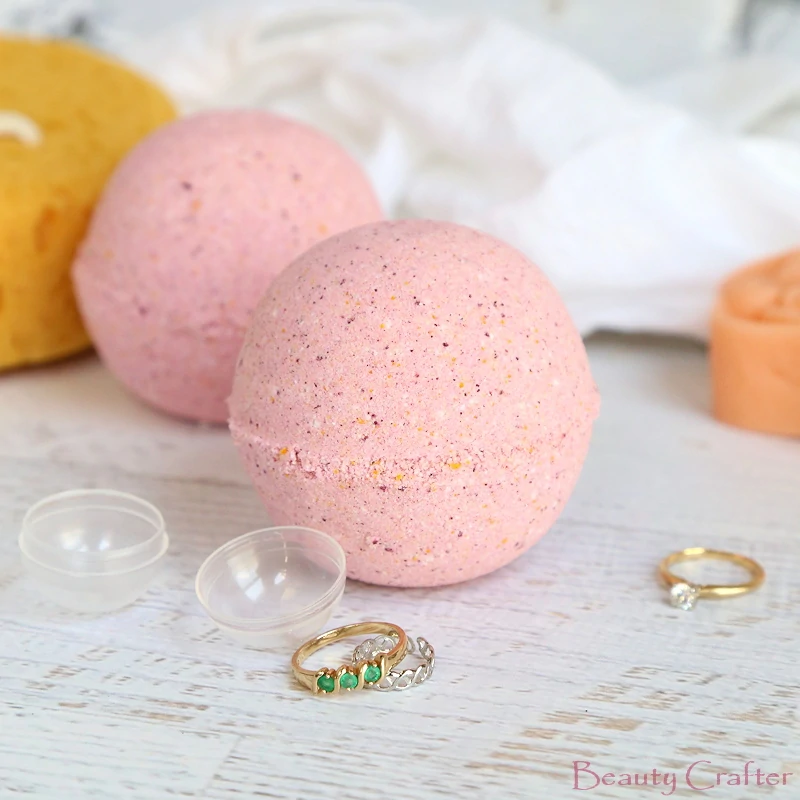 Ring Reveal Bath Bombs Party
If you are a crafter and making these bath bombs with rings in them to generate income, then parties much like the MLM companies use for promotion could be a great way to make sales. Bring along a bunch of bath bombs for sales and a few extra to reveal at the party. It would also be a nice tie-in for those who sell essential oils or other bath products.
Bring some white porcelain bowls to reveal the bath bomb surprises in. That is how I show bath bombs in water on this site, as I have a peach colored bath tub.
Bath Bomb Making & Ring Reveal Video
Here you can not only see how to make these bath bombs but watch as we reveal how the ring is safely inside a vending capsule, which floats to the top of the water for easy retrieval. (check out the bath bomb video, now in the recipe section to see how a ring bath would be)
Making the Bath Bombs with Rings
While I have included the recipe for the bath bombs shown in the images and video of this post you could really use any of my bath bomb recipes. Maybe some Mermaid Bath Bombs with sea themed rings inside or my Rose DIY Bath Bombs for presenting a special ring. A layered homemade bath bomb recipe would also be a great choice. The bergamot vanilla bath bombs I made for this do smell absolutely divine though.
Jewelry Bath Bombs Supplies
What you need to make any homemade bath bombs into bath bombs with rings inside.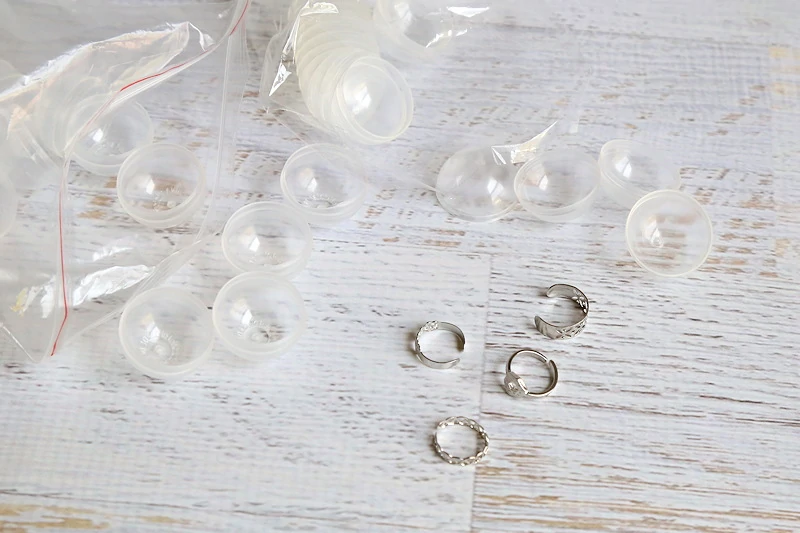 Vending Capsules
Rings and other jewelry inside each bath bomb needs to be protected from the reactive ingredients used in making the bombs. The reaction could ruin the finish on metal jewelry. This is best done being sealing the jewelry in a vending capsule.
These are the capsules I used and recommend. Larger acorn capsules can be used if necessary, but be mindful to leave a lot of room to spare in your bath bomb molds
.


Jewelry Surprises
Depending on the capsule used some pieces and larger ring sizes may not fit, so be mindful of that when making your selections. I was able to comfortably fit my size 7 diamond ring and size 8 emerald ring in the capsules suggested above.
Here are some fun inexpensive surprise options to fill your bath bombs with rings:


Print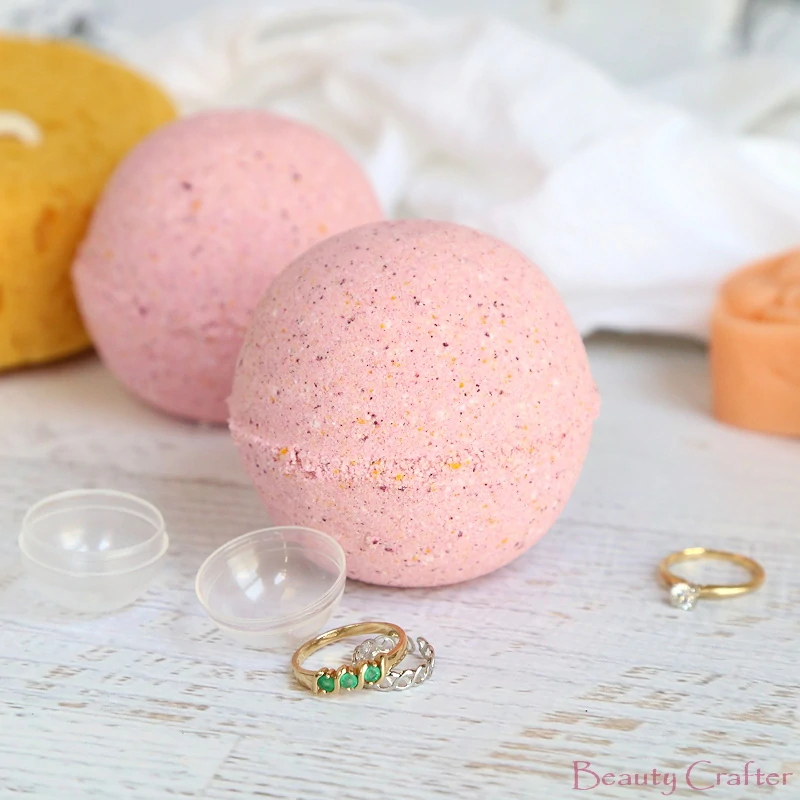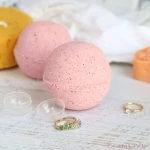 DIY Bath Bombs with Rings Inside
---
Description
Homemade bath bombs with rings are really quite easy to make and so fun! Make sure to protect the jewelry you place in each from the reactive bath bomb ingredients when making them though.
---
---
Enclose rings in the plastic capsules before mixing the bath bomb ingredients.
Whisk dry ingredients together first.
Then mix in the oils and the emulsifier if using one.
Add water in small amounts ¼ teaspoon at a time until the mixture is relatively dry and crumbly yet is damp enough for a loose clump to hold together when squeezed in your hand.
Divide the mixture if you want two colors and mix in colorant in each batch. The two colors can either be gently mixed together or layered when assembling the bath bombs. Varying color patterns will not always show in bath water.
Gently pack one side of bath bomb mold, then add the jewelry capsule and cover with a little more of the mixture. Pack and overfill other side, then firmly press together and give a slight twist. Gently remove from mold to dry.***
Allow to air dry until hard, then seal in airtight packaging.
Notes
*any light oil such as fractionated coconut oil, almond oil or argan oil can be substituted for one or both oils used here.
**I have not had issues with tub staining from bath bombs, but I have a ceramic tub. If making these for a party or sales it is probably prudent to add one of these emulsifiers. polysorbate 80 is the standard one used and likely the most effective, but I have tested liquid lecithin as a natural option and the heavily colored bath bombs did not stain the plastics nor ceramic I tested on. Lecithin powder is also available and may make for a great option in bath bombs, but I have not tested it yet.
***If bath bomb breaks, it the mixture mat be a little too dry or the mold wasn't packed with enough mixture.
Keywords: bath bombs with rings, bath bombs with rings inside, jewelry bath bombs
Of course if this seems too much for you, no worries there is a wide selection of bath bombs with rings in them available right on Amazon.