What is fractionated coconut oil and how is it different from refined or virgin coconut oil? Learn all all you need to know about the fantastic oil and it's uses in hair and skin care in this guide.
Chances are you've probably come across this oil as an ingredient in a DIY recipe or a natural beauty product. It's a popular carrier oil for pure essential oils and is commonly used for topical application in lotions, scrubs and massage oils.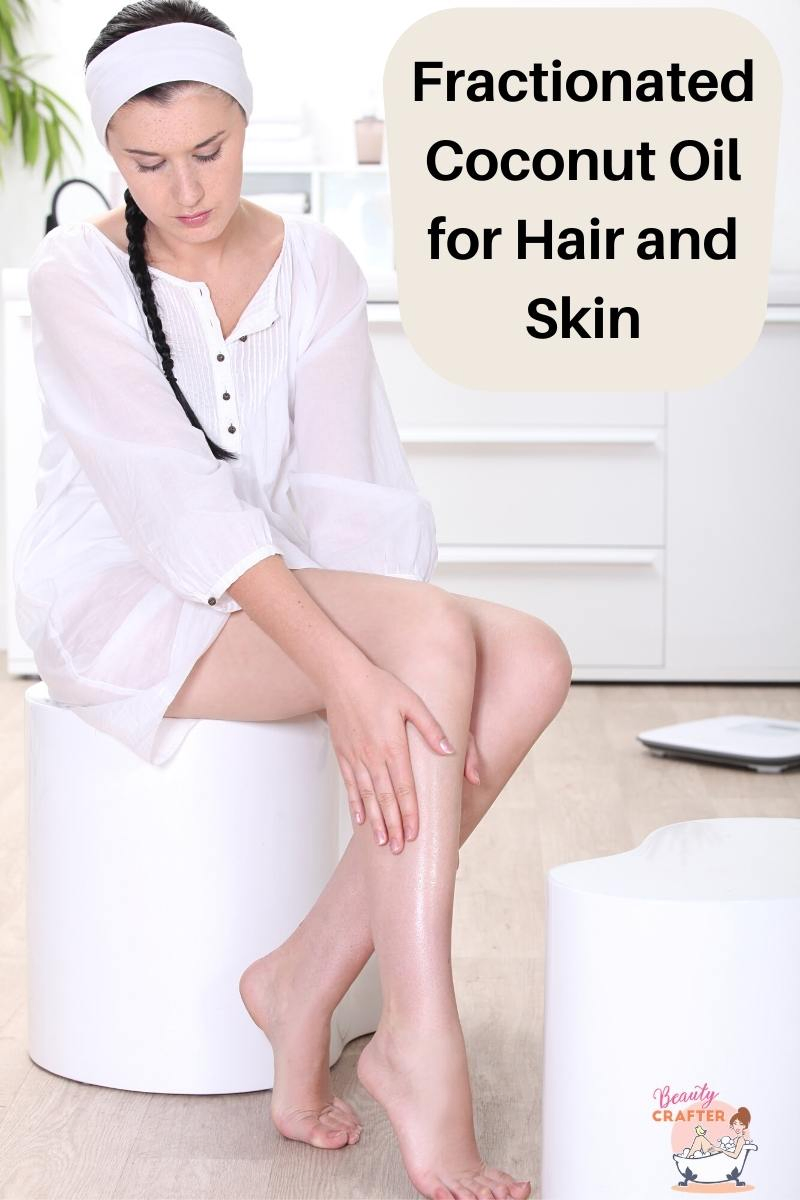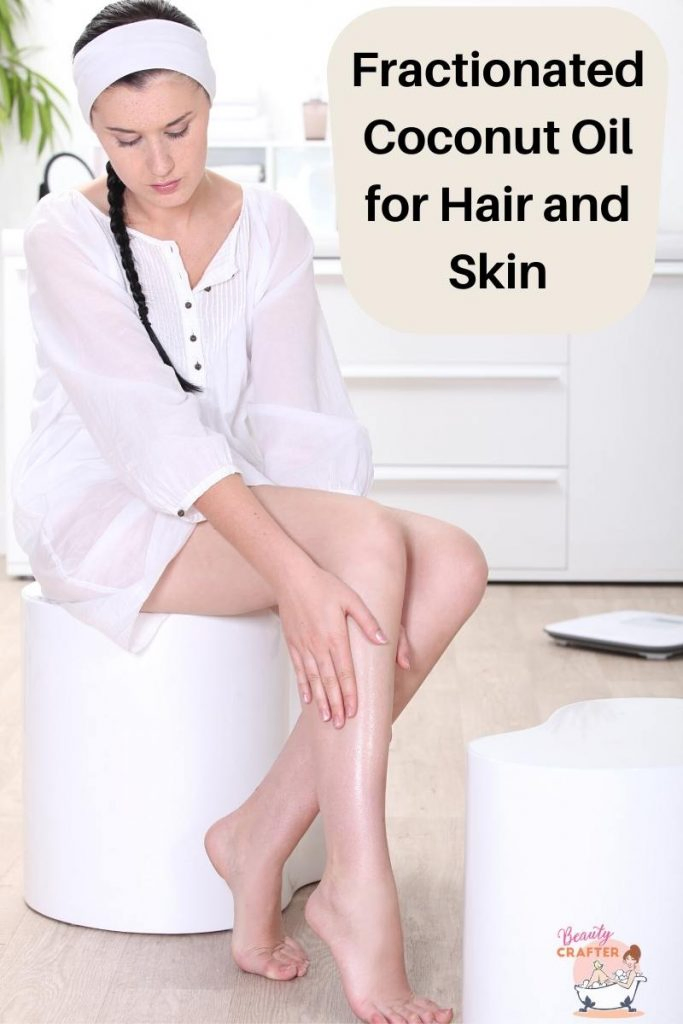 This guide will walk you through everything you ever wanted to know about fractionated coconut oil. It is a great way to bring the health benefits of coconut to your beauty routine.
What is Fractionated Coconut Oil?
Fractionated coconut oil starts as regular coconut oil (cocos nucifera). Through the fractionation process it's it's  long chain fatty acids are removed. This leaves mostly medium-chain triglycerides.
The oil is now completely saturated fat. It has a very long shelf life and greatly increased stability. Coconut oil processed this way will remain in a liquid state, unlike other types which solidify at common room temperatures.
So it's oil from coconuts but changed through the fractionation process to remove elements of it.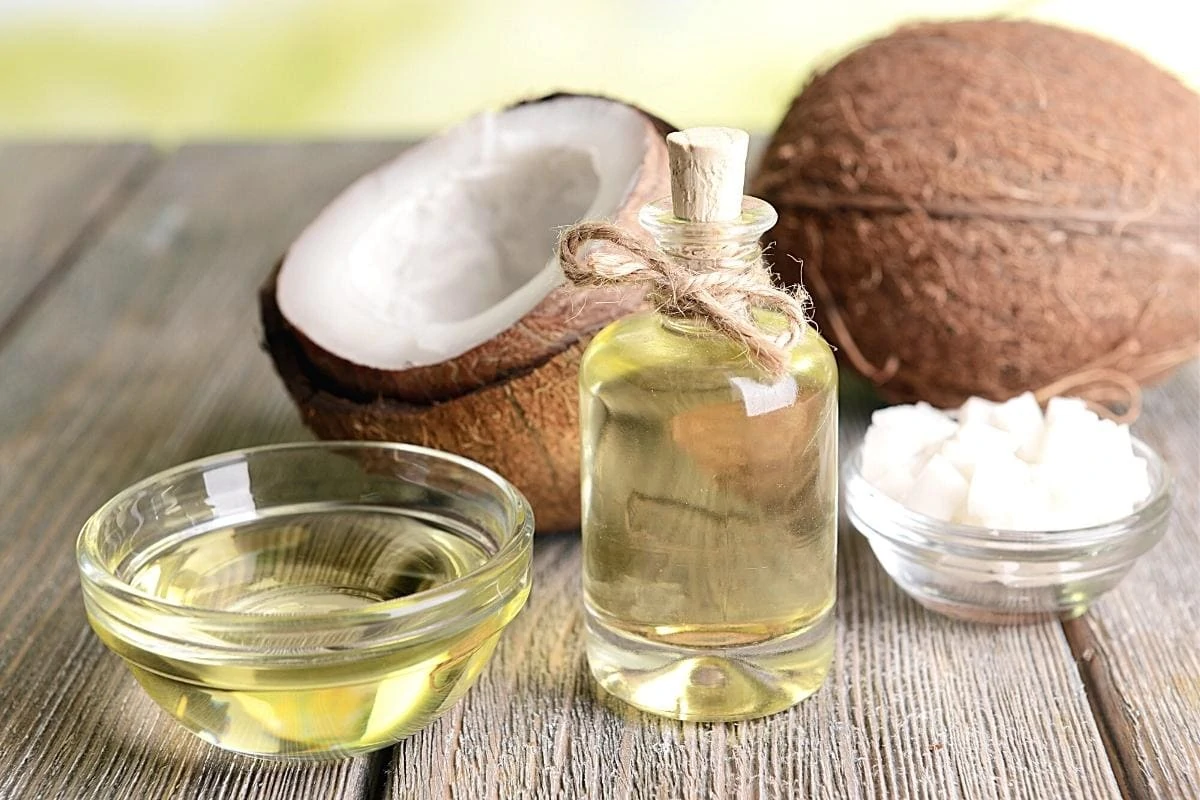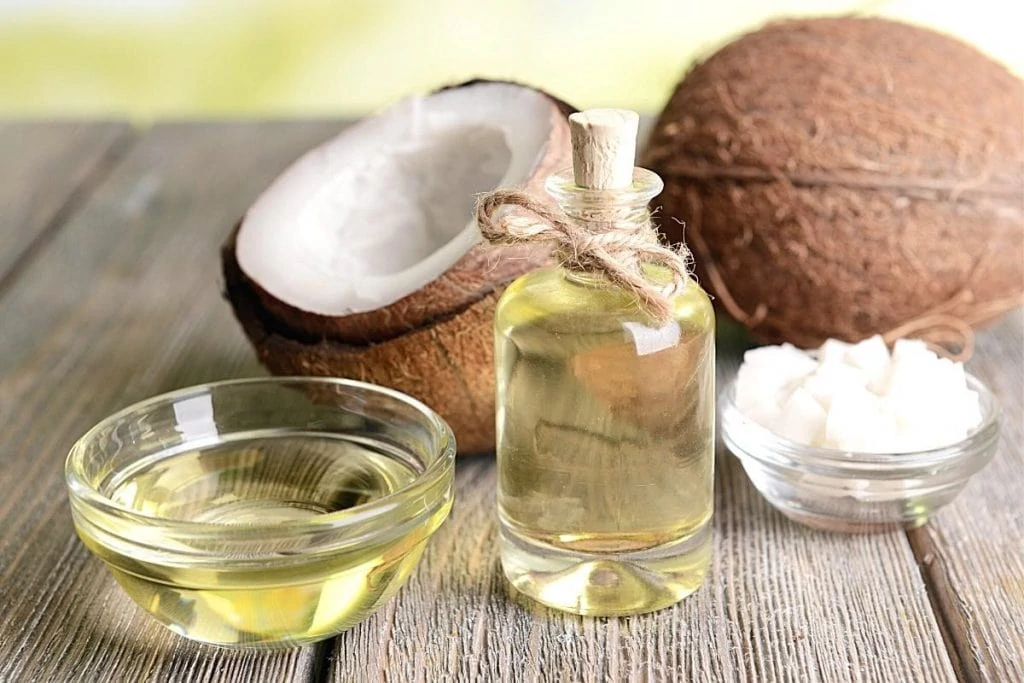 Fractionated Coconut Oil vs Coconut Oil
There are a few differences between regular coconut oil and medium chain fatty acids (caprylic acid and capric acid) rich Fractionated Coconut Oil.
The biggest difference is the texture. The fractionated oil is always liquid at room temperature, but virgin or refined coconut oil is a solid that will melt into a liquid at the right temperature. Unless your room is a bit on the warm side regular coconut oil will be solid.
Another difference is that virgin coconut oil more closely resembles the original state of coconuts. It even smells like coconut. Refined loses that characteristic and fractionated is odorless.
Unfortunately fractionation of coconut oil removes the lauric acid naturally present in regular coconut oil, so don't count on it for antimicrobial properties.
Is Fractionated Coconut Oil Edible?
You can cook with regular or virgin coconut oil fat, so can you eat fractionated coconut oil?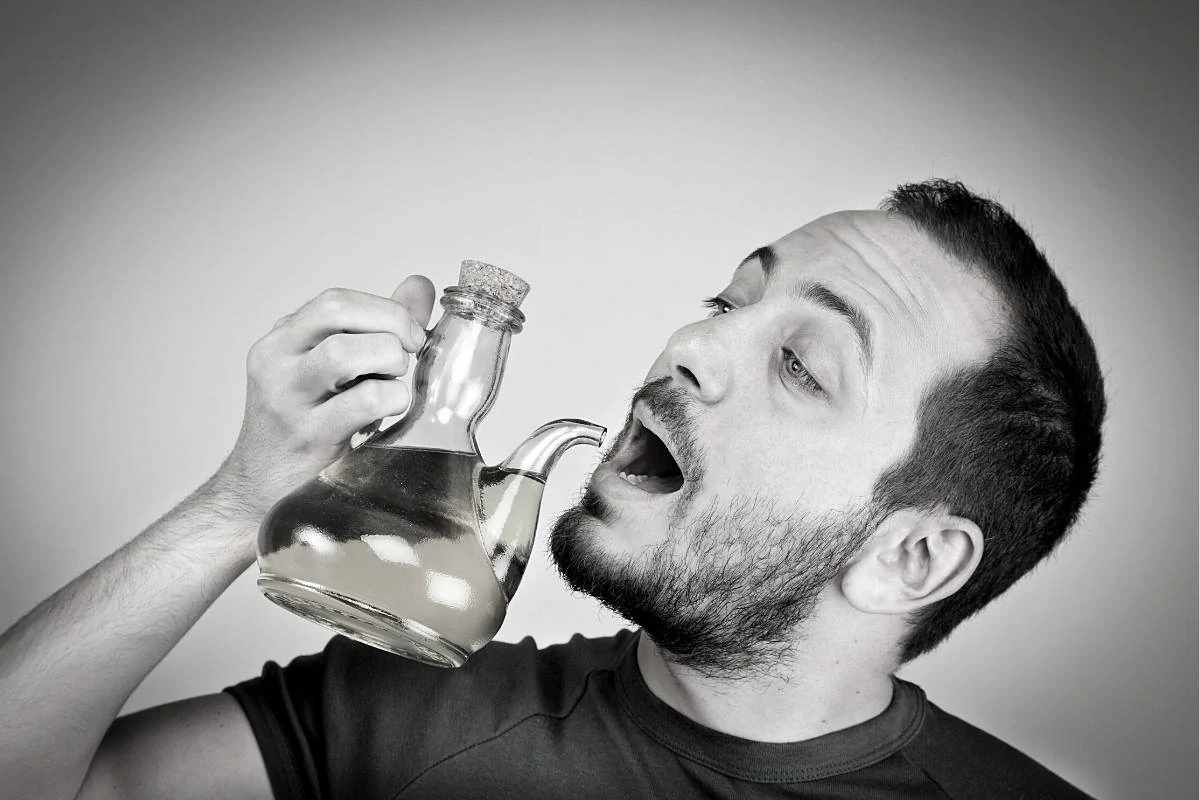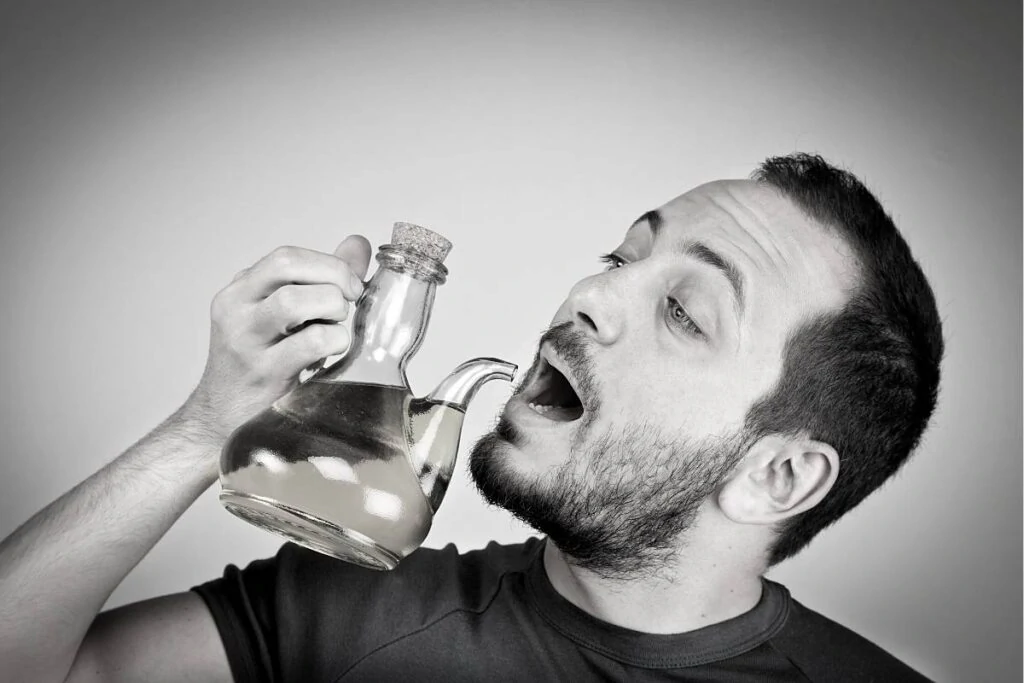 No, you cannot and should not consume fractionated coconut oil. Always read the labels. Almost all of them will say "external use only." This is because the fractionation process used to extract the medium chain triglycerides may leave hexane residue behind making the oil inedible.
Fractionated coconut oil is mostly used for use on the skin and hair.
MCT Oil and liquid coconut oil are edible, and popular with the Keto weight loss diet.
Liquid coconut oil and MCT oil are exactly the same thing as fractionated coconut oil only they are produced in a stricter food safe manner. "MCT." This stands for medium chain triglycerides. You can also look for hexane-free or organic on the labeling to ensure safety.
Fractionated Coconut Oil Uses and Benefits
There are a lot of uses for this amazing form of coconut oil, and all of them have to do with your skin and hair. Since it is made up of just the MCTs from the coconut, it nourishes and protects them. This makes it a fantastic carrier oil and addition to your essential oil recipes.
Fractionated coconut oil has many benefits for skin and hair. Here's how to use .
As A Carrier Oil
The most popular way people use it is as a carrier oil. What is a carrier oil? It's a way of diluting strong essential oils so they aren't as potent.
Coconut oil fractionated to maintain a consistent liquid form mixes perfectly with the essential oils. It also readily absorbs into the skin.
It's also a really effective carrier oil because it has the perfect amount of fatty acids that help the essential oils nourish the skin.
Fractionated coconut oil is almost as important as the oils themselves. It has the fatty acids your skin and hair crave and will help dilute the powerfully pure essential oils.
For Shinier Hair
Fractionated Coconut oil, like argan oil, is fabulous for maintaining a luxurious mane! The benefits of adding this oil to your homemade natural hair care products are well worth it.
Coconut oil that is fractionated easily penetrates the hair follicles. This feeds them with much-needed moisture and conditioning. Using a little bit of it on your damaged hair will leave it looking shiny and healthy.
You can either use the coconut oil in the shower as a hair conditioner or apply to damp hair afterward as a leave-in conditioner.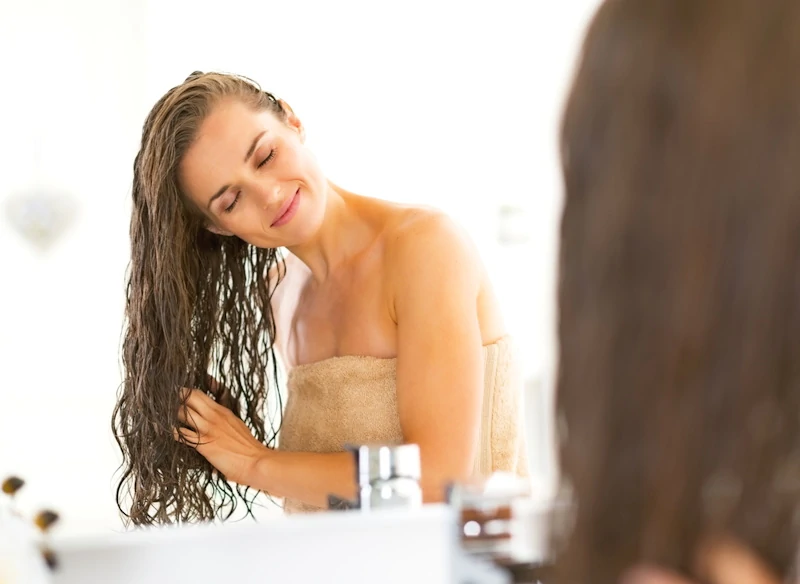 TIP: Fix a shampoo or hair conditioner that is not moisturizing enough by adding a teaspoon of fractionated coconut oil and shaking vigorously. You make need to shake each time you use it as the oil has been emulsified into it.
Team these Essential Oils for Hair Growth with fractionated coconut oil for amazing results!
Is fractionated coconut oil better for skin?
Finally, this is one of the best ways to moisturize your skin. Because of the extraction process, you are left with a lightweight moisturizer, great as a body oil and in a host of DIY skin care products, like sugar scrubs, lotions and massage oils. It softens and soothes cracked or dry skin and the oil helps avoid stretch marks.
Although it lacks lauric acid, it is non-comedogenic, meaning your skin absorbs it easily without causing clogged pores. So it leaves your skin feeling hydrated and smooth instead of greasy. This makes it a great oil for use in homemade blemish treatments. Team it with some essential oils for acne and keep breakouts at bay.
One of the best ways to incorporate fractionated coconut oil into your skincare routine is to create your own exfoliating salt scrub. Not only will it help remove the dead skin, but it will nourish your new skin underneath. This leaves you with silky soft skin.
It is a good oil choice to use in DIY Makeup Remover Pads and is my favorite massage oil base, just add your favorite essential oil blend (skin safe).
Can you use fractionated coconut oil as lube?
There is some controversy over this. While many have found using fractionated coconut oil to be an effective lube, others warn against it. The warnings I have seen are related to mineral oil rather than coconut oil though.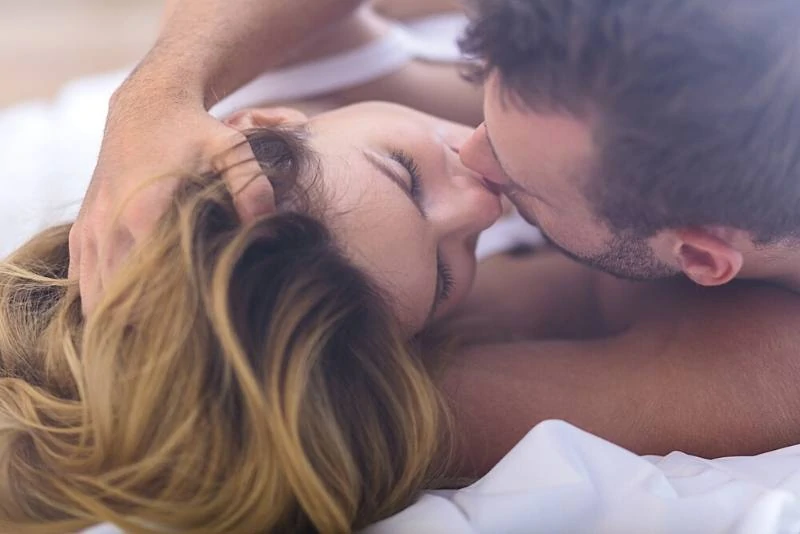 This highly absorbing type of coconut oil is less likely to stain bedding than other oils.
If you do choose to use it, don't add essential oil or other products to it that could irritate that delicate area. That could really spoil  a good time.
WARNING: Oils in general should not be used with condoms or many bedroom toys, as any oil can break them down.
Best Fractionated Coconut Oil
When you purchase fractionated coconut oil, it is important make sure it is pure. Some companies might use fillers, which could have different effects on your skin and hair. You also want to look for fractionated coconut oil listed as hexane-free. It is a residual chemical sometimes present in the oil.
If you have trouble finding one simple purchase MCT oil or liquid coconut oil produced for consumption. They are not allowed to contain hexane.