A salt scrub may just be the perfect way to slough away dead skin and leave your skin feeling soft and smooth. Here I will discuss the skin care benefits of salt scrubs, using them and how to make a salt scrub. Bring the spa experience home at a small fraction of the cost.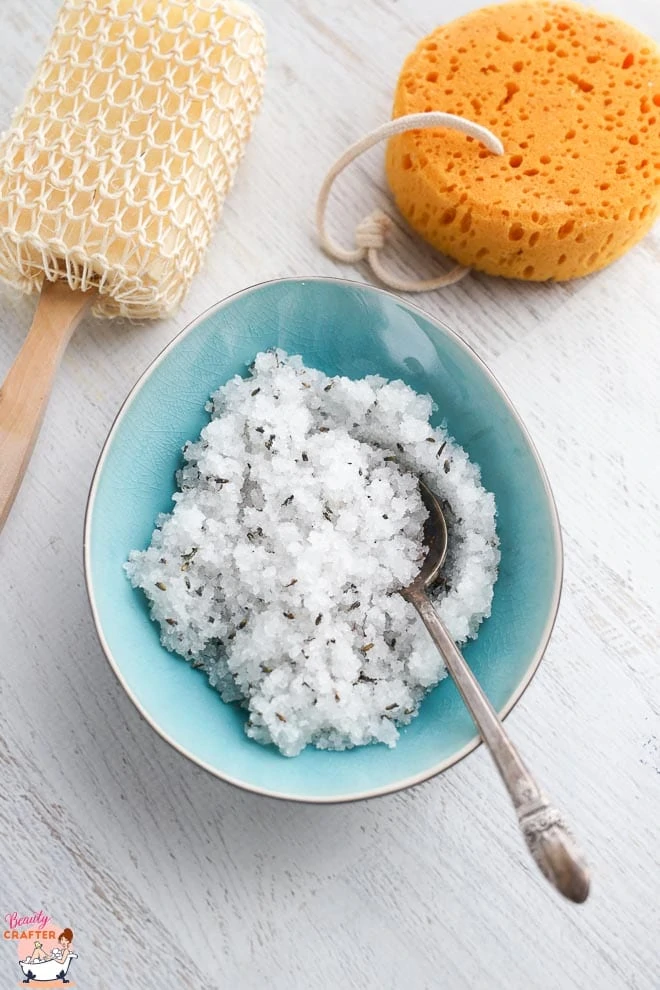 What does a salt scrub do?
The primary reason to use a salt scrub is to exfoliate. By removing dead skin through exfoliation the skin is left ready to absorb nourishing oils and other beneficial ingredients, such as essential oils. Removing the dead skin cells opens clogged pores and reduces the occurrence of skin blemishes on the body.
The scrubbing massage action is great for increasing circulation may be helpful in maintaining flow of the lymphatic system.  Regular use of salt body scrubs can reduce the visible appearance of cellulite, like dry brushing. The oils in the scrub will help seal in the moisture you need for healthy skin too.
Team salt with coffee for extra exfoliating an skin benefits, see my Coffee Scrub recipe.
Which is better sugar or salt scrub?
Both types are great choices, but in general sugar scrubs are used on more sensitive skin like on the face. A salt scrub is better suited for a body scrub due to the coarser grains and slower time to dissolve.
Some folks actually like to combine salt and white or brown sugar in their scrubs. These are nice for all over body scrubs and are good choices for those with rough spots, yet have sensitive skin.
See my earlier article for an in depth discussion of choosing between a salt scrub vs sugar scrub, and the benefits of each.
Is salt scrub good for face?
In general, I don't recommend using a salt scrub on the the face.
A sugar scrub would be better for the more delicate skin areas of the face. Of course, if to are using a fine grain table salt and stay mindful to keep away from eyes it is certainly feasible. Make sure the scrub has plenty of nourishing oil to not leave the face dry.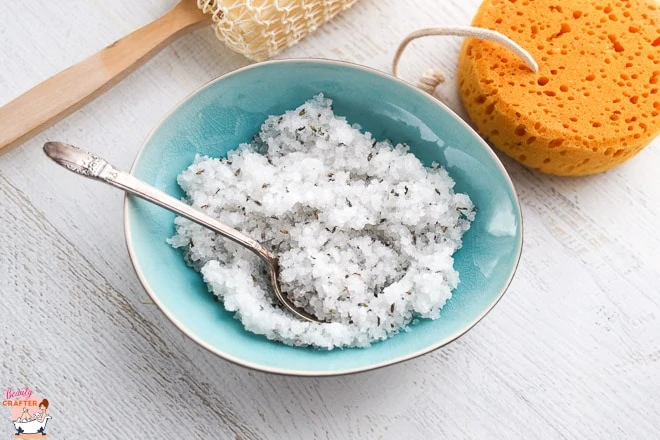 How do you make a salt scrub?
The ingredients used to make a homemade salt scrub recipe should be tailored to the issues you want to resolve. While I share a simple sea salt scrub below, you can create your own salt scrub recipe with this easy guide.
There are so many different combinations you can use to make a unique body scrub!
Using a simple 4 to 1 or 3 to 1 ratio mix of salt to oil, with one or two additions of choice you will be able to develop your own salt scrub recipes. Generally, ¼ cup oil to salt ratio works out well, but fine grain salt or thicker oil my require a little more.
Choose your Salt
Pick one salt to use in the body scrub. Plan on ⅓ to ½ cup of salt per use.
Sea Salt
Sea salt adds minerals and relaxes you due to to negative ions released into the air while you use it. It comes in various colors, which have different minerals in them. Skip to the Sea salt scrub recipe.
Himalayan salt
Himalayan salt has all the beneficial characteristics of sea salt, but with additional minerals in it and of course has a lovely pink hue to it. Learn more in my Himalayan Salt Bath Recipe, as well as my article on Himalayan Salt Lamps.
If you are a fan, try my Himalayan Salt Scrub recipe.
Epsom salts
Epsom salt (magnesium sulfate) is a great choice for a scrub to be used in the bath tub. It's softening and relaxing properties are well known. While this salt it is not the most absorbable form of magnesium it is still pretty effective.  See my article and recipe for magnesium oil.
Dead Sea salt
Dead sea salt is only sourced in one place and is world renowned for it's use in skin care. While typical sea salt is about 85% sodium chloride , salt from the Dead Sea salt is only around 30%.  Leaving it with a much greater composition of minerals and other salts.
While Himalayan salt and Dead Sea salt are my personal favorites to use in recipes, they are also unfortunately the most costly.


Pick an Oil for your Scrub
Use ¼ to ⅓ cup if oil per cup of salt in the scrub. Pretty much any essential oil carrier oil would work great, such as...
coconut oil and/or fractionated coconut oil (a liquid form of coconut oil) - Coconut oil is generally the preferred oil to use in scrubs. It is very nourishing to the skin and has a long shelf life. Fractionated coconut oil absorbs amazingly.
sweet almond oil - Sweet almond oil absorbs well and won't clog pores, a top choice for those prone to acne.
olive oil - Readily available in most homes, olive oil is also loaded with skin healthy Vitamins.
avocado or various nut oils
Salt Scrub Additions
10 to 20 drops of essential oil or fragrance oil per cup of salt used- Lavender oil is a popular and soothing choice but feel free to select from any bath friendly essential oils.
a teaspoon or two of Vitamin E oil
swap about ⅓ of the oil portion for shea butter for those with very dry skin
flower petals or dried herbs - stick to using ones small enough to wash down the drain or just a few larger pieces that are easy to remove after the shower or bath
mica powder or food coloring - just a tiny bit of either
coffee grounds
add a half teaspoon of turmeric powder to the scrub
matcha green tea powder
activated charcoal
a few drops of rosehip or carrot seed oils
Storing Salt Scrubs
It is best to store your salt scrub in a well sealed glass jar. This will ensure the essential oils and other ingredients don't dissipate before the scrub gets used. An airtight container also reduces the risk of the oil used going rancid if stored for an extended period of time.
In a pinch, a zippered storage bag will be good for storing for a short time.
This body scrub recipe is a great way to make an easy DIY gift, made with love. Salt scrubs are also pretty much fool proof. It is hard to mess up a scrub.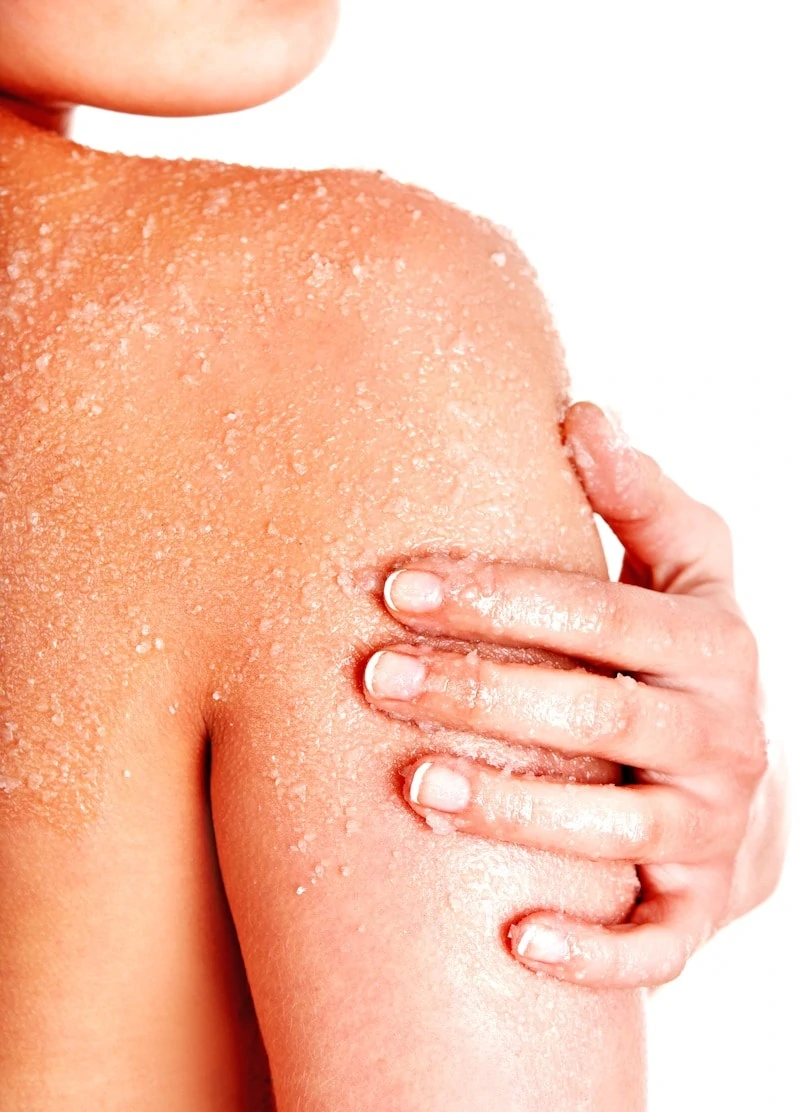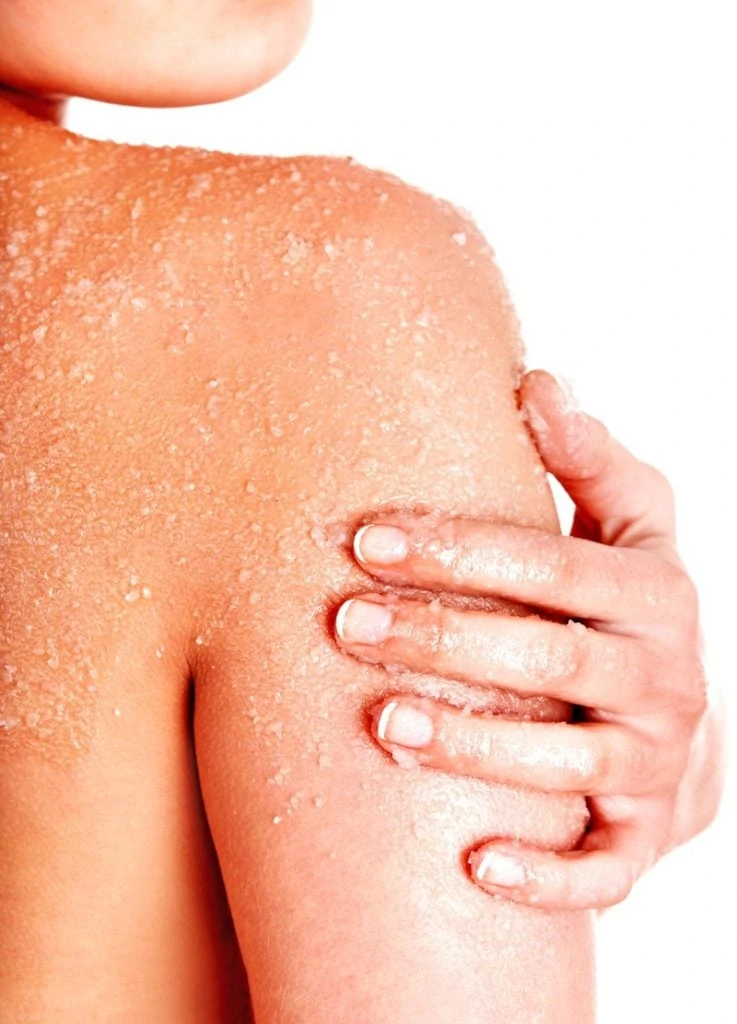 How to Use a Salt Scrub
Using a salt body scrub is very easy. Just follow these 3 simple steps.
Start by mixing up the room temperature salt scrub in the jar a little. The oil tends to settle at the top of the scrub.
Apply a small amount and gently massage your skin in a circular scrubbing motion. Pay particular attention to scrub your feet, knees and elbows well. These are areas prone to thicker rough skin.
Rinse with warm water (not hot) and pat dry with a clean towel.
Try making a salt scrub and having a mini spa night tonight! Your body will thank you!
Print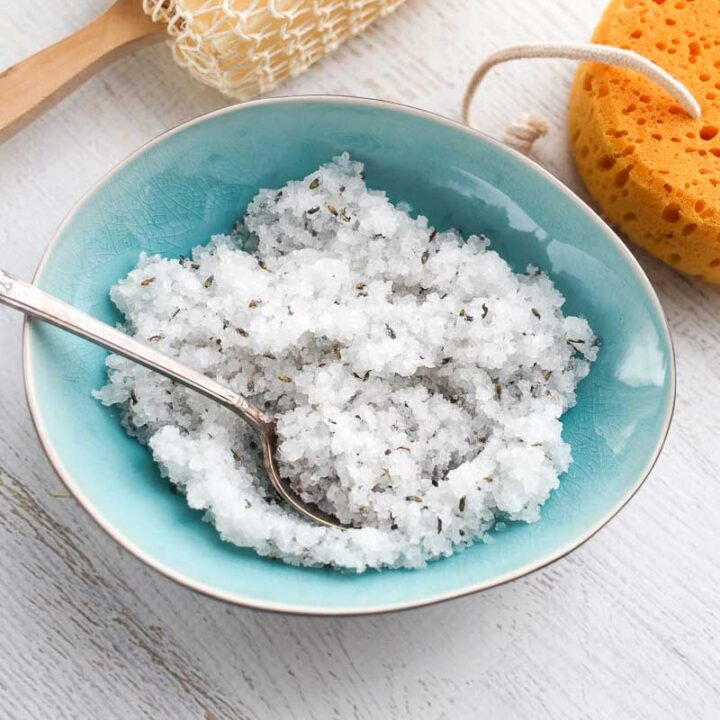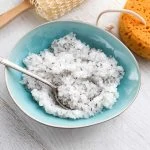 Sea Salt Scrub Recipe
---
Description
This soothing lavender essential oil sea salt scrub is an incredibly easy recipe to make. Using this in the shower or bath on a spa night or before bed is great for relaxing. The recipe makes enough for roughly 2-3 uses. If you want to use immediately, simply make a half batch of the body scrub.
---
Supplies
Bowl and spoon to mix the scrub in
glass jar store the salt scrub
---
If your coconut oil is solidified, gently warm it just enough to melt to liquid.
Stir in the essential oils together with the sea salt. Then mix in the flowers if you are using them.
Scoop the body scrub into a jar and seal.