These homemade Shower Soothers are made with completely natural decongestant ingredients and effectively ease the symptoms of a sinus infection.  This DIY Decongestant Shower Tablets recipe more closely mimics the the original than most aromatherapy shower tablet recipes I've seen. The essential oils used in this natural recipe were chosen specifically to ease sinus congestion and help both soothe  and open airways.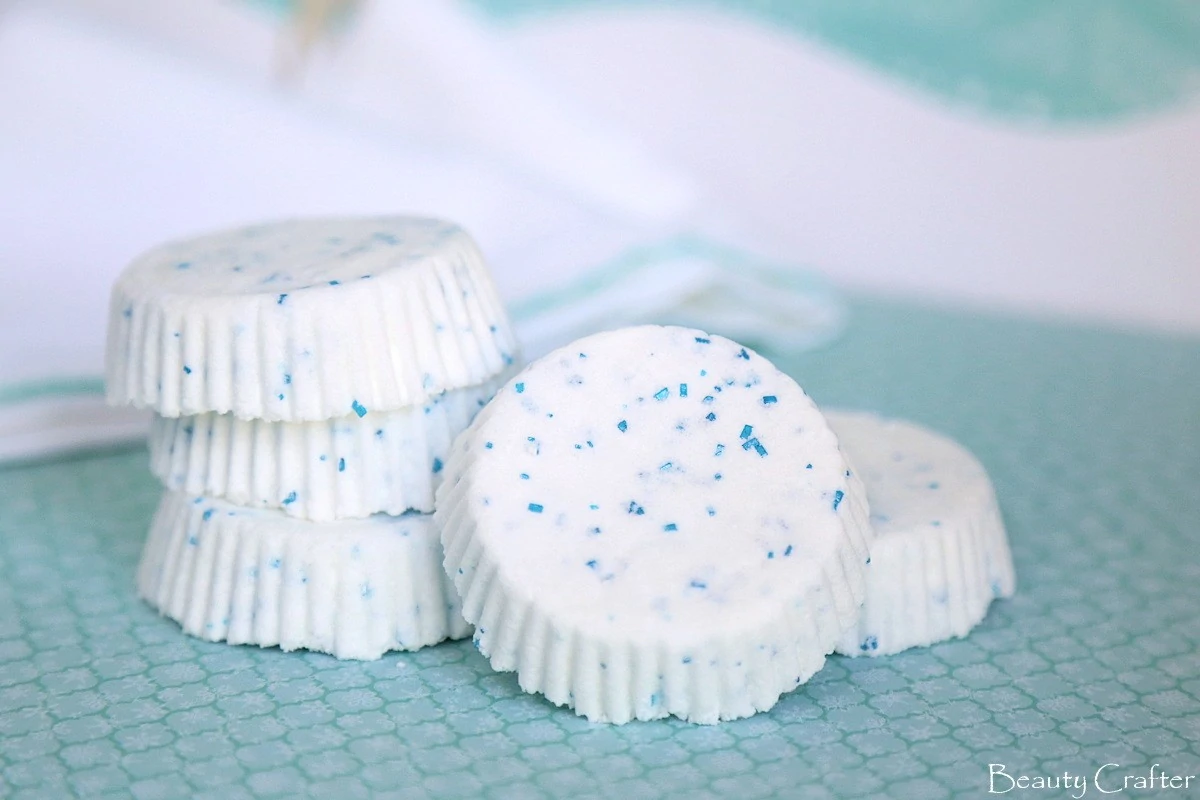 Shower Soothers
One of the most popular articles on my primary blog is a simple DIY Vick's Shower Tablets recipe. Now, while most have had no issue with the diy recipe a few ran into problems or wanted alternatives to the glitter or vapor rub used in those tablets. I developed this decongestant shower tablet recipe version last year, but never got around to posting it... now that this site is up and we are going into the cold season, it seemed the time and perfect place to share.
Of course using essential oils in the shower is not limited to when you are sick, see my homemade aromatherapy shower steamers for mood enhancing solutions.
DIY Decongestant Shower Tablets: Solutions
The original recipe version was not created by me, rather a contributor. Once it became popular, I did try making a batch and while they worked fine in my shower, a few readers ran into issues.  My new natural decongestant shower soothers recipe solves those issues. As home remedies go, I've found these aromatherapy tablets to be quite effective. I've also given some to sick friends with great feedback.
The vapor rub used in that version made the shower floor oily for some readers. While I didn't find that myself (I put it near the drain), it was obviously my number one concern... the new shower tablet recipe contains no oil other than essential oils, which evaporate into the steam of the shower. The shower decongestant tablets are actually quite dry after curing.
No Freezing: these decongestant tablets require no freezing step. This recipe is made more like a highly concentrated bath bomb.
Dissolvable, environmentally safe decoration. Nonpareils and/or sugar sprinkles are used to decorate these aromatherapy tablets rather than glitter. (You can skip them entirely if you prefer a more plain look for yours.)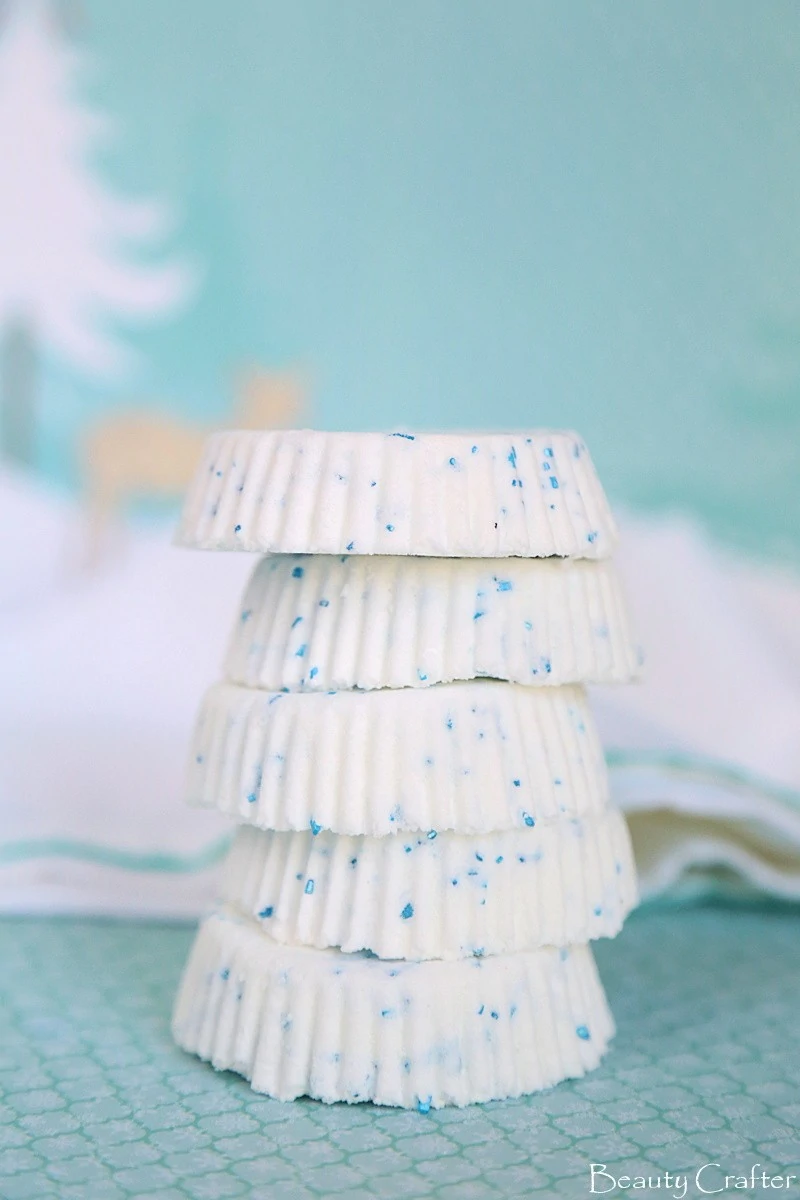 Homemade Decongestant Shower Soothers: Holiday Version
Simply swap out the pearlized blue sugar sprinkles for holiday ones or festive nonpareils to decorate the decongesting shower soothers. Of course, the pressed shower disks could be decorated with any color sprinkles of your choice. A sick loved one would appreciate them no matter how they are decorated.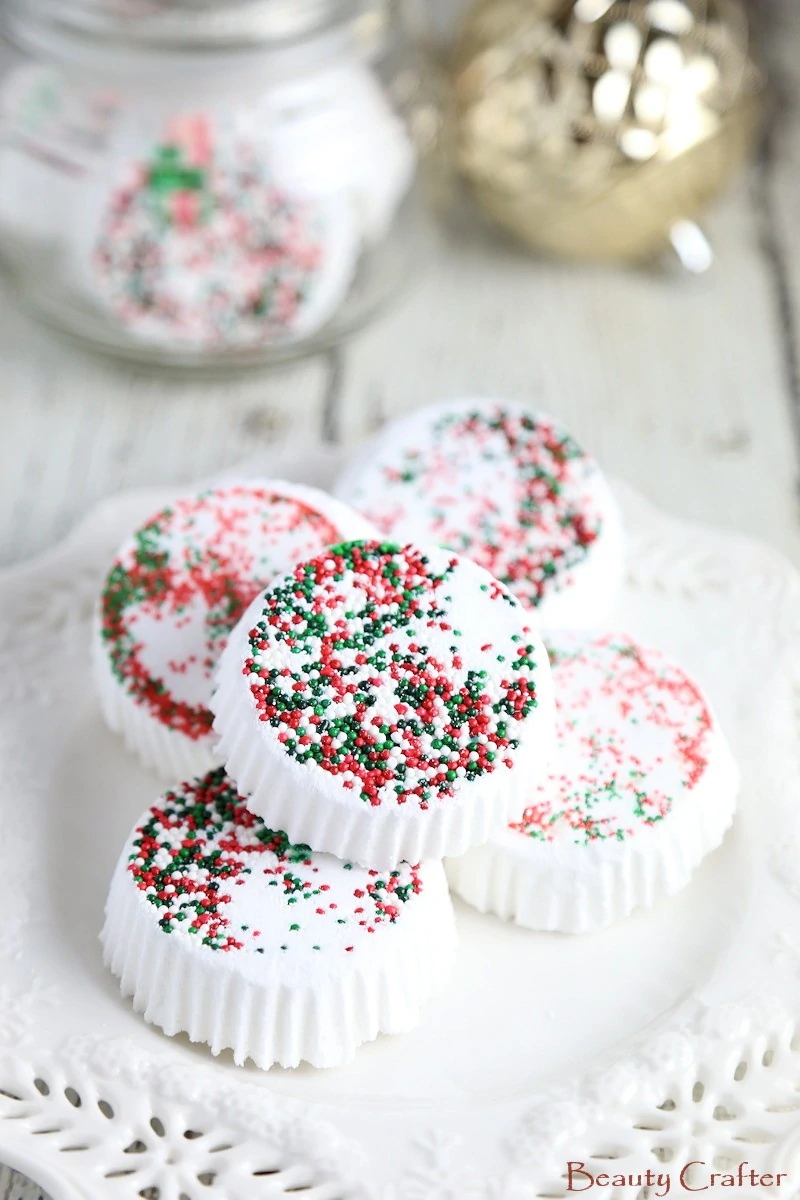 Wilton 6 Mix Holiday Sprinkle Assortment, Christmas
Note: Though these DIY decongestant shower tablets are made much like a bath bomb, I do not suggest them for use in the bath. The essential oil concentration is purposely strong in order to create potent steam in the shower. Soaking in it would likely make you a bit smelly and peppermint essential oil in strong concentrations can be a bit uncomfortable on your... ahem... "delicate parts". If showering is not an option, I suggest making the tablets roughly ¼ the size and dissolving in a sink of very hot water. Inhale with a towel tented over you to trap the steam.
Shop for the Supplies You Need!
NOW Camphor Oil, 1-Ounce
Plant Therapy Organic Eucalyptus Essential Oil. Therapeutic Grade. 10 mL (⅓ Ounce).
Plant Therapy Organic Peppermint Essential Oil. Therapeutic Grade. 10 ml (⅓ oz).
Wilton Pearlized Sugar Food Decorative, Sapphire
Ajent Citric Acid 2 Pound. 100% Pure Food Grade Non-GMO (Approved for Organic Foods) Bulk
Bob's Red Mill Baking Soda, 16 Ounce
Bob's Red Mill Corn Starch, 22 Ounce
Standard Size White Cupcake Paper | Baking Cups | Cup Liners, Pack of 500
Wilton Recipe Right Nonstick 12-Cup Regular Muffin Pan
Looking for a few more DIY health and beauty recipes? Try my easy DIY shaving cream for women or Magnesium Oil spray.
Print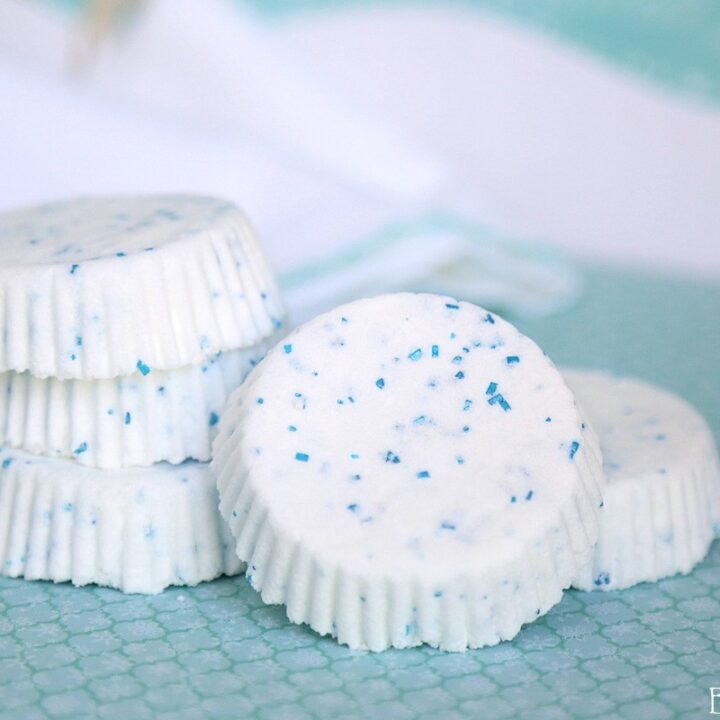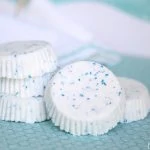 DIY Decongestant Shower Tablets Recipe (Homemade Shower Soothers)
---
Author:

Beauty Crafter

Yield:

10

tablets (¼ cup each, pressed into standard size cupcake liners)

1

x
Description
Easy recipe to make your own decongestant shower soothers at home and for gifts. A DIY natural remedy for sinus congestion. The aromatherapy tablets are specifically formulated to open passageways and sooth inflamed tissues.
---
1 cup baking soda

½ cup citric acid

¼ cup cornstarch

50 drops camphor essential oil

35 drops peppermint essential oil

35 drop eucalyptus essential oil

2 tsp water, try using a little less on humid days
Pearlized blue sugar sprinkles
(or optional holiday sugar sprinkles
or nonpareils)
---
Mix together the baking soda, citric acid and cornstarch, then mix in the essential oils. Add the water while rapidly stirring to minimize reaction. Finally mix in a tablespoon of sprinkles. If using holiday sprinkles, do not add (color may bleed)
Place ten cupcake liners in cupcake/muffin pan. If using Holiday sprinkles: Add sprinkles to bottom of each liner at this point. Scoop ¼ cup of the decongestant tablet mixture and place in each liner.
Press down mixture to create a relatively flat surface. Pay particular attention to tamping down the edges.
Set aside to dry at room temperature for a few hours.
Once dry and hard, remove each tablet from the liners, smooth off edges if needed, then store in airtight packaging such as shrink wrap bags or covered jar.
Notes
While these shower soothers should be strong enough, if you find a stronger tablet would benefit you, simply add a few more drops of each essential oil right on the tablets. It will simply absorb.