Mermaid bath bombs create a sparkling blue-green bath that not only feels and smells magical, but will definitely bring out your inner mermaid.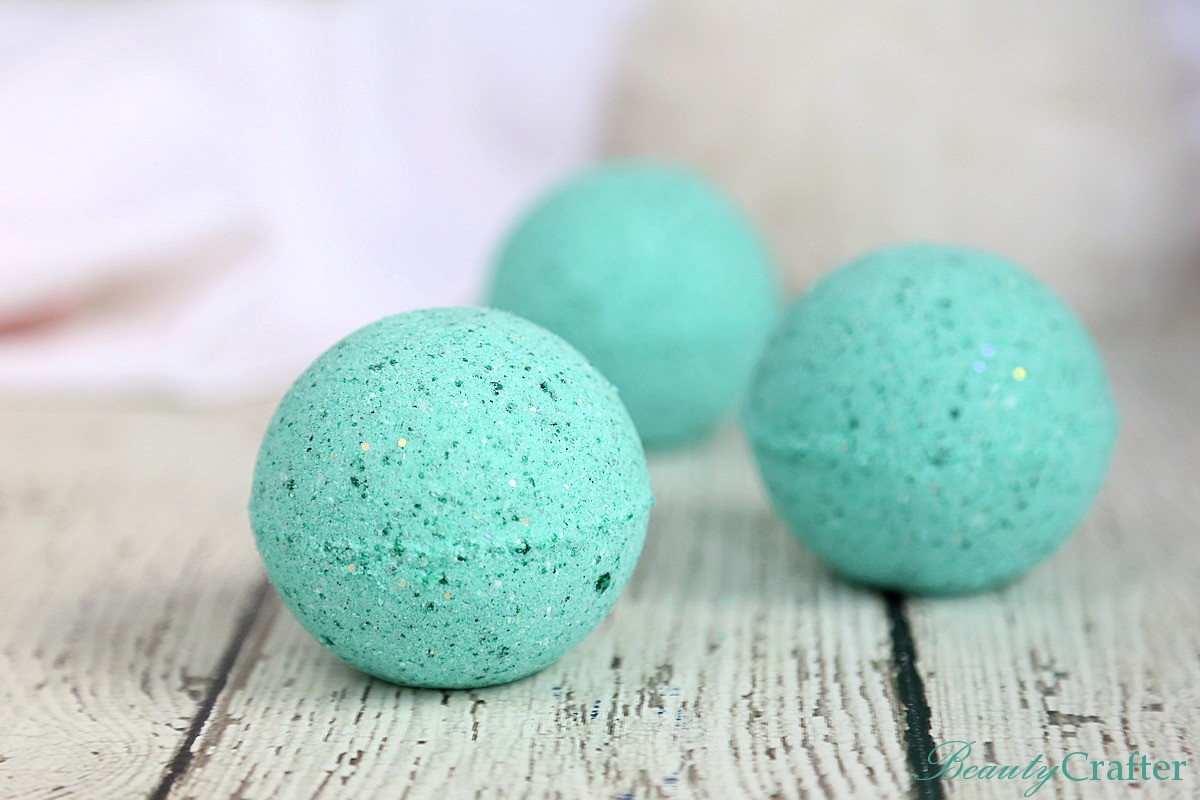 To say my 10 year old daughter was excited about this batch of Mermaid bath bombs would be a big understatement. I actually made them specifically with her in mind.  She does tend to use up our bath bombs far more than I do. Due to her autism she strongly prefers baths over the shower. Bath bombs enhance her experience and the soothing scents are perfect right before bed.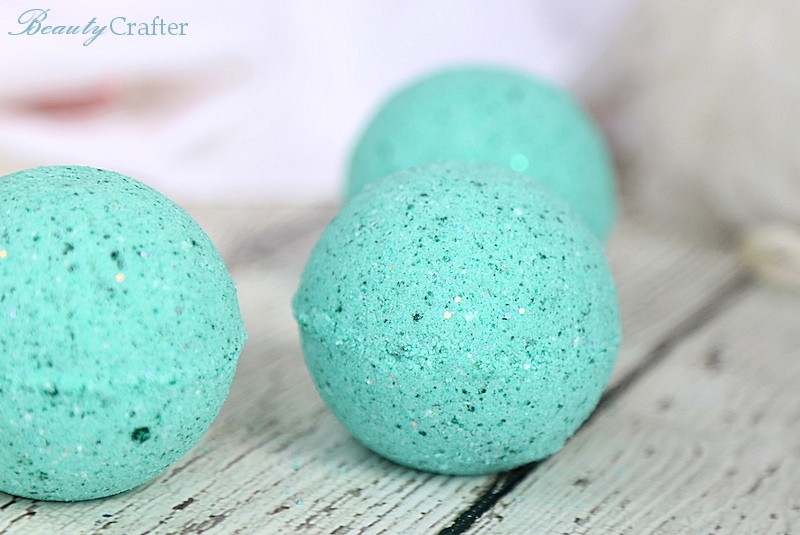 She adores glitter. What little girl doesn't? So, ample glitter was added to these bath bombs. Not only does it make the water pretty, but the iridescent glitter I chose mimics mermaid scales.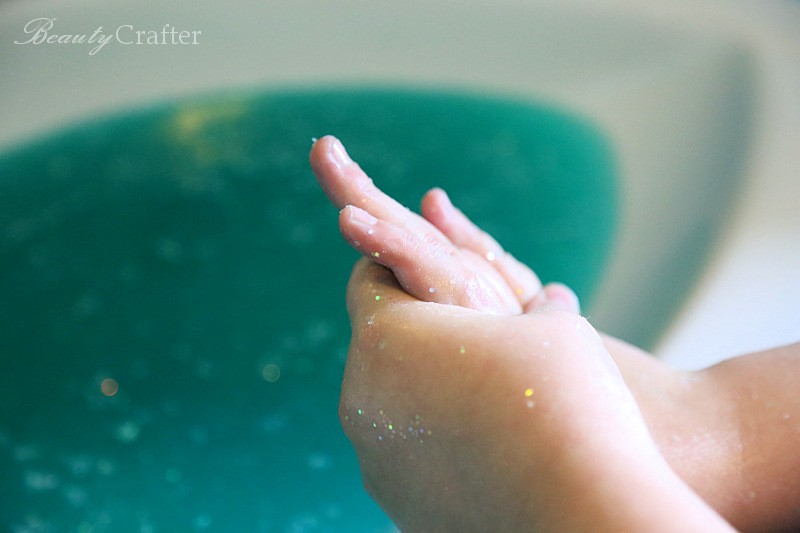 .. and yes, she totally went to school this morning with glitter on her skin from last night's bath. Of course I'm now thinking I need to take one.  I want to sparkle too 😀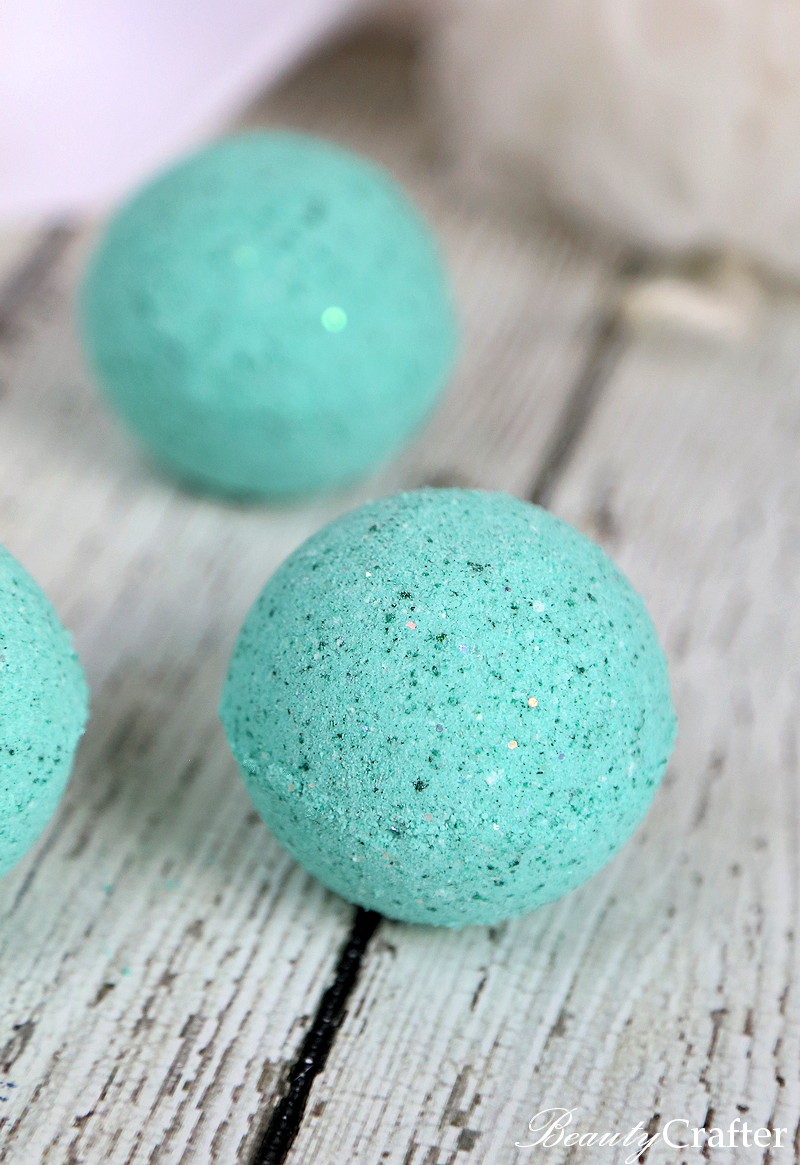 While made with my little girl in mind, these are quite nice for grown ups as well. The color is a popular one in bathrooms (my tile is this color), so a jar full of them would display nicely too.
Making Mermaid Bath Bombs
Make your own Mermaid bath bombs for your family or gifting.  It's easy. I do suggest avoiding making bath bombs on humid days, unless you have a dehydrater
on hand.
Recipe makes approximately 4 bath bombs.
Ingredients/Supplies:
Here are the actual products I used making these Mermaid Bath Bombs
The baking soda & cornstarch needed for the bath bombs can be picked up at any grocery store and any brand will do.
&
Spectra Glitter, 1 Pound, Iridescent
Food Coloring Liqua-Gel – 12 Color Variety Kit in .75 fl. oz. (20ml) Bottles
Viva Naturals French Lavender Essential Oil, 4 fl oz – 100% Pure & Therapeutic Grade
Viva Naturals Fractionated Coconut Oil, 16 oz – Ultra Hydrating, Hexane-Free
Ajent Citric Acid 100% Pure Food Grade Non-GMO (Approved for Organic Foods) 5 Pound
Metal Bath Bomb Mold – DIY – 2 Molds (4 pieces) – 2.56″ Diameter – Premium Finish
Directions:
Whisk together dry ingredients.  Then add the oil, dye and essential oil. Whisk well to evenly distribute the colorant.
Test the moisture of the mixture by grabbing a handful and squeezing.  If a clump is formed which holds together somewhat it should be moist enough to mold. If you need to add a little water, 1/2 tsp at a time. You will not need much. 1 – 1.5 tsp at most**. 
Scoop up some bath bomb mixture with each side of mold and gently press down  then put more mixture on top overfilled and press the sides together firmly over mixing bowl. Give a slight twist and carefully remove the mold. Set each mermaid bath bomb aside to dry.
Once the bath bombs are dry, place in airtight container or shrink wrap bags.
*Gel food dye
is far less reactive with the bath bomb mixture than standard liquid food coloring and imparts a richer color.  I find it also works better than powder pigments in most cases and is far less costly.  Leftovers have a long shelf life and are wonderful for use in baking and other crafts too.
** too much liquid will trigger the fizzing reaction and bloat your mermaid bath bombs. 
Free Printable Mermaid Bath Bomb Labels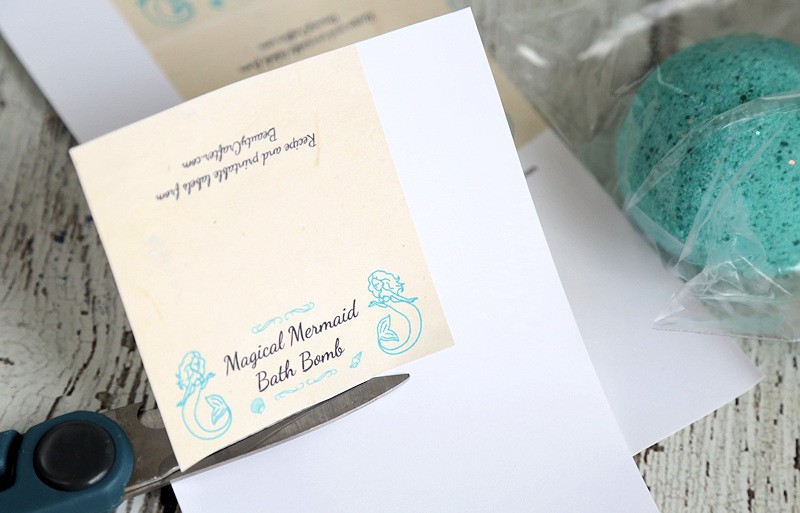 I made the labels with a foldable back if needed, otherwise just cut that part off if you will be pasting on or attaching with string.
Mermaid Bath Bombs Free Printable Labels


Why not make it a gift basket?
Make one of these to go with your Mermaid Bath Bombs.