Want thicker hair that actually grows faster? Essential oils may be able to help! These eight oils will improve hair growth, reduce loss and nourish the locks you have.
Let's learn about the right essential oil picks for you to enhance your hair health and how to mix essential oils for hair growth success!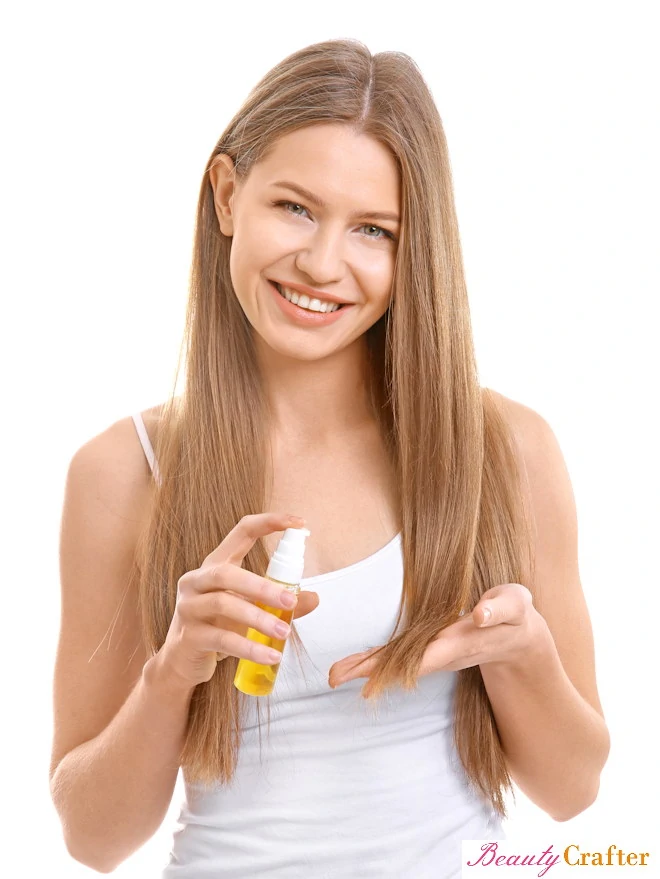 Essential Oils for Hair Growth - Really?
Yes, there are essential oils that promote healthy hair growth. These oils can be effective in growing and maintaining a lush mane of healthy hair. Let's dive in and investigate the best way to go about making our own natural hair growth products .
The Problem With Hair Loss
There are lots of reasons we experience loss of hair. For one thing, it's a natural thing that happens every day. Shedding is a daily thing that happens to everyone.
When you start noticing more pronounced loss and thinner hair, that's when it is a problem.
What causes hair loss? Experts agree that age and heredity can all contribute to losing hair. While you can't fight age or your own DNA, there are some things you can do to encourage your scalp to keep the strands you have and even grow more.
How to Promote Hair Growth Naturally with Essential Oils
Essential oils are derived straight from plants. There are oils that interact amazingly well with the human body. These are a wonderful option if you want to avoid potentially harmful chemicals.
Use a combination of essential oils that will help your hair become healthier by stimulating the scalp, increasing blood flow to help more hair to grow.
There is even some evidence that essential oils may help alleviate hair loss for people with alopecia areata. [study]
How Do Essential Oils Work On Your Hair?
Essential oils do a variety of things that all help your hair to grow faster and healthier.
These natural oils combat dryness, inflammation, and loss of vitamins all to stimulate the hair follicles and promote hair growth.
If your hair loss is due to hormonal issues, some essential oils can help with that too.
But the best thing these oils do for your hair and scalp is to moisturize them and protect the follicles and tresses you already have. A healthy scalp grows more and better hair.
I also suggest taking biotin and collagen supplements for hair in tandem with using oils, for top results.
8 Best Essential Oils for Hair
Now that you know how the essential oils work, let's look at which ones are the best for growing more hair. Add them to your homemade hair care recipes or your existing shampoo or conditioner. Use them in a beard oil as well, to encourage a full healthy beard.
Lavender Oil
Lavender is the most popular essential oil for hair growth. It is a calming oil and known to reduce inflammation. Lavender essential oil also has antibacterial and antimicrobial properties. It's such a soothing oil that it will help with dry skin and hair issues.
These benefits and the presence of linalyl acetate in lavender oil may help improve hair growth. Lavender essential oil application "increased number of hair follicles, deepened hair follicle depth, and thickened dermal layer". Mast cells were also reduced. [study] These cells are tied to stress induced thinning of hair. [study]
Rosemary Oil
Not only does rosemary essential oil promote hair growth it can help with thinning hair. It actually stimulates growth in dormant hair follicles. In a 2015 study, rosemary oil was found to be as effective as minoxidil for stimulating growth and treating hair loss!
Who doesn't want to stimulate hair growth without chemicals! This essential oil is an absolute must if you need to maintain as much hair as possible with natural products.
As an added bonus, rosemary essential oil helps with dandruff and itchy scalp as well.
Peppermint Oil
Peppermint oil is a favorite of many, because of it's amazing cool fresh scent. But there is a lot more to this mint than the smell, peppermint is truly a rejuvenating oil. Peppermint essential oil increases circulation to the scalp, which encourages new hair to grow and healing.
One study even proved peppermint essential oil increased dermal thickness of the scalp AND follicle numbers... yes, that means more hair on your head!
Clary Sage Oil
Clary Sage (Salvia sclarea), is not the same as standard sage used in cooking. It is a soothing and hormone balancing essential oil. It helps avoid build up which clogs hair follicles and reduces occurrence of dandruff.
Like lavender, this herb is rich in linalyl acetate which promotes hair growth too.
Bergamot Oil
Bergamot oil is another one that studies have shown will help with wound healing. It has antimicrobial properties that will aid in destroying dandruff, without drying. It is also reported to reduce inflammation, leaving your scalp to do the important job of growing hair.
If you need an oil to help you stop losing hair, try this one. Not only will it aid in hair and scalp health, it smells absolutely amazing!
I use it along with rosemary in my Rosehip Oil Hair Serum recipe.
Tea Tree Oil
Tea tree essential oil is one of the most popular all-purpose essential oils because it is so powerful! It can do so much. Tea tree oil has amazing antiviral, antifungal, and antibacterial properties.
Tea tree essential oil will help unclog your hair follicles and fill your hair roots with nutrients. Tea tree oil is a popular addition when making a hair hair product for oily hair.
Cedarwood Oil
Similarly, cedarwood essential oil has powerful hair growth properties. It will slow down hair loss and halt hair thinning in its tracks. It is particularly well known for helping to balance oil production in the scalp. As mentioned, an oily scalp can clog pores and hinder growth.
The oil has antimicrobial and anti-inflammatory properties and is often used in hair care products which are geared toward promoting hair growth.
Another random benefit? This essential oil repels bugs! Spray some cedarwood oil in your hair and bugs will leave your head and face alone.
Lemongrass Oil
Finally, lemongrass will strengthen your hair. It is also a wonderful deodorizer too.
If you enjoy using essential oils for aromatherapy benefits this is a great one. Lemongrass is known as a natural stress reliever. Since stress is a leading cause of hair loss, reducing your body's reaction to it can help you keep more of your hair on your head.
How to Use Essential Oils in Your Hair
The best way to use essential oils in your hair is to make your own mixture of essential oils with a carrier oil. You can also add them to magnesium oil spray, which is easy to make and has it's own benefits regarding hair health.
Then, massage this into your scalp, a little at a time. Once you are done with the scalp massage, leave the application on for a few minutes before washing out or leave overnight for intense treatment.
If you choose to leave it in overnight, wrap your head in a scarf so you don't get oils on your pillowcases or bed sheets.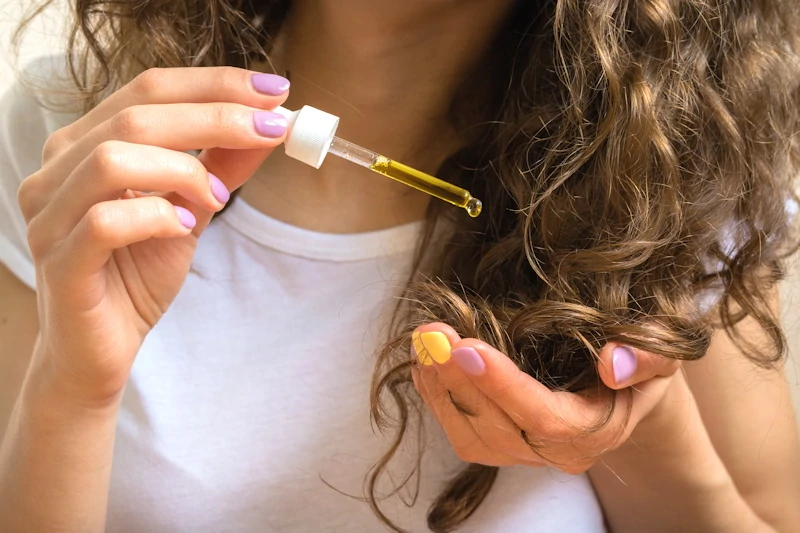 The Best Carrier Oils for Hair Growth
You'll need to mix the essential oils for hair growth with a carrier oil for it to be effective. The carrier oils will moisturize your hair and scalp. They will also prevent your skin from overexposure to the strong oils.
Here are several popular carrier oils most people use - coconut oil, Argan oil, and jojoba oil are the most popular.
Jojoba Oil
Jojoba has actually been studied in regards to hair growth. And studies proved that more hair grew on shaved heads with jojoba oil than the ones without. It's an incredibly powerful oil that you'll find in lots of hair care products for this reason.
Coconut Oil
Coconut oil is super moisturizing. It actually has vitamins and nutrients that your hair and skin crave. Some people with dry hair notice shinier, healthier hair when they use coconut oil. Virgin or refined coconut oil contains more beneficial elements, but fractionated coconut oil absorbs more readily into the hair shaft and will leave your hair less greasy.
Argan Oil
Argan oil is widely used in hair care products and with good reason. Argan can nourish a dry scalp and help avoid damaged hair. It is highly protective and adds great shine to your locks. A top carrier oil choice. Read more about the benefits of Argan oil.
Sweet Almond Oil
Almond oil is also an option. it is non-comedogenic, so won't clog pores in scalp and hairline. It also absorbs well.
In addition to these avocado, apricot kernel and grapeseed oil have also gained popularity as hair oils in recent years, especially for those wishing to encourage new hair growth.
Other Ways to Add Essential Oils to your Hair Care Routine
There are other ways to create a dilution of essential oils beside mixing them into an oil base. Plain water or rosewater are great non-oil ways to dilute essential oils for application.
Mix a few drops of essential oils into a spray bottle of either and lightly mist onto damp hair after a shower or mist on to refresh curls or waves. A simple dilution could also be used for rinsing hair between shampoo and conditioner.
The oils can also be added to a hair mask, such as my aloe vera hair mask.
Essential Oil Side Effects
While there are so many incredible benefits of essential oils for improving hair growth, use them with care and caution. They are highly concentrated and quite potent. Always use them with a few tablespoons of a carrier oil like the ones listed above, to minimize skin irritation.
You'll also want to be careful not to get them in your eyes, it will burn.
Use a small amount on your skin before applying a large amount to your entire scalp. You never know how your skin will react to it.
Above all, only use pure essential oils. Any kind that is diluted or mixed with something else won't be as effective. You want to blend with your own carrier oil so you know the strength.
For more natural healthy hair solutions, be sure to learn about Epsom Salt for Hair Care, how to make your own hair rinses and ways to use aloe vera to nourish your hair and scalp.
Print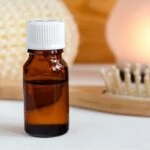 Hair Growth Oil Recipe
---
Description
Here is a basic hair growth oil recipe. It will both encourage hair follicles to produce and help you maintain healthy hair shafts. Feel free to mix it up how it suits you with the information above.
---
2 tablespoons

jojoba oil

8

-

10

drops lavender oil

6

-

8

drops rosemary oil

5

-

6

drops peppermint oil
Supplies
2

-ounce glass bottle with dropper or pump top
Small funnel
---
Use a small funnel to pour the ingredients into a two-ounce glass bottle with dropper or pump top. Shake.
Using
Apply a few drops to the scalp and gently massage in with fingers.
Leave in at least 20 minutes before washing out with gentle shampoo and warm, not hot, water.
Keywords: hair growth oil diy