Argan oil is found in a wide array of hair and skin care products these days, and for good reason! The amazing oil's vitamin E, antioxidants and high level of fatty acids have endless health benefits particularly for skin and hair. If you haven't tried pure Argan oil yet or are still a little unsure why you'd want to, I've put together a list of 9 ways Argan may just shake up your beauty routine from head to toe.
Using Argan oil on your hair, skin, and nails will make sure you look your best in years to come! Who doesn't want that?!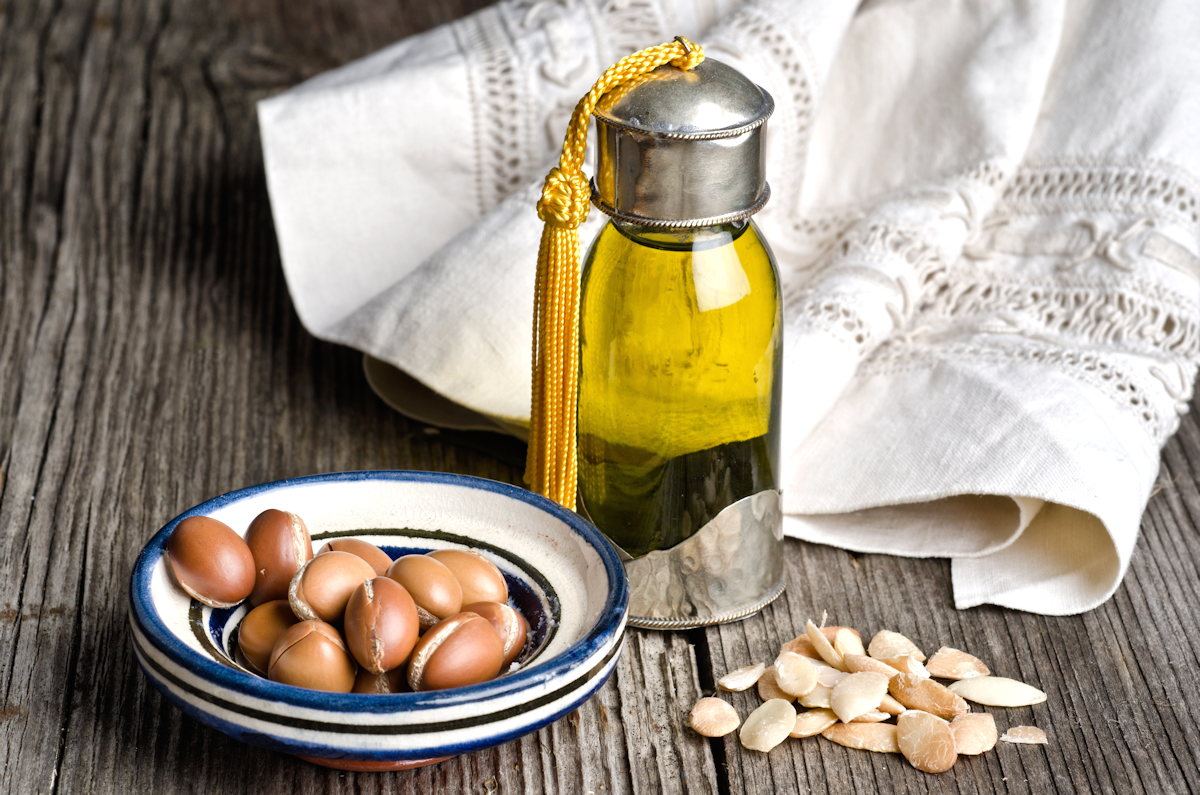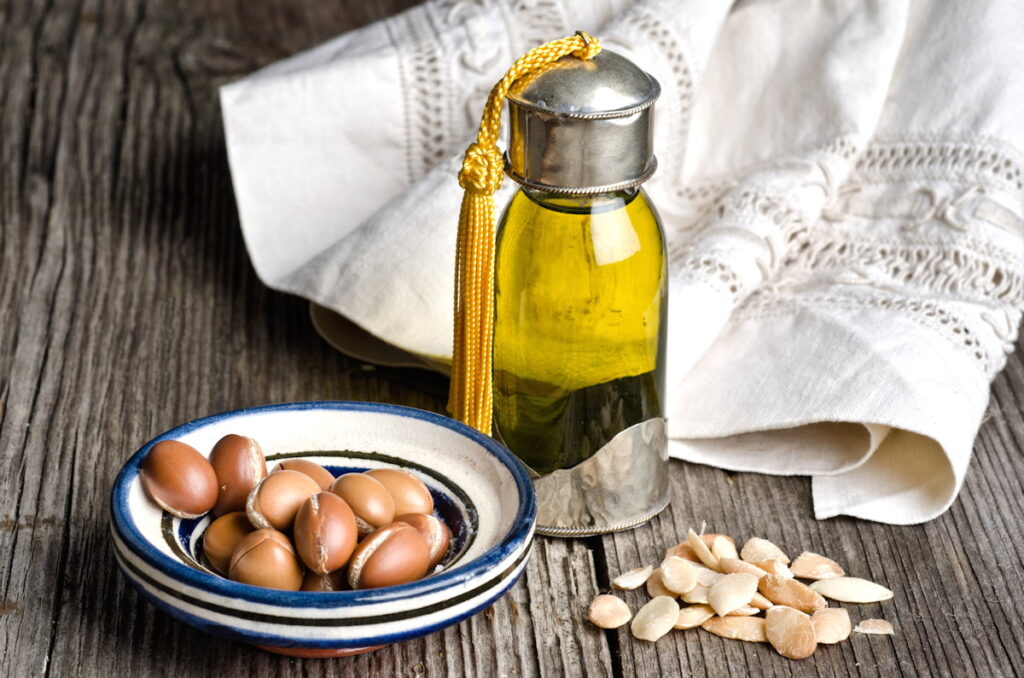 What is Argan oil?
Moroccan Argan oil comes from the fruit of the argan tree (argania spinosa) which is native to Morocco. Argan forest areas are most prolific in southwest Morocco where goats are known to climb and eat up the argan fruit, drawing tourists. [ref]
While the oil of Argan kernels  is used primarily for eating in Morocco (think olive oil replacement), the countless health and beauty benefits have it flying off shelves in the U.S. This tree nut oil absorbs easily, reduces inflammation and the essential fatty acids Argan oil are fantastic for skin and hair.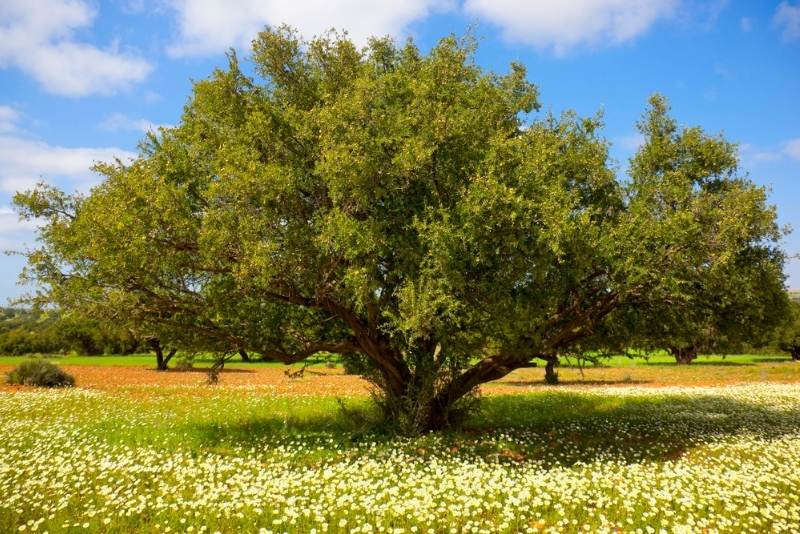 Important Tip: When shopping for Argan oil, always choose a bottle with just one high quality ingredient: 100% pure Argan oil.
What is in Argan oil that makes it so effective?
To start, the oil is loaded with  antioxidants and tocopherols (Vitamin E). It has regenerative fatty acids, and so much more!
Vitamin E is well known for it's scar healing ability. It also has antioxidant properties and is an amazingly effective moisturizer. Great for combatting skin damage whether from the sun, injury, irritation or aging.
Anti-inflammatory polyphenols, promote healing of skin and protect both it and your hair from UV damage. The polyphenal ferulic acid is a powerful solution for sun damage, making it the perfect teammate for tocopherols. If addition to their skin benefits, polyphenols may also aid in reducing hair loss!
Squalene is part of the natural secretion sebum, from our sebaceous glands (oil  glands). It helps hydrate and lock in the moisture of our skin. It also fights free-radical damage. Argan oil is an excellent plant source of this  fat-soluble antioxidant, that starts depleting on us as early as our mid 20s. Use this and avoid dry skin or scalp dandruff year round.
Fresh collagen production is enhanced by the phyosterols found in Argan oil. This is crucial for combatting both sun damage and aging.
Argan oil is rich in the vital omega-6 fatty acid linoleic acid, which also protects against sun damage. This essential fatty acid also helps sooth and heal acne. Argan oil also contains moisturizing oleic acid and replenishes skin's stores of palmitic acid which deplete with age. The essential fatty acids in Argan oil also nourish hair.
We have discussed some of the important nutrients in Argan oil. Now let's discuss some of the beneficial ways to use Argan oil in your skin and hair care routines.
Argan oil for Skin
There are so many benefits to Argan nut oil used topically in the treatment of skin conditions, I thought was a good idea to break them down for you.  It is a great oil to add to your beauty routine regardless of skin type.
Carrier Oil
To use essential oils in your skin care routine, you need to dilute them with a carrier oil. Pure Argan oil is a great choice for use in application of skin safe essential oils.
Skin Moisturizer
If you are suffering from dry skin, Moroccan Argan oil may be the natural moisturizer of your dreams. Applied fresh out of the shower you can expect legs, arms, elbows, and knees that glow with health and softness. It's also a great skin protector – whether you're battling winter winds or cooking in the heat of summer, it will provide an effective skin barrier to these harsh elements.
If you have mild dermatological problems, using this oil may just be the solution you are looking for to treat minor skin health issues.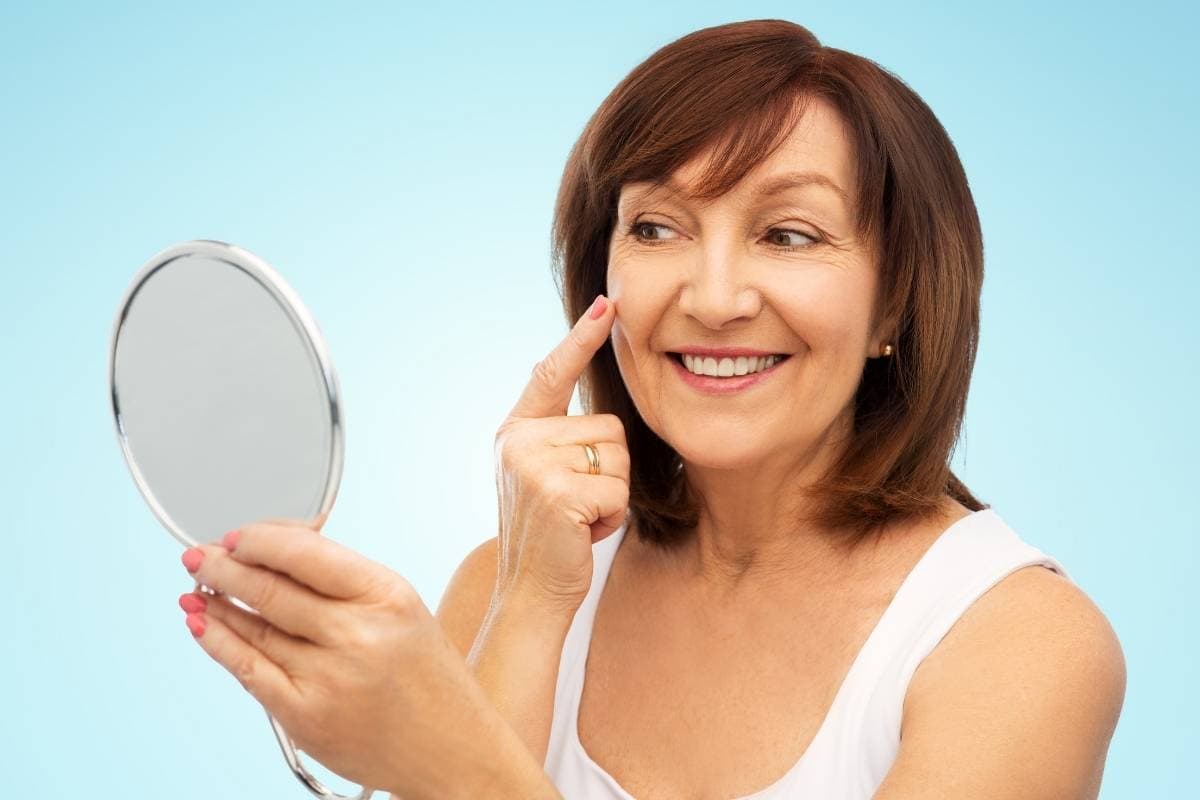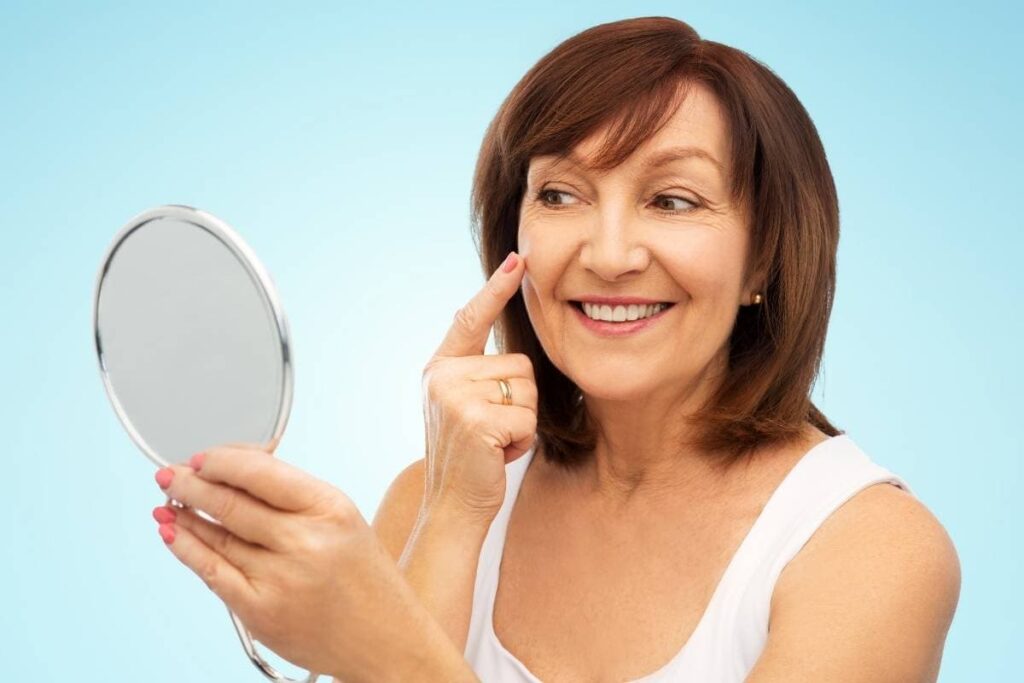 Anti-aging Properties
Although amazing as a moisturizer, Argan oil also has anti-aging benefits as well. Apply Argan oil to help reduce the appearance of lines and wrinkles on your face. Because it plumps the skin, these small imperfections disappear.
Regular application of this vitamin E rich oil may also increase the elasticity in skin which is key to a youthful and vibrant complexion overall. It is a must have for postmenopausal women... we'll all take help we can!
Beating Acne
If you're an acne or blemish sufferer, adding Argan oil to your skin maintenance routine might seem like a massive contradiction (aren't I trying to get rid of the oil?). However, pure Argan oil has been shown to decrease sebum levels in the skin (the kind of oil that causes acne and breakouts). This reduction can clear up the blemishes you already have and may prevent new ones. While it reduces sebum secretion, it also replenishes the moisturizing antioxidant squalene that is part of sebum.
It is safe to use on oily skin, since it won't clog pores. Anti-inflammatory linoleic acid and oleic acid in Argan help decrease free radicals and soothe damaged cells. It can help reduce inflammation and redness of acne. These benefits are imperative when considering anything to apply to your face when suffering from acne.
Healing
The nourishing oil is also perfect as a healing treatment for rashes, sunburns, bug bites, and other annoying skin irritations. Argan oil may help with skin infections, as well as skin conditions, such as eczema.
There is little so frustrating as razor burn and the ingrown hairs you can get as a result. However, the anti-inflammatory properties of the antioxidants found in Argan oil fantastic defense against razor burn. Immediately after shaving, apply a few drops to shaved areas to prevent razor burn from developing or add to already irritated skin to keep the bumps at bay.
Stretch marks
As mentioned above, Argan oil may improve the elasticity in skin, making it a great choice to help soothe itchy skin on a growing baby bump. It can also help the skin stretch with less tissue damage meaning fewer stretch marks postpartum.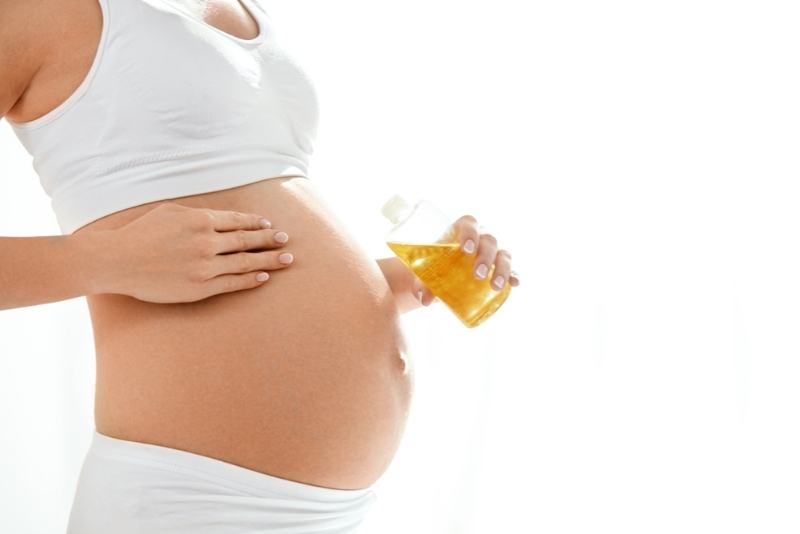 If you're already stuck with the stretch marks (wear them with pride!), a regular treatment with Argan oil may reduce their appearance and even out your overall skin tone making them less noticeable.
Lip Care
When adding Argan oil to the rest of your skin regime, don't forget those lips! All the benefits your skin gets from the oil (improve appearance, decreased redness, sun and wind protection, etc.) apply 100% pure Argan oil to your lips as well.
Skip the commercial lip balms with unknown chemical ingredients and use a drop of this fatty acid and vitamin E rich natural oil instead. Applying daily will make sure your kisser is healthy and may reduce creasing around lips.
Argan Oil for Hair
The oil is especially popular in hair care products. Here is how the hair oil is used.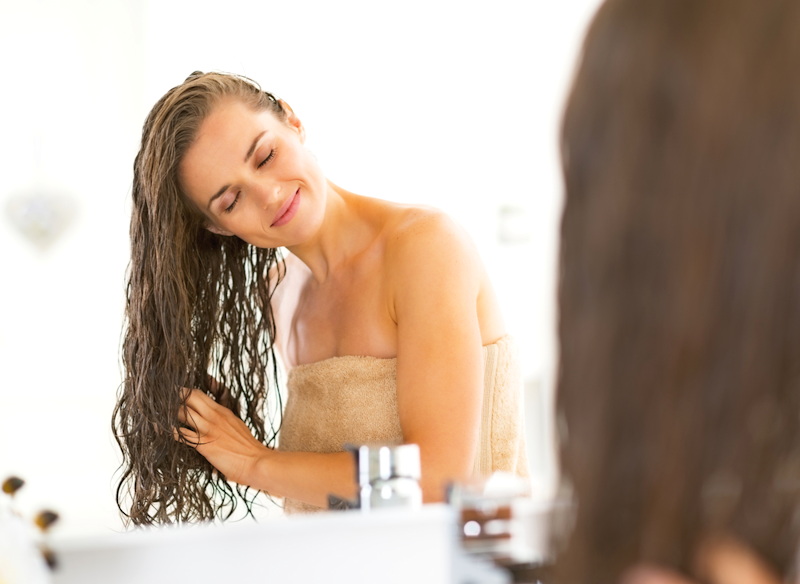 Hair Conditioner
While lots of hair products include this nourishing oil, there is no substitute for applying the nourishing fatty acids in Argan oil directly on your damaged locks.  Use Argan oil for hair as a conditioner and to protect against heat and sun damage. Simply mist a small amount on damp hair then run your fingers through your hair.
 It can soothe the most frazzled of dry ends, tame wild curls, and improve split ends. Your hair will shine and feel like silk between your fingers. Team it with Essential Oils for Hair Growth for the best results.
Healthy Scalp
Moroccan Argan oil moisturizes the skin of your scalp and may help reduce dandruff and irritations. Using it regularly will keep your scalp healthy and may also help prevent hair loss too. It's a hair care win-win! Team it with essential oils for dandruff for even more treatment success!
Hairstyling
You can also use Argan oil to boost your style and protect it throughout the day. If you're blow drying, rub a few drops of oil between your palms and work it through the ends of your hair to tame flyaway strands and soothe any frizz. It also helps protect from damage from other styling tools.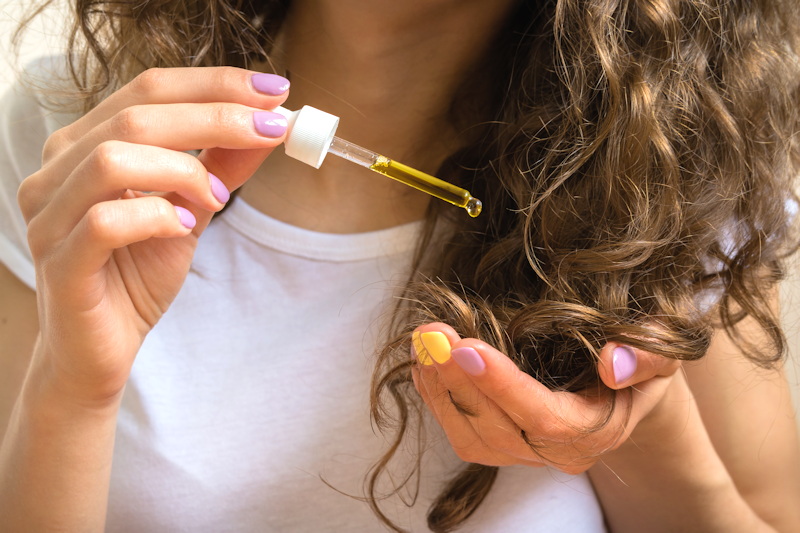 Tip: If you have curly hair, apply a few drops  on your ends in the dry winter months to enhance your curls.
Beard
Argan oil can be used on your man's beard too, not just the hair on the top of your head. It is a frequent addition to beard oil recipes and blended with other oils such as castor and fractionated coconut oil.
Hands, Feet, and Nails
Winter winds, regular washing, and frequent polish changes can all do a number on your hands and nails. With its luxurious moisture, a few drops of Argan oil can instantly soothe dry hands and cuticles, with regular application. You can also apply the oil by gently rubbing it onto brittle, dry, and even cracked nails. Argan oil's vitamins and fatty acids will help to soothe the nail and nail bed, reduce cracking and encouraging repair and regrowth.
Rub a few drops of Argan oil into your hands, feet, and cuticles nightly for baby soft fingers and toes. It is actually the primary ingredient in my DIY Nail Strengthener oil, which is saving my nails right now from the harsh treatment I've given them recently.


Here is a quick video of me making what I think is the best nail strengthener with Argan as the primary oil.

Choosing the best Argan Oil
When purchasing the pure oil or Argan oil products, look for 100% pure cold pressed oil on the label.
I hope you have found this information on the uses of Argan oil in beauty to be helpful in your own natural beauty routine. It certainly is one of my favorite nourishing oils.
Does Argan oil clog pores?
No, as I mentioned above in the acne section, Argan oil is considered non-comedogenic, which means it doesn't clog pores.
Can Argan Oil Go Bad?
The oil can easily last for up to two years if kept out of heat and direct sunlight. The oil usually comes in a light blocking bottle, so keep it in there and place in a cool spot. So, yes Argan oil can spoil, but it will last a long time if stored right.