Essentials oils can be very helpful when you get a sunburn. Use these natural remedies for sunburned skin. They are all incredibly simple and will nourish and feed damaged skin with nutrients.
Of course, the best way to treat a sunburn is to prevent it. Please, always use sun protection. UV rays can lead to skin cancer. Don't take it lightly and protect yourself and your family.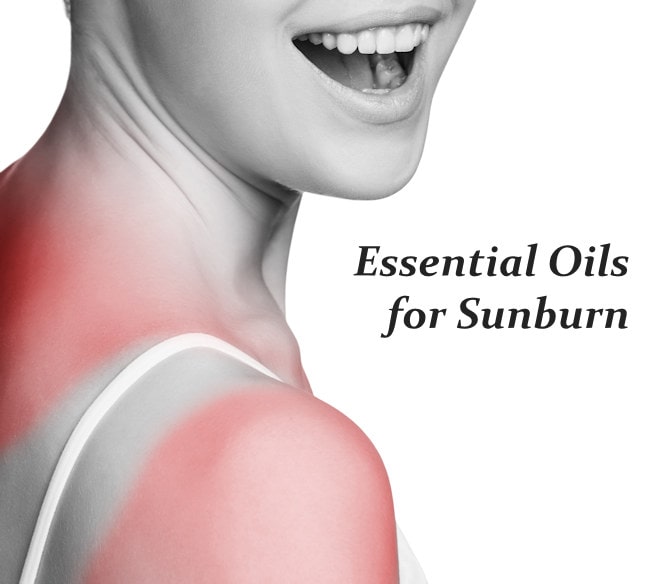 Essential Oils for Sunburn
When you get a sunburn, you run the risk of lasting skin damage. Essential oils can soothe and inhibit infection in damaged skin.
Be careful and only use the best oils to care for your skin.
These are the best essential oils for sunburn relief. You already know you need to use oils, but it can get confusing picking the right ones. Just reference this article and you'll be great!
One note: I am not a doctor. These are just things that worked for my family and me. If you think you have a serious burn, please seek medical attention.
Tea Tree Oil
Tea Tree Oil extract from the Melaleuca alternifolia tree.
It is a really powerful oil with antimicrobial properties. It is very anti-inflammatory, so it will reduce redness and help your skin to bounce back quicker.
It is also known for being very harsh. So only use a few drops and make sure it has plenty of carrier oil to go with it.
Just look at all the amazing healing properties of Tea Tree Oil:
anti-inflammatory

immune boosting

antibacterial

antifungal

antiviral
Peppermint Oil
Peppermint essential oils are temperature-reducing. They help to reduce redness and repair damaged skin.
The most powerful ingredient in peppermint oil is menthol. You can smell it! This menthol makes the oil have these amazing properties:
anti-inflammatory

antibacterial

antifungal

antiseptic (able to kill or discourage the growth of infectious agents)

vasoconstrictor, narrowing inflamed blood vessels
Lavender Oil
Lavender is a calming oil, but not just for your mind. It works on your skin too. Lavender is known to soothe your skin and help with wound healing. It also helps reduce the pain and lowers your risk of infection.
Lavender has these powerful properties:
antibacterial

anti-inflammatory

antifungal
Chamomile Essential Oil
Another calming oil is chamomile - it isn't just for tea. In fact, it has been used for centuries to treat a whole range of skin issues including sunburns and psoriasis.
It has both anti-inflammatory and wound healing properties. So it should be a part of your sunburn-healing regime.
Carrier Oils for Sunburns
Whenever you use essential oils you will generally need to use a carrier oil. Most are not advised to be used straight, especially on delicate sunburned skin.
What is a carrier oil?
A carrier oil is a fatty oil that will dilute the essential oils and carry them into the skin.
Lots of essential oils are so pure and so strong that they could lead to skin irritation. The carrier oils prevent reactions.
There are 3 popular oils used for this purpose.
Coconut Oil
The most popular carrier oil is coconut oil. It has a huge list of amazing benefits for your skin. It is made up of medium chain fatty acids or triglycerides. That means it will help retain the moisture content in the skin.
The fatty oils also replenish the moisture that you lose when you get sunburned. If you are going to use just one carrier oil, use coconut oil.
It's easy to find. You can buy it in the baking section of your grocery store.
Sweet Almond Oil
Another very popular carrier oil for your skin is almond oil. Almond is another plant really high in fatty acids.
Almonds are high in both vitamin A and E. They are also really high in antioxidants. When you have a sunburn, ridding skin of free radicals will help it repair itself faster.
Vitamin E Oil
Finally, it is possible to purchase vitamin E oil. It is fantastic for your skin. It encourages the growth of new skin. It also helps fight free radicals with its powerful antioxidant properties.
Lots of people use it to diminish the appearance of wrinkles and even scars. If your sunburn starts to peel, use this oil to encourage new growth.
Essential Oil Recipes for Sun Burned Skin
These are my favorite recipes for calming sunburned skin. Always test out the mixture on a small part of your skin first, A common side effect if you are sensitive to a particular oil is redness and itching.
Also, do not go out in the sun after applying essential oils to your skin without sunscreen. Some essential oils will make your skin more sensitive to the sun.
Essential Oil Sunburn Spray
If you want a quick spray that you can mist on your skin, this one is for you. Get a glass spray bottle. The essential oils will draw out the impurities from the plastic container.
Ingredients:
1 cup vitamin E oil

½ cup aloe vera gel

10 drops tea tree oil

10 drops peppermint oil
Mix the ingredients up in a bowl. Then, pour them into the spray bottle. Lightly spray your skin when it gets burned.
Sunburn Relief Cream
If you have a really large sunburn, it might feel really good to use a thicker cream instead of the spray. This cream uses coconut oil which will heal and repair your damaged skin.
In a glass mason jar or another glass container, mix up the following:
1 cup of coconut oil

½ cup of Aloe Vera Gel

10-15 drops of Lavender essential oil

10-15 drops of Tea tree oil
Store it someplace cool. If it separates, give it another mix.
Another great option is a soothing oatmeal bath. My oatmeal bath recipe contains lavender essential oil as well, so it is well suited for easing the discomfort of sunburns.
I hope you enjoyed this discussion of essential oils for sunburns. If you liked it, be sure to check out some of my other natural skincare articles.