Learn about the best essential oils for dandruff and how to use them. You may have noticed essential oils being used more in natural dandruff shampoos in recent years.
Using the oils themselves can be a great way to improve overall scalp and hair health, and avoid itching and irritation from dandruff.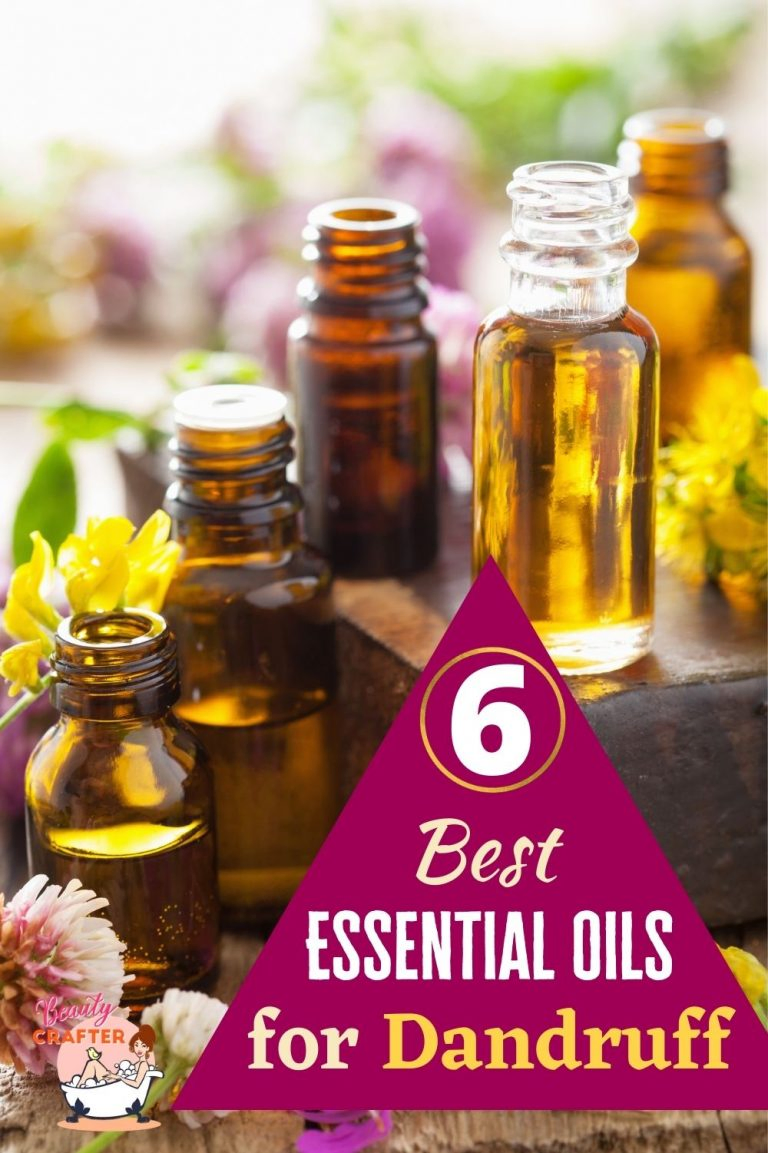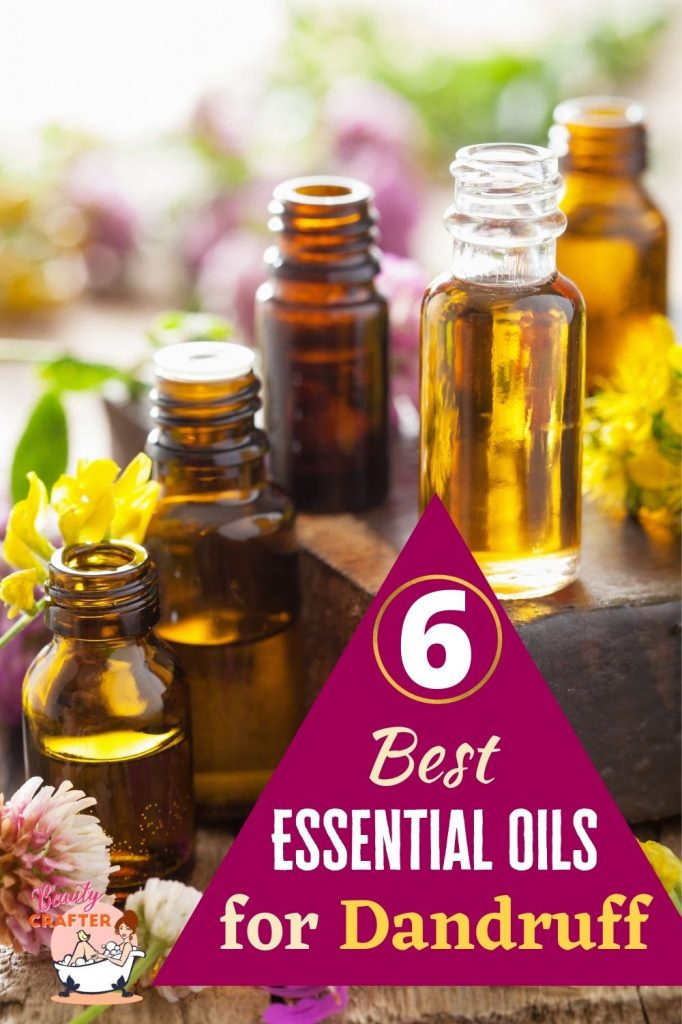 Causes of Dandruff
Before we dive into treating dandruff, let's make sure we understand what causes it. There are actually several things that bring on this scalp problem.
The condition can be brought on by:
too much oil and or sebum deposits on the scalp This can be due to oily skin or not washing hair with a shampoo often enough.
a fungus, that is similar to yeast called Malassezia. (It is normal for it to exist on our skin, but sometimes overgrows or causes a scalp reaction.) 
dry skin
skin conditions such as eczema or psoriasis... or even acne on the scalp
a bad reaction to hair products
Many of these can be alleviated by using essential oils wisely.
Essential Oils for Dandruff: Top Picks
If you have been suffering with an itchy scalp with flakes of dandruff and want to treat the condition with natural products, essential oils may be the answer for you. Using these oils to rid yourself of dandruff can be quite effective.
A few drops of one or more of these oils should help lessen the amount of dandruff on your scalp. These natural ingredients may sooth that irritating itchiness too.
Tea Tree Oil
Tea tree essential oil (melaleuca alternifolia) is the first oil you should consider for treating itchy scalp and dandruff. The antiseptic, antibacterial and antifungal properties of Tea Tree oil alleviate the root causes of dandruff, making it my top recommendation. Perfect for those suffering from a Malassezia fungus overgrowth.
Using a bottled tea tree oil shampoo, is a simple solution.  It treats dandruff  and helps avoid infections.
Rosemary
Rosemary essential oil is an all star when it comes to hair care. This essential oil promotes hair growth, as well as it's antimicrobial,  astringent, and cleansing properties. It helps limit excess build-up leaving hair and scalp fresh. The scent of rosemary oil is more pleasing than tea tree oil and makes a great substitute for treating dandruff issues.
Lemon
Lemon is one of my favorite oils for dandruff. Lemon essential oil is great for cleaning and has antiseptic properties, both both are helpful for gently cleansing the scalp and removing oily debris. If oiliness is contributing to your issues or you are prone to acne, this is the perfect choice for maintaining scalp condition. The fresh invigorating scent is of course a great bonus!
This is a great pick for those with an oily scalp or acne.
Lavender
This ever popular anti-inflammatory essential oil is great for so many uses, and yes, it can reduce dandruff too! Not only does it calm inflammation, lavender oil is antimicrobial. It has a pleasant scent and helps avoid dry scalp problems.
Clary Sage
Clary sage oil helps regulate the production of natural oils and sebum in the scalp. This anti-dandruff essential oil
Lemongrass
Lemongrass is another oil with both antimicrobial and anti-inflammatory properties that may help curtail dandruff.  A tonic solution containing 10% lemongrass essential oil significantly reduced dandruff symptoms in volunteers when applied twice daily. [study]
How to Use Essential Oils to Get Rid of Dandruff
You can apply anti-dandruff essential oils to your scalp by mixing it into a carrier oil, a vinegar rinse or making dandruff shampoo by adding a few drops to a shampoo bottle.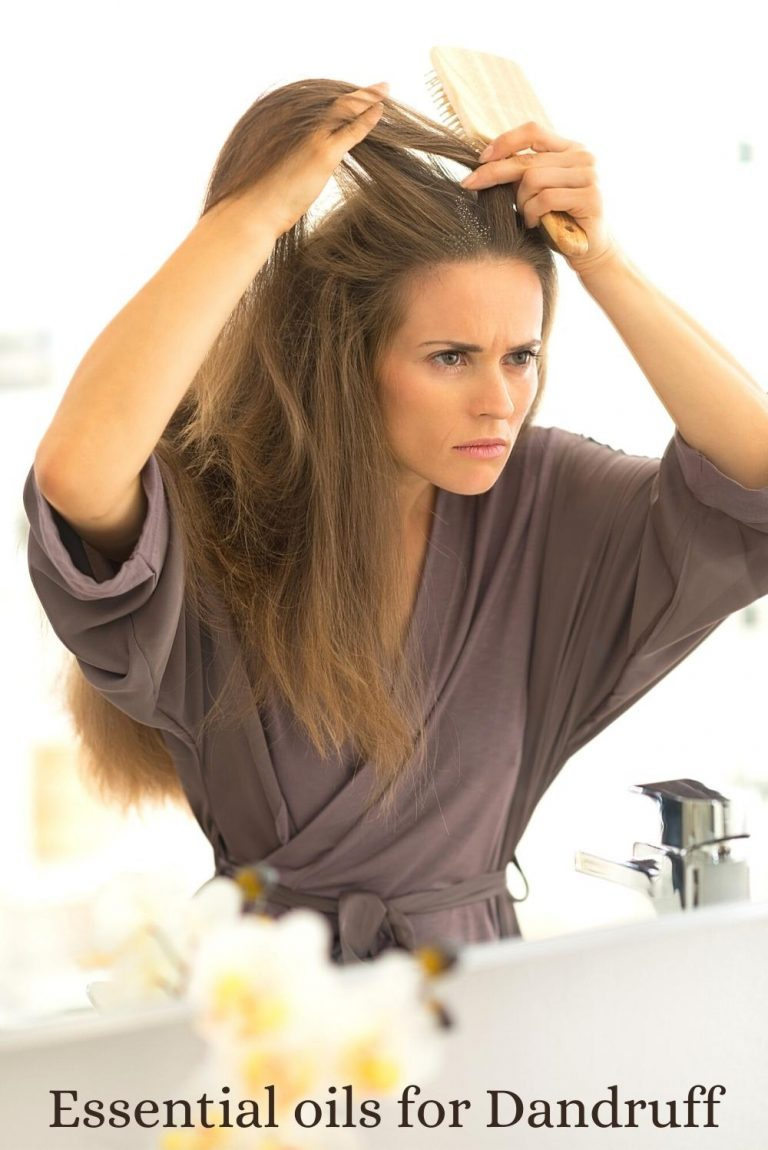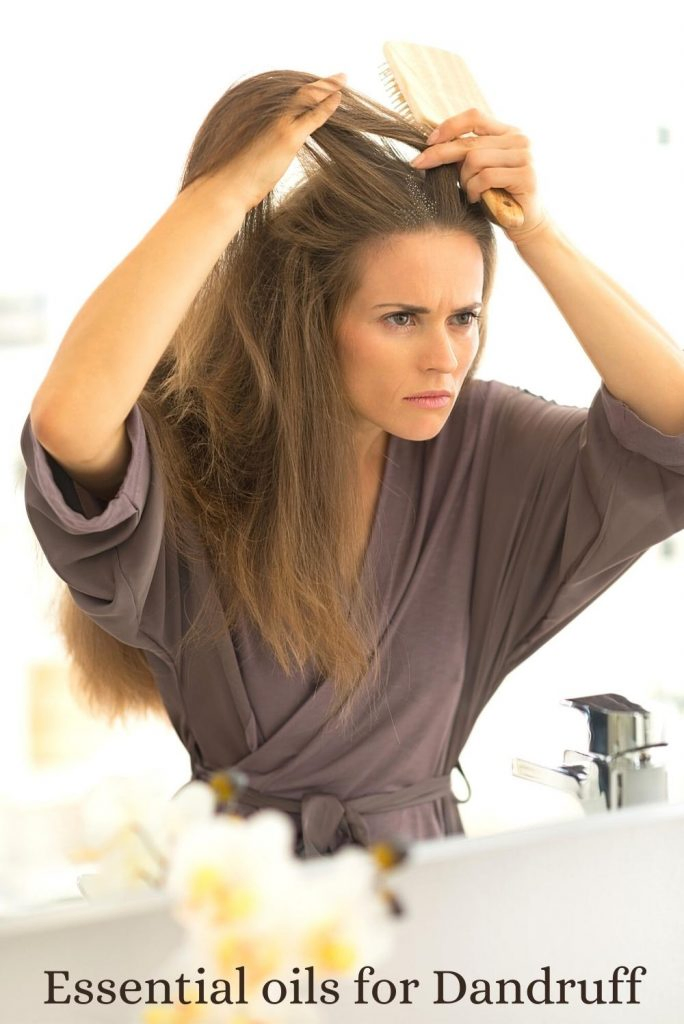 Carrier Oils
A carrier oil is used to dilute essential oils before applying to the skin (in this case the scalp).
Skin and hair friendly Argan Oil would be my top pick as a carrier oil. It is an effective hair care ingredient itself, when it comes to getting rid of dandruff and also encourages hair growth.
My next choice Fractionated Coconut oil is a liquid form of coconut oil that absorbs readily. Like Argan it is non-comedogenic meaning it won't clog pores and cause issues like some other oils may. A smart way to avoid itchy dry scalp.
Jojoba Oil moisturizes and soothes irritated skin. The nutrients in it will stimulate the scalp and aid in keeping it healthy. It has long been a popular addition to hair products, and makes a great carrier oil as well.
Sweet Almond oil is also a viable option, it absorbs well and is not prone to clog pores.
Don't want to buy a special oil for mixing with your essential oils? Go right in your kitchen for some Olive oil*. It is not as absorptive as the above choices, so you will definitely need to wash it out after applying. It will reduce flakes at least temporarily, as the dry skin soaks it up.
While I don't typically use it alone as a carrier, Rosehip Oil is also excellent for hair.
*Olive oil is not one of my top choices, but it will work in a pinch and sooth an itchy scalp.
Shampoo
Turn any shampoo into an instant dandruff shampoo by adding 15-20 drops of essential oil into the bottle. Use just one or a mix of the oil choices. Use the shampoo for washing your hair as you normally would.
Vinegar Rinse
Rather than using an oil to dilute your essential oils you can also make an essential oil vinegar rinse.  It is great for both your hair and scalp. The acidic nature of vinegar makes it ideal for regulating the ph of the scalp.
Pour it on making sure to get the scalp and hair roots well, then massage into the scalp. If you can leave it on for at least 30 minutes, that is ideal.
If the rinse does not appeal to you, try my Aloe Vera Hair Mask instead. It is also great for promoting a healthy scalp.
I hope this information on the best essential oils for dandruff is helpful to you. If you try them I'd love to hear about your results. If you've had success with a particular oil or blend, please do let us know.
Print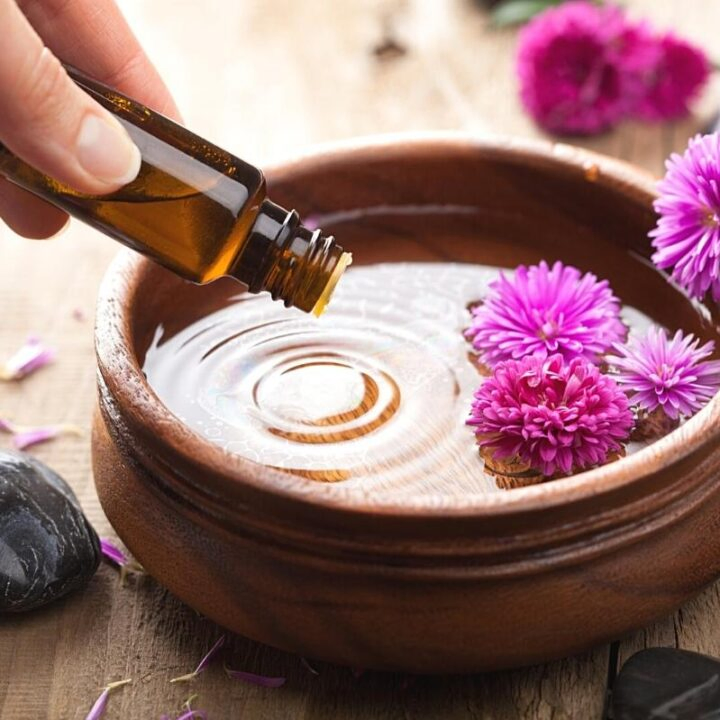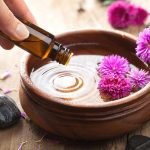 Dandruff Vinegar Rinse Recipe
---
Description
Here is the recipe for this easy DIY treatment. It teams beneficial apple cider vinegar with the essential oils!
---
¼ cup

apple cider vinegar

5

drops of rosemary or tea tree essential oil

5

drops of lavender essential oil

1 ½ cups

of water
---
Mix as needed.
Application
After shampooing and conditioning your hair, pour the treatment on, making sure to saturate your scalp and roots well. Don't worry it is good for your hair.
Massage it into your scalp and leave on for a few minutes before rinsing out. It will not only fight your dandruff, but add shine to your hair too!