This DIY beard oil recipe will leave your (or your man's) beard soft, smelling amazing, and clean. It uses essential oils and encourages beard growth. Prepare for a luxurious beard!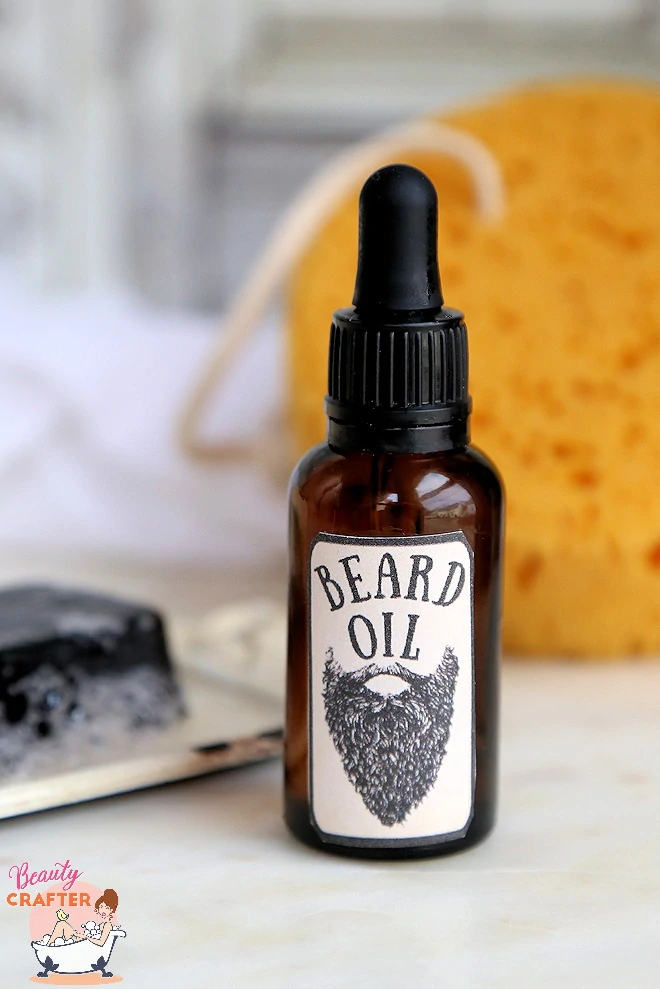 Beard Oil
When you are trying to grow that epic beard, the one everyone looks at and admires, you have to take care of it. Thankfully, it doesn't take very long to turn a beard from scraggly and crazy to manicured and handsome.
The most important part of taming the wild beard is to use the best beard oil on it. And you don't have to spend a lot, you can make your own!
You can make your own care product for your beard - no matter the size or shape - out of natural essential oils you may already have.
Common Problems that It Helps
Growing a beard doesn't come without its share of problems. There are lots of things that can happen that can make it tempting just to shave it all off!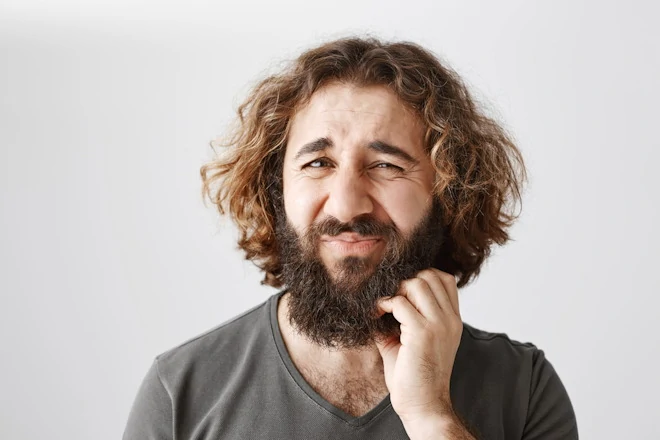 Here are some common issues men might run into, and how the beard oil will help:
Itchiness

- Beards might grow out very coarse, making their skin itchy. Oils will calm the itchy skin down.

Dandruff - Dry skin can flake off causing dandruff on your beard. The oils coat the skin and prevent flakes. 
Skin Issues

- Since the beard covers the skin, acne and other issues can happen underneath. Using an anti-fungal and antibacterial oil will cleanse the skin.

Beard Tangles

- Longer beards can get tangles, just like hair. Using a beard oil with a comb will condition it and remove the knots.
DIY Beard Oil
There are a lot of beard oils on the market. But what are the ingredients? What are they made of?
I prefer to make my own beauty products. I like the confidence I have knowing what I'm putting on my skin and how I will react to it.
This recipe is really easy to make. It uses just essential oils and some carrier oils that you can find at your local grocery store or even online.
But before we get into the recipe, let's look at this oil a little closer. What is it and how do you use it?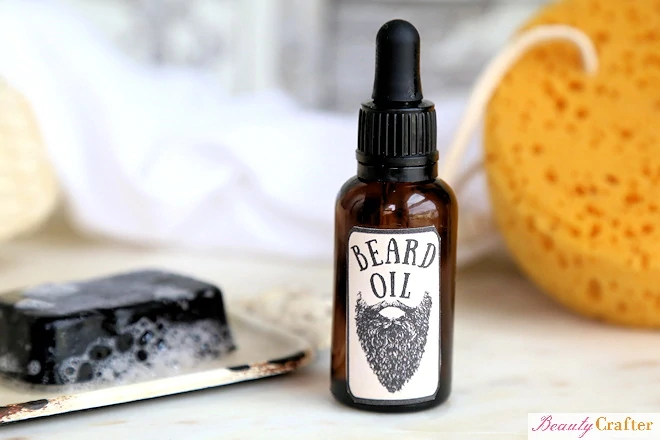 What does Beard Oil Do?
Making your own homemade beard oil with natural ingredients will help your beard grow in thicker, cleanse it, help it smell amazing, and even give you a little more pep in your step.
In fact, this can be used on skin and hair - both! Use it on your hands if they are feeling a little rough, it will nourish them.
This recipe uses specific essential oils to encourage hair growth. You'll notice that these will stimulate the hair follicles and might even help your beard grow in thicker.
Plus the combination of carrier oils and essential oils will prevent beard hair from breaking or falling off. So not only will it create increased circulation on your skin to help your hair grow more, it will help the hair you already have in good condition.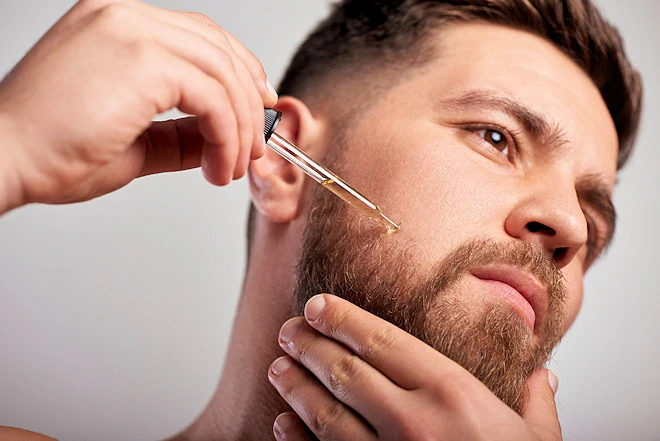 How to Use Beard Oil
Use this DIY natural oil by dabbing a little bit on your beard. You only need a few drops. Use your fingers to spread it on your facial hair.
It will condition your beard, so try to use this at night before you go to sleep.
What Types of Carrier Oil Are Best?
When you create the beard growth oil, choose high-quality carrier oils. These carrier oils have several important purposes. They are an integral part of the effectiveness of your finished product.
It is amazing how much a mix of these oils along with a few drops of essential oils can invigorate a shabby beard. You don't need to use them all, but should use a mix of at least three.
Argan Oil - This is a non-greasy oil with lots of fatty acids and high in Vitamin E. The fact that it is non-greasy makes is amazing for both your skin and your hair. Read more on Benefits of Argan Oil.
Jojoba Oil

- This is a plant wax. So it will help by coating the new growth, protecting it, and encourage it to grow more without breaking.

Sweet Almond Oil

- This is hypoallergenic. Most people react really well to it. It softens the hair follicles which helps it grow. It is also rich in magnesium, zinc, and calcium - all important minerals that prevent hair loss.

Grape Seed Oil - This has a lot of vitamin E which feeds your hair with nutrients. Grapeseed oil will also help your beard to look shinier and cleaner. It also has antimicrobial properties.
Castor Oil

- This is another oil that is high in vitamin E. It also has anti-fungal properties that will fight beard dandruff.

Fractionated Coconut Oil - A liquid version of coconut oil which readily absorbs into the skin and hair.  Highly nourishing with a very long shelf life.
Remember you want a mix of these carrier oils for the best beard oil. Single based oils will not be as effective. Each oil absorbs differently and enhances the beard in different ways. They may be even more important than the essentail oils.

Essential Oils for Beard Growth
The growth of beard hair is much the same as the hair on top of your head.  The same essential oils for hair growth will work on both areas. They may even be more effective on beard growth, since they won't be trying to overcome male pattern baldness in many cases.
I am particularly keen on rosemary, frankincense, bergamot, clary sage and cedarwood for beard oil (some are used in my recipe below). They are not just effective, these masculine scents are easily blended into pleasing scents. No one wants an off putting fragrance right under their nose. Tea tree can be used, but I strongly suggest you keep it to a minimum as it can be rather strong and medicinal smelling.


Beard Oil Bottles and Labels
Here is the beard oil recipe complete with pdf file for tiny printable labels. When you make this, store it in a small tinted glass bottle with dropper. These essential oils are super pure and could draw out impurities in plastic containers, and you don't want those on your skin.
Add a few drops at a time. This is a recipe you'll be able to use again and again.
Here is the file for free printable Beard Oil Labels
Print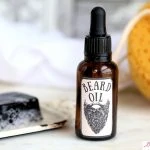 Beard Oil Recipe
---
Description
Homemade beard oil makes a great gift or item to sell at craft fairs. Perfect DIY gift for men with beards.
---
20-25 drops of essential oils*
Supplies
For Labels
---
Using a small funnel, pour the oils into a 1 oz. glass bottle.
Seal and shake up. Wash the outside of battle to ensure it is clean.
Print labels on cardstock and cut out. Adhere with Tacky glue or adhesive of choice.
The beard oil will be good for several months. 
Notes
I used this blend of essential oils, but swap and adjust to your preference. (I like adding a couple drops of clove for the spice note it brings, but go easy it is strong)
This has a slightly orangey fragrance from the bergamot, herbal notes from the rosemary and lavender and that spice kick from the clove.