If you have been buying bottles of hyaluronic acid serum for your skin care routine, stop now. DIY hyaluronic acid serum is so easy to make and far less expensive than buying it bottled. It is a simple 2 ingredient recipe, that takes just seconds to prepare.
Now you can maintain skin elasticity and keep your skin hydrated on a budget!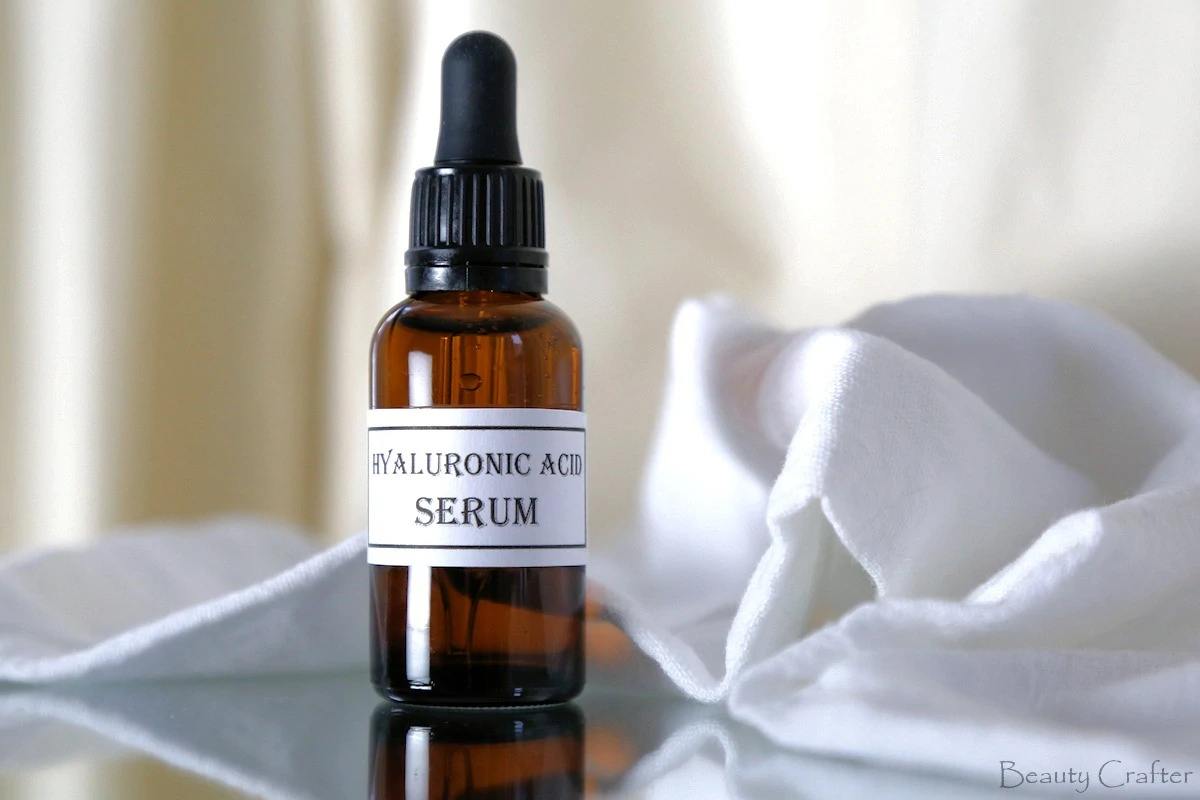 Hyaluronic Acid Serum Benefits
Before I tell you how to make DIY Hyaluronic Acid Serum, I guess it would be a good idea to explain what Hyaluronic Acid is and why the serum is such an important part of my skin care routine.
Moisturizing - Hyaluronic acid draws moisture to the skin and helps keep it there.
Soothing - It is great for irritated skin. The serum is fantastic to apply after derma rolling, dry brushing, microdermabrasion or just anytime your skin needs a bit of extra love and care.
Protecting - Though you can barely feel that it is on your skin after it absorbs (other than your skin feeling smoother), the hydrating serum still provides a nice barrier against environmental damage to the skin.
Healing - Supports healing of wounds by promoting growth of new skin cells. In this study it was shown to aid wound healing in deep cuts.
Anti-Aging - Hyaluronic acid serum helps reduces fine lines and wrinkles in addition to the benefits above, which would also assist with anti-aging skin care.
Due to all these skin care benefits and because I love the smooth feel of my skin after application, I started not just using hyaluronic acid serum on my face.
I often massage in some of the serum before putting on hand cream and often even without applying a cream after. It is definitely a blessing in the harsh winter months, making my hands far softer and younger looking.
It is great for the tummy, thighs, and under arm area where many of us struggle with sagging skin, especially after weight loss or having a baby. This is most effective teamed with use of a collagen induction treatment with a derma roller or dry brush first, then fractionated coconut oil or skin firming moisturizer after the hyaluronic acid serum has absorbed. The moisturizing and healing properties of the serum support the collagen production we are trying to encourage with these techniques.
Is Hyaluronic Acid Safe to Use on Skin?
Hyaluronic acid is skin moisturizer that is naturally occurring in your own skin. We are just augmenting what you already have.
Although it is an acid, it is very mild. Applying this serum does not sting at all. I have personally found it to be soothing, rather than irritating to my skin.
Not only is is fine to apply to the epidermis, but hyaluronic acid can even be ingested as a dietary supplement. Those with joint pain take it to enhance joint lubrication and support connective tissue growth.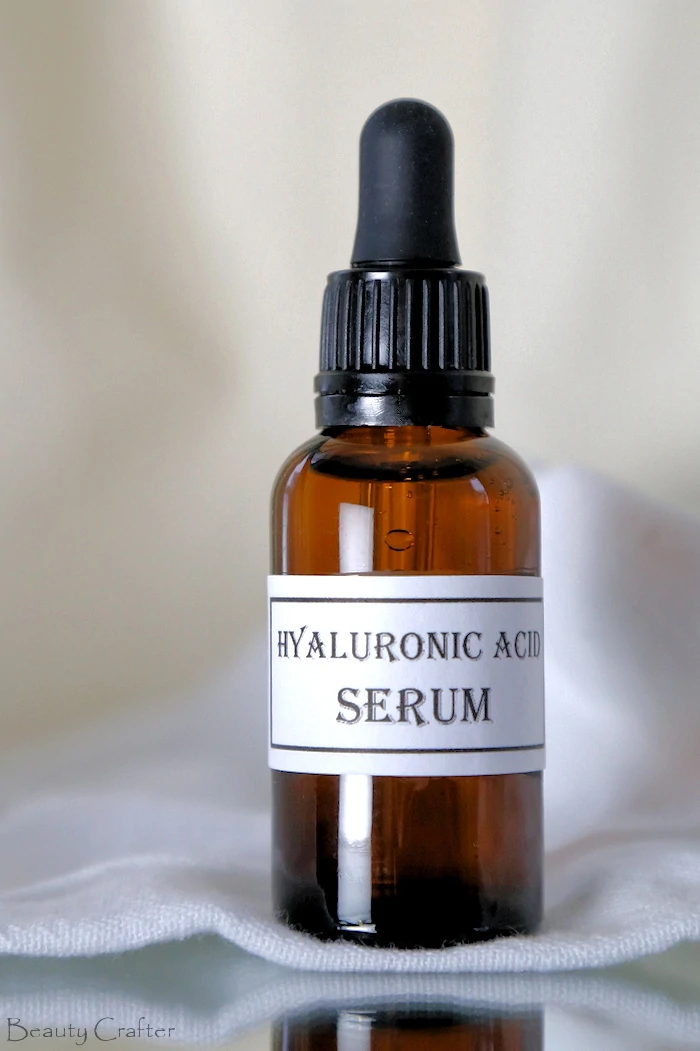 How to Make Hyaluronic Acid Serum
Like most people, I started by purchasing bottled serum
. The issue was, I quickly realized I loved slathering this stuff on and a 2 ounce bottle which was ample for facial application would not last long being applied all over me a few times a week. I looked into buying the serum in larger bottles and that is when I discovered how crazy easy it was to make the serum myself with hyaluronic acid powder. Seriously, making this skin and face serum is easier than making jello.
To make a basic hyaluronic acid serum you simply mix powdered version of the gentle acid into distilled water and allow to reconstitute over a period of a few hours.
Where to Buy Hyaluronic Acid Powder?
While capsules are readily available at most vitamin shops, loose powder can be a little harder to find.
It is available in various sizes from Bulk Supplements.

The powder can also be purchased on Amazon.
DIY Hyaluronic Acid Serum
I put my diy serum in a one ounce glass bottle with dropper
. The simple recipe can very easily be multiplied to make an amount that suits you, but keep in mind unless you use a preservative this has a refrigerated shelf life of about 2-3 weeks. A small amount of this hydrating serum covers a lot of dry skin, so one ounce should be plenty for that time frame.
Free Printable Hyaluronic Serum Labels
I created some printable labels to put one mine, so I am sharing those as well in case you would like to use them. As this gets stored in the refrigerator, make sure to use an appropriate adhesive or simply tape these small labels into your bottle.
Print them here >> Hyaluronic Acid Serum Labels
Print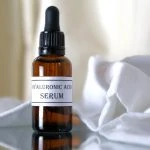 DIY Hyaluronic Acid Serum Recipe
---
Description
Simple DIY hyaluronic acid serum recipe. Preservative-free. An affordable alternative to pre-bottled versions of this healing and moisturizing anti-aging serum. It only takes mere seconds to prepare the serum.
---
---
Simply pour the water into clean bottle, add the powder, cap and shake well.
Store in the refrigerator**. The serum will set to a gel in a few hours.
Notes
*The brand I suggested above comes with a ⅛ teaspoon scoop right in the bag
**Unless you add a broad spectrum preservative the liquid form of the product will need to be refrigerated. It should last a couple weeks there without issue.