This homemade Lemon Green Tea Soap Recipe.  It is such an easy soap to make. The results smells divine and the soap has great skin benefits of both green tea and lemon essential oil.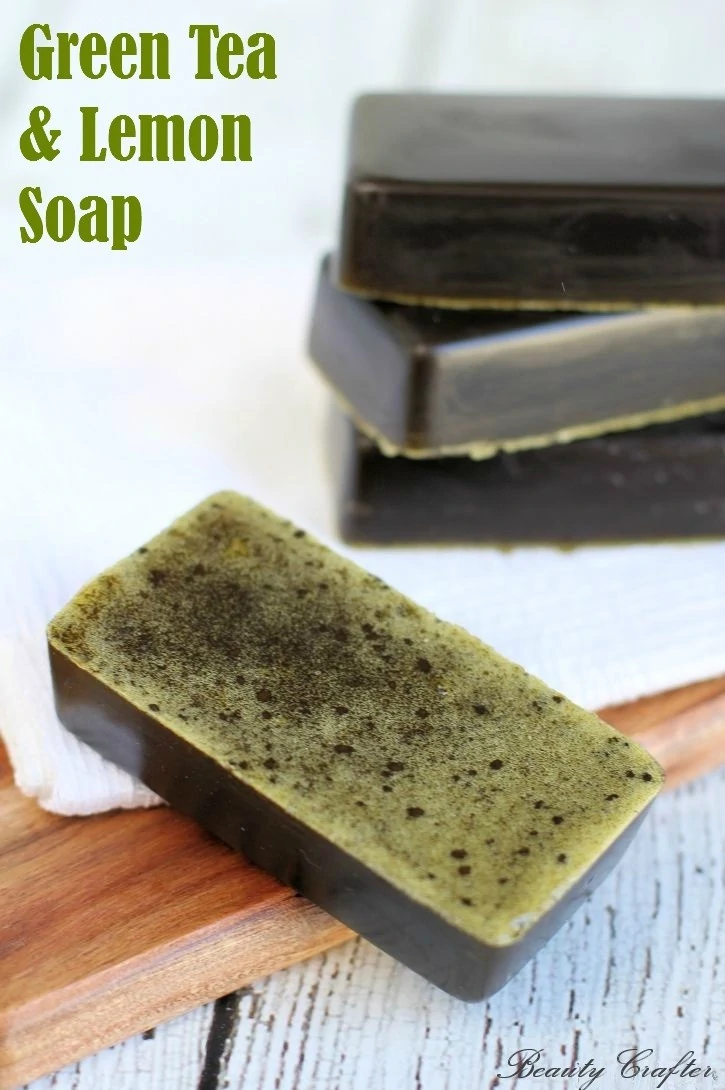 Since the scent of the lemon green tea soap is not floral or sweet, it is equally suitable for men and women (something to keep in mind when looking for DIY gifts for men).  It would also make a unique gift for any tea lover. Maybe even add a bar of this green tea soap to a tea gift basket.
Lemon Green Tea Soap is great for maintaining healthy youthful skin. It is also a great DIY soap to make for fighting acne.  My turmeric soap recipe is also a good choice for fighting acne.
Here is a breakdown of the benefits of each ingredient in the simple three ingredient soap recipe:
Green Tea (Matcha Powder): Green Tea is loaded with antioxidants which can help minimize skin damage and avoid premature aging of skin. The polyphenols found in green tea are excellent at neutralizing free radicals, thus helping to reduce wrinkling and other age related skin issues. The tannins in green tea help reduce oiliness and the tea has been shown to alleviate blackheads and acne, making this an excellent soap for teens and others suffering from these skin inflammations.
Tmatcha Organic Japanese Matcha Green Tea Powder USDA Organic Certified Culinary Grade 8oz
Lemon essential Oil: Lemon has many similar benefits to green tea.  The vitamin C it provides is great for fighting the signs of skin aging. It also reduces excess oil and is great for reducing acne. For other essential oils to select from read: 9 Best Essential Oils For Acne + DIY Acne Face Oil
Lemon Essential Oil (Cold Pressed). 10 ml. 100% Pure, Undiluted, Therapeutic Grade.
Glycerin: The melt and pour soap used in the making of this Lemon Green Tea Soap is a glycerin base. Glycerin is a gentle soap and tends to maintain the moisture of skin. It is also the type of soap frequently suggested for those who are afflicted with acne.
Organic Clear Glycerin - 2 Lbs Melt and Pour Soap Base - Our Earth's Secrets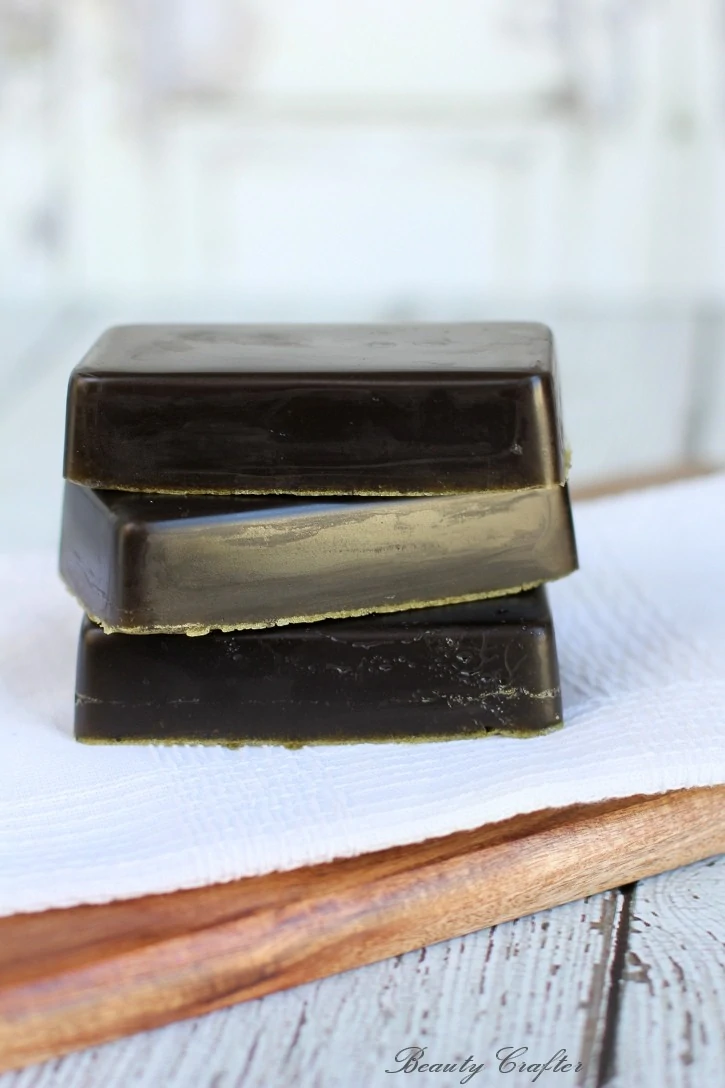 Making Lemon Green Tea Soap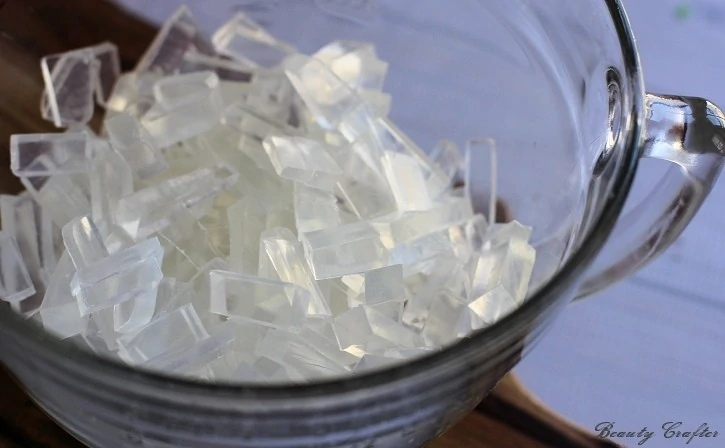 The use of pour & melt soap
is part of what makes this project so quick and easy.  While I would not suggest younger kids handle the hot soap teens & even many tweens could handle this beauty craft.  It would be a terrific way for them to make teacher or family gifts.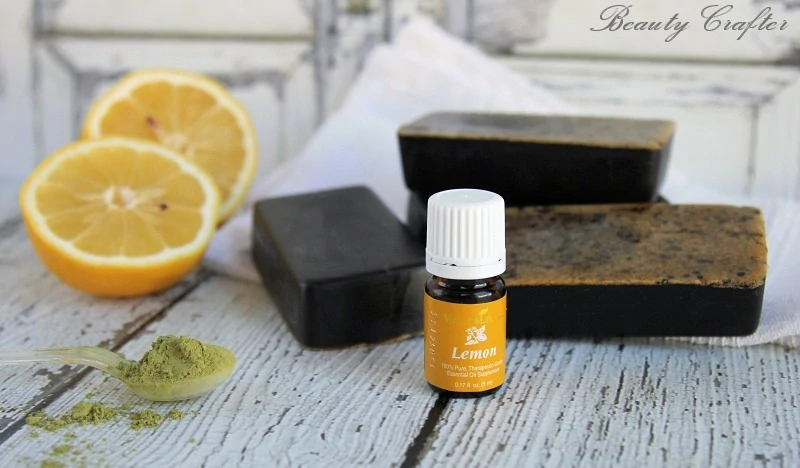 Matcha Green Tea powder is used in this soap rather than typical green tea. It is a finely ground powder used in the Japanese tea ceremony, and is both rich  and colorful. Matcha is also wonderful for baking and is used in Green Tea Bath Bombs too.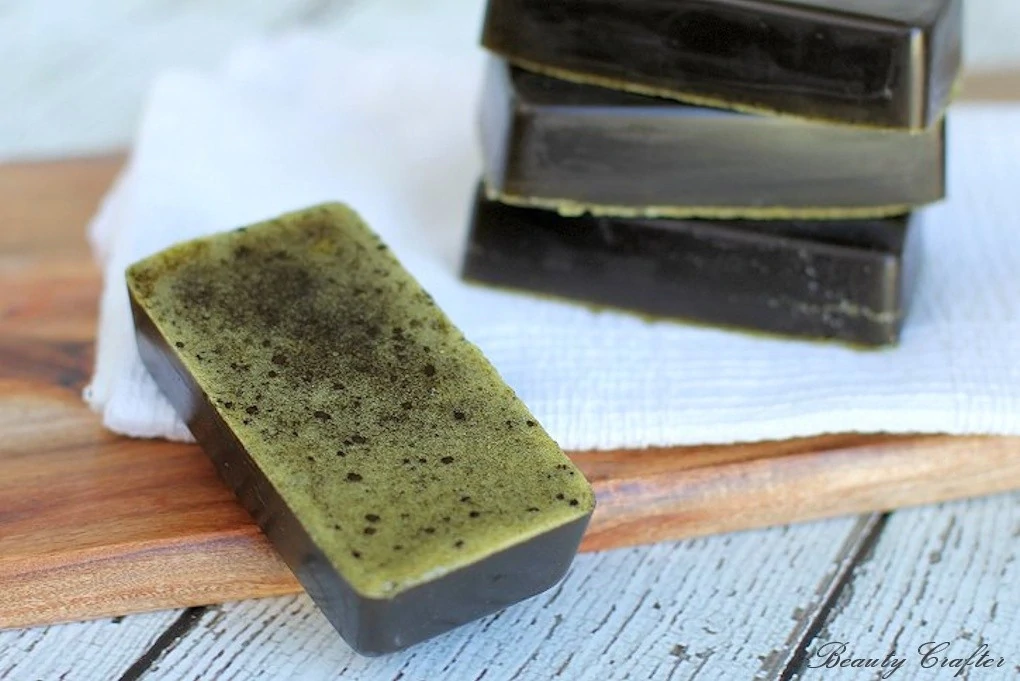 Tea lovers should also try my creamy Chai Soap and Green Tea Face Masks.
Print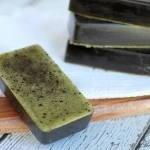 Lemon Green Tea Soap Recipe
---
Description
This Lemon Green Tea Soap recipe makes bars that are beneficial to maintaining healthy youthful skin. It is also a great DIY soap to make for fighting acne.
---
---
Chop the soap into small cubes (around ½"), and place in microwave safe bowl (batter bowl with handle is ideal)
Microwave on high for 30 seconds. Stir and repeat in 15-20 second intervals until soap is melted.
As soon as you remove the bowl from microwave stir in the green tea powder and the lemon essential oil.
Gently pour into your soap mold. Allow to cool fully. They will now be hard, and are ready to remove from mold.
To maintain scent, store in airtight packaging until use.