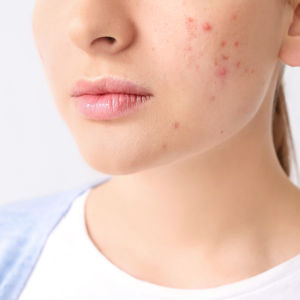 When you consider using essential oils for acne breakouts, what are the best choices? Here we'll discuss not only the best essential oils to treat acne prone skin, but how to dilute and use them in your skin care routine. No harsh chemicals on the surface of your skin, just sensitive skin friendly oils from nature.
NOTE: If you are suffering from serious cystic acne it is always advised to consult a dermatologist. Home remedies may not be enough. Don't risk permanent acne scarring, when medications are available.
Essential Oils for Acne Treatment
These are the very best essential oils for acne (propionibacterium acnes). Treat acne breakouts with this skin safe essential oil choices, and get on the road to healing the skin condition. Acne fighting essential oils have actually become a popular treatment option in recent years.
One of the best parts of using essential oils as an acne treatment is that they neither dry out nor leave you with oily skin.
Tea tree oil and lavender are my go to oils for fighting p. acnes bacteria. Here is more information on these essential oils and a few more effective ones.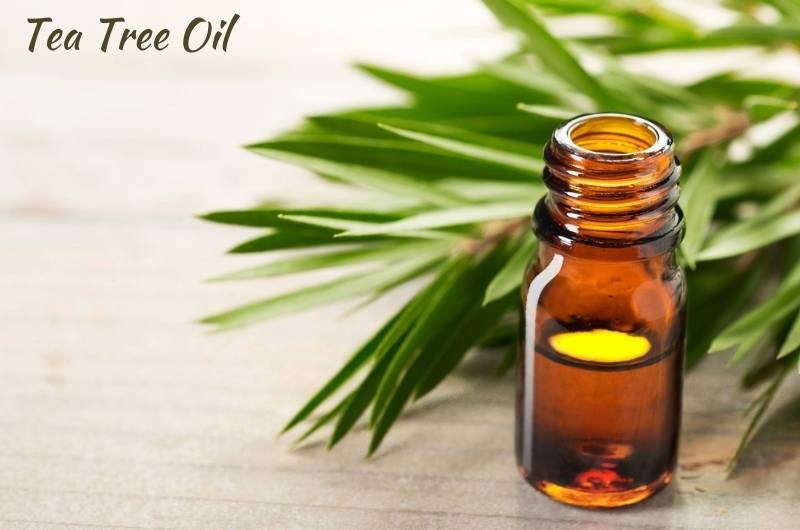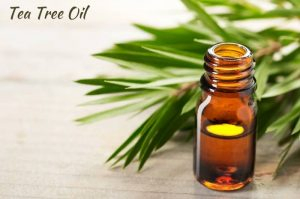 Tea Tree Oil
The antibacterial properties of tea tree essential oil (Melaleuca alternifolia) make it a perfect choice to treat acne. Not only does this oil reduce bacteria, it's anti-inflammatory and helps unclog pores as well. This combination halts the cause of the pimples and blackheads while soothing the injured skin. This makes an amazing blemish healing combination.
While gentler than benzoyl peroxide or salicylic acid, tea tree oil can irritate sensitive skin. If you are prone to rashes or eczema, differ to lavender oil.
This essential oil is a well-tested treatment for acne, but the scent of tea tree oil can be a little strong and somewhat medicinal. This is why it is often blended with another oil, used in the evening before bed or for quick small spot treatments. I also use it in my Turmeric soap to battle blemishes.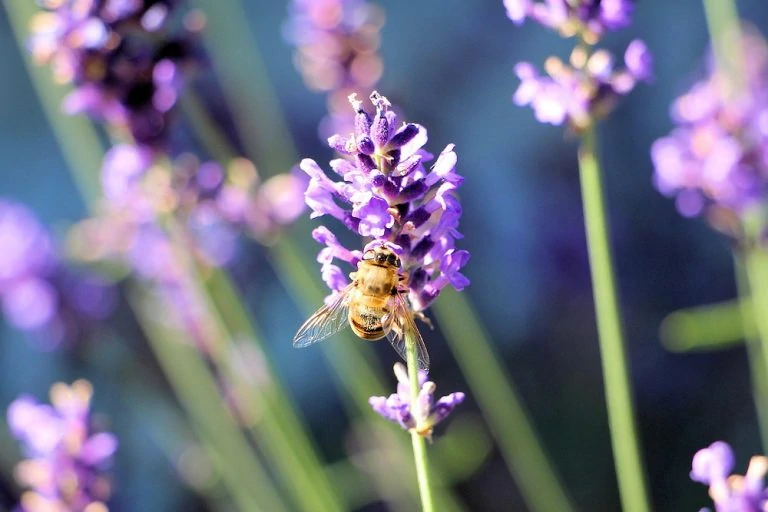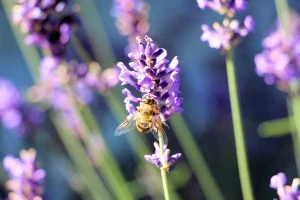 Lavender Oil
Lavender essential oil also has antimicrobial properties, like tea tree oil. The linalyl acetate in it provides anti-inflammatory properties also. It is the oil I carry in my purse for spot treatment. If I feel a pimple coming or see one starting on my teen daughter, I dab it on.
Lavender is particularly noted for it's help in reducing the appearance of acne scars. The oil shows some evidence of increasing blood circulation [study] which likely aids in healing.
Stress related breakouts may be mitigated somewhat by lavender oil as, it is widely renowned for it's relaxing effects. This option is good for all skin types and reactions are extremely rare.
Frankincense Oil
Frankincense (Boswellia Sacra) is an essential oil with strong anti-inflammatory properties [study], which cools and soothes acne inflamed skin. Like the other essential oils presented here it is also antimicrobial. The acids in it are adept at killing acne bacteria and avoiding breakouts.
Being an astringent frankincense oil aids in clearing dirt, dead skin cells and cuts through the greasiness of oily skin. This clears clogged pores and avoids blackheads and other blemishes.
Rosemary Oil
Rosemary essential oil (Rosmarinus officinalis) has been shown to kill P. acnes bacteria in the lab. [study] The oil also acts as an astringent, cutting through oily residue and opening pores. It is also purported to lighten skin, which could be helpful with fading scarring.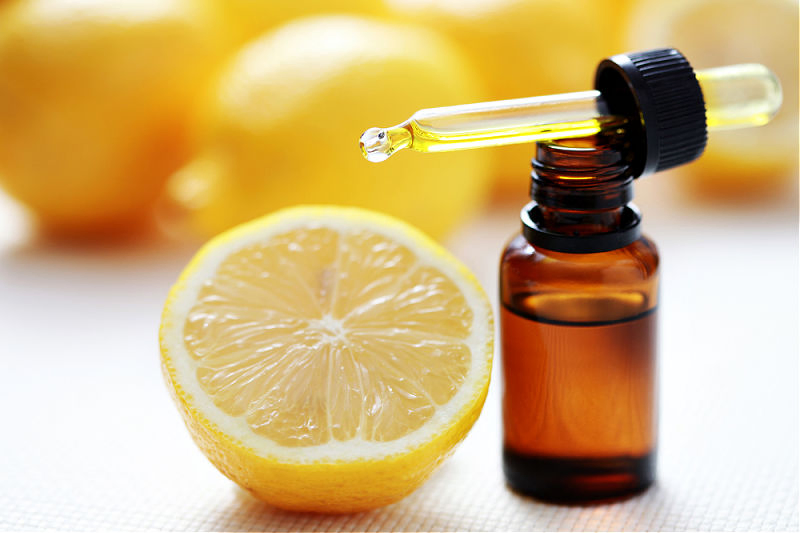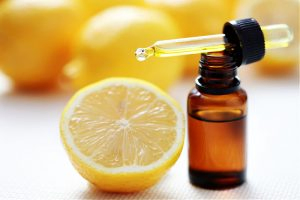 Lemon Oil
Lemon essential oil is high in vitamin C this makes it a great pick for acne, due to it's anti-oxidant properties. This also may aid in wound healing. It is also widely used as a skin lightener, which would be helpful in reducing the appearance of scars.
It is also fantastic at removing pore clogging grime and bacteria from the skin surface. No clogs equals less pimples.
Yes, other citrus oils also have many of the components as well.
Eucalyptus Oil
Eucalyptus calms inflammation and reduces redness. It also has analgesic properties that may ease discomfort from acne. Topical application of this oil may increase ceramides in your skin which are essential to healing too. Did I mention, it's antimicrobial? Yes it is.
Use this essential oil with caution, much like tea tree oil. Make sure to ALWAYS dilute.
Other Helpful Essential Oils
This is sort of the honorable mention area. These oils will aid in treating acne prone skin, but may not be as effective as the selections above. They are certainly useful though.
Peppermint is cooling for the face, which alleviates some of the discomfort of acne.
Clary Sage is said to calm both nerves and skin irritations.
Thyme is highly germicidal. Use it sparingly.
Carrier Oils for Acne Prone Skin
In most cases an essential oil should be diluted with non-comedogenic carrier oil like jojoba oil or fractionated coconut oil. These oils will not cause clogged pores. Argan oil is also an excellent acne fighting choice.
Using a carrier oil will help reduce the potency and avoid potential skin irritation.
Other ways to Dilute
Witch hazel is another popular ingredient to dilute your essential oil application with. It makes an excellent acne toner.
I often use glycerin as a carrier myself for quick dab facial applications. Of course, simply water will do to make a dilution in a pinch.
Treating Acne with Essential Oil
Now that we have covered the best oil choices and carriers, lets discuss how to use essential oils in our acne fighting skin care routine.
Here are some basic acne treatments. Be sure to check out my acne face oil recipe below too.
An easy way to use the oils on your skin is by simply adding a few drops of your essential oil of choice to a teaspoon of carrier oil, then apply with a cotton ball or pad. A cotton swab is great for concentrated spot application.
You can also make a simple toner with witch hazel and a few drops of essential oil.
Can essential oils help fade acne scars?
Several of these oils do seem to help with the healing process and reduce acne scarring. See my article How to Get Rid of Dark Spots for more in depth information.
Can I use oils along with medication?
Please seek medical advice from your physician. The last thing you want is to aggravate you skin condition with adverse reaction from the combination.
Print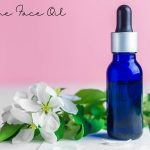 Acne Face Oil DIY
---
Description
This easy face oil recipe will dry pimples, help unclog pores, kill bacteria and aid in healing blemishes. It will also not leave you with flakey dry skin.
---
1 tablespoon

jojoba oil

2 teaspoon

argon oil

1 teaspoon

rose hip oil

15

drops lavender essential oil

10

drops rosemary essential oil

10

drops lemon essential oil
Supplies
1 ounce

glass bottle, preferably dark light blocking color with dropper or pump
small funnel
---
Use funnel to help pour ingredients into your bottle. Shake well.
Apply the oil with a cotton ball, pad or swap to blemishes.