This invigorating DIY lemon sugar scrub is an easy gift idea, your recipient will love. In addition to the sugar scrub recipe, I've included free printable labels too!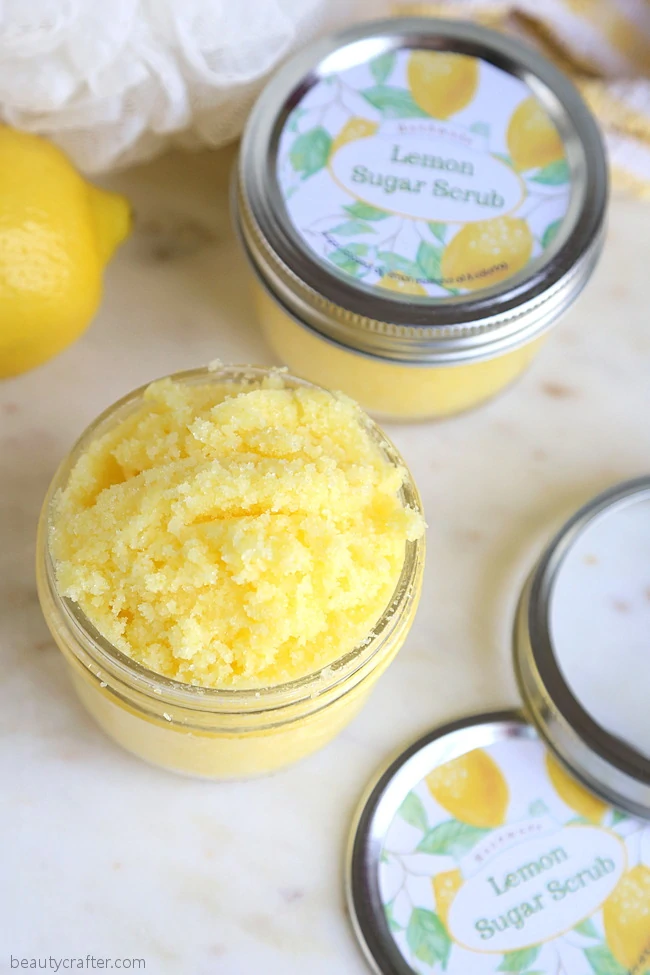 Lemon Sugar Scrub Benefits
The ingredients in lemon sugar scrub are ideal for acne, skin lightening and a generally fresh and healthy complexion. The scrub is good for lips and facial treatments as well as a body scrub. This easy and inexpensive to make beauty product is more than worth the small effort to make a batch. For lip care in particular, see my DIY lip scrub recipe.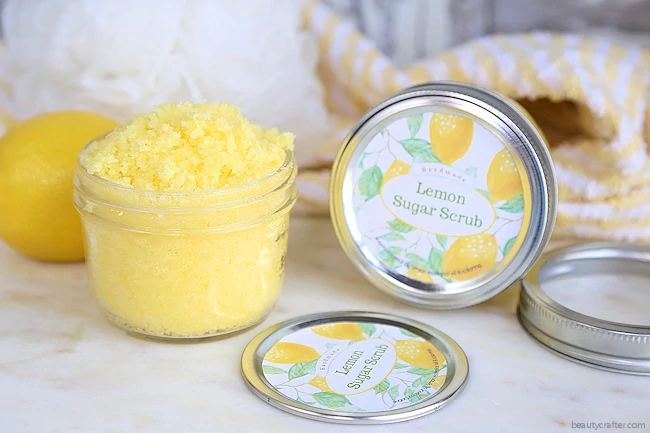 What does lemon sugar scrub do?
Let's look over the benefits of the ingredients used to make the sugar scrub. I think you will easily see why this is such a popular sugar scrub.
Lemon Essential Oil
This essential oil doesn't just have a fresh invigorating scent. It also evens skin tone and lightens skin. Lemon is one of the best essential oils for fighting acne, due to it's vitamin C content and antibacterial properties. The oil is also great for anti-aging, since the antioxidant properties it has help clear free radicals.
Coconut oil
Not one, but two forms of coconut oil are used in this nourishing scrub. Both fractionated (also called liquid) and refined coconut oils are used. The natural antibacterial and antimicrobial properties of the oil are highly beneficial to acne sufferers.
The refined (or unrefined if you don't mind adding a coconut scent to your scrub) coconut oil contains lauric acid. Lauric acid is a powerful acne fighter. It was shown in this study to be more effective than benzoyl peroxide in combating inflammatory acne.
Fractionated coconut oil is added to the scrub due to it's easy absorption and thinner consistency in colder temperatures. It also reduces the leftover oily feel on skin surface after using the sugar scrub.
Of course the oil is also a great way to moisturize and nourish the skin as well.
Sugar
Sugar is a fantastic skin exfoliant. By sloughing off dead skin cells, it helps other ingredients soak deeper into the dermis.
As you can see this homemade sugar scrub is excellent for the skin whether you are young or old.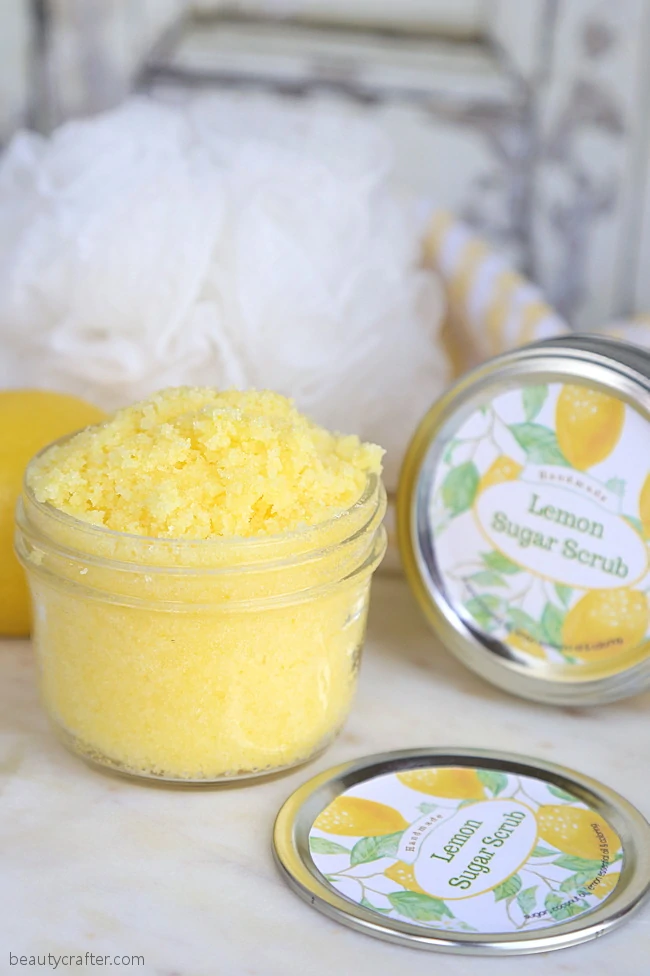 Lemon Sugar Scrub - Gifting
This homemade gift is something they will actually use and perhaps request again. I think it is perfect for a Birthday or Mother's Day gift, but would be lovely for any occasion really. The super easy to make scrub would be nice for craft sales and church bazaars too.
The labels give the finished body scrub a more polished look in my opinion anyway. They are my favorite labels I've made so far. If you follow the recipe the label lists the ingredients will be correct.  This helps recipients avoid ingredient reactions.
Make it a Gift Basket
Make an uplifting healthy skin gift basket for a friend or family member. Place a few bath scrubbies, sponges or other bath tools in a basket or nice bucket.  Add this sugar scrub and: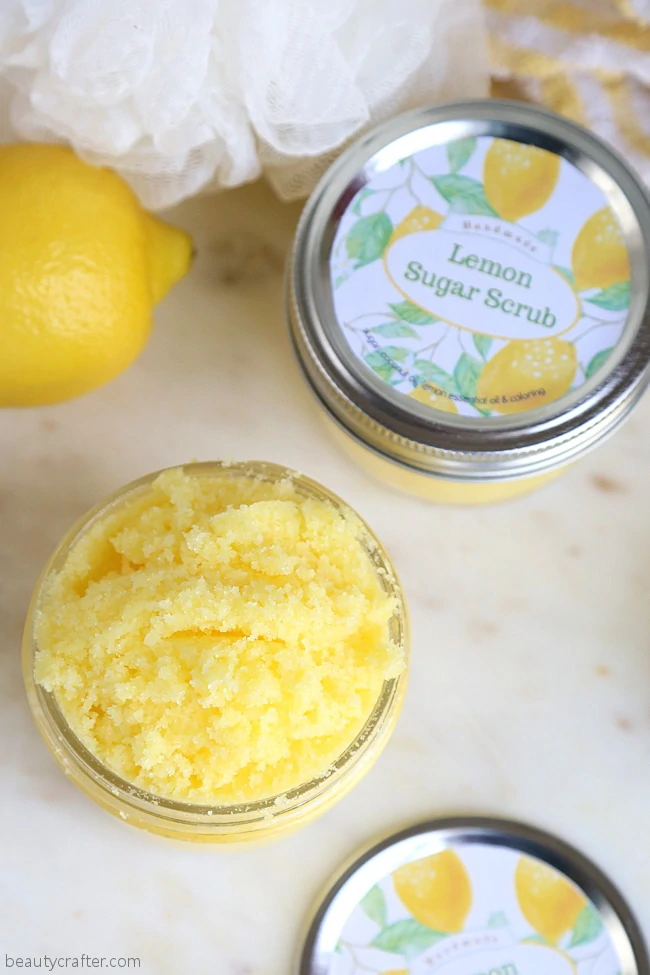 How to Make Sugar Scrub
While I do use other formulations on occasion, this sugar scrub pretty much the my go to. If you want to make a scrub with a different essential oil or blend than lemon, simply swap the oil. Then use an associated color to tint it.
I'll walk you through the whole thing visually here.  If you prefer to just get to it, scroll down to the printable recipe card.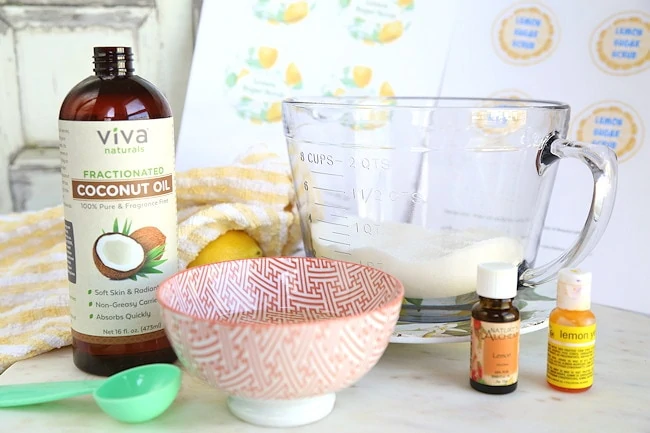 Here are the ingredients you will need to make the lemon scrub.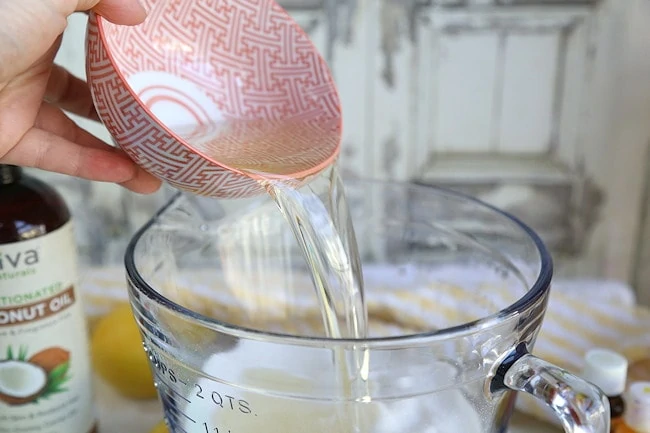 Start with your sugar in a large mixing bowl. Add the refined coconut oil. Melt the oil if hard before combining.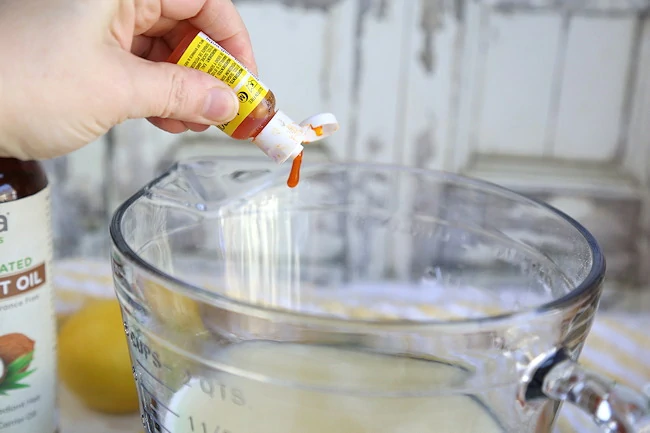 Squeeze a drop or two of gel food coloring into the bowl.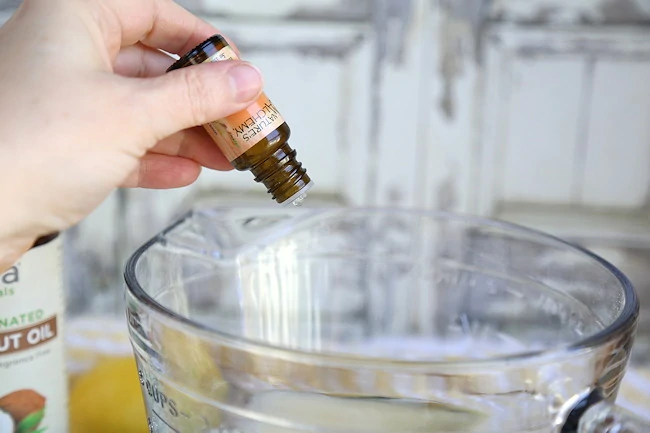 Add 40 drops of lemon essential oil.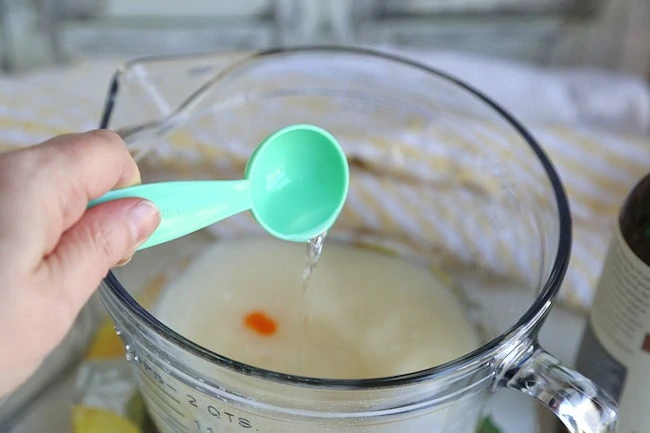 Finally add 2 tablespoons of fractionated coconut oil to the sugar and mix well.
Lemon Sugar Scrub Labels
As you may have noticed I am a big fan of making labels for my sugar scrubs. I wanted a really special label for this one.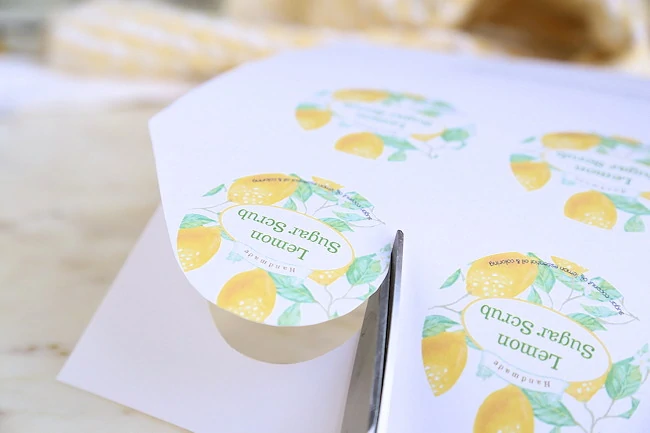 First print the PDF file (below) on card stock
and cut out each circle.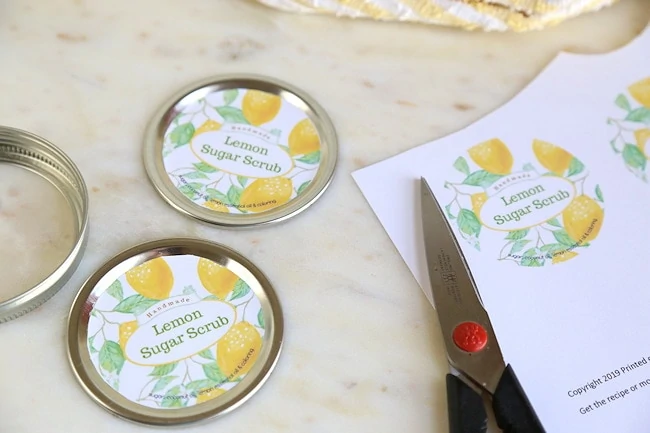 They are perfectly sized to fit the indent on a 4 ounce wide mouth mason jar
.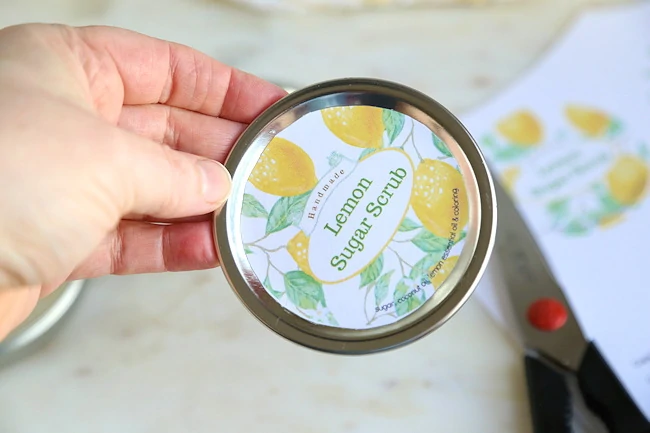 Spread adhesive thinly on the surface of the paper or lid then gently press on to lid. Use a clean dry cloth to slide across surface from center to edges. This will ensure the label sticks well. Wipe away any excess glue. I used Tacky Glue
for this.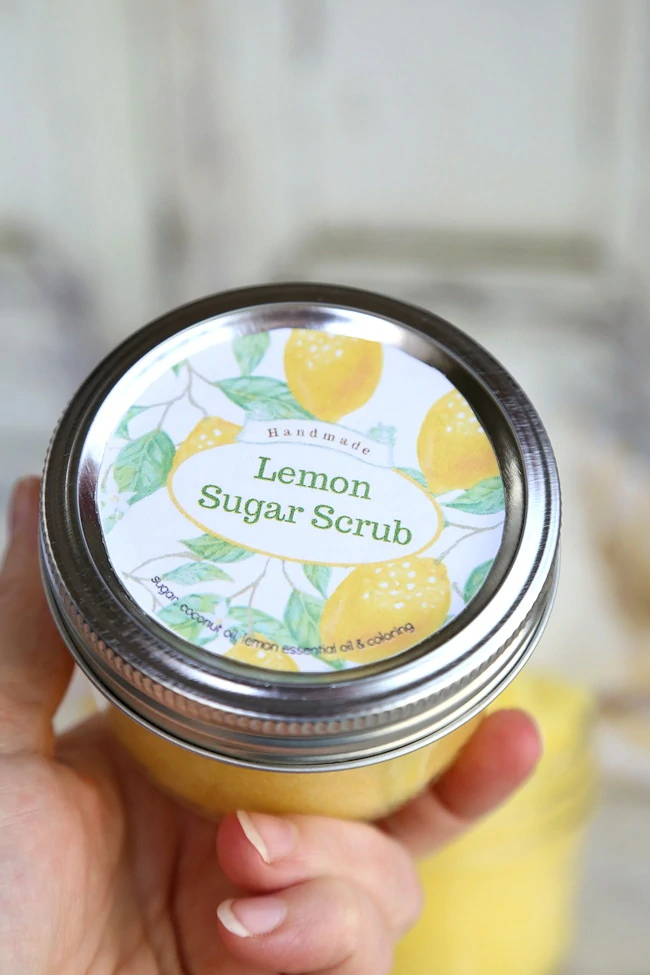 Pop the lids on the scrubs and screw the ring on.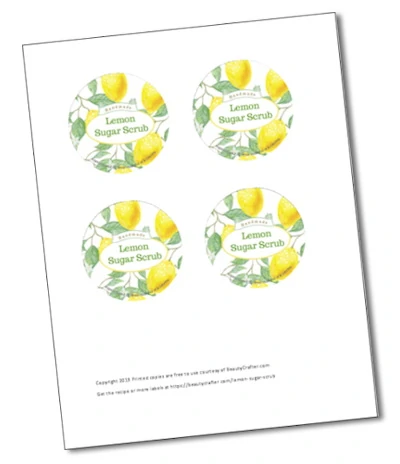 Here is the PDf file for the Lemon Sugar Scrub Labels
Recipe Variations:
You may be wondering why I don't use lemon zest in this recipe. Omitting it helps extend the shelf life of the finished product.
I also didn't see it as necessary since the scrub was already a bright sunny yellow from the colorant I used. Of course if you are sensitive to food dyes, skip the gel food dye. Add some zested lemon peel into the mix.
Can Lemon and Sugar Scrub Lighten Skin?
Yes, a lemon juice and lemon can slightly reduce the pigment in skin. The effect will be less so with this scrub as essential oil is used rather than highly acidic lemon juice. It will still slough off the darker outer layers and brighten skin somewhat though.
Print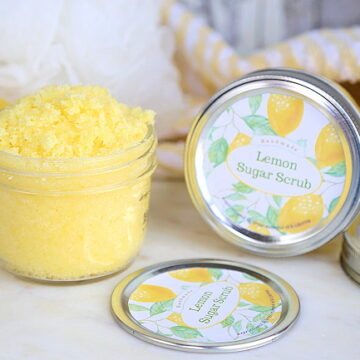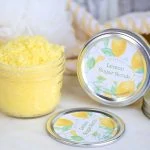 Lemon Sugar Scrub Recipe
---
Author:

Beauty Crafter

Total Time:

10 minutes

Yield:

Two half pint jars (8 ounces)
Description
This easy DIY lemon sugar scrub is invigorating and exfoliating. It's great for acne treatment and anti-aging too. Includes free printable labels.
---
Lemon Sugar Scrub Recipe
2 cups sugar
½ cup refined coconut oil
2 tbsp fractionated coconut oil
40 drops of lemon essential oil
1-2 drops yellow gel food coloring
---
Add all ingredients into a large mixing bowl.
Mix well to ensure the scrub is thoroughly blended.
Scoop into jars and affix lids.