Peppermint Bath Salts are easy to make and are a great Christmas gift. If you pack the salts in mason jars, you can make a bunch of these homemade gifts quickly and relatively inexpensively.

Peppermint Bath Salts
This great gift in a jar is festive and something they will actually use (assuming that have a bath tub and not just a shower... in that case make them some Shower Soothers).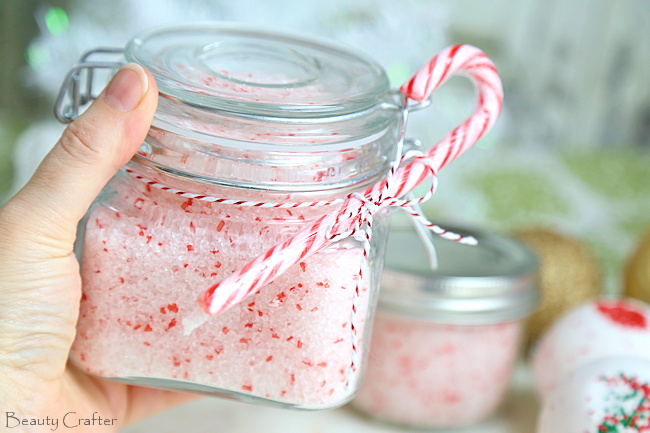 These are simple sparkly epsom salt and peppermint oil bath salts. I did not add baking soda in this recipe as I felt it would detract from the festive look of the salts.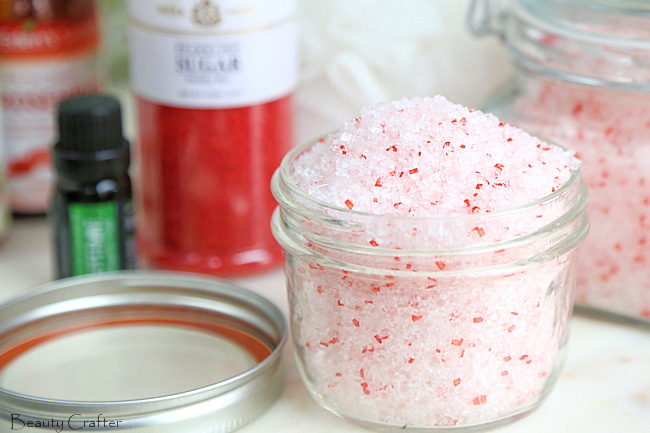 The mixture contains Epsom salts, peppermint essential oil, jojoba oil (rosehip oil or fractionated coconut oil are good substitutions), and red sugar sprinkles. Yes, just four ingredients to create this homemade gift idea. If you prefer a more refreshing green or blue appearance, then swap out sugar crystals in one of those colors.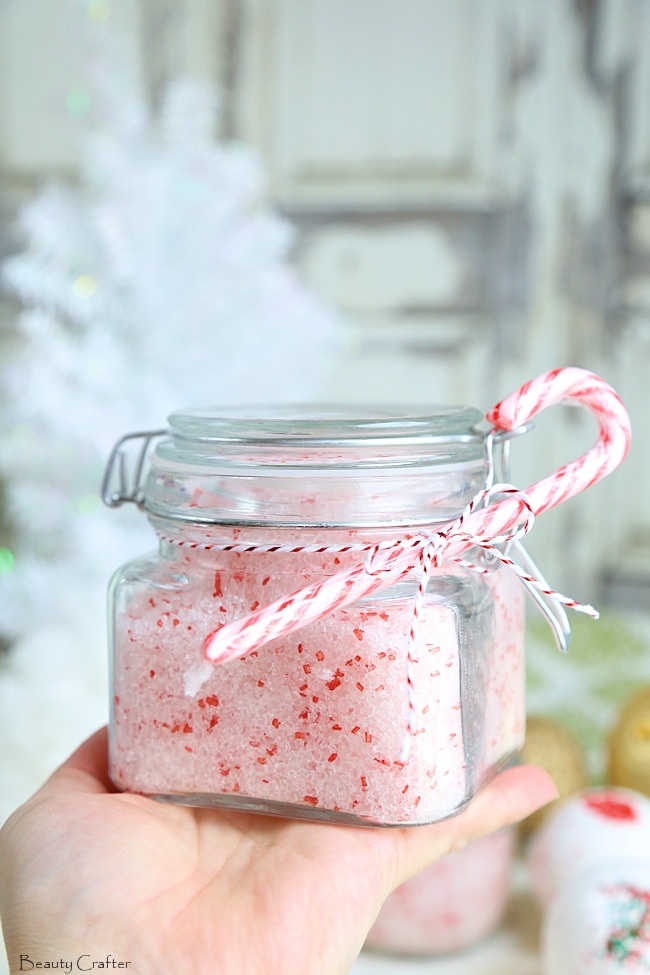 Gifting the Bath Salts
When gifting the Peppermint Bath Salts using a nice jar or bottle is an important part of presentation. You don't need to spend much or anything at all though.  Shop the dollar stores for jars or  peel off the labels of nice glass bottles and jars from non-toxic products you buy. Wash the empty jars out well and fully dry before use. If the caps have logos, just paint over them.
Of course this craft is giftable year round, but if you are looking for something less seasonal? Try my Lavender Bath Salts, it is a great gift year round and as a bonus it sparkles!
Make it a Gift Basket
I also have Peppermint Bath Bombs and Peppermint Sugar Scrub (with free printable labels) on the site. Both utilize the red sugar sprinkles in the recipes, so you will have a uniform festive look. Why not toss in a homemade luffa soap too. You will have all the bases covered.  Tie a couple candy canes on and the basket would present quite nicely.
Print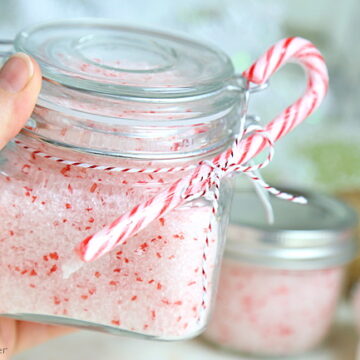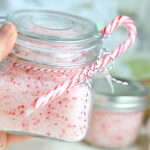 Peppermint Bath Salts Recipe
---
Description
Peppermint Bath Salts with a fun red speckle. Make the gift of a peppermint oil and Epsom salt bath in a festive way. Easy recipe to double up so you can make a lot of jars at once.
---
---
Pour the epsom salts into a large mixing bowl.
Add the oils and mix well.
Fold in the colored sugar sprinkles until they are evenly distributed.
Scoop the peppermint bath salts into jars and seal to maintain fragrance.
To Use:
Pour a cup of the salts into a warm bath as the water is filling.
Soak in the bath for at least 10-15 minutes to gets the benefits of it.